Stefan Struve: How He Can Take the Next Step Up the Heavyweight Ladder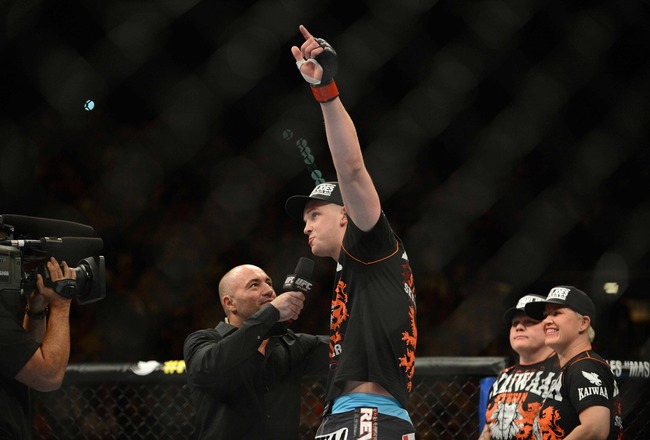 Ron Chenoy-US PRESSWIRE
At just 24 years old, Struve is already a UFC veteran.
He has grown and matured into a very dangerous heavyweight fighter.
Struve is a very different fighter than the one who got knocked out by Junior dos Santos is his debut. He is finally using his height and reach to his advantage, and combined with a slick ground game, Struve's skills are finally clicking.
Struve is a heavyweight on the cusp of becoming a contender. Let's examine what he could do to vault himself up the ladder in the near future.
Keep His Current Momentum Going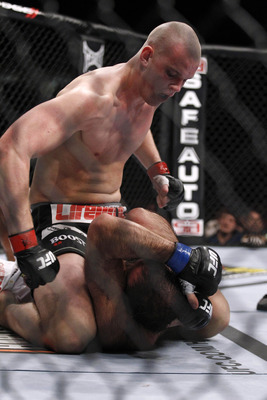 Matt Ryerson-US PRESSWIRE
Since getting superman punched into unconsciousness at UFC 130, Struve has looked incredible.
In his past four fights, he has finished every opponent.
He submitted both Pat Barry and Lavar Johnson, and knocked out Dave Herman and Stipe Miocic. That diversity shows that Struve has very well-rounded MMA skills.
He needs to win again in impressive fashion to keep his momentum rolling and his confidence high.
Use His Size and Reach to His Advantage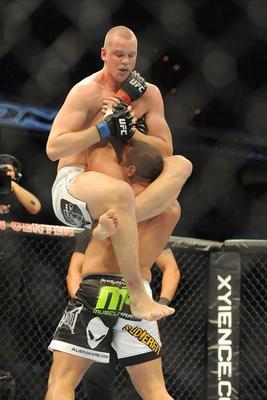 Photo courtesy of MMA-Core.com
They don't call him "Skyscraper" for nothing.
Struve is currently the tallest fighter in the UFC at 7'0". He also ties the record with Jon Jones for longest reach in UFC history at 84.5 inches.
Clearly Struve has size to burn. Early on in his career, he didn't use his reach well when standing up.
Lately he seems to have come into his own, especially in the striking department. He needs to continue using his massive reach to his advantage.
On the ground, Struve uses those long limbs of his to catch opponents in submissions they don't even see coming. Just ask Pat Barry or Lavar Johnson.
Maybe it's just me, but I would think grappling with Struve would be like rolling with an octopus: slick and you never know what's coming next.
Call out a Big Name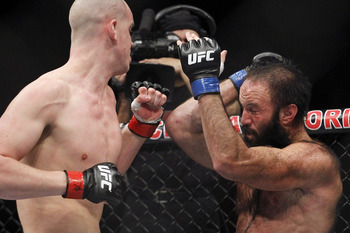 Matt Ryerson-US PRESSWIRE
If you want to be a big name, you first need to beat a big name.
That is where Struve is at right now. His most noteworthy win was the previously undefeated Stipe Miocic.
Struve needs to call out a high-level opponent and get that fight. Struve wants to make a statement in the heavyweight division.
No better way to do it then putting on a show and finishing a name opponent.
Fabricio Werdum is booked up. So is a potential Roy Nelson rematch. For my money's worth, I wouldn't mind seeing Struve against Mark Hunt or Cheick Congo.
Both would provide a solid test for the youngster and a great fight for the fans.
Tweet me @FuscoNation16.
Keep Reading