Notre Dame Football: How Fighting Irish's 2012 Season Has Shocked the World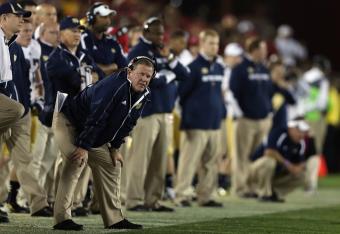 Jeff Gross/Getty Images
When I awoke last Sunday morning, I didn't believe what my groggy eyes saw on my television screen, which was tuned to ESPN.
The Worldwide Leader's flagship program, SportsCenter, was airing highlights of the Irish's 22-13 victory over the USC Trojans as anchors Linda Cohn and John Buccigross carefully explained the significance of the end result not only for Notre Dame but for the sport of college football.
But it wasn't Notre Dame's victory over its archrival that stunned me.
It was the shocking reality that the Irish had finished the regular season with a perfect record of 12-0, automatically placing them in January's BCS National Championship Game against the winner of the Southeastern Conference Championship Game, which pits No. 2 Alabama against No. 3 Georgia.
"This can't be real," I thought to myself.
Well, it is real. Notre Dame playing for the crystal football in Miami is the current reality of college football. Those who despise Notre Dame have no choice but to accept it, for the Irish are, indeed, back.
With the Irish as the top-ranked team in college football, and the Indiana Hoosiers ranked No. 1 in college basketball, we very well may have inadvertently time-traveled back to 1993 (I'm sorry, but I had to find a plug for my Hoosiers in this column).
But after checking my iPhone, the year is still 2012. We didn't time-travel after all.
Jeff Gross/Getty Images
However, looking back on the past 19 years is a tremendous aid in understanding the significance of Notre Dame's berth in college football's title game.
In fact, 19 years ago—this writer was just a pudgy one-year-old infant at the time—was the last time that Notre Dame enjoyed the distinction of being ranked as the No. 1 team in the land.
Since then, the Irish have had five different head coaches, including Lou Holtz and Brian Kelly.
The program wallowed in mediocrity from the time that Holtz left South Bend until present day. The other three head coaches in that period—Bob Davie, Tyrone Willingham and Charlie Weis—combined to win 91 games in 13 seasons. For those math geeks out there, that's an average of just seven wins per season, which simply won't keep any head coach around long at Notre Dame.
The increasingly mediocre product on the field wasn't the only problem facing the Irish, though.
Questions about Notre Dame's stringent academic standards came into play, which, in turn, raised questions about the school's ability to recruit with the likes of USC, LSU, Ohio State, etc.
Davie and Willingham certainly didn't bring in the quality of talent that the Trojans, Tigers and Buckeyes did during their respective tenures, though it was more likely because of their inability to win games.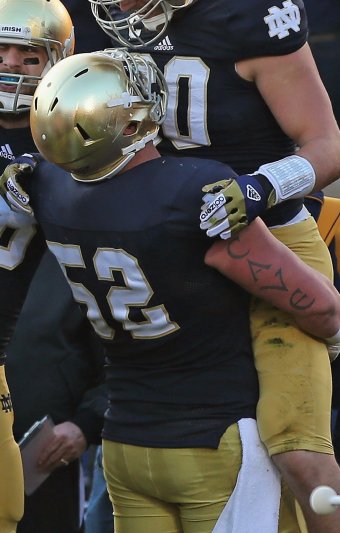 Jonathan Daniel/Getty Images
So as the losses continued to pile up, and as the doubts continued to grow exponentially, Notre Dame had become a lost soul in the new age of college football. Memories of the 1988 National Championship team faded away, drifting into the abyss.
You can count me as one of the believers who thought that Notre Dame would never again compete for national championships. And before you call me a Notre Dame hater, do know that I grew up as a fan of the Fighting Irish.
Even with the hiring of Brian Kelly, a proven winner at the collegiate level, I wasn't convinced.
Three years later, before all of you, I am eating crow. I was wrong. Notre Dame is, once again, the prettiest girl in the pageant.
The school's administration, along with Brian Kelly, returned the Irish to prominence the right way, too. The notorious scandals that occurred at Ohio State, North Carolina, Penn State, etc. did not transpire at Notre Dame.
To add even more shine to the golden dome, the Irish are ranked No. 1 in both the BCS and GSR rankings. For those of you not familiar with the GSR, it's an acronym for Graduation Success Rate. You read that right. Notre Dame is the most successful team both on the field and in the classroom.
Those rankings are the embodiment of the ever-scrutinized term "student-athlete."
Somewhere, NCAA president Mark Emmert is smiling.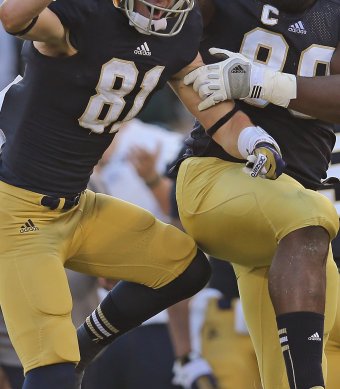 Jonathan Daniel/Getty Images
For those who may think that this all just smoke and mirrors, think again.
Kelly and his staff have secured commitments from 22 prospects in the 2013 recruiting class, 13 of which are of the 4- and 5-star variety. Their recruiting endeavors will only become easier from here, as simply telling a teenager that your team played for a national championship will be all that a kid needs to hear.
Kelly is also likely to sign a hefty contract extension following the season, meaning that his tenure in South Bend is just beginning.
So get used to it, college football fans.
Notre Dame is back.
This article is
What is the duplicate article?
Why is this article offensive?
Where is this article plagiarized from?
Why is this article poorly edited?

Notre Dame Football: Like this team?