5 Reasons the Ravens Will Outplay the Steelers Again in Week 13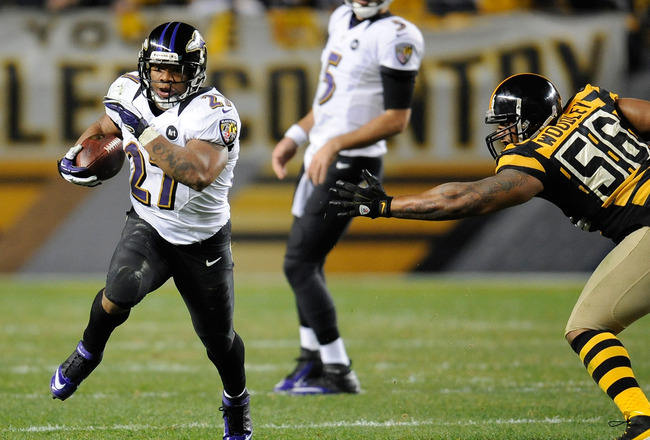 Joe Sargent/Getty Images
The Baltimore Ravens and Pittsburgh Steelers faced off just two weeks ago, in a defensive battle that is expected when these two bitter rivals meet.
The 13-10 win in Pittsburgh cemented the Ravens' spot among the AFC's elite and put them on track to win the AFC North.
The Ravens took advantage of Pittsburgh having to start backup quarterback Byron Leftwich in the game. Baltimore sacked Leftwich three times and picked him off once, to supplement its own offensive struggles.
Ben Roethlisberger is questionable to play in this game, but whether he does or not, the Ravens will still come out and outplay the Steelers again, and come out victorious.
Momentum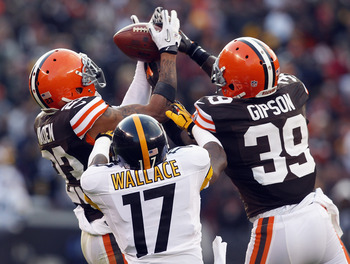 Matt Sullivan/Getty Images
Last week, the Ravens faced off against a talented but underperforming San Diego squad. The Ravens came out flat and found themselves down 10-0 at halftime and 10-3 heading into the fourth quarter.
With 1:37 left in the game, and trailing 13-10, the Ravens faced 4th-and-29 at their own 37 yard line. All hopes of a comeback win seemed lost. But then Ray Rice took a check down pass from Joe Flacco and miraculously found his way just across the first-down marker.
The Ravens would go on and win the game in overtime, giving them a phenomenal comeback and emotionally-charged victory.
In much the opposite fashion, the Steelers, fresh off their loss to the Ravens in Week 11, turned in a dud of a performance against the lowly Cleveland Browns. Third-string quarterback Charlie Batch was horrible, and there is definitely not much for Pittsburgh to build on going into this week.
Ray Rice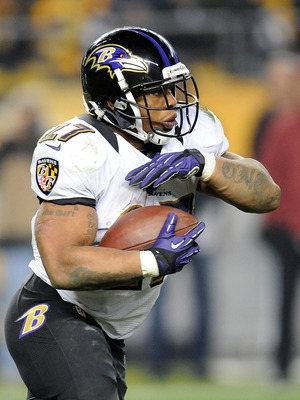 Joe Sargent/Getty Images
Ray Rice has not put up huge numbers this year, but he has been consistent and is the rock of the Ravens offense.
He's strong enough to pound the ball between the tackles, but is quick enough to break around the edge. He also has good hands and is a threat out of the backfield.
The Steelers have one of the stingiest defenses in all of football, and have been particularly good against the run this season, but Rice will be relied on as he normally is.
If he can break through the Steelers' top-ranked rushing defense, it will help open up the game for Joe Flacco and the Ravens wideouts.
Steelers' Injuries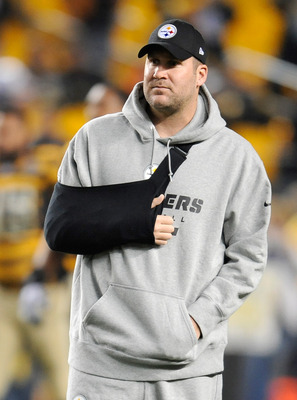 Joe Sargent/Getty Images
The Steelers are a very banged up team right now. Ben Roethlisberger has been out for three weeks now since he suffered a shoulder and rib injury, that has kept him sidelined.
There's a chance that Roethlisberger could return, but he wouldn't be 100 percent no matter what. And if he stays on the sidelines, the Ravens will have a field day with Charlie Batch.
Antonio Brown has also been nursing an ankle injury, and won't be 100 percent on Sunday. Same goes for Troy Polamalu, whose progress was called "encouraging" by coach Mike Tomlin as the safety recovers from a calf strain.
Linebacker LaMarr Woodley is also questionable after suffering an ankle injury against the Browns. This Steelers team is definitely not going to be in full force when they roll into Baltimore on Sunday.
Ravens Defense vs. Steelers Offense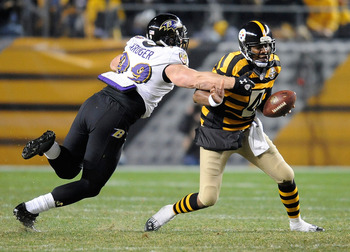 Joe Sargent/Getty Images
As mentioned previously, Ben Roethlisberger and Antonio Brown are banged up. Running back Rashard Mendenhall is being benched for Jonathan Dwyer.
The Steelers turned the ball over eight times, repeat that, eight turnovers, against the Browns last week. The Ravens have a better defense than the Browns, and will be ready to prey on the weakened Pittsburgh offense.
Even if Roethlisberger and Brown play, neither will be at full speed. The Ravens' defense hasn't been as dominating as expected this season, but there's still a ton of talent there.
The Ravens will get their chance to prove that they are still one of the most feared units in the NFL this week against a reeling, depleted Steelers offense.
Home-Field Advantage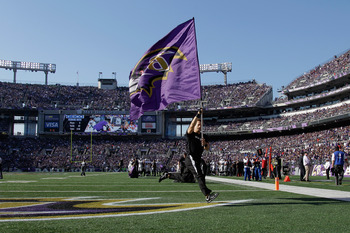 Rob Carr/Getty Images
The last, and most simple advantage that Baltimore has is the luxury of getting to face the Steelers at home. M&T Bank Stadium is going to be rocking this Sunday afternoon.
The Ravens will be able to all but clinch the division with a win, and the fans will be eager to help out their team. The Ravens-Steelers rivalry is one of the best and most brutal in all of sports, and the fans play a huge part in that.
Keep Reading

Baltimore Ravens: Like this team?