Luiz Adriano, Kanu and More: The Top 5 Unsportsmanlike Goals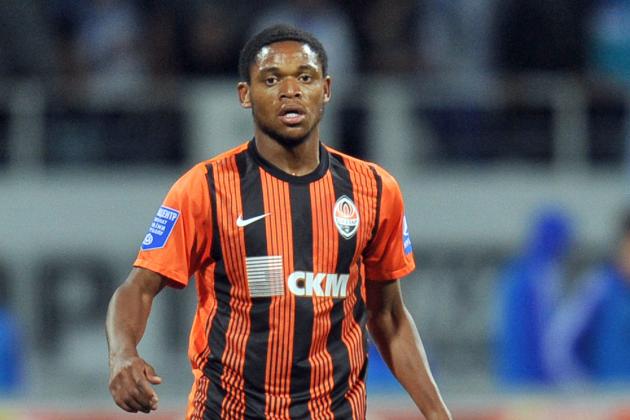 EuroFootball/Getty Images

Shakhtar Donetsk's Luiz Adriano broke one of the unwritten rules of the game last week as he pounced on a returned drop ball, helping his side equalize against lowly Nordsjaelland in the Champions League.
At first, the Brazilian was unrepentant for his unsportsmanlike conduct, but after a few days he finally offered a sheepish apology. Adriano now faces a UEFA disciplinary hearing to explain his actions.
Read on to see the Shakhtar wily strike, plus four other legitimate-yet-improper goals...
Begin Slideshow

»
Champions League whipping boys Nordsjaelland took a surprise lead against Shakhtar Donetsk in the 24th minute of their recent group game, but that glimmer of hope was dashed with the pangs of injustice just two minutes later.
Luiz Adriano picked up on a drop ball––breaking the universally accepted principle of returning the ball after an injury––and struck past a baffled Jesper Hansen. Shakhtar went on to win 5-2, thanks in part to an Adriano hat-trick that was at least 33 percent dubious.
Just 11 minutes into his Arsenal career, Nwankwo Kanu kicked up a storm of unsportsmanlike controversy.

With the score at 1-1 during an FA Cup game with Sheffield United at Highbury, Ray Parlour returned the ball with a throw-in after a player injury. Unaware of the protocol, the Nigerian latched onto the throw and threaded a ball through for Marc Overmars to convert.

Straight after the match that finished 2-1, Arsene Wenger's moral compass pointed in the direction of an offer of a replay. Sadly for the Blades, the Gunners won that match 2-1 too.
The ol' "sneaking up on the goalkeeper to poach the ball" routine has been executed off many times (see further examples here and here) and Torquay's Kevin Hill took Stockport keeper Neil Cutler by surprise in a 2005 League One match.
Hill technically didn't break any rules with his goal, but his stealthy effort is a cruel punishment for a keeper who forgot to look over his shoulder.
Thankfully for Stockport, the Gods of Karma were watching and a Rickie Lambert brace earned the visitors a 2-1 victory.
While most unsporting goals on this list do not break any rules––and hence do not incur any punishment from the referee––Figueirense youngster Pottker could be one of the first to actually see red for his devious conduct.

Instead of returning a drop ball, the Brazilian took control and scored an unscrupulous goal. Even though he was shown a straight red, the goal was allowed to stand. Which seems a little inconsistent.
Sheffield Utd aren't the only club from Steel City to suffer from an unsporting goal.

During Sheffield Wednesday's visit to Yeovil Town last year, The Glovers' Ed Upson punted a drop ball toward goal, which Kieran Agard picked up on following a defensive mix-up.

Upson's body language suggests this cynical move was premeditated, but the Owls had the last laugh as they came out 3-2 winners.