5 Guys Who Are off to Fast Starts for the Coyotes AHL Affilate in Portland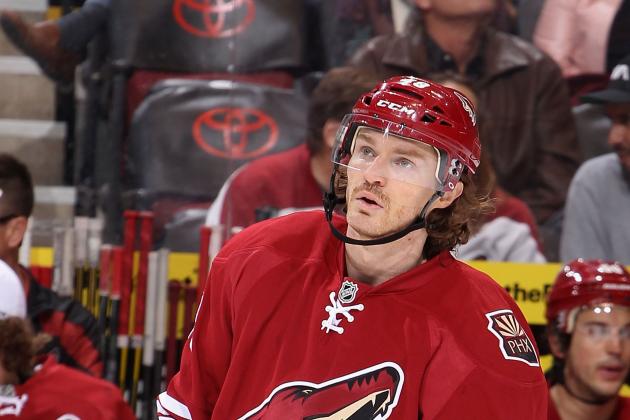 Christian Petersen/Getty Images
Bolduc is off to a red-hot start for the Portland Pirates, the AHL affiliate of the Phoenix Coyotes of the Coyotes AHL affilate in Portland
While the Phoenix Coyotes are idle as the NHL lockout continues, the Portland Pirates of the AHL are playing, and some of the Coyotes young guns have hit the ice and are off to tremendous starts.
After 18 games, the Pirates are 8-8-1-1 for 18 points and a tie for 10th place in the Eastern Conference. The defense seems to be the culprit for the mediocre start as the Pirates have given up 61 total goals, the most in the conference.
Both goaltenders, Mark Visentin and Chad Johnson, have been under assault. Both are posting over 3.00 goals-against averages and have faced more than 30 shots a game on average. Johnson has been getting most of the playing time (12 games in net) and has posted a 6-5 record with a 3.07 goals-against average and a .906 save percentage. The younger Visentin is 2-4-1 in seven games with a 3.18 goals against average and a .901 save percentage.
This article will explore the offensive and defensive players that are off to hot starts for the Pirates and look at their potential to crack the Coyotes roster this upcoming season.
Begin Slideshow

»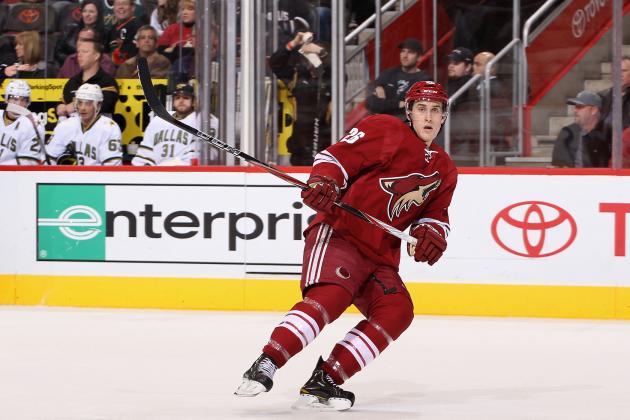 Christian Petersen/Getty Images
Stone has continued his sold defensive play with the Portland Pirates of the AHL this season
While the defense has been under heavy bombardment, only one defenseman will be mentioned in the first Hot Five list. Stone has played in 16 games for the Pirates this season and posted a team-high plus seven rating, which is impressive considering his team has let in the most goals of any team in the conference.
The 6'3", 207-pound defenseman has also amassed four goals and six assists for 10 points. He has chipped in three of those points during power plays, all goals, which is something the Coyotes will be looking at when they resume play.
When you look at Stone, you see a defensively strong and sturdy performer who will use his size to be physical when necessary. But, he plays the game intelligently (only six penalty minutes in 16 games), and so far this season, he has shown improvement in his offensive play, which will serve him well as he competes for the sixth and final defensive position in Phoenix.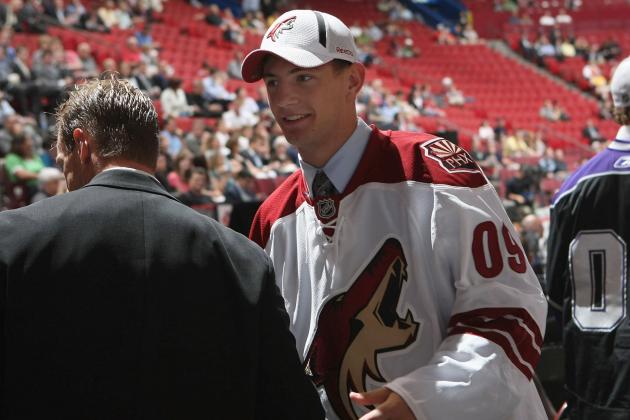 Bruce Bennett/Getty Images
Brown has impressed the Coyotes brass with his play in Portland this season
This 6'2", 207-pound right wing from Texas has been a pleasant surprise for the Pirates this season. Playing in all 18 games so far this season, Brown has collected seven goals and four assists for 11 points.
The solid, two-way player has impressed many with his physicality as he looks to take the body and deliver punishment to the opposition. He has been reckless at times (44 penalty minutes in 18 games), but if he can rein in that youthful enthusiasm, he can be a productive player for Portland this season. He also uses his body well to put him in scoring positions around the net. He has scored twice on the power play this season.
The 21-year-old Brown is probably a few seasons away from playing in Phoenix, but has had to impress the Coyotes brass and those he has played with so far this season. He will need to tighten up his defense (minus five rating this season) if he plans to play for a Dave Tippett-coached team, but that will probably come with time.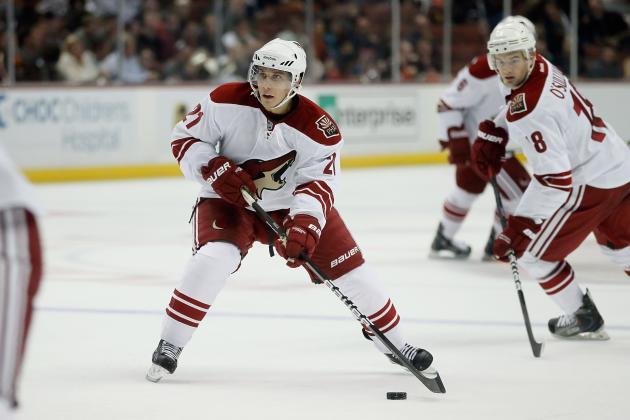 Jeff Gross/Getty Images
Miele is off to a good start this season in Portland. If he impresses, he might have a chance to get some run in Phoenix this season
Andy Miele has always had the touch of a finely trained surgeon with a stick in his hands, and this season he has performed as expected for the Pirates. The former Hobey Baker Award winner seems to be coming into his own.
The diminutive forward has played in all 18 games for the Pirates this season and has already scored five goals and dissected defenses for 11 assists for 16 points.
The 5'9", 180-pound center is a nimble playmaker who needed to work on becoming defensively responsible as he recorded a combined minus seven rating with Portland and Phoenix last season. This season, the 24-year-old center is a plus three and is beginning to play more of a two-way game. This has also cut down on his penalty minutes since being in the right position defensively has cut down on sloppy, needless penalties that he has been prone to draw in the past.
Miele will have to continue to impress the Coyotes' front office if he wants to make the big club for the entire season. If he can be a point-producer, specifically on the power play (two goals this season), he may have a chance to stick in the NHL this season.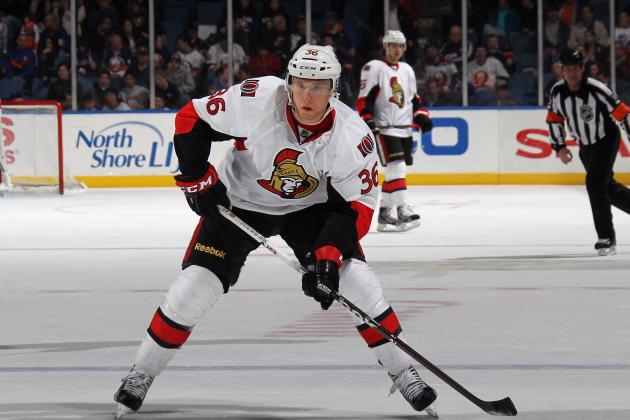 Bruce Bennett/Getty Images
Klinkhammer, with the Ottawa Senators last season, was brought in to bring a physical element to the Coyotes this season.
Rob Klinkhammer has been known throughout his hockey career as a rugged and durable forward that wasn't afraid to throw his body around. The 6'3", 214-pound winger loves to use his size to make it a difficult night for the opposition every time he is on the ice.
It has been an extremely pleasant surprise this season for the Pirates to have Klinkhammer show a different facet of his game–his scoring ability–to the Portland faithful. Klinkhammer has never scored more than 46 points in an AHL season before (Rockford, 2010-11). That is why his point totals early this season are such a welcome sight.
The 26-year-old Canadian has played in all 18 games so far and has amassed five goals and 11 assists for 16 points. He is tied with Andy Miele for second on the team in scoring and has posted a plus seven rating, tying him for the team lead with Michael Stone.
His physicality has been on display, but tempered this year. He plays a tough, in-your-face style of hockey and skirts the line between fair and foul play. He is the quintessential third- or fourth-line winger in a Dave Tippett system, and if he continues his play in this manner, he will have a good chance of sticking in Phoenix as the year goes on.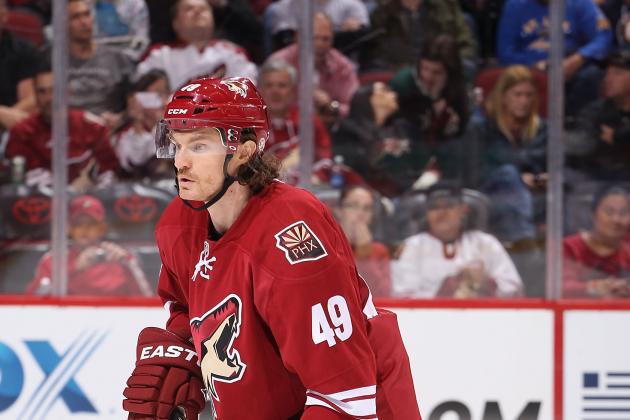 Christian Petersen/Getty Images
Bolduc has continued to produce in the AHL as he leads the Pirates in scoring this season
Alex Bolduc is in Portland this season to prove that he can be a solid contributor to an NHL squad. If the beginning of his season is any indication, his point is being noticed.
Bolduc leads the Pirates with 17 points in 18 games played. He has scored 11 goals to go along with six assists, ranking him 15th in the AHL in scoring. Bolduc plays a very solid two-way game. He can score, he can hit and he can play defense.
He has collected 22 penalty minutes and is a plus one so far, but he also contributes on special teams, playing on both the power play (2 goals) and the penalty kill (1 goal).
If he can continue to play near this level, the Coyotes will have to give the 27-year-old center a real solid look to see if he can contribute on the third or fourth lines this season.