NY Rangers: Power Ranking the 10 Best Scorers in Team History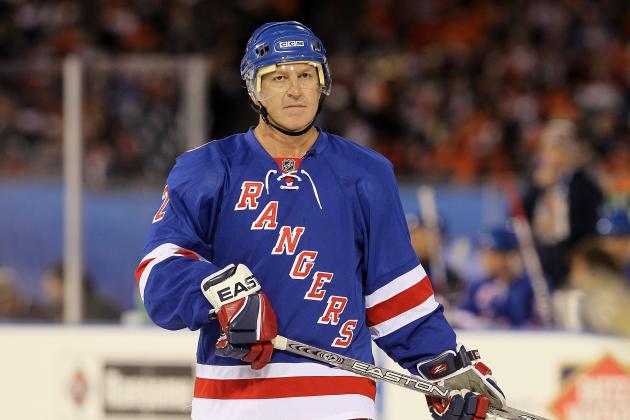 Jim McIsaac/Getty Images

A few weeks ago I ranked the 12 best passers in New York Rangers history. Well, I'm back at it again!
This time, I take an in-depth look at some of the best players to ever light up the lamp in Blueshirts history. These guys were some of the best at making the goalie look silly with their quick releases and deadly accuracy. Some hold Ranger records, some are atop the Rangers' all-time regular season goal leaderboard and some even have had their numbers retired because of their hard work on the ice.
Without further ado, here are the 10 best scorers in Rangers history.
Begin Slideshow

»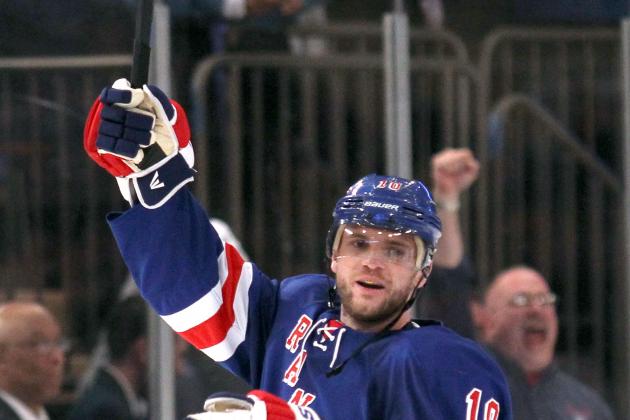 Bruce Bennett/Getty Images

Jaromír Jágr has the Rangers' single-season record for most goals at 54. He totaled 124 goals in four seasons with the Rangers.
Marián Gáborík has been a streaky scorer during his tenure with the Rangers. However, in three seasons with the Rangers, he has scored 105 goals, including two seasons of 40-plus goals.
Don Maloney was the youngest captain the Rangers have ever had. He also was an impressive scorer, scoring 195 goals during his 11 years with the team.
For 10 years, Steve Vickers played hockey for the New York Rangers. During his time with the Rangers, he played with linemates such as Walt Tkazuk, Bill Fairbiarn, and later in his career, Rod Gilbert and Jean Ratelle.
The result?
He scored 246 goals in 698 games, scoring 30 or more goals on four occasions. His best season came in 1975 when he scored 41 goals.
Vickers made history in 1972 when he became the first rookie, as well as the first New York Ranger, to ever to record hat tricks in consecutive games. 1972 was also the year he scored 30 goals as a rookie and won the Calder Memorial Trophy.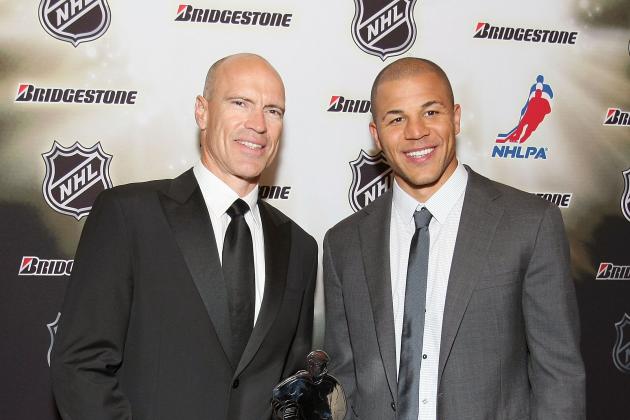 Bruce Bennett/Getty Images

Besides being one of the greatest captains the Rangers have ever had, being third on the all-time NHL assist leaderboard, and leading the Rangers to a 1994 Stanley Cup victory, Mark Messier was a pretty good scorer as well.
During his time, Messier scored 250 goals (seventh best in Rangers history), including seven seasons of 20 or more goals.
The most goals he ever had as a Ranger was 47, during the 1995-96, which was the third-highest total in his career.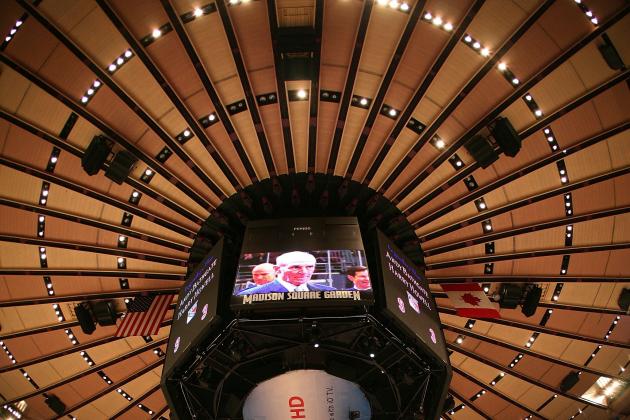 Bruce Bennett/Getty Images

It was very hard for Camille Henry to stay healthy during his time in the NHL, since he was the smallest player in the NHL during that time.
However, at 5'7", 152 pounds, Henry when healthy was one of the most effective scorers ever to play for the New York Rangers.
In the seven full seasons Henry played for the Blueshirts, he only failed to score over 20 goals once. His highest scoring total came during the 1962-63 season, when he scored 37 goals.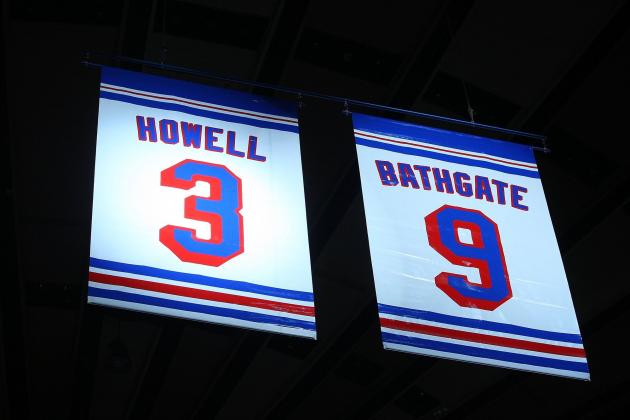 Bruce Bennett/Getty Images

Andy Bathgate is a very popular player in Rangers history, and rightfully so. During his time with the Blueshirts, he won the Hart Memorial Trophy and won a Stanley Cup in 1964, which earned his jersey a spot high above Madison Square Garden when it was retired in 2009.
Besides all those personal achievements, he was a great scorer as well. In 10 seasons with the Rangers Bathgate scored 20 or more goals nine times, including one year of 40 goals.
He is fourth on the franchise's all-time goal leaderboard with 279.
Originally known as an enforcer for the Rangers, Hadfield gradually became a scorer when he joined a line with teammates Jean Ratelle and Rod Gilbert, better known as the Goal-A-Game line (GAG line).
From the 1967–68 season on, Hadfield would never again score less than 20 goals in any full season.
That earned him fifth all-time in Rangers history at 262 goals.
Some diehard Rangers fans may disagree that Bill Cook should be ranked so high on this list. He is 10th on the Rangers all-time list at 229 goals, which is less than everyone mentioned before him.
However, Bill Cook played way less games than anyone that has currently been on this list. Back when he was playing (1926-37), Cook was playing half the amount of games then the players listed before him (most games played in a season was 48).
He was officially the first player signed by the Rangers, and was named the team's first captain. He also was part of the NHL's first ever prolific scoring line, the "Bread Line," with his brother Bun and Frank Boucher.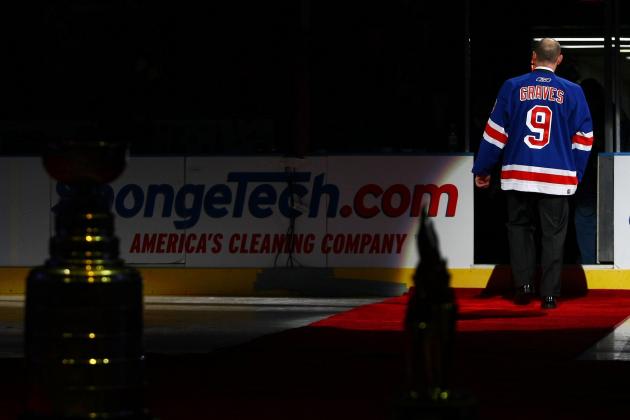 Chris McGrath/Getty Images

Graves's first three years with the Rangers were good ones. He scored 26, 36 and 52 (Rangers record at the time) respectfully before dropping down to 17. However, he would bounce back with five straight seasons of 20 or more goals, including 38 during the 1998-99 season.
At the end of his time with the Rangers, Adam Graves tallied 280 goals which is third best in franchise history.
The Rangers took a chance on Graves, who only scored 16 goals with the Edmonton Oilers in two seasons, and it paid off.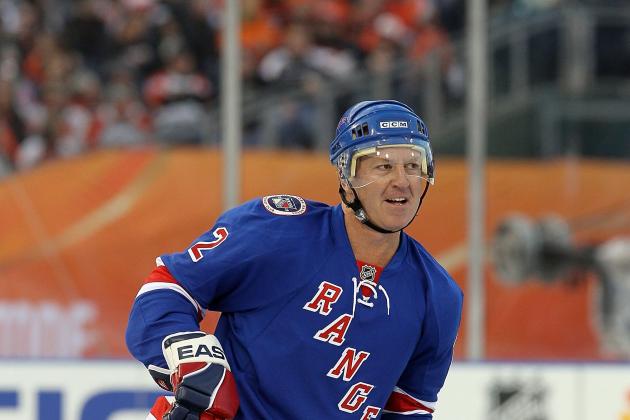 Jim McIsaac/Getty Images

The greatest defenseman in Rangers history was not only the best passer the Rangers ever had, he could shoot the puck as well, making him a dual threat on the offensive side of the ice.
Currently, he holds the franchise record for most goals ever by a defenseman with 240 (ninth best in franchise history), most power play goals by a defenseman in a single season with 23, most goals by a defenseman in one year with 11 in 1993-94 and most goals by a defenseman in a career with 38.
Pretty impressive resume by arguably one of the greatest Rangers of all time.
For three straight seasons, Jean Ratelle posted 32 goals. That is only 96 of his 336 total during his tenure with the New York Rangers.
Much like Hadfield, Ratelle benefited by being a part of the GAG line, which makes him the second-best scorer the Rangers ever had during their 86-year history.
However, he falls 70 goals short of his linemate and the No. 1 all time in Rangers franchise history.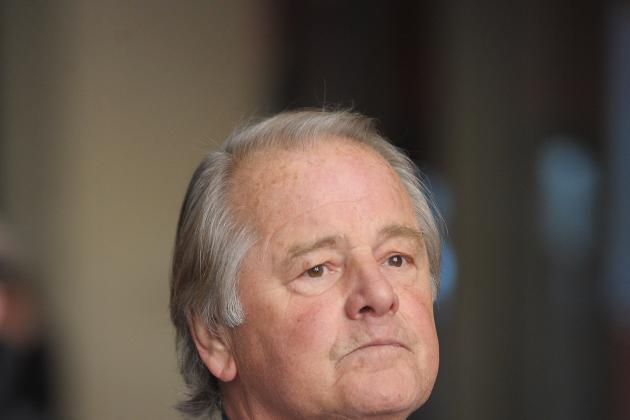 Michael Loccisano/Getty Images

Playing right wing on the GAG line, Rod Gilbert played in over 1,000 games and also was the first player in New York Rangers history to have his number retired.
Gilbert had 406 goals, having 12 seasons of 20 or more goals, including his career-high of 43 during the 1971-72 season.
Will his record ever be broken? Time will tell, but until then, he will hold the title as the best scorer in Rangers history.