How Eric Maynor Broke My Bracket...and My Heart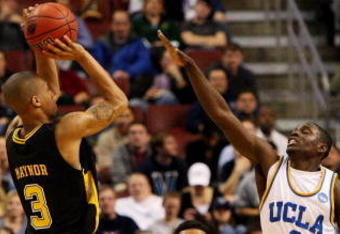 (Photo by Jim McIsaac/Getty Images)
I went to high school with Villanova guard Scottie Reynolds. It went down to the wire whether I would attend Drexel University or Virginia Commonwealth for college, ultimately opting for Drexel.
I work less than a mile away from the Wachovia Center. Getting tickets to session two at the Wachovia Center was a no brainer.
Even more fortunately for me, some of my friends from VCU were driving up and had an extra ticket and offered it to me if I bought them some cheesesteaks. After work, I ran up to Geno's and met them at the game.
Now, for many, donning a t-shirt of a conference rival and sitting with a group of their fans would seem freakish and unnatural. However, for me, it just felt right. I'd much rather see a team I followed through the CAA for the past few seasons than UCLA.
As an added bonus, I had already heard many of their chants, so it wasn't hard to catch on.
The Villanova game came and passed. The 'Nova fans were quiet for much of the first half, but as the Wildcats got rolling they showed why it was a home-court advantage. My fellow Herndon alumnus struggled, as Scottie finished with single-digit points.
But Villanova prevailed over American, and many Wildcat fans called it a night and left after the first game.
The UCLA fans were limited by clearly die-hards. A little over a section of the stadium was filled with powder blue who had ventured from the far coast. But the VCU fans had them outnumbered three-to-one, and it showed.
As game two started, the VCU fans were louder and rowdier, and for the first 15 minutes the game was close. After VCU tied the game at 23 with 4:58 left in the first half, UCLA pulled away for a 35-25 lead at the half.
The rim was not a fan of the Rams in the first half, as shot after shot bounced out. VCU only shot 32 percent from the floor and couldn't generate anything off the offensive glass. They were lucky to only be down by 10 going into halftime.
Before the game, my friends had reinforced something that I already well knew. VCU is a second-half team. Eric Maynor, the only senior on the team and the player who hit the winning shot to upset Duke two years ago, has a tendency to take over games in the clutch.
He lights on fire in the second half, and brings the rest of the team with him.
Even down by 10 to a team that has more national titles than VCU has tournament appearances, Maynor and the Rams couldn't be counted out.
The second half started with VCU slowly chewing away at the Bruins' lead. Maynor made a jumper four minutes it that cut it down to 39-34. After a few minutes of back and forth play, UCLA pulled ahead. Jrue Holiday scored six consecutive points to give the Bruins an 11-point lead with eight minutes to play.
Many of the Villanova fans who had stuck around began to file out of the arena. To everyone but the Rams faithful, the game appeared over.
It didn't help that VCU had missed on the first shot of 1+1 free throws three times in a row either.
With four minutes left, UCLA still led by nine. Then it happened.
Eric Maynor drained a three-pointer, cutting the lead to six. Just 25 seconds later, 5'10" sophomore guard Joey Rodriguez nailed another three-pointer. It was a one-possession game with three-and-a-half minutes left.
The VCU fans were on their feet, and the Wildcats still left around joined in. The arena had shifted from a slight-VCU advantage to the Siegel Center. It was like home court. The 'Nova faithful joined in with the VCU chants and had clearly picked a side.
Collison and TJ Gwynn traded lay-ups in the next minute, leaving the game 63-60 in favor of UCLA with two minutes left. Holliday then fouled Bradford Burgess, putting his team over the limit and sending Burgess to the line for two.
WHOOSH! V-C-U GO RAMS GO!
WHOOSH! V-C-U GO RAMS GO!
The pair of free-throws had pushed the UCLA lead, which was 11 points only a few minutes ago, to a single-point margin.
UCLA went the other way, and Aboya drew a foul on T.J. Gwynn. Aboya nailed both of his shots. The game was three points again.
A UCLA fan waved to "bye-bye" to me from across the arena.
Maynor streaked with the ball the other way and drew a foul.
He sank his first shot.
WOOSH! V-C-U GO RAMS GO!
The chant was still there after he drained the second, but it wasn't audible above the roar of Villanova fans, as the game was once again a one-point difference with 48 seconds remaining.
UCLA trusted the ball to their senior point guard, Darren Collison. The Bruins drew out the shot clock. Collison sent one up with 0:22 left.
And 6'10" Larry Sanders sent it right back down with his fourth, and most critical, block of the game for the Rams.
The arena was deafening.
Nikola Dragovic tried to send up a shot before the shot clock expired, but couldn't get it off.
VCU had the ball back and called a time out with 13 seconds left.
Everyone in the arena thought the same thing. Two seasons ago, 11-seeded VCU knocked off six-seeded Duke on a last-second jump shot by Maynor.
And to the surprise of absolutely nobody, Maynor got the ball.
Collison pressured him the length of the court, keeping his feet moving and Maynor off-balance.
Maynor never got an open-look, throwing up a last-ditch, off-balance jumper as the clock ticked down.
It grazed off the front of the rim and fell short. UCLA survived 65-64.
Eric Maynor, who had beat so many buzzers and pulled the Rams through so many second halves in his career, couldn't land the last shot of his college career.
The next stop for VCU all-time leader in points and assists is likely the first round of the NBA draft. Maynor is projected to go as high as 19th in next season's draft.
All hope is not lost for the VCU Rams next seasons. Coach Anthony Grant is just the latest in a long line of quality VCU coaches.
The VCU coaching staff has included Tubby Smith (Minnesota), David Hobbs (ex-Alabama), and Jeff Capel (Oklahoma) over the years.
Grant has already been rumored to be linked to multiple SEC jobs, but has refused to comment. Many NCAA, CAA, and VCU followers feel that he'll remain with the school at least until many of his current players graduate.
Maynor is not their only NBA-talent either. Sophomore Larry Sanders is projected to be a future first-rounder as well, though not until after at least his junior season. Guards Joey Rodriguez and Bradford Burgess also have solid CAA-potential, and VCU has signed Ben Eblen (an 88-rated prospect) to ultimately replace Maynor.
UCLA will face Villanova next on Saturday. Both teams are physical and the game should be a tight, physical contest. 'Nova has home-field advantage, playing in Philadelphia, which could sway the outcome of the match.
But UCLA managed to survive a hostile crowd against VCU.
This article is
What is the duplicate article?
Why is this article offensive?
Where is this article plagiarized from?
Why is this article poorly edited?