5 Things to Watch for on the Nov. 26 Edition of WWE Monday Night RAW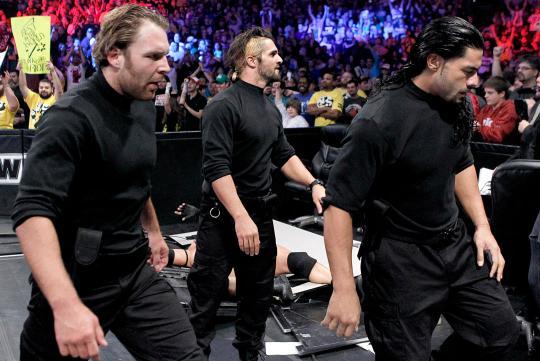 Photo courtesy of WWE.com
With TLC being just a few weeks away, the WWE's focus has suddenly shifted toward the next big event, and this week's edition of RAW promises to feature plenty of preparation for the upcoming pay-per-view. One match has already been announced, and it wouldn't be a surprise to see at least a couple more put into place on Monday.
Perhaps more importantly, however, Michael Cole will try to get to the bottom of the situation involving NXT stars Seth Rollins, Dean Ambrose and Roman Reigns. They have twice assisted WWE Champion CM Punk by attacking Ryback and they are scheduled to reveal their motives in an exclusive interview on RAW.
In addition to that, there are several other big storylines that figure to be advanced. Punk and Ryback continue their feud, the John Cena and A.J. Lee affair will likely be addressed with Dolph Ziggler playing a big role as well and there are plenty of midcard angles that deserve some attention.
The WWE still has plenty of time to build toward TLC, but there is no doubt that it will want to build anticipation as early as possible. Here are the top five things that you should keep an eye on while watching RAW this week.
Begin Slideshow

»
Survivor Series had one of the most shocking endings in recent memory, as Ryback was on track to winning the WWE Championship before being attacked by Seth Rollins, Dean Ambrose and Roman Reigns. They powerbombed him through a table and CM Punk was able to pin John Cena and retain his title. Now fans want to know why the NXT superstars got involved in the triple-threat main event.
Many figured that would be answered last Monday, and while the "NXT Three" did appear, they once again attacked Ryback without explanation.
Now that Michael Cole is officially scheduled to interview them, however, some reasoning appears imminent. Whether or not it will be truthful is a completely different story, though.
When Brad Maddox explained his low blow and fast count on Ryback at Hell in a Cell, he said that he did it simply to get noticed and receive an opportunity to be a WWE superstar. Despite that, most people figure that Maddox is somehow involved with Punk and Paul Heyman, just like Rollins, Ambrose and Reigns. I fully expect the "NXT Three" to have a similar explanation to the one Maddox offered.
They can say that they've been held back despite their talent and that they wanted to take out the biggest, baddest guy on the roster to prove their worth. The fact that Heyman invited Ryback to Punk's one-year title reign celebration and essentially set him up is a bit too convenient, though.
We'll get some answers tonight, but I doubt they'll be the ones that most people are looking for.
The affair angle involving John Cena and AJ Lee was in dire straits prior to last week, but new life was breathed into it and now many are interested to see where it leads.
Vickie Guerrero brought in witnesses last week, which prompted Cena and AJ to engage in a make-out session in the middle of the ring, for whatever reason. That was broken up by Dolph Ziggler and it led to Cena injuring his knee.
The injury definitely seemed legitimate at first, but it quickly became apparent that it was simply part of the angle. The doctor told Cena that he could have a torn meniscus, yet Cena has continued to compete. Also, Cena went into the locker room while AJ was attacking Ziggler and it led to Ziggler spearing Cena through a bathroom stall. Cena was apparently fine, though, as he appeared on SmackDown and slapped the STF on Ziggler to close the show.
A couple things bear watching, including the relationship between Cena and AJ Cena claimed that he only kissed her to prove a point, but AJ reciprocated and clearly wants something more.
At this point, it's inevitable that the two of them will become an item, and it may become official this week. In addition to that, Cena figures to face Ziggler at TLC, so a match and a possible stipulation may be announced this week.
I would love to see a TLC match with Ziggler's Money in the Bank briefcase on the line because a win over Cena would mean that much more. I'd rather Cena not be handicapped by a fake injury, but as long as Ziggler comes out on top, it will be mission accomplished.
Everything seems to be leading toward AJ turning on Cena at TLC and helping Ziggler win, so hopefully all goes well with the storyline this week.
Nothing is official as of yet, but most fans would have to agree that a WWE Championship match between CM Punk and Ryback at TLC seems imminent.
Punk has twice escaped with the WWE Championship despite Ryback being poised to win it, so he is entitled to a rematch. It isn't ideal since nobody believes that Ryback could possibly face The Rock at Royal Rumble, but the WWE has put itself in this position.
Whether or not it's announced this week, a match between Punk and Ryback will eventually be set up.
The real question, though, is what will the stipulation be? The TLC pay-per-view offers a lot of different possibilities, and while the main event is usually a Tables, Ladders and Chairs match, that wouldn't be ideal for Ryback. I simply can't see him working an effective match with a ladder involved, so it would be best to take that out of the equation.
The obvious move would be to make it a tables match. Seth Rollins, Dean Ambrose and Roman Reigns put Ryback through a table at Survivor Series and on the ensuing RAW, so the stipulation is already built into the storyline. It would also be sensible since a tables match would appear to give Ryback a major advantage. Vince McMahon could even ban Rollins, Ambrose and Reigns from the match to put Punk in an even tougher position.
This could ultimately lead to the return of Brad Maddox, Brock Lesnar or perhaps even both to help Punk put Ryback through the table and retain his WWE Championship. The earlier the match is announced the better, as it will allow time to build anticipation, so doing it tonight would obviously be ideal.
For the past few weeks, it has become apparent that The Miz is on the verge of a face turn, and while it hasn't totally come to fruition yet, it's only a matter of time.
The Miz's face turn began when he quit CM Punk's Survivor Series team and eventually joined Mick Foley's team. There was a possibility that he would screw over the face team, but he didn't try any funny business, so there is little doubt that his days as a heel are nearly numbered.
He has taken more strides since then, as he challenged Dolph Ziggler on Main Event and defeated David Otunga on RAW, so he has taken to facing heels. His actions on SmackDown made it abundantly clear that the transformation isn't complete, though, as he was antagonistic while interviewing John Cena about his alleged affair with AJ Lee.
The Miz is most definitely a tweener leaning face right now, and he is just one defining moment away from making the leap officially.
It may not happen on RAW, but I'm sure we'll see The Miz in some capacity. He is in limbo right now to some degree as he doesn't really have anyone to feud with, but I would love a program between him and Randy Orton. While Orton is obviously a face, a feud could lead to a double turn. Orton RKO'ed Miz heading into Survivor Series and they were very wary of each other as teammates, so a rivalry would definitely make sense.
Orton is very stale in his current state and could use a change in his own right, and turning heel while turning Miz face in the process would be perfect. That could then lead to a feud between them that would perhaps culminate in a World Heavyweight Championship match at WrestleMania. The Sheamus vs. Big Show feud has been solid, but face Miz vs. heel Orton would be something new and different that the fans would enjoy.
With the foundation of Team Hell No crumbling, the tag-team division appeared to be heading toward Team Rhodes Scholars ultimately capturing the titles, but things have suddenly changed due to the injury to Cody Rhodes. Team Rhodes Scholars is no longer in the conversation and there are suddenly three teams vying for the prize in Team Hell No, Rey Mysterio and Sin Cara and The Prime Time Players.
Mysterio and Sin Cara faced Kane and Daniel Bryan last week for a chance to become the No. 1 contenders, but Titus O'Neil and Darren Young interfered, so the situation is a bit murky. Perhaps the top two challengers will be pitted against each other to determine the No. 1 contenders, but I would love to see a triple-threat TLC match at the upcoming pay-per-view.
It obviously wouldn't measure up to the encounters that the Hardy Boyz, Dudley Boyz and Edge and Christian once had, but it could really boost the improving tag division. Tag-team wrestling in the WWE was an absolute joke for a couple years, but there is suddenly a lot more depth. In fact, the writers should draw on that depth even more and throw the team of Tyson Kidd and Justin Gabriel into the match.
That way the match would feature guys like Kidd, Gabriel, Mysterio, Sin Cara and Bryan, who can thrive with ladders involved, while Kane, O'Neil and Young would provide the muscle. The match would feature plenty of star power and in-ring talent, and I firmly believe that it could help make tag-team wrestling a top attraction in WWE once again.
Follow @MikeChiari on Twitter and listen to him on Ring Rust Radio.