12 Dream Free Agent Pickups for the Cincinnati Reds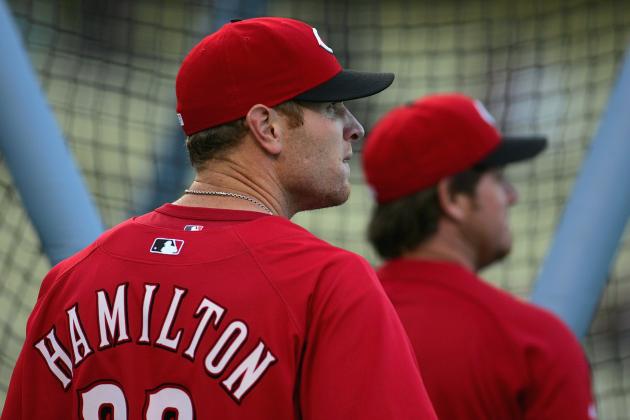 Victor Decolongon/Getty Images

The Cincinnati Reds are looking to repeat as National League Central champions in 2013, but the team can only dream about signing Josh Hamilton and other free agents to improve its chances to get back to the MLB postseason.
Every offseason features high-profile free agents looking for new teams, and Hamilton leads the pack this year. Zack Greinke is the top starting pitcher on the market, but the team had one of the best rotations in all of baseball in 2012.
It's no secret that the team is looking to upgrade its leadoff hitter and/or sign a left fielder. Ryan Ludwick declined his option for 2013, so the Reds may be looking elsewhere to fill that hole.
Not only would the team like to fill its leadoff role this offseason, but a left-handed hitter is near the top of the list. Right fielder Jay Bruce and first baseman Joey Votto were the only left-handers on the roster for the entire season in 2012.
The players on this list range from high-profile free agents to veterans to role players. Some of these players also have Ohio or Reds ties, which would help the team attract them.
There are very few players on this list that Cincinnati can afford, so don't expect them to sign these players. However, the addition of even one of these players would make the Reds the favorites to win the National League next season.
Fans can at least dream about adding big-time players.
*All stats are from ESPN.com
Begin Slideshow

»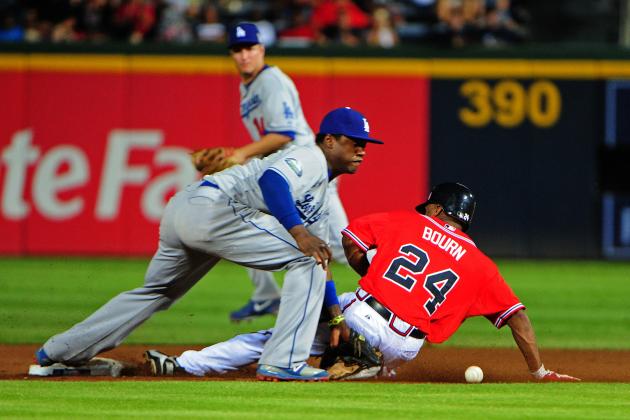 Scott Cunningham/Getty Images

Out of all of the free agents available this winter, Michael Bourn is the player the Reds would want most.
The 29-year-old is finally getting attention after being overlooked for years in Houston. He has been a very good player for the Atlanta Braves in the last year-and-a-half. Bourn has everything you would want in a player: speed, ability to bunt, average, on-base percentage, defense.
Current center Drew Stubbs also has great speed, defense and can hit more home runs. However, his lack of ability to bunt has killed his average. If he were able to bunt, he could cut down on the strikeouts and get on base more.
On the other hand, Bourn knows how to bunt and can steal bases. He led the league in stolen bases for three straight seasons.
Bourn has won two Gold Gloves and been named to two NL All-Star teams.
His skills would allow the Reds to fill several needs with one signing: center field, leadoff batter and left-handed hitter.
With the addition of Bourn, the Reds could try a platoon of Stubbs and Chris Heisey in left.
This scenario is not totally out of the question. Danny Knobler of CBSSports.com reported earlier this month that Cincinnati was interested in signing the center fielder. He is likely out of the team's price range, but crazy things can happen in baseball.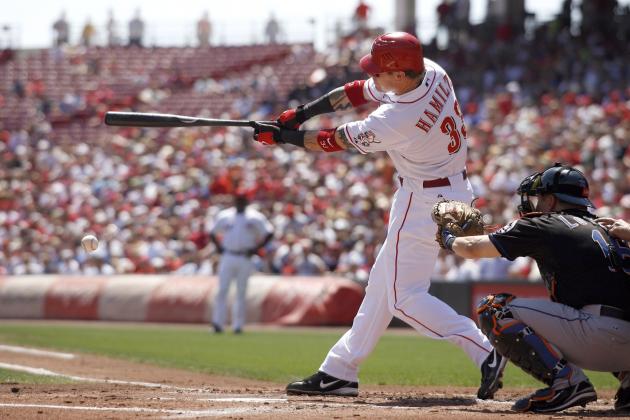 Thomas E. Witte/Getty Images

Josh Hamilton will not be a Red in 2013, but it doesn't hurt to hope.
The only need he wouldn't fill is the leadoff hitter, but I'm pretty sure the Reds wouldn't care about that if he signed with the team.
The Hamilton-Edinson Volquez trade in the 2007-2008 offseason will go down as one of the worst trades in franchise history.
Hamilton ended up making five consecutive AL All-Star teams and won the AL Most Valuable Player in 2010 (the same year Votto won the NL MVP for the Reds). He also helped lead the Texas Rangers to two consecutive World Series, including one that the team was a strike away from winning.
Volquez, meanwhile, won 17 games in 2008 and made the NL All-Star team. He missed most of the 2009 season after having Tommy John Surgery. He was then suspended for performance enhancing drugs in 2010. Ironically, he never returned to his All-Star form. The right-hander was a key piece in the Mat Latos trade, so it wasn't all bad.
By signing Hamilton, the Reds would have a lineup that would make the New York Yankees jealous. Starting in the second spot in the order: Brandon Phillips, Votto, Hamilton, Bruce and Todd Frazier (I know Phillips is the leadoff man right now, but he shouldn't be).
His left-handed bat would create a powerful middle of the lineup, and Great American Ball Park would see some exciting baseball.
Hamilton's asking price will be way too high for the Reds, but bringing him back to Cincinnati would all but guarantee a trip to the World Series.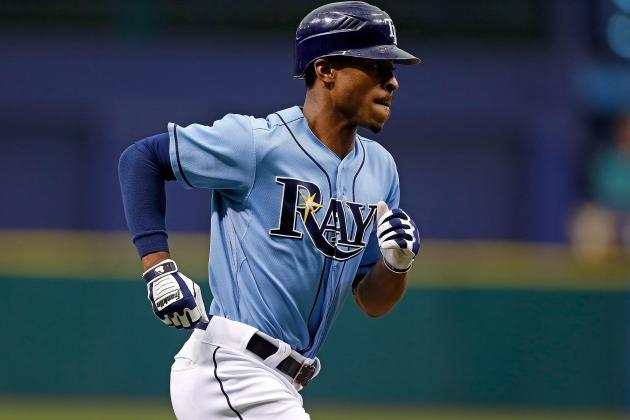 J. Meric/Getty Images

This is an interesting fit, but it would be tough to work it out. B.J Upton has already switched from the infield to the outfield in his career, and he would have to switch from center to left in Cincinnati.
He has good speed, but Stubbs is a much better defender. With Bourn, they were about even in center. It's not even close with Upton.
Upton has struggled to hit for a high average the past few seasons, but the power numbers are there. His bat would work well at Great American Ball Park, and he could hit near the top of the lineup. The 28-year-old has hit above .300 in a season before, so there is potential for him to turn it around.
His attitude would be a cause for concern, but manager Dusty Baker could handle it. Baker was able to get Phillips to play hard at all times, and he would do the same thing with Upton.
Moving to left field might be an adventure at first, but the small outfield would help him.
When he is giving it his all, Upton is a dangerous player. He stole 31 bases last season, which would have led this team.
The Reds would be willing to sacrifice some of his power in order to get him to hit for a higher average. Like Stubbs, he will strike out more than he should.
Upton is an extremely gifted player, and Cincinnati would give him a great chance to produce some big numbers.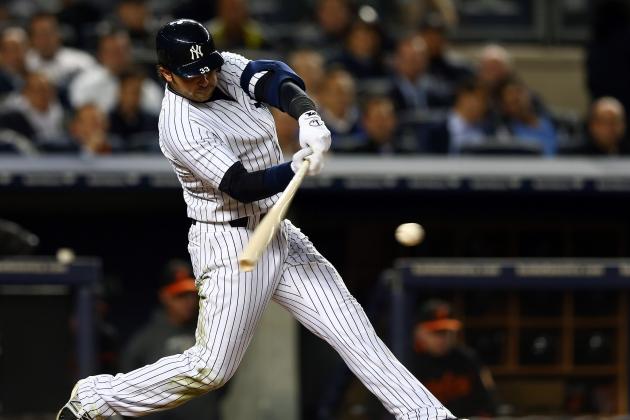 Elsa/Getty Images

The Reds are looking for a left fielder, and Nick Swisher would be a good fit. His asking price will be extremely high, but there is no doubt that he would produce.
Cincinnati was missing a cleanup hitter for most of last season, and its current cleanup hitter is a free agent. Swisher hit for a good average during his time with the New York Yankees, and his power numbers would translate well.
The 32-year-old has hit at least 21 home runs in every season since becoming a full-time big leaguer, and he has knocked in at least 82 runs in the past four seasons. Swisher has played every outfield position, so he would give the Reds flexibility. He would be the left fielder if he signed in Cincinnati.
The former Ohio State Buckeye has turned into a star, which makes this unrealistic. However, the Reds would love a player of his caliber separating Votto and Bruce.
Swisher's personality would fit well on this team, and the fans would love him. This is already a likable group of players, but Swisher would make it even more fun to watch.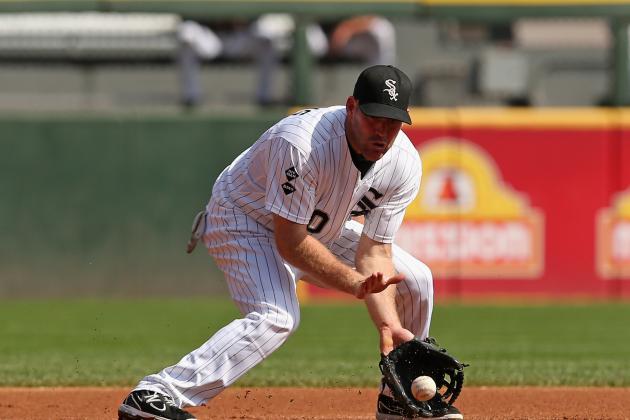 Jonathan Daniel/Getty Images

Kevin Youkilis to Cincinnati is the most realistic option of this group, but even this is a stretch.
Last year, he told Joe McDonald of ESPN Boston that he would prefer to play in Cincinnati if he left Boston. His down season has helped lower the cost, but he has also turned teams off.
Todd Frazier will most likely be the starting third baseman even if Scott Rolen decides to return to the team. If the Reds would like to go after Youkilis, they could move Frazier to left field to make room.
Unless the team goes after an established player at third, Frazier will be penciled in there. Youkilis would be a risk after seeing his production go down last season. He used to hit above .300 and hit for power, but he has seen a dip in his average the past two seasons.
The 33-year-old is from Cincinnati, so he might be willing to give a hometown discount. Not saying the team is still interested, but there could be a potential match here.
The former Gold Glove winner might be a safer bet than Frazier at third. The rookie had some growing pains on defense, but he did get better as the season went on.
Youkilis is not the player that he used to be, but he can still get the job done.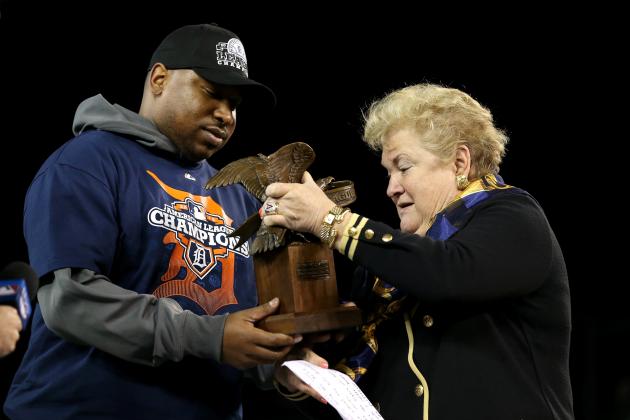 Jonathan Daniel/Getty Images

Delmon Young has had his issues, but he has always been a solid player.
The 2012 ALCS MVP benefited from a big postseason, and he will likely get paid for his performance.
Cincinnati is a great defensive team, which makes this an interesting fit. Young is not much of a fielder. The short left field wall would make it easy to put him in the outfield. Cincinnati has had its fair share of poor defensive left fielders, so it's not a deal breaker.
At 27 years old, the right-handed hitter swings the bat. He has hit at least .267 in every season of his career, and he has some pop in his bat.
Young showed he could get it done in the postseason, and the team needs help to get past the first round. He isn't the best player available, but he can get the job done.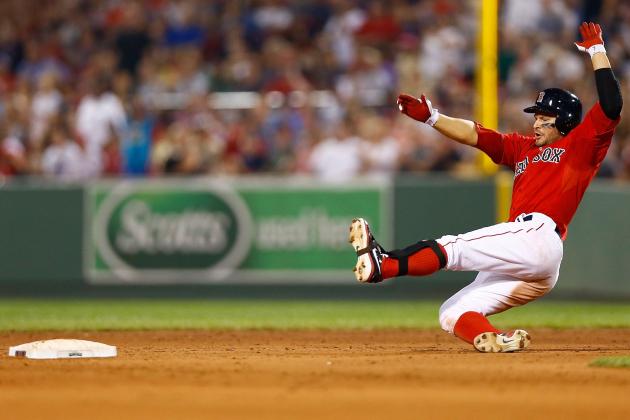 Jared Wickerham/Getty Images

Not many things went right in Boston last season, but Cody Ross was still producing.
Another former Cincinnati Red, Ross has turned into a good player since leaving town. He has hit at least 12 home runs in every season since leaving the Reds in 2006 and has driven in runs.
The 2010 NLCS MVP was the key to the San Francisco Giants' World Series run that year, which should make him attractive to the Reds.
He can also play left field, so there would be a spot on the team for him. After playing at Fenway Park, Great American Ball Park would be a breeze.
The 31-year-old produced while playing for the Red Sox, and the pressure is pretty heavy up there. If he could hit for a higher average, this would be a great fit.
Boston signed former Red Jonny Gomes, so Ross could be on the way out. He will have several suitors, and Cincinnati should take a look at him.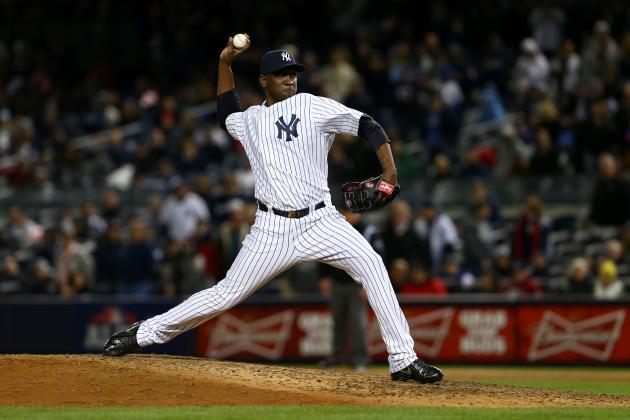 Elsa/Getty Images

Rafael Soriano is an established setup man and closer. After Mariano Rivera went down with an injury, Soriano stepped in and took over as closer.
He was signed to be a setup man and did a good job with the Yankees. However, he has made the AL All-Star team as a closer for the Tampa Bay Rays.
Cincinnati is looking to sign a closer so they can look at moving Aroldis Chapman to the rotation. However, John Fay of the Cincinnati Enquirer tweeted earlier Monday that the team will likely re-sign Jonathan Broxton.
Broxton deal probably won't be announced today. #Reds wait till the ink is dry. Think he was surer bet than Madson, Soria.

— John Fay (@johnfayman) November 26, 2012
If that's the case, Soriano would not be necessary. Broxton was acquired from the Kansas City Royals at the trade deadline, and he served as a setup man.
Having Soriano, Broxton and Chapman would make it impossible for teams to put together a rally in the late innings.
This is not happening, but it is interesting to think of how much more dominant the bullpen could be with Soriano.
Dilip Vishwanat/Getty Images

With the Reds reportedly close to signing Broxton, it appears that Chapman is poised to be a starter next season. If that's the case, it will leave Sean Marshall as the only left-hander in bullpen. He will likely be the setup man, so the team wouldn't have a situational lefty.
Mike Gonzalez is coming off a solid 2012 campaign, and he would fill the hole left by Chapman in the bullpen. He is not the dominant pitcher Chapman is, but he can get lefties out. He held them to a .179 average last season and allowed only one home run in 67 at-bats.
He is likely a cheap option, so this has a chance of happening.
Cincinnati needs more than one southpaw in the bullpen, and there are not many available options. This will only be necessary if Chapman is moved to the rotation, but don't count on it even if it does happen.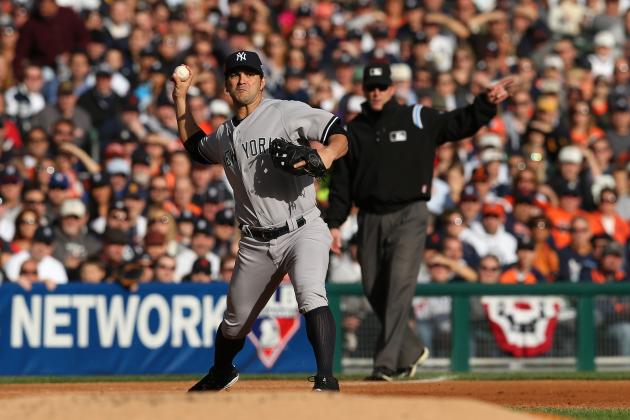 Jonathan Daniel/Getty Images

Eric Chavez is similar to Kevin Youkilis, but he may fit what they want even more than the Cincinnati native does.
The third baseman is a left-handed bat that can drive in runs and hit for power. Not only does he produce runs, but he also hit .281 last season with the Yankees.
When Alex Rodriguez was benched in the playoffs, it was Chavez who took his place. The postseason was rough for the entire team, so his struggles weren't the center of attention.
Chavez has won six Gold Gloves in his career, so he would add to this already great defensive infield. He is not the fielder he once was, but he is no slouch.
He would have to be used against right-handers only because he hit .152 against southpaws last season. The Reds hit lefties very well in 2012, so his bat against righties would be a welcomed addition.
The 34-year-old was willing to accept a reduced role last season, and he could accept another reduced role next season. He could play some against right-handers and also come off the bench.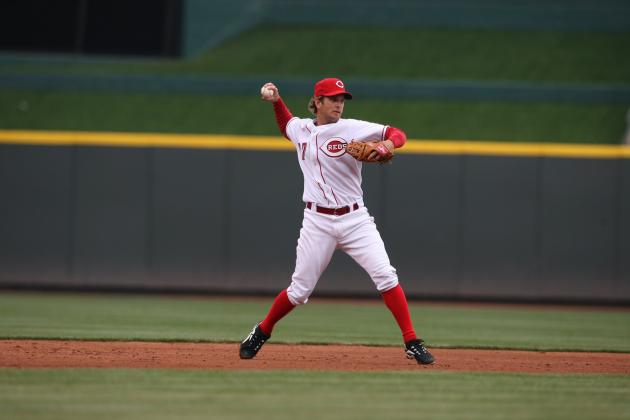 Andy Lyons/Getty Images

As I wrote in a previous article, Jeff Keppinger would be a great addition to the Reds.
He would be a cheap asset, and he can do just about everything a manager could ask him to do.
It would be his second stint in Cincinnati, and the team would be better off with him. He would not be a starter, but he would be very valuable. If the left field position sputtered, the team could push Frazier out to left and put Keppinger at third.
The utility man can fill the role that Todd Frazier, Wilson Valdez and Miguel Cairo served last season. Whenever players need a day off, he can fill in at any position in the infield.
Unlike the other players mentioned, he can swing the bat. He has always hit well with runners in scoring position, which is what the team struggled with last season.
Keppinger is not likely to accept a backup role, but he would be a very valuable piece to this team.
Last season showed that teams need depth, and Frazier was a big reason why the team ran away with the NL Central. He stepped in for Votto and Rolen when they were injured. Phillips and Cozart were also banged up at times, so Keppinger could see some playing time if he signs here.
Joe Robbins/Getty Images

For over a decade, Reds fans have hated Lance Berkman. The man just killed Cincinnati pitching, and no player has been more effective against the Reds than Berkman.
Because of his success at GABP, he would be worth signing.
The 36-year-old is nearing the end of his career, and injuries kept him from playing a lot last season. He should accept that he is no longer a full-time player. He will likely go to the AL where he can be a DH, but Cincinnati would be a good spot for him.
Berkman could occasionally spell Votto at first, but he would mainly be used as a pinch hitter. The switch hitter has been stronger from the left side, so he fits a need for the Reds.
Here are Berkman's career numbers versus the Reds (via FoxSports.com):
| | | | | | | |
| --- | --- | --- | --- | --- | --- | --- |
| | G | AVG | H | 2B | HR | RBI |
| vs. Cin | 174 | .314 | 186 | 39 | 52 | 144 |
| at GABP | 61 | .324 | 69 | 13 | 23 | 58 |
He would no longer be facing the Reds pitching staff (when they weren't very good), but his numbers in Cincinnati are very impressive.
Berkman's bat would be very useful in situations late in the game. He is capable of tying the game up with one swing of the bat.
If he decides to play next season, the Reds should consider signing him to bolster the bench.