Ranking the 10 Worst Dressers on the PGA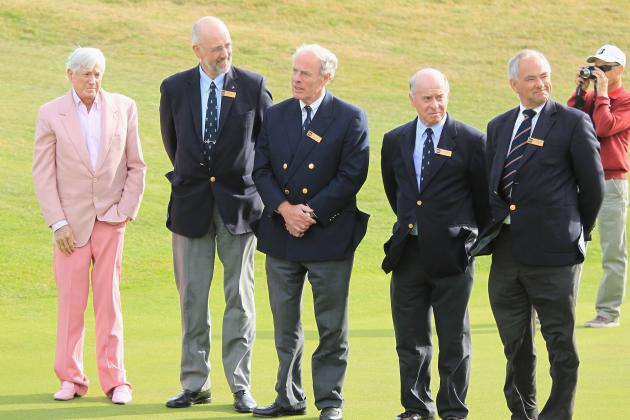 David Cannon/Getty Images
Can you identify Doug Sanders in this photo?
Dressing uniquely in golf is not something that started in the last 10-20 years.
A gentleman named Doug Sanders, who won 20 times on the PGA Tour from 1956-1972, is generally regarded as the one who started breaking whatever the fashion rules were of the day.
Pink, lime green, you name it. Sanders wore it and made a name for himself in the process.
Here's a list of the 10 worst dressers on the PGA tour. And, to be clear, these guys are wearing cut-rate clothes when you watch them on TV. The hats, shirts, slack, shoes they wear are out of reach financially for most of the people watching them.
But that doesn't mean they put all those together nicely!
Begin Slideshow

»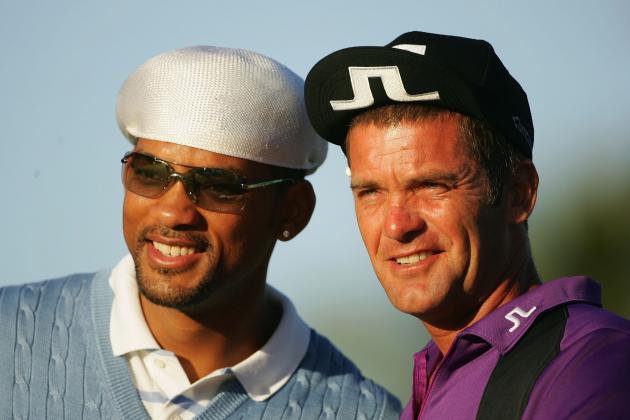 Scott Halleran/Getty Images
Jesper Parnevik's turned-up hat look.
The Swedish native was the first to have advertising on the underside of the bill of his cap, allowing him to pop that bill upward so the words could be seen.
Add to that with the mind-boggling combinations of shirts and pants, and you can see why he definitely belongs on this list.
In his later years, his states have changed somewhat. He'll throw in the occasional little bucket hat.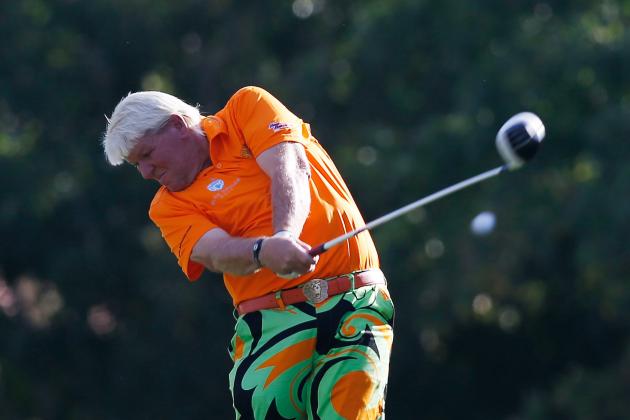 Scott Halleran/Getty Images
Does this outfit need any more comment?
He's a spokesman for Loudmouth clothing and there could not have been a more appropriate selection for the job.
Daly doesn't say much because his play in recent years hasn't put him in a position of being relevant, but the clothes say it all.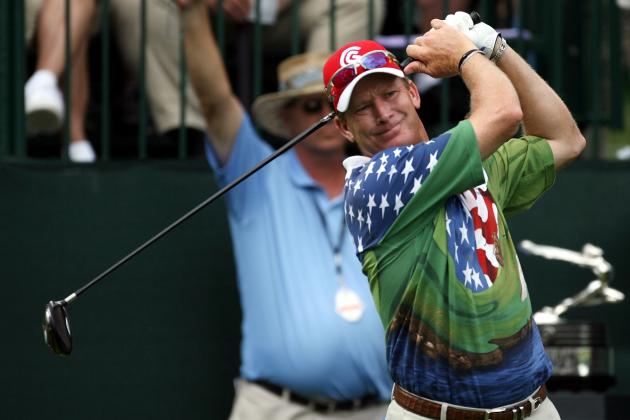 Marc Serota/Getty Images
How's that for a golf shirt?
Nicknamed Aquaman for his tumble into a pond during the 2007 Presidents Cup, Austin's wardrobe has turned into something that might be best suited for underwater.
Don't look for him to be strolling any runways with the stuff he wears.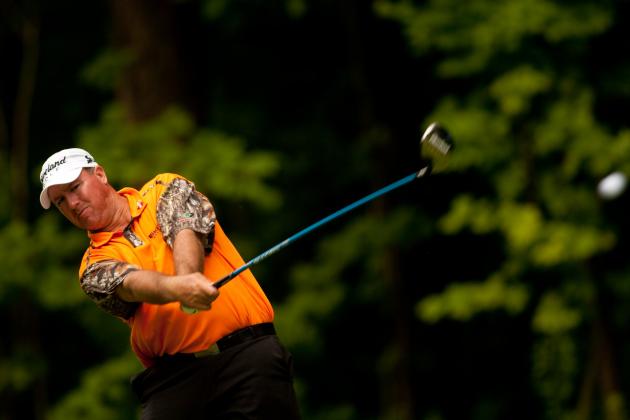 Darren Carroll/Getty Images
A shirt more suited to hunting than golf: orange and camo.
What's that saying about clothes reflecting the man? Well, camo is Boo Weekley.
The man who won the Verizon Heritage event at Hilton Head in 2007 and 2008, and immediately decided that camoflauge in any color is the way to go.
Hunting for sure, but golf?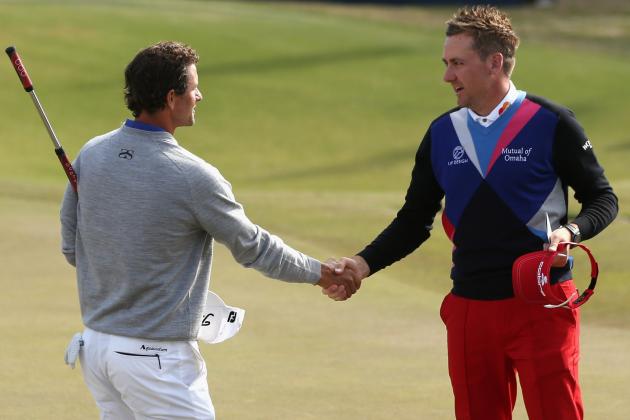 Lucas Dawson/Getty Images
Nice sweater and pants, Ian!
One of the brightest stars on the European Tour, Ian Poulter is also one of the flashiest dressers on any tour anywhere.
The man has his own line of clothes, for goodness sake.
But you'd never know it by looking at some of the stuff he wears.
Maybe it plays better on that side of the ocean.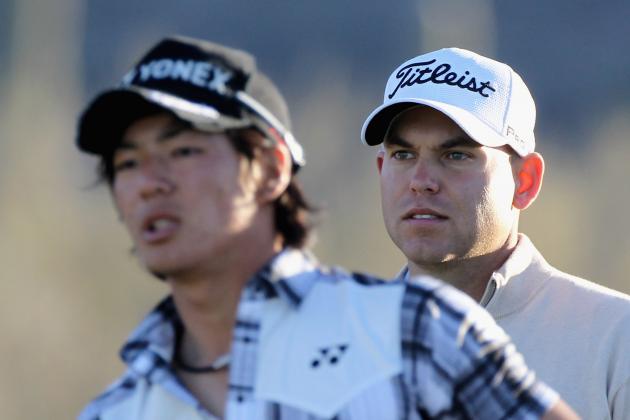 Sam Greenwood/Getty Images
One of Ryo Ishikawa's more tame looks.
Ryo Ishikawa has brought his Japanese heart throb persona with him to the PGA Tour, as well as some golf clothing that probably plays well with the teeny-boppers in his native country, but do little but evoke gasps of "oh." on the PGA Tour.
He plays a big game and has a chance to be a big star. As he matures, his tastes in clothing will hopefully change as well.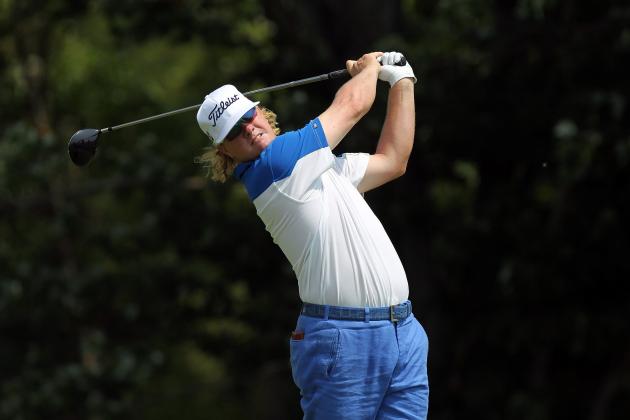 Nick Laham/Getty Images
Charlie Hoffman has it all going on, including the blue shoes you can't see.
Charley Hoffman would definitely fall into the category of unconventional in terms of his appearance on the golf course.
He has long, wild, curly hair usually under a standard golf hat with a flat brim.
Dark sunglasses with paisley-like frames and then some, let's say, interesting color combinations.
Have you seen the green shoes and matching green gloves combo?.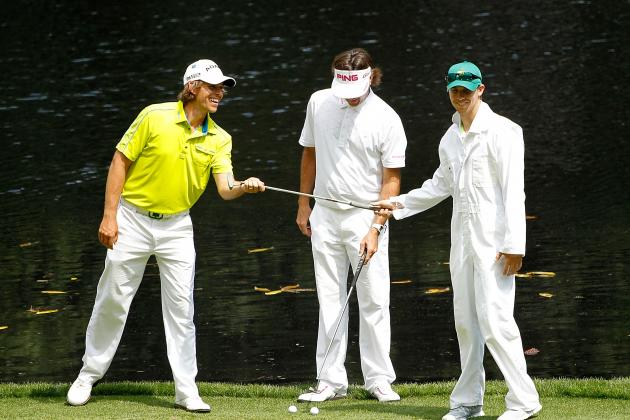 Streeter Lecka/Getty Images
Aaron Baddely won't get lost wearing shirts like that one.
Aaron Baddely is one of Australia's best on the PGA Tour and has battled injuries that have kept him from becoming even better.
At various times during his career, he's had varying lengths of hair under the hats and visors he wears.
He's also shown lapses of fashion taste. You wouldn't really expect to find any of the young Australians on this list since they idolize Greg Norman, one of the best-dressed players to ever play the game.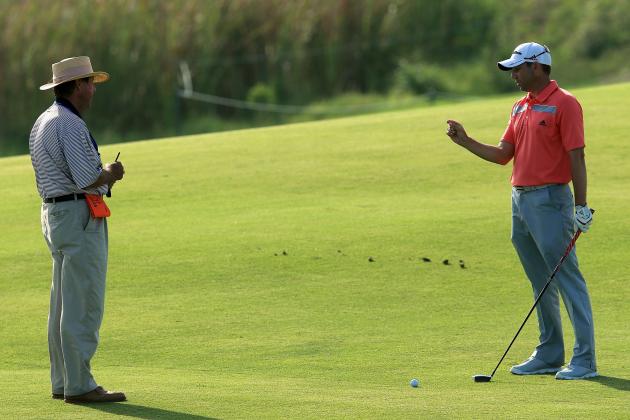 David Cannon/Getty Images
Is Sergio Garcia getting a ruling on that outfit?
Sergio Garcia has that innate Spanish flair in his game and also has a great deal of flair, or something, in his clothes. It might be unfair to blame the Spanish for that, however.
It often appears that Garcia, who is the best-known player to have not won a major, believes every color goes well with every other color and many times conjures up images of a walking box of crayons.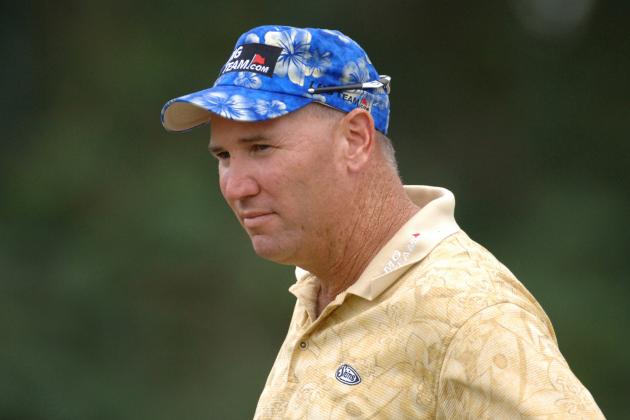 A. Messerschmidt/Getty Images
This, ladies and gentlemen, is the classic Duffy Waldorf look.
Duffy Waldorf has moved on to the Champions Tour, but his image will live with us for many years.
Paisley shirts, paisley hats, sometimes indescribable pants all make up what Waldorf used to wear on a regular basis on the PGA Tour.
He even had the most decorated golf ball on the PGA Tour when he adorned them with shout-outs to his children.