Missouri Basketball: Report Card Grades for Battle 4 Atlantis Tourney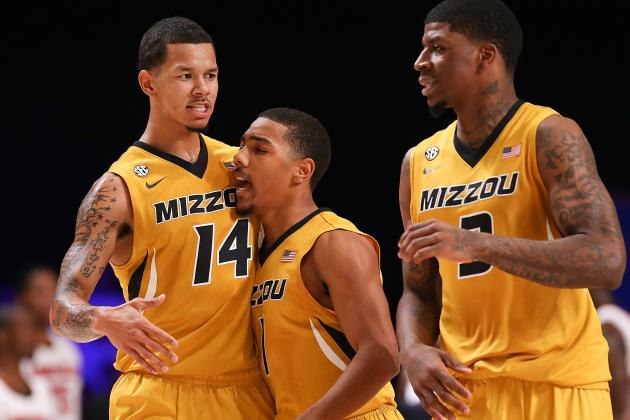 Kevin Jairaj-US PRESSWIRE

Heading into the Battle 4 Atlantis, the Missouri Tigers had a lot of questions they were hoping to find answers to in the Bahamas.
The Battle 4 Atlantis, which was ultimately won by Duke, gave head coach Frank Haith's team a chance to play some stiffer competition and ultimately gauge exactly where they are as the team tries to jell into a cohesive unit.
For some, the tournament may feel like a disappointment. Mizzou was drubbed in a second-round matchup with the previously No. 2 ranked Louisville Cardinals.
The game against Louisville certainly exposed some weaknesses as Rick Pitino's crew took care of Mizzou in a 84-61 rout. Louisville gave the Tigers fits with a matchup zone defense.
Overall, there are still plenty of concerns as Haith looks for the right lineup chemistry.
It should not be forgotten that Mizzou did escape with two very high quality wins over a decent Stanford team and a very good VCU bunch.
In order to better understand what happened in the Bahamas, here are some grades and a report card on Mizzou's performance in the Battle 4 Atlantis.
Begin Slideshow

»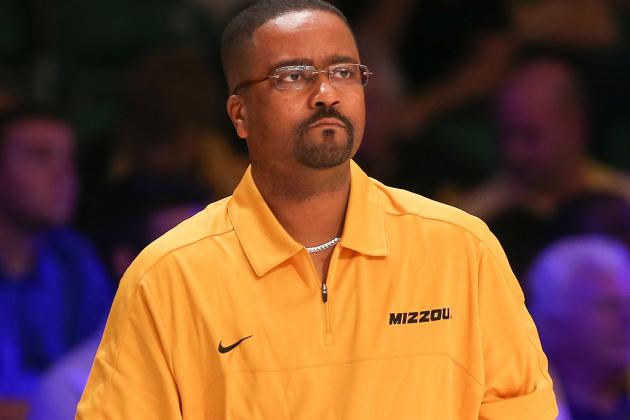 Kevin Jairaj-US PRESSWIRE

As stated, Mizzou did leaved the Bahamas with two impressive victories over quality clubs. Haith gets props for beating Stanford and VCU.
Unfortunately, in the loss against Louisville, Haith was just not very good.
Mizzou looked flat defensively, applying very little pressure, which was a staple of last year's team.
The Mizzou offense was atrocious against Louisville as well. Haith had no answer for the Louisville zone.
On several possessions the Tigers were caught watching Phil Pressey. There was no ball movement, penetration or movement to the offense, making things easy for the Cardinals. Mizzou turned the ball over a whopping 23 times.
When teams in the SEC review tape of the Louisville game you can certainly bet they will pick up on Mizzou's struggles against the zone defense. The Tigers will see plenty of zone defense going forward.
Haith seems to be struggling to find the right combinations as well. Removing Keion Bell from the starting lineup was a good move, but more shaking up must be done to get the offense going.
Haith needs to figure out how to get the Tigers playing pressure defense again.
Haith earned a C- for his coaching in the Battle 4 Atlantis.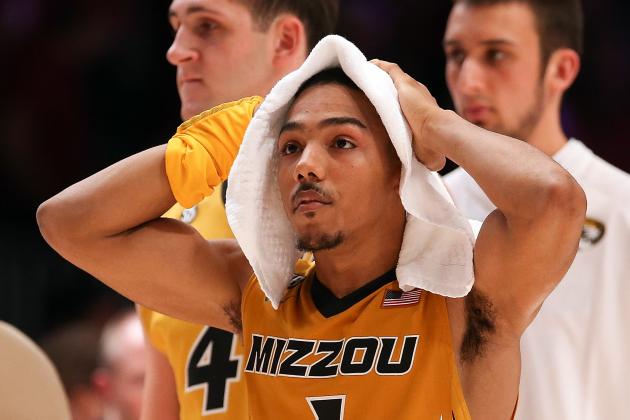 Kevin Jairaj-US PRESSWIRE

Phil Pressey started the tournament with a solid game against Stanford by pouring in 18 points while dishing out eight assists.
Things went down hill quickly in the Louisville game for Pressey.
The matchup with the Cardinals gave Pressey an opportunity to go head-to-head with Louisville point guard Peyton Siva. Siva and Pressey are two of the best point guards in the country.
Siva clearly got the best of the matchup, and the Cardinal defense ate Pressey alive, causing him to turn the ball over eight times.
Turnovers were a common problem for Pressey throughout the event as the junior gave the ball away an alarming 16 times in three games.
Pressey also led the Tigers in scoring with 44 points, but the turnovers are the story for Pressey.
If Mizzou has any shot at competing for a SEC Championship and making a run deep in the NCAA Tournament, Pressey will have to take better care of the ball going forward.
Pressey earned a C- for his performance in the Battle 4 Atlantis and will need to play better for Mizzou to get things headed back in the right direction.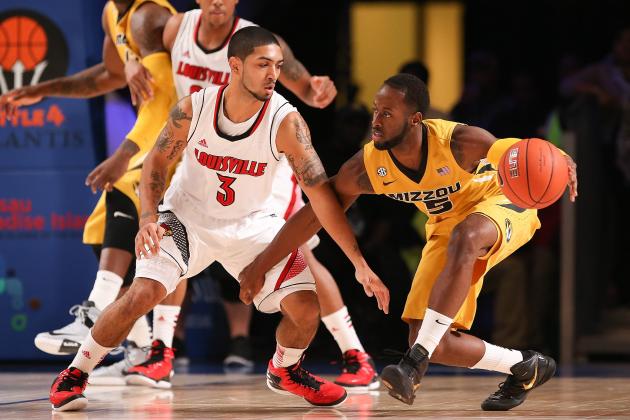 Kevin Jairaj-US PRESSWIRE

Keion Bell came to Mizzou with a reputation of being an explosive scorer. He displayed his athleticism at Mizzou's Midnight Madness event and got everyone excited in Columbia.
That excitement has certainly disappeared as Bell played horrible in the Battle 4 Atlantis and earned an F for his performance.
Bell had five turnovers in the Stanford game and looked to be nervous and scared against Louisville.
Haith picked up on Bell's demeanor and removed him from the starting lineup for the VCU game in favor of freshman Negus Webster-Chan, who has made quite an impression early in the season.
Bell needs to step-up the intensity when he is on the court. At times, the senior transfer from Pepperdine has looked lackadaisical on both ends of the floor.
Bell also needs to be more aggressive on the offensive end and be decisive with the basketball. He needs to step into open jumpers with confidence and attack the basket more quickly as opposed to wasting dribbles and time, which makes the offense stagnant.
Bell needs to start playing better quickly. He has already been replaced in the starting lineup and with Jabari Brown becoming eligible at semester, and with the return of Michael Dixon seemingly going to happen at some point, Bell's minutes could be in jeopardy.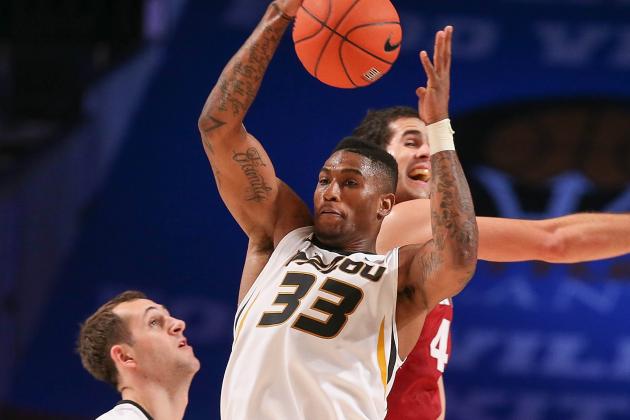 Kevin Jairaj-US PRESSWIRE

Mizzou small forward Earnest Ross has quickly established a role as Mizzou's feature perimeter threat.
Ross knocked down three from behind the arc in the win against VCU and has proven as the most reliable option for Pressey to find from the outside.
Ross did struggle from the field in the opening game of the tournament, hitting just three of 19 attempts. Ross was busy on the boards against Stanford though, pulling down 11 rebounds in the win.
Ross did seem to disappear in the Louisville game, attempting just four total shots. Much of that had to do with the Louisville zone defense and Mizzou's inability to get the needed ball movement and penetration to create shots.
Ross earned a B- for his play in the tournament and is likely to be an integral factor going forward for the Tigers.
His ability to hit from the outside is a premium commodity for a team that does not shoot the ball well.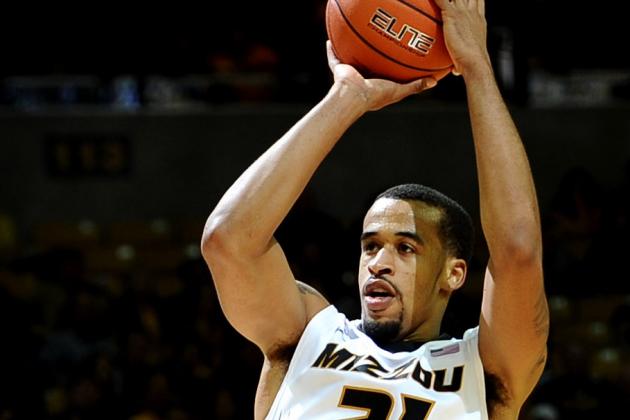 Dak Dillon-US PRESSWIRE

While this year's Tigers team is clearly led by Pressey, senior forward Laurence Bowers is a nice secondary leader to have.
Unfortunately, Bowers also struggled in the Louisville loss, scoring just six points on just six attempts from the field.
What is most staggering about the power forward's performance against Louisville is that Bowers pulled down just one rebound in the game while playing 32 minutes. Bowers is averaging 6.3 rebounds per contest.
It is possible the athleticism of Louisville was just too much for Bowers, who still is getting his legs under him after missing all of last season with a torn ACL.
Bowers did play well in Mizzou's two wins.
Bowers scored 19 points and grabbed 10 rebounds against Standford and had 14 points and 11 rebounds against VCU.
Bowers must play well for Mizzou to win. His ability to hit 15 to 18 foot jumpers opens up the middle for center Alex Oriakhi and creates driving lanes for Pressey.
Since Bowers was invisible against Louisville, he earns a C- for his performance, even though he led Mizzou in scoring in its two wins.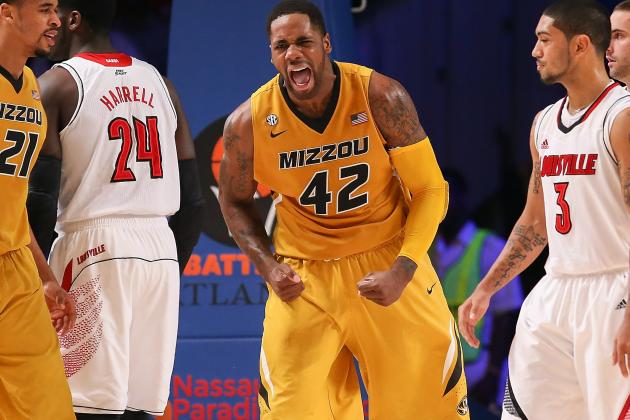 Kevin Jairaj-US PRESSWIRE

Center Alex Oriakhi was a staple of consistency for the Tigers throughout Battle 4 Atlantis, averaging 11.3 points and six rebounds per game in the event.
Oriakhi was one of the few Tigers who came to play in the loss against Louisville, leading Mizzou with 15 points.
Oriakhi was about the only answer Mizzou had to try and solve the Louisville matchup zone defense.
Haith has tried to get Oriakhi involved in the offense, something the former UConn center had not done much of in the past. Offense is not particularly Oriakhi's strength.
However, Oriakhi is strong on the glass and has proven to give Mizzou a presence in the middle thus far through six games by blocking eight shots.
He earns a strong B for his performance in the Bahamas and should give Mizzou an advantage in the paint the majority of the time this season.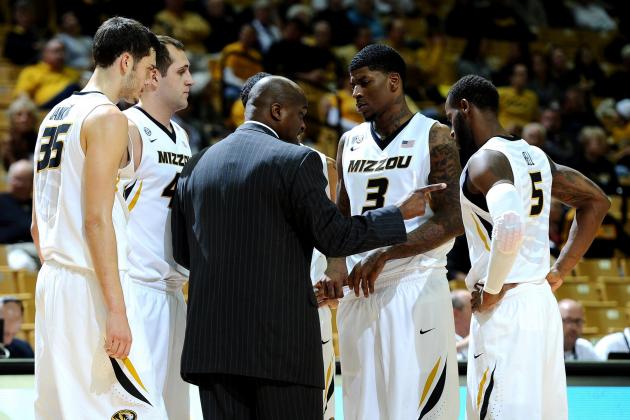 Dak Dillon-US PRESSWIRE

Besides the continued strong play of Webster-Chan, who may actually be a starter going forward, the Mizzou bench did very little in the Battle 4 Atlantis.
Power forward Tony Criswell, despite being big and athletic, seems clumsy with the ball and has very little skill on the offensive end. Criswell did score nine points and grab seven rebounds against Louisville, which was a nice plus.
Freshman forward Stefan Jankovic was ineffective in the first two games of the tournament before seeing just one minute of action in the win over VCU.
Freshman center Ryan Rosburg seems to add nothing when he sees the floor in limited action.
Webster-Chan seems to be Haith's only reliable option off the bench at this point, which is a shame considering one of the strengths of this Mizzou club was perceived to be its depth.
The Mizzou bench will get a bolster when Brown and Dixon are available, but right now the bench leaves a lot to be desired and earns a D+ for its performance in the Bahamas.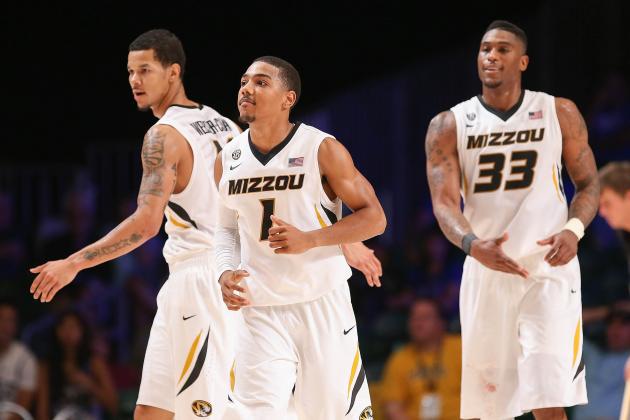 Kevin Jairaj-US PRESSWIRE

It is possible that expectations were too high for the Tigers as they prepared to attack the very distinguished field in the Battle 4 Atlantis.
Many felt that Mizzou could run with a team like Louisville.
At this point, it is clear there is plenty of work that needs to be done.
This team still is not playing together like it should. Roles still need to be defined and clarified, and somebody else besides Phil Pressey needs to step-up and make plays.
Finally, Mizzou needs to get back to playing the pressure, in-your-face, half-court defense of seasons past.
The Tigers must play with intensity and tenacity if they want to be among the nation's elite.
The Tigers earned a C- for their performance in the Bahamas because it is clear there is still work to do if Mizzou hopes to compete for a National Championship.