Ohio State Football: Winners and Losers from the Week 13 Game vs. Michigan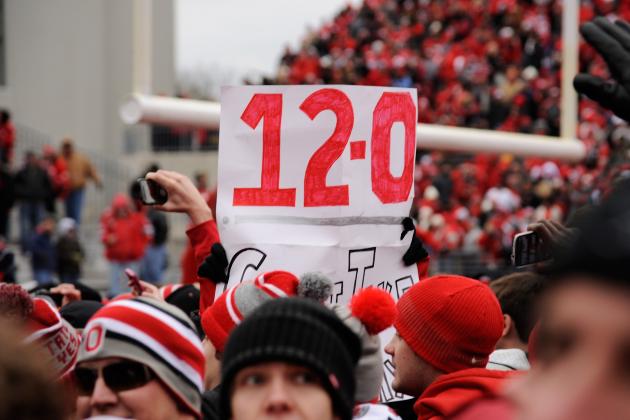 Jamie Sabau/Getty Images

Ohio State completed its quest for perfection on Saturday after defeating Michigan 26-21 to finish a shortened 2012 season 12-0.
The Buckeyes can't play for the Big Ten Championship and they likely won't be the AP national champion regardless of how the season ends.
But all that mattered for the Buckeyes was not only getting revenge on Michigan, but finishing off the sixth perfect season in school history.
Here is a look at who were the biggest winners and losers from Saturday's installment of The Game.
Begin Slideshow

»
Jamie Sabau/Getty Images

You can't say enough about the coaching job Urban Meyer has done, turning a team that went 6-7 a year ago into an undefeated team with mostly the same squad.
He ended his first season in Columbus by passing his first test over archrival Michigan, anchored by an outstanding second-half performance by the Buckeye defense.
The scary thing for the Big Ten is that this may be the worst team Meyer has in Columbus, and it was able to go through the season without a loss.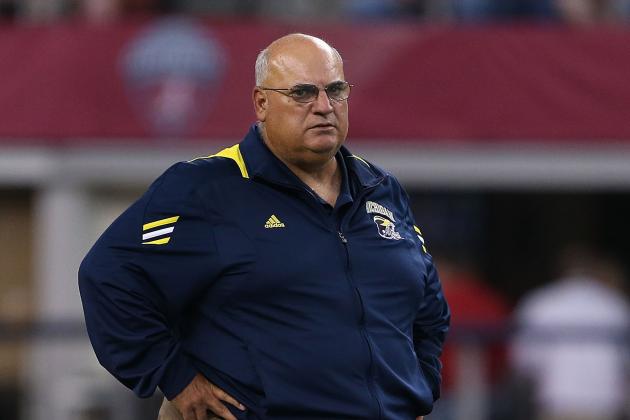 Leon Halip/Getty Images

For all the second-guessing going towards Michigan coach Brady Hoke for the second-half play-calling, plenty of blame has to fall on offensive coordinator Al Borges as well.
After Denard Robinson ran wild in the first half, hitting the edges of the Buckeye defense, Borges went away from it and got conservative running his senior quarterback.
Not once did Robinson attempt a pass, which made it easy for the defense to tell whether or not Michigan was passing.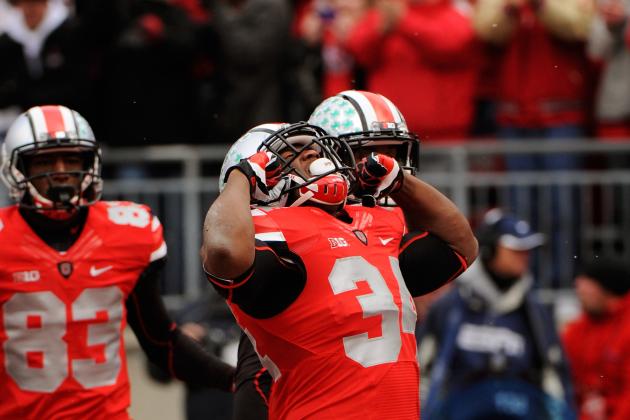 Jamie Sabau/Getty Images

So much for all that criticism before the season about whether or not Carlos Hyde was a good fit for Urban Meyer's offense.
He proved that he can be a big-time player out of the backfield and finished off his breakout season with 146 yards rushing and a touchdown on 26 carries.
Hyde did so with a long run of only 17 yards, meaning he was efficient and gaining consistent chunks of yardage on the Michigan defense.
He fell just 30 yards short of giving the Buckeyes two 1,000-yard rushers (Braxton Miller), but had 16 touchdowns and should earn a great amount of postseason recognition for a great season.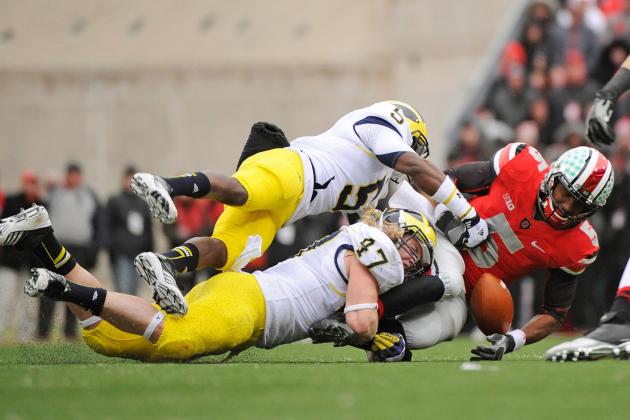 Jamie Sabau/Getty Images

Braxton Miller's Heisman Trophy hopes are pretty much gone, but that's mostly because of how good Manti Te'o and Johnny Manziel have been in the last few weeks.
Miller was good, but not great against Michigan, only putting up 246 total yards and one touchdown.
Wisconsin and Michigan have come up with a great blueprint to shut down Miller's legs and that will be something other teams will study and learn this offseason.
The question now is whether or not Miller will even make the trip to New York City in a couple of weeks. However, he isn't really to blame right now. He may need another season of growth to be worthy of the Heisman Trophy.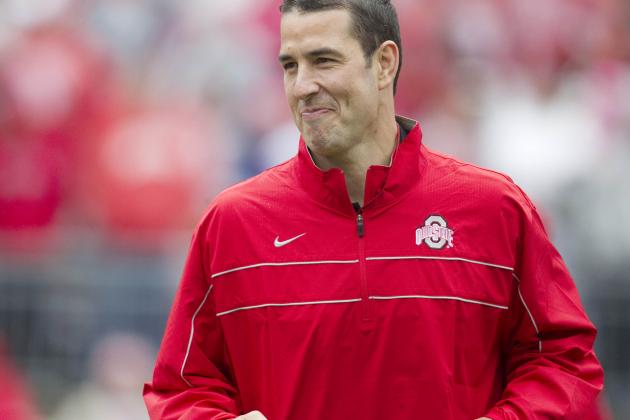 Greg Bartram-US PRESSWIRE

Say what you will about how bad the Ohio State defense has been for most of this season, but without John Simon, the defense's heart and soul, Luke Fickell called a masterful game—especially in the second half.
The Buckeye defense forced four turnovers and held all Michigan runners not named Denard Robinson to -14 yards on the ground.
In the second half, the Buckeyes never let Michigan cross midfield after giving up two touchdown plays of over 65 yards in the first half.
For that defensive turnaround alone, regardless of what happens if anything to Fickell in the offseason, he deserves a great amount of credit for helping the Buckeyes finish off Michigan.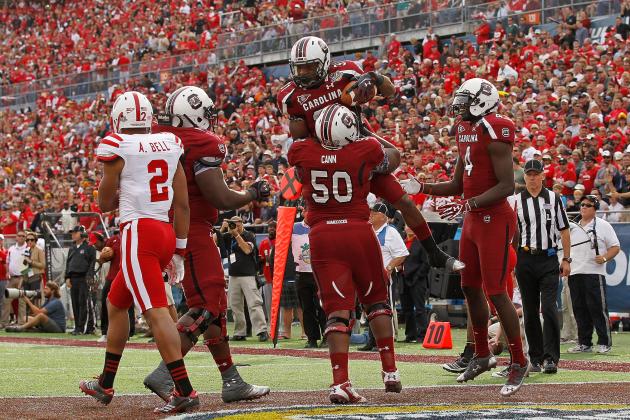 Mike Ehrmann/Getty Images

The Big Ten has not been good in bowl games in past years, and with the struggles of the conference as a whole going into conference play, it's not going to get any better.
That's where the bowl bans for both Ohio State and Penn State, who finished ahead of Wisconsin—who is playing in the Big Ten Championship Game—are going to be omens for the rest of the teams in the conference.
Not only does the Big Ten not have enough teams to fill its bowl obligations, most teams in the Big Ten will be playing one or two bowl slots above where they probably should be.
In short, the Big Ten may be lucky to have two or three bowl wins this season.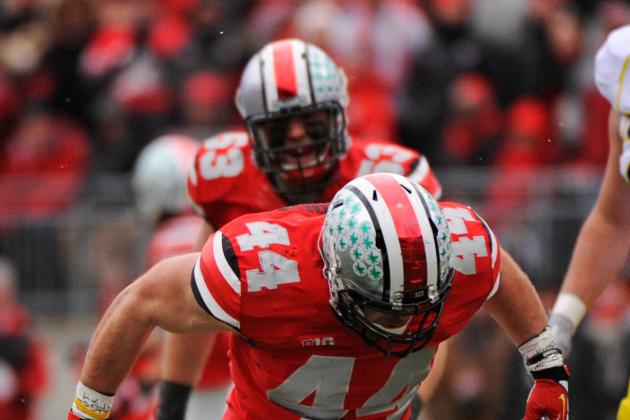 Jamie Sabau/Getty Images

It's official: the rivalry is back.
After a period of one-sided dominance from 2004-2010, Michigan finally started to reignite the rivalry when it took down the Buckeyes 40-34 in Ann Arbor in 2011.
Two days later, Urban Meyer became the head coach at Ohio State and suddenly the intensity of the rivalry had risen to a level it probably hasn't been at in a long time.
Saturday's game felt a lot like what a true rivalry should be: back and forth, physical and exciting.
The Big Ten and college football as a whole are just better when Ohio State and Michigan are both good as well as when the rivalry is exciting. It's only going to get better in the years to come.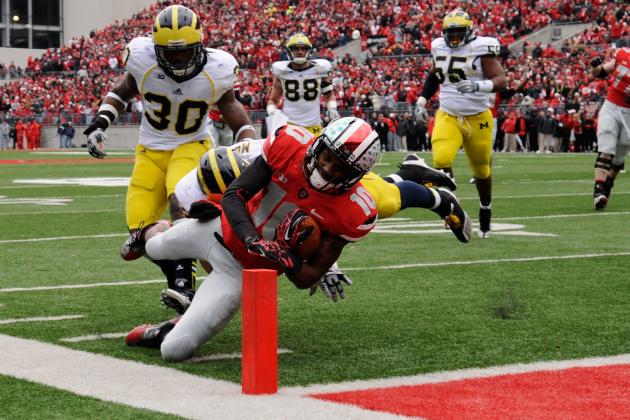 Jamie Sabau/Getty Images

Ohio State is officially off of its postseason ban after this offseason and it has a team that returns up to nine starters on offense, with a chance to play for the final BCS championship before the playoff system kicks in.
The one thing that may hurt the Buckeyes or slow them down next season is that they will not have the 15 bowl practices that every bowl team has.
They will not get to practice again until the spring, but on the other hand, it lets Meyer and his staff focus on finishing off what promises to be yet another outstanding recruiting class come February.
It shouldn't be a surprise if the Buckeyes aren't at least ranked in the Top Five of the preseason coaches' poll next summer because they will have Braxton Miller back along with plenty of talented young players on both sides of the ball.
There will be questions on defense with John Simon and potentially Johnathan Hankins both going to the NFL, but there is plenty of young talent there that should be able to step in and play solid football.
But because of the undefeated run from this year, there's no reason to doubt that Ohio State has a good chance to make it to the last BCS National Championship Game in January 2014.
Follow me on Twitter @bielik_tim for the latest college football news and updates.