Alabama Football: Winners and Losers from the Tide's Week 13 Game vs. Auburn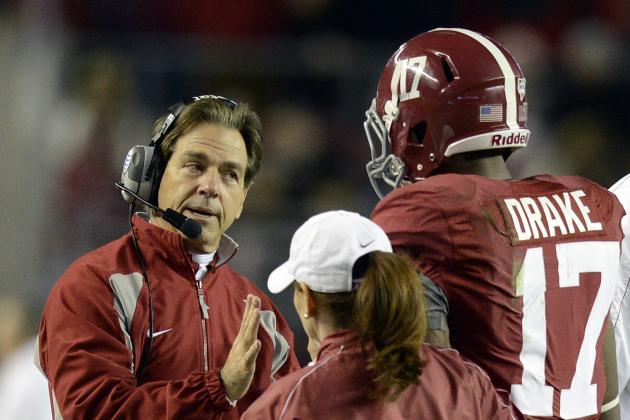 John David Mercer-US PRESSWIRE
Nick Saban has little to be displeased with after watching his club steamroll rival Auburn 49-0 last weekend.
Facing an outclassed opponent with nothing to lose, Alabama took nothing for granted and effectively crushed rival Auburn's hopes by scoring easily on its first drive and cruising to a 49-0 victory.
The demolition of the Tigers was thorough—with Nick Saban's club exhibiting a dominating effort across the board in all three phases.
However, as is the case with most blowout victories, there were spurts of sloppy play in the second half when the game was clearly in hand.
While most of the starters are likely to be praised for their efforts against the Tigers, which backups or units could be in for an earful in next week's film sessions?
Here are the winners and losers from Alabama's win over Auburn.
Begin Slideshow

»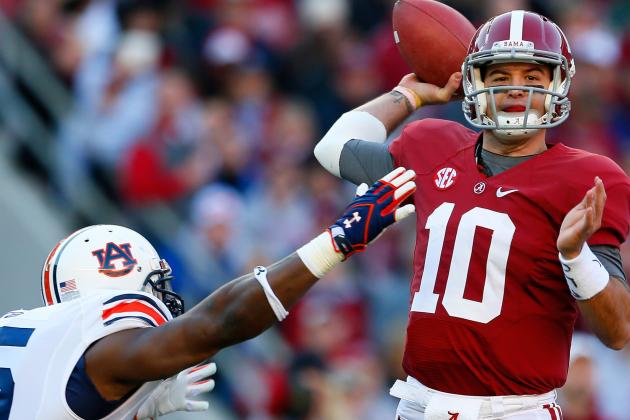 Kevin C. Cox/Getty Images

McCarron put together a performance that has been typical of his season to date, as the junior completed 15 of 21 passes for 216 yards and four touchdowns with no interceptions.
That is not a bad afternoon considering he exited after firing his final scoring strike with 9:03 left in the third quarter.
Whether it was firing short and intermediate passes or making plays via play-action passes or scrambling from the pocket, McCarron's performance was explosive, efficient and most importantly devoid of mistakes.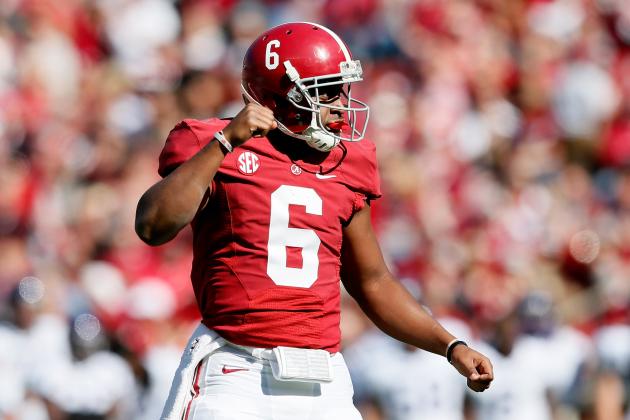 Kevin C. Cox/Getty Images

Sims got extended minutes in the wake of the offense's explosive start, but the sophomore dual-threat signal-caller was unable to lead the reserves to a score.
Its worth noting that Sims led the Tide into the red zone on his first possession before backup running back Kenyan Drake lost a fumble in the red zone.
Sims misfired on his only pass attempt in the game, and he rushed for 25 yards on six carries in mop-up duty.
While he has played well in limited action this season, his effort against the Tigers was certainly not his best and leaves room for improvement.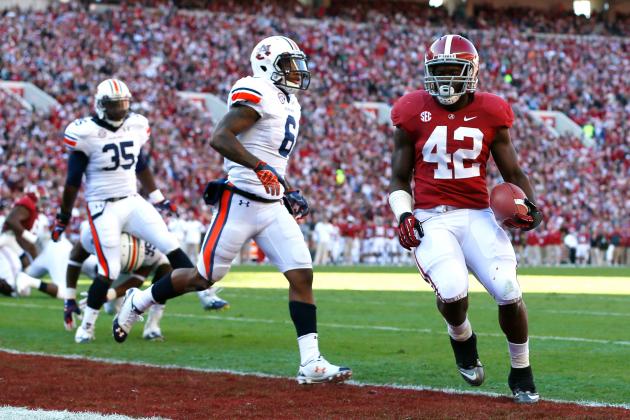 Kevin C. Cox/Getty Images

Lacy rushed for 131 yards and a pair of scores against the Tigers—and in the process, he topped the 1,000-yard plateau for the season.
More so than his stats against the Tigers, it was the way he ran that made Lacy's performance stand out on a banner day for the offense.
After battling nagging injuries in the beginning of the season. Lacy has come on strong with his rushing totals having ascended in each game this month.
With a SEC title and a spot in the national title game on the line against Georgia next weekend, Lacy appears to be playing his best ball at the right time.
Kevin C. Cox/Getty Images

While Lacy had an outstanding day, the sledding was a bit tougher for the Tide's pair of backup true freshmen.
T.J. Yeldon did score on a 2-yard run in the first quarter to put Alabama up 14-0, but the one-time Auburn commitment enjoyed a rather modest day rushing for just 38 yards on eight carries.
Drake—who fared better stats-wise rushing for 67 yards on 10 carries—was responsible for the Tide's only turnover on the afternoon.
While the ground game was solid, the Tide would like to see a better performance from Lacy's understudies if they hope to knock off the Bulldogs next week.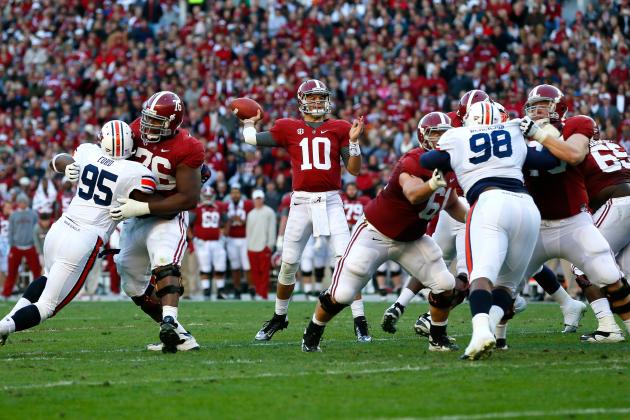 Kevin C. Cox/Getty Images

The biggest disparity between the two rivals came in the trenches—with Alabama holding a decisive advantage up front on offense and defense.
Alabama's offense racked up 267 yards rushing and did not allow McCarron or Sims to get sacked.
Conversely, Auburn managed just 92 yards on the ground and crossed midfield one time in the entire game.
With Alabama controlling the line of scrimmage, it made it that much easier for the Tide to get out to a comfortable lead and cruise to one of their easier wins this season.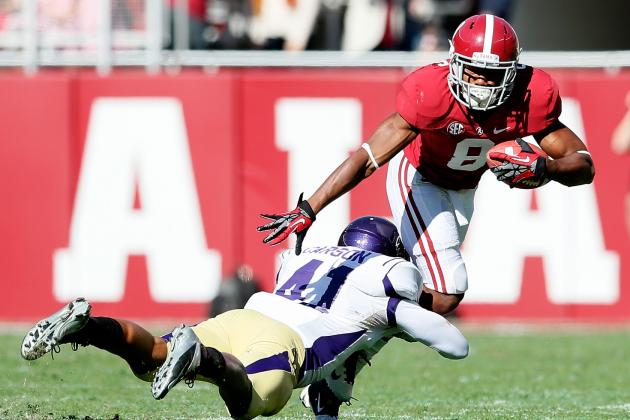 Kevin C. Cox/Getty Images

One of the more shocking stats that emerged from this year's Iron Bowl had to do with something Alabama did not do against Auburn—which is gain one yard returning punts or kickoffs.
Auburn punter Steven Clark—regarded as one of the top punters in the nation—had one of his worst days averaging less than 35 yards per punt on eight attempts.
However, his punts were so bad that Alabama was unable to return them, which is more a quirky coincidence than a sign of Clark's punting prowess.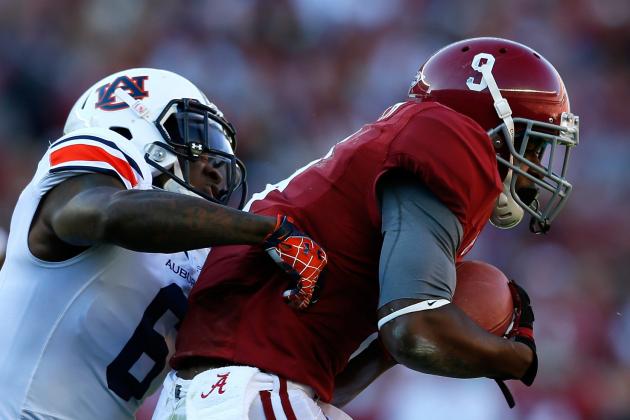 Kevin C. Cox/Getty Images

McCarron's favorite targets against the Tigers depleted secondary were junior Kevin Norwood and star freshman Amari Cooper—with each snaring five passes and each finding pay dirt twice on the afternoon.
However, it was Cooper that broke the game open in the second quarter by streaking free to haul in a beautiful 37-yard bomb from McCarron that put an early nail in Auburn's coffin.
The two touchdown grabs gives Cooper eight scores in his first season on the collegiate level—which is the most receiving touchdowns in a season by a Tide receiver in the Saban era.
That means that Cooper is starting to do things that even Julio Jones was unable to do, which is a scary thought for teams in the SEC that have to deal with him for at least the next two seasons.