Oregon Football: 6 Reasons Why Ducks Are Best One-Loss Team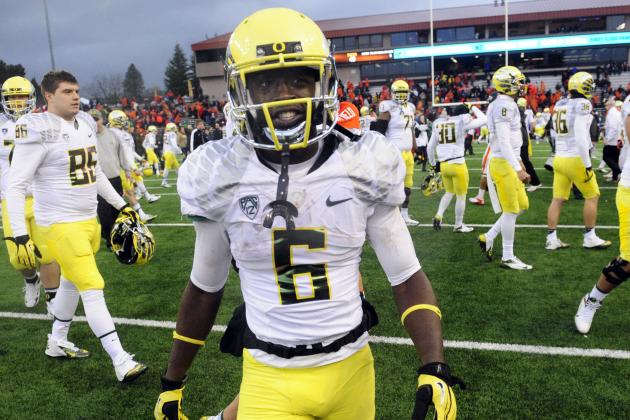 Steve Dykes/Getty Images

College football's regular season officially came to a close after this past weekend.
No upsets happened this rivalry week which means the BCS picture will be staying intact for the moment; however, we still have the issue of which one-loss team should play Notre Dame for the championship.
Florida, Kansas State, Oregon and the winner of the Georgia/Alabama SEC championship game are all in contention, but Oregon is without a doubt the best one-loss team in the nation.
Here's why.
Begin Slideshow

»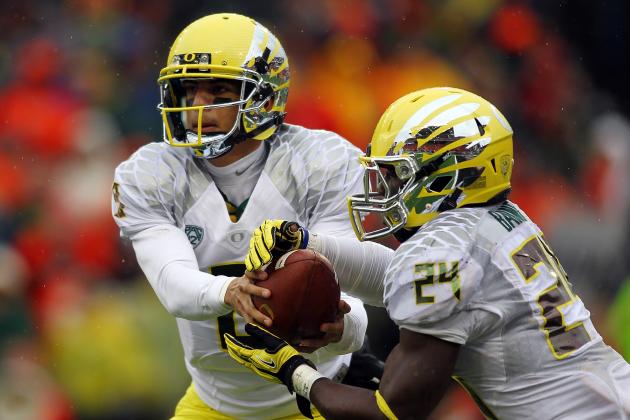 Jonathan Ferrey/Getty Images

There is not offense out there better than the Ducks'.
Oregon can attack on the ground and through the air, and it's all spearheaded by redshirt freshman quarterback Marcus Mariota.
Mariota has thrown for 30 touchdowns this season, and he is also the team's third-leading rusher and is threatening Jeremiah Masoli's school record of rushing yards by a quarterback in a single season.
Oregon has been averaging 50 points a game, and it is capable of putting that many points up in a single half of football.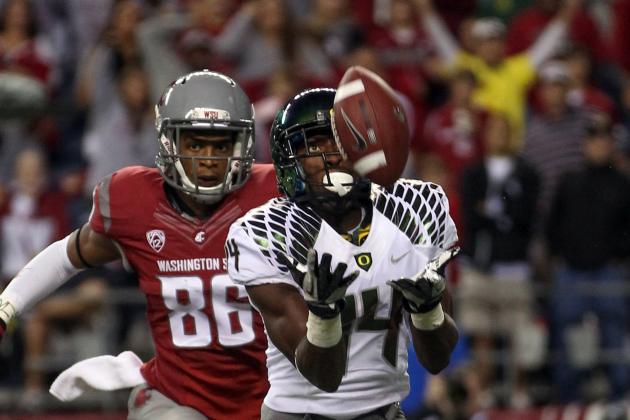 Otto Greule Jr/Getty Images

Oregon currently leads the nation in turnovers at 36, and it is just shy of the school record of 37 with one more game left to play.
The Ducks have intercepted a total of 25 passes this season, also good for first in the nation.
The ability to turn the ball over is something that Kansas State, Georgia, Alabama and Florida don't have, which adds to Oregon's case of why it is the best one-loss team in the nation.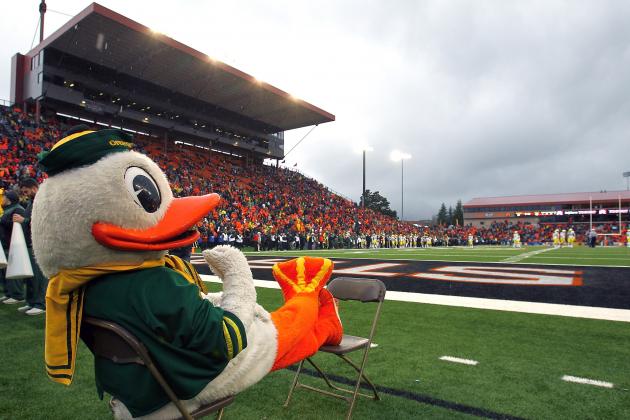 Jonathan Ferrey/Getty Images

Only one team has had a better winning record against tougher than opponents than Oregon: Notre Dame.
Notre Dame has nine wins against bowl-eligible teams.
Oregon is not far behind with seven, and it could have had eight had Alejandro Maldonado been able to make that field goal against Stanford.
What about Kansas State, Alabama, Georgia and Florida, you ask?
Kansas State has six, while Alabama and Florida are tied at five apiece. Georgia only sits with four wins against bowl-eligible teams.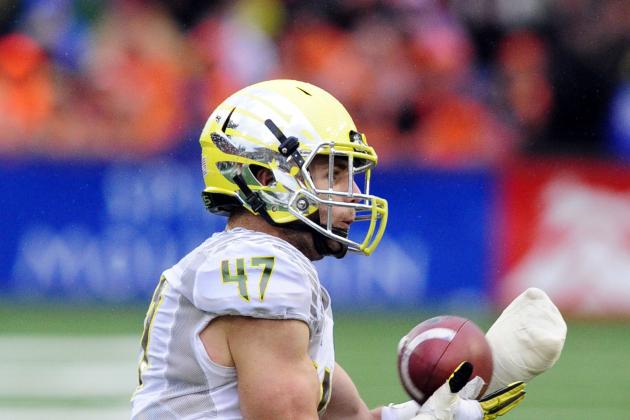 Steve Dykes/Getty Images

You don't need me to tell you about the talent that Oregon has on the offensive side of the ball.
Mariota, Barner, Thomas and Lyerla give Oregon one of the most explosive offenses the game of football has ever seen.
But on defense, Oregon is just as talented.
Dion Jordan is a finalist for the Butkus Award and is expected to be taken in the first round of the NFL draft this season.
The Ducks also have the best linebacker combo west of the Mississippi in Kiko Alonso and Michael Clay.
Ifo Ekpre-Olomu has turned into a premier shutdown corner in only his sophomore season.
This talent gives Oregon the edge over teams like Kansas State and Florida.
Steve Dykes/Getty Images

With Stanford being the exception, Oregon has been simply unstoppable all season long.
Arizona, Washington, Arizona State and USC all fell to the Ducks with ease.
We've seen Alabama struggle twice this season against Texas A&M and LSU, while Georgia was absolutely blanked by South Carolina, its only premier game of the season.
Kansas State was dominated by Baylor and just barely escaped with a win over Iowa State.
Florida, on the other hand, was tripped up by Georgia and squeaked out wins against Texas A&M and Bowling Green.
Compare that to Oregon losing by a field goal to a very good Stanford team in overtime, and the edge goes to the Ducks.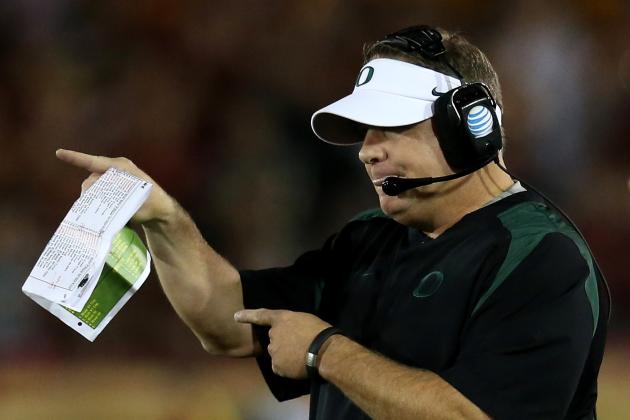 Stephen Dunn/Getty Images

Chip Kelly is the brightest coach in all of the land.
There is a reason why his name is coming up every time an NFL team struggles, and it's because he is the best game manager and overseer of a program there is.
All due respect to Nick Saban, Mark Richt, Bill Snyder and Will Muschamp, but Chip has all of them beat 10 times out of 10.
Mark Helfrich's name has been heard a lot today with firings being seen across the country.
Nick Allioti on the other hand makes the best adjustments that you can make, leading Oregon to lead the nation in turnovers.