Oregon Football: Winners and Losers from the Week 13 Game vs. Oregon State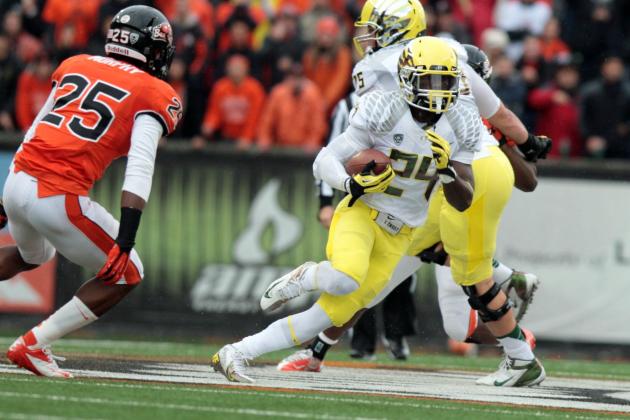 Scott Olmos-US PRESSWIRE

The 116th Civil War looked a little like Black Ops 2: bodies flying everywhere and battles every few seconds. But in the end, the game had the same outcome it's had for the past five years—the Ducks won big—in this case, 48-24.
Before all you Duck fans start crying in your beer about being six inches on a field goal in overtime away from making it to the national championship, please pause and try to remember when a Civil War victory was all you really needed to be happy for an entire year.
The crying and the SEC hating will begin in earnest at 5:30 p.m. PST Sunday when the BCS rankings are announced. But that leaves a few hours to relive the joy of the Civil War before you plunge into the darkness.
Here come the winners and losers.
Begin Slideshow

»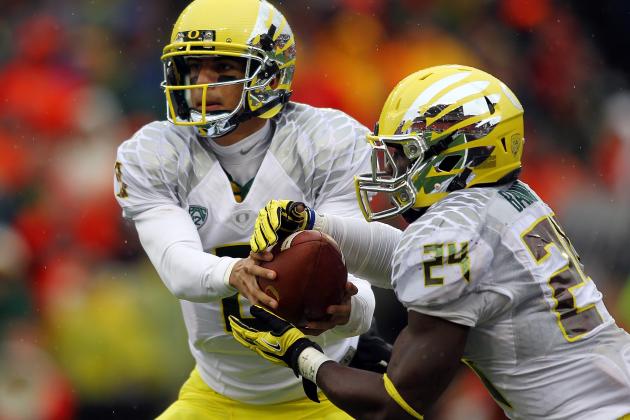 Jonathan Ferrey/Getty Images

After disappearing in action against the Stanford Cardinal last week, Oregon's offense returned to normal. Normal for them, at least.
The Ducks' 570 yards of total offense moved them up to fourth nationally, only 27 yards behind No. 3 Texas A&M.
Oregon's running game was simply terrific. If Ducks QB Marcus Mariota had managed another 15 yards, Oregon would have had three runners surpassing 100 yards in the game, an almost unheard of feat. Running back Kenjon Barner returned to prominence with 198 yards rushing, and De'Anthony Thomas added 122 yards when Barner went down with an injury.
The Ducks passing game was also slick, with six receivers getting in on the action and some grabs coming at crucial moments.
Yeah, that was your Duck offense back in full form.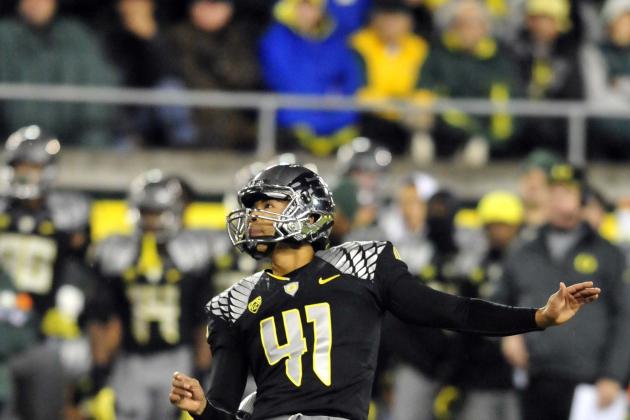 Steve Dykes/Getty Images

Field Goals: 0-for-1.
'Nuff said.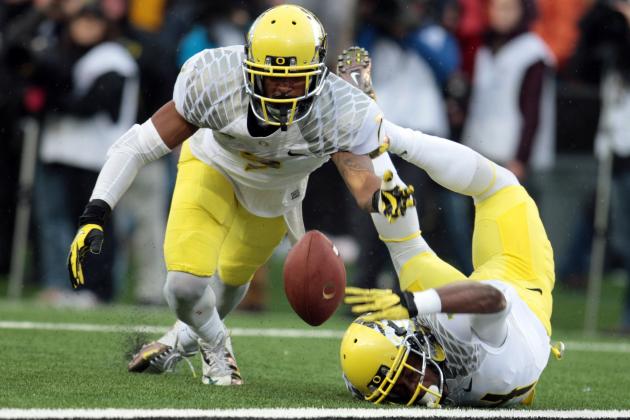 Scott Olmos-US PRESSWIRE

Oregon receiver Keanon Lowe may not have had a reception in the Civil War, but it didn't matter.
Lowe recovered not one, but two key fumbles by the Beavers on special teams. Lowe's two turnovers gained, added to the four interceptions by the Ducks defense, vaulted Oregon to the top of the NCAA's turnovers gained stat category.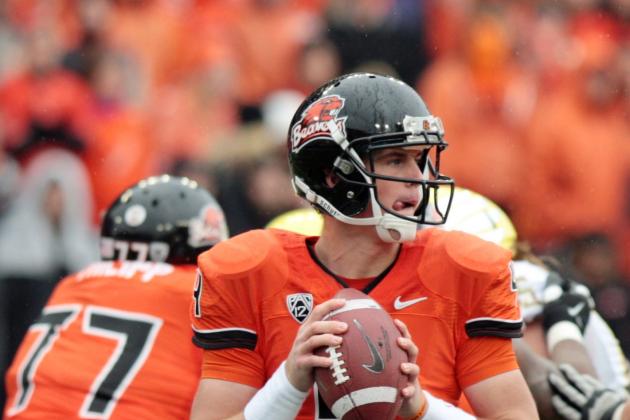 Scott Olmos-US PRESSWIRE

I really like Sean Mannion. Mannion is talented, the perfect quarterback for a Mike Riley team, and he will have a shot at the NFL someday.
But something needs to be said: Mannion really stunk in this game. While his 31-of-49 passing for 319 yards with one touchdown is not horrible—on paper—his four interceptions really sealed the Beavers' fate.
Sean, dude, you simply cannot give your arch-rival four freebies and expect to win. Will. Not. Happen.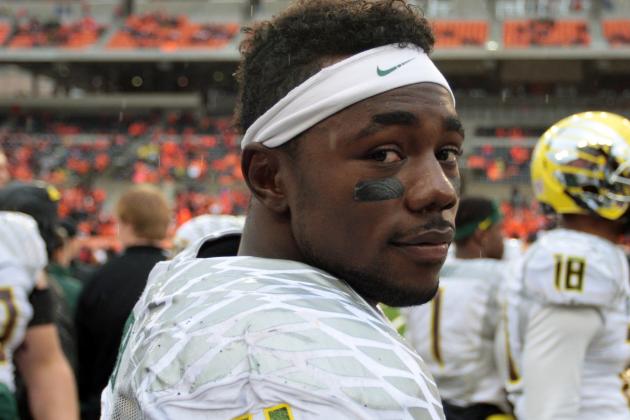 Scott Olmos-US PRESSWIRE

After two poor (by his standards) games, Kenjon Barner took control of Oregon's running game at Reser Stadium.
Barner had 198 yards on 28 carries with two touchdowns for the Ducks. His longest rush was a 52-yard scamper.
Barner left the game with an injury to his abdominal area just prior to the end of the first half. But he returned to the game, and his second TD came early in the fourth quarter.
While Barner sat out much of the third quarter...
Scott Olmos-US PRESSWIRE

...along came De'Anthony Thomas to pick up the slack from Barner's absence.
Thomas had his best game in some time, rushing for 122 yards on 17 carries and three big fat touchdowns. DAT also caught one ball for four yards.
Beyond his offensive production, you had to love Thomas' spunk in this game. Yes, I know, personal foul penalties are a bad, bad thing. But admit it, you loved seeing DAT stand up for himself and let Jordan Poyer know his interactions with the little guy were not kosher.
It would appear that the player from South Central L.A. understands the Civil War just fine, thank you.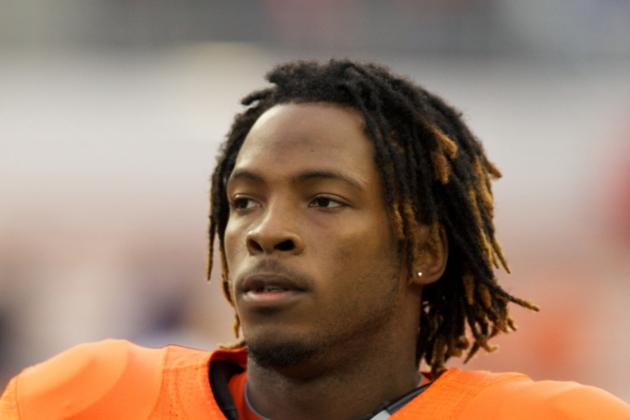 Scott Olmos-US PRESSWIRE

Normally, a receiver who catches seven passes for 98 yards in a game would end up on the "winners" side of this equation. Not to mention a receiver who with a nice 15-yard grab in the first quarter moved himself right into the 1,000 yards for the season club.
Alas, for OSU receiver Markus Wheaton, we have to put him in the other category this week. Several dropped balls that looked catchable to me could have made a difference in this game.
Topping off Wheaton's performance, however, was a badly muffed punt catch just when the Beavers were starting to rock and roll after forcing the Ducks into a three-and-out. If the Beavers handle the punt and move the ball on that drive, who knows how it might have changed the game.
Ugh.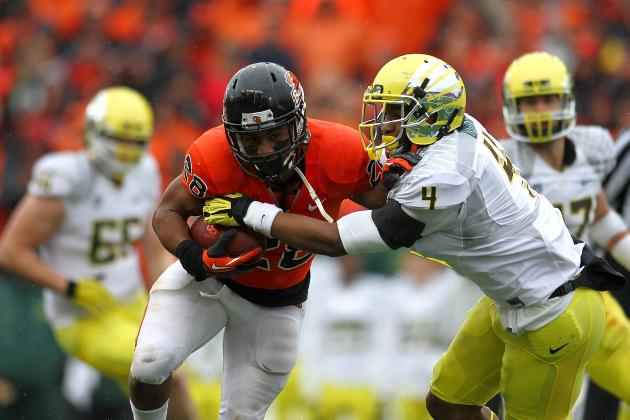 Jonathan Ferrey/Getty Images

Oregon's defenders had to feel as if Christmas had come early this year.
Time and again, the Beavers gave them gifts. It may have been luck, but we all know that you make your own luck. Such was the case in the Civil War.
The Ducks defense swarmed to the ball, but still stayed disciplined and focused. And with four picks (Dargan, Ekpre-Olomu, Jackson and Alonso), Oregon moved to the top of the NCAA's passes intercepted category with 24 on the year.
Not to sound snarky, but maybe the Ducks defense should take Sean Mannion out for a nice steak dinner once the dust has settled.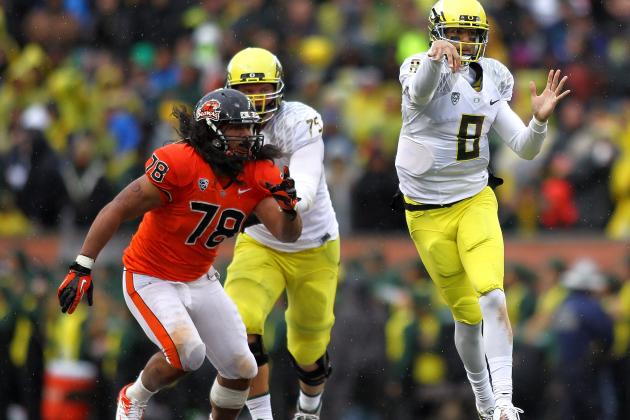 Jonathan Ferrey/Getty Images

You may recall that last week, Oregon QB Marcus Mariota was on the loser side after his sub-par performance against the Cardinal.
Apparently, that annoyed him.
Almost from the start of the Civil War, Mariota was marvelous. His 42-yard run for a touchdown with less than two minutes gone in the game put such a hush over the OSU faithful, you might have thought someone died.
Mariota ran when he needed to, passed when he needed to and handed off when he could. Great decision-making all afternoon, buoyed by great execution.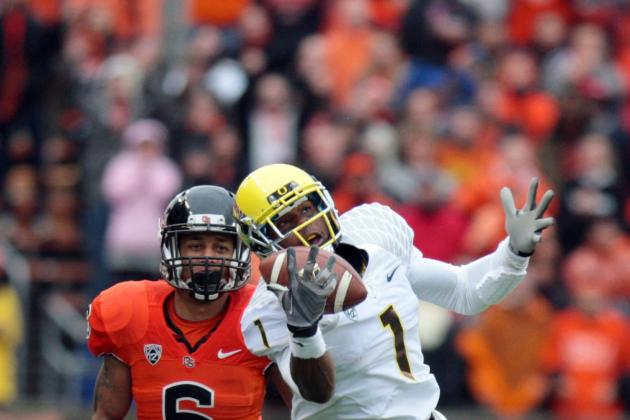 Scott Olmos-US PRESSWIRE

In an up-and-down junior year, Josh Huff was simply brilliant in the Civil War.
His five receptions for 62 yards included a one-handed grab that rivaled LSU's Jarvis Landry's spectacular catch Friday against Arkansas.
Beyond his receiving theatrics, Huff made this list today in part because of his blocking (!) in the Civil War. He was in on several plays that didn't feature him, and for the first time all year, Huff didn't appear to miss a single assignment.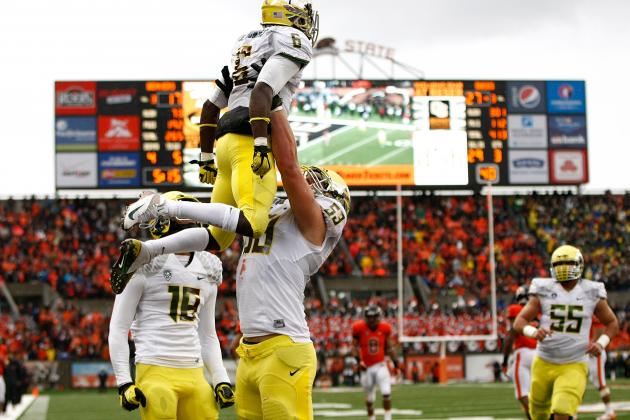 Jonathan Ferrey/Getty Images

I really tried to come up with more losers from this game to bring better balance to this article.
However, there just weren't many losers in this 116th Civil War. Without the Beavers' turnovers, it might have been closer. And while it got a little chippy at times, players from both teams represented the state well.
Both head coaches and their staffs are clearly winners this year. I know the Beavers are disappointed, but it was a tough, hard-fought battle and there should be no head-hanging.
Well done all around, gentlemen. See you next year for No. 117.
Kay Jennings is a member of the Football Writers Association of America.