5 Pieces Detroit Lions Still Need in Order to Become a True Contender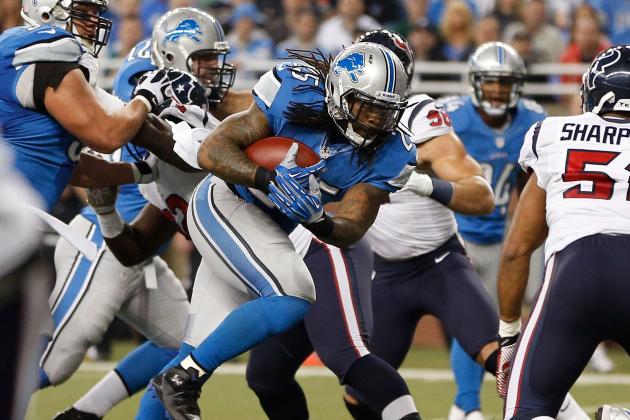 Gregory Shamus/Getty Images

The 2012 campaign has been a big identity season for the Detroit Lions.
Are they ready to take a step toward being elite? Are they still the "same old Lions"? Can they repeat their 2011 postseason success?
These questions have been answered, but haven't been the best for Detroit. Playing with a 4-7 record, the Lions have shown they're many strides away from contending.
Detroit has cost itself plenty of victories this season, dealt with injuries and has been far too inconsistent to compete for a playoff spot. However, the potential and capability have arrived in spurts.
The Lions defense has been the more consistent phase of the team. No sign of the Madden Curse as Calvin Johnson has been on a tear all year with 72 catches, 1,257 yards and four touchdowns. And the Lions seem to have found winners in 2011 draftees Mikel Leshoure and Nick Fairley, who are each having a significant impact.
Even with all the young talent on the Lions roster, there are still plenty areas in need of improvement. A lot of these upgrades should happen through the draft considering the team's budget this offseason. Here are the five biggest pieces the Lions need for Super Bowl contention.
Begin Slideshow

»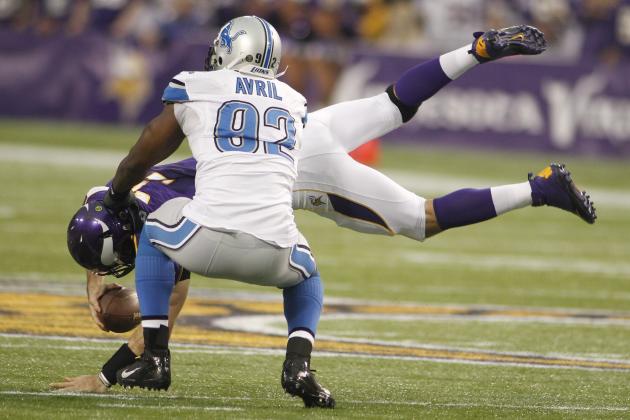 Andy King/Getty Images

There's no real certainty on what the defensive end rotation will look like next year or in 2014. The Lions could potentially part ways with current starters Cliff Avril and Kyle Vanden Bosch within the next couple of years.
Vanden Bosch was signed to a four-year deal in 2010, and will become a free agent after next season. Considering his age and production, there isn't much reason to bring back the veteran. The 34-year-old end has only three-and-a-half sacks in 2012. At his age, it won't hurt to let numbers like those walk.
Avril's contract negotiations and holdout was one of the biggest topics of conversation this past offseason. Look for it to continue when the 2012 season ends.
It's unclear of how much Avril is asking for, but he reportedly turned down a three-year, $30 million offer. Detroit doesn't have much cap room to fulfill his long-term wishes, despite his production. Avril recorded 11 sacks last season and is on pace of repeating this year with seven-and-a-half. However, signs keep pointing toward Avril walking out the door next season.
The reserves have been quite a disappointment, especially potential breakout end Willie Young. Young has zero sacks, while Lawrence Jackson has recorded one this year. Jackson could be a cap casualty this offseason, and Young still needs to prove himself.
Luckily for the Lions, there will be plenty of talent at defensive end in the 2013 draft. Florida State's Bjoern Warner or Tank Carradine, Oregon's Dion Jordan and BYU's Ezekiel Ansah are some of the high-graded defensive ends expected to come out this year. If the Lions want to keep the defensive line as the defensive focal point, it would be wise to draft one of these players.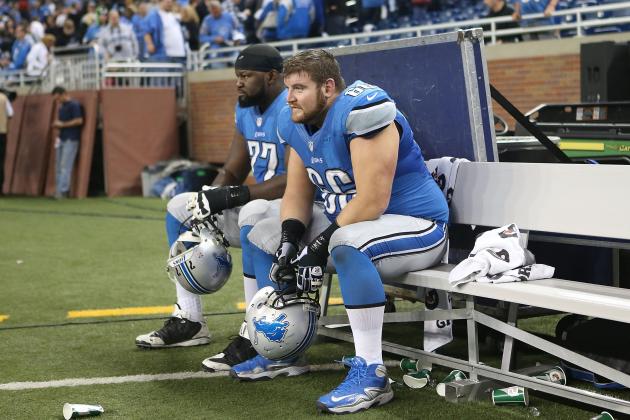 Leon Halip/Getty Images

Detroit's offensive line has steadily improved over the past few years, but the right side needs to be solidified. Tackle Gosder Cherilus will be a free agent this offseason, and guard Stephen Peterman has been a model of inconsistency the past couple years.
The Lions used special packages with rookie Riley Reiff inserted as an extra lineman to boost the running game. Reiff got his first shot starting at left tackle on Thanksgiving for injured veteran Jeff Backus. He kept Stafford clean and showed capability of being the Lions' left tackle of the future.
Left guard Rob Sims has been the most efficient lineman, and Dominic Raiola has held his own this season at center. Raiola, however, is 33 years old and will become a free agent in 2014.
The Lions need to upgrade on the right side and could find some help through the draft. Alabama guard Chance Warmack could be a player on the Lions' draft board this offseason. He could play right away and be an instant upgrade over Peterman at guard.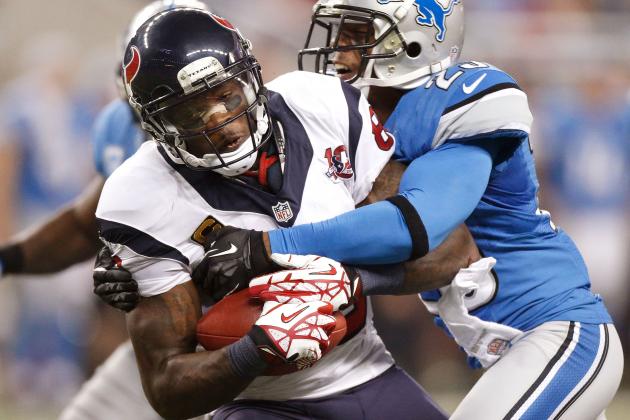 Gregory Shamus/Getty Images

Detroit's secondary has been the weak point of the defense for a number of reasons. Whether it's injuries or lackluster production, the Lions have experienced it all in 2012.
Cornerback Chris Houston has been the constant bright spot for Detroit's secondary with two forced fumbles and two interceptions. After signing a two-year deal in 2011, Houston will be in search of long-term security. He's rightfully earned that with the Lions, and it would foolish to let him walk.
Just about every other defensive back has struggled or encountered an injury where they'd miss significant time. Rookie Bill Bentley has been in and out of the lineup with concussions and shoulder injuries. Bentley was placed on the injured reserve in early November, finishing his season.
The Lions will have a big decision to make with safety Louis Delmas this offseason once he hits free agency. His talent is unquestionable, but the injury history is a high concern. He's a prime candidate for the franchise tag instead of the Lions signing him to a long-term deal too soon.
Rookie Chris Greenwood (abdominal surgery), Drayton Florence (forearm), Amari Spievey (concussion) and Jacob Lacey (concussion) have all missed significant time from their injuries. The Lions are in desperate need of durable depth in the secondary.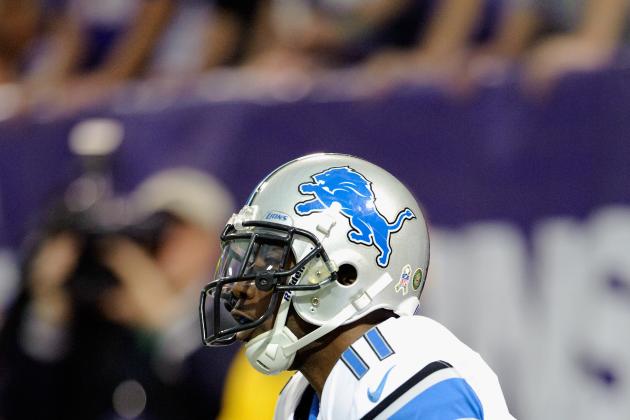 Hannah Foslien/Getty Images

Detroit has a stagnant return game with Stefan Logan bringing back punts and kicks. Logan has been a pedestrian in his time with the Lions. He's only had one return for a touchdown in his time with Detroit, and that was back in 2010.
Logan far too often settles for fair catches in punt returns and doesn't have much of a second gear when returning kickoffs. He runs more like a physical but undersized running back instead of an electric return man.
The Lions were also tinkering with Logan as a part of their offense during the preseason as a scat-back. He hasn't been featured in that role at all in the regular season.
Detroit could really use a spark from its special teams. Troubled receiver Titus Young could be that potential replacement if he learns to stay out of trouble. He expressed interest in being a return man this summer, and it could be a positive move if the opportunity ever occurred.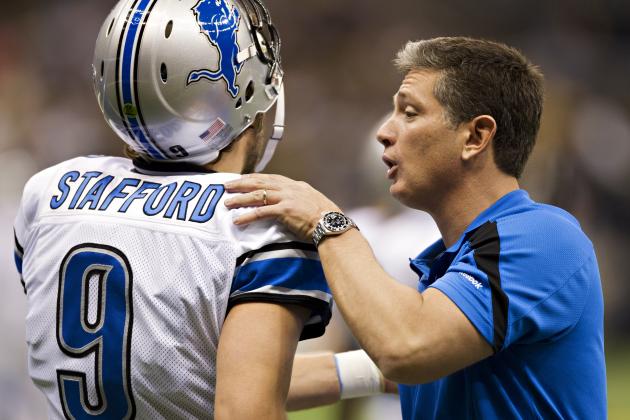 Wesley Hitt/Getty Images

Far too often, the Lions allowed mental mistakes to cost them victories. Whether it's foolish penalties or another infamous game-changing NFL rule, the Lions have constantly shot themselves in the foot.
Whenever games become difficult, the Lions don't have a leader to help weather the storm. Looking at coaching and players, there's no sure leader Detroit can turn to at the moment. Matthew Stafford has played too inconsistently to be mentioned as a leader yet. Louis Delmas is known as the leader of the defense, but he can't be that leader if he's spending time hurt on the sideline.
Since the dreaded offseason filled with arrests and a scuffle during practice, the Lions haven't been able to find much order. Head coach Jim Schwartz is the right man for the job and should not be in any threat of losing his job. But he needs to take control of his players.
Schwartz isn't the kind of coach to throw his players under the bus after a mistake. Tight end Brandon Pettigrew has had a disappointing season with dropped passes and ball security, but Schwartz went out on a limb saying his tight end had "outstanding hands."
At some point he needs to set an example for his players before things go wrong. There is very little, if any, accountability with the Lions and that must change. Elite teams can't win strictly on talent without discipline, like the Dallas Cowboys. If Detroit is looking to turn the corner, they'll need some leaders to emerge.