5 Most Underrated Players on Tour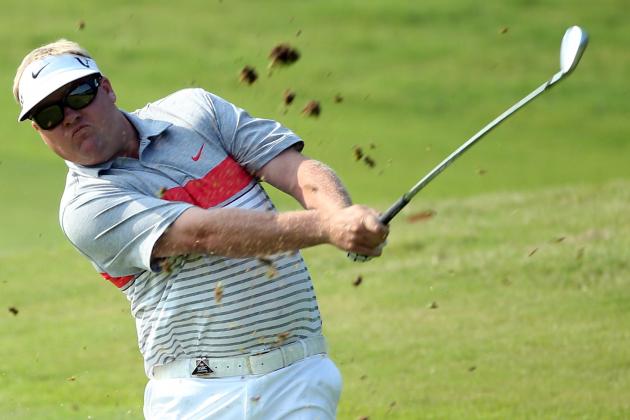 Andrew Redington/Getty Images
Carl Pettersson may not look like a classic athlete, but he is a very solid golfer on the PGA tour.
We often want our heroes to look the part.
Call it swagger or call it confidence, when a top pro golfer comes striding up the 18th fairway with the lead, he has that kind of charisma that draws fans—and TV cameras to him.
When you look at Rory McIlroy, Tiger Woods or Phil Mickelson, you see that swagger.
But not all golfers have it.
They don't fit the image. However, they still win tournaments and they still play well. Here's a look at five underrated golfers who may fall beneath the radar but still play the game at a high level.
Begin Slideshow

»
Carl Pettersson can play golf at an exceptionally high level.
The Swedish native may look like he should be selling computer software, but he is a skilled technician on the course who had a remarkably consistent year in finishing as the No. 13 money winner on the tour.
Pettersson earned more than $3.5 million, had one victory and six top-10 finishes. He was especially proficient with his play around the greens, and he is likely to remain a factor on the tour for years to come.
Louis Oosthuizen is not going to intimidate many of his opponents on the golf tour.
He is an unassuming player who looks like he would be more comfortable behind the ropes than he would be teeing it up with the best golfers in the world.
However, the 5'10", 170-pound Oosthuizen gets the job done. The dimininutive South African earned $3.46 million in 2012, ranking 15th on the tour.
Oosthuizen was remarkably consistent, finishing in the top 15 on 12 occasions last season.
Despite his lack of size, Oosthuizen hit his average drive 299.5 yards, ranking 23rd on the tour.
Many golf fans would be surprised to learn that Bo Van Pelt earned more than $3 million on the tour in 2012 and finished as the PGA's 23rd leading earner.
Van Pelt is a 37-year-old Hoosier who played his college golf at Oklahoma State. He has won one tournament in his career, but he regularly comes close.
Van Pelt had 10 top-10 finishes in 2012 and also finished in the top 25 16 times. That will help a golfer collect a sizable paycheck on a consistent basis.
Van Pelt ranked first on the tour in approach shots from 75 to 100 yards. His average shot from that distance finished 12'1" from the hole.
Adam Scott has a lanky build, and the 32-year-old Australian has a swing that is similar to many of the pros on the tour.
However, Scott's familiar swing brings unfamiliar results. He won just under $2.9 million on the tour in 2012.
Scott did not have a victory in 2012, but he had a second-place finish, a third-place finish and he was a top-25 golfer in 11 of the 16 tournaments that he played.
Scott's average score last season was 69.53, a figure that ranked sixth on the tour.
Kyle Stanley, 25, may prove to be one of the up-and-coming players on the tour in 2013.
He served notice in 2012 by winning $2.35 million and recording one tour victory while finishing in the top 25 eight times.
Stanley won the Waste Management Phoenix Open in February and picked up a $1,098,000 purse for his efforts.
Stanley has remarkable power, hitting his average drive 306.9 yards. That ranked eighth on the PGA tour.