USC Football: Winners and Losers from the Week 13 Game vs. Notre Dame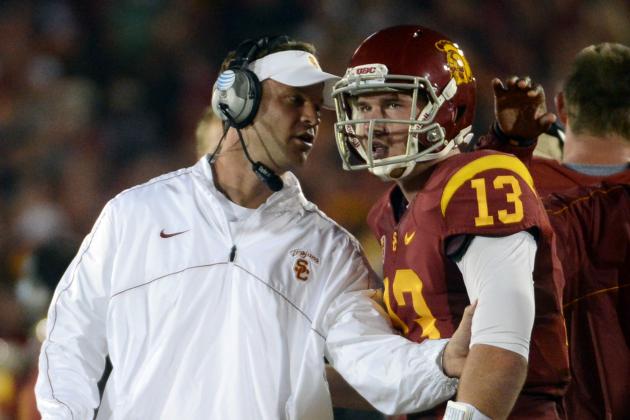 Harry How/Getty Images

For the USC Trojans, the final episode of a disappointing 2012 season ended with a whimper when Trojan quarterback Max Wittek's fourth-down pass settled harmlessly on the turf in Notre Dame's end zone as the fourth quarter wound down.
The pass not only ended the game—it ended the hopes of fans who were desperate to salvage some joy from this season.
In this season, everything that could go wrong did for a team with such high expectations.
Now, the Trojans will spend the next couple of weeks awaiting news of what inconsequential bowl game they will participate in and doing whatever they can to preserve their stellar 2013 recruiting class.
And while they are performing these two exercises, they can ponder how so much promise for a season resulted in so much failure.
This slideshow will avoid looking at the "big picture" and instead will focus on the Trojans' abysmal performance against the Fighting Irish in a game that USC lost 22-13.
In preserving a "dream season" for Notre Dame that they hoped to claim for themselves, the Trojans had few winners and many losers in this game.
I tried unsuccessfully to find some winners but only found a bevy of losers.
And here they are...
Begin Slideshow

»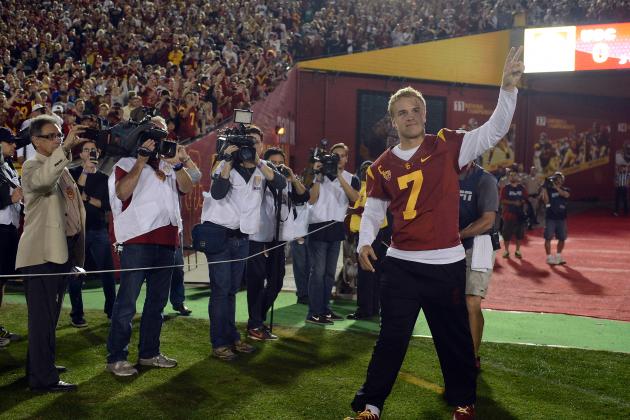 Harry How/Getty Images

No, Trojan fans, I am not labeling Trojan quarterback Matt Barkley a "loser."
Instead, Barkley—and Trojan fans themselves—lost an opportunity for the four-year starter to make a difference in a game they could have won had he participated.
This is no knock on redshirt freshman quarterback Max Wittek, who was thrust into an unenviable assignment against a very good defense.
But does anyone think USC would have been held to 13 points with Barkley at the helm?
While there is no getting around that Barkley has had a disappointing 2012 season, there were opportunities against the Irish that he would not have let pass by the wayside.
Of course, this is a futile exercise in playing "what if." However, what can't be denied is that after what Matt Barkley has meant to this program, everyone associated with USC was a loser because fate did not allow him to make a difference against the Trojans' cross-country rival.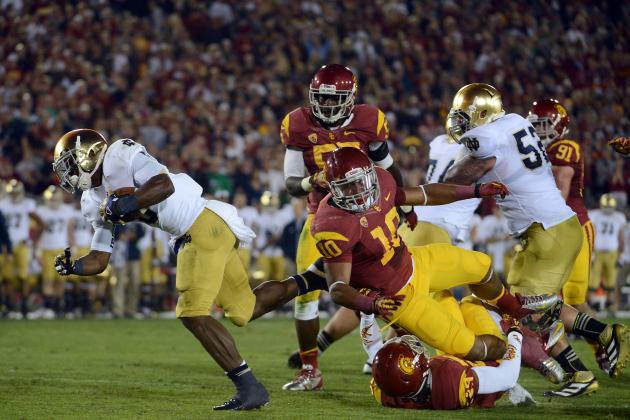 Harry How/Getty Images

Another game, another week where the opponent ran roughshod over the Trojans.
This time it was Irish tailback Theo Riddick who left his cleat marks on USC's defensive line as he went for 148 yards on 22 carries (7.3 yards per carry).
Couple that with another 49 yards from Notre Dame quarterback Everett Golson, and what you have is yet another example of a season-long problem for the Trojans in stopping the run.
All told, USC surrendered 222 yards on the ground. In doing so, it helped to extend Irish drives that should have been extinguished.
That would lead to a nine-minute advantage in time of possession for Notre Dame.
And another loss for USC.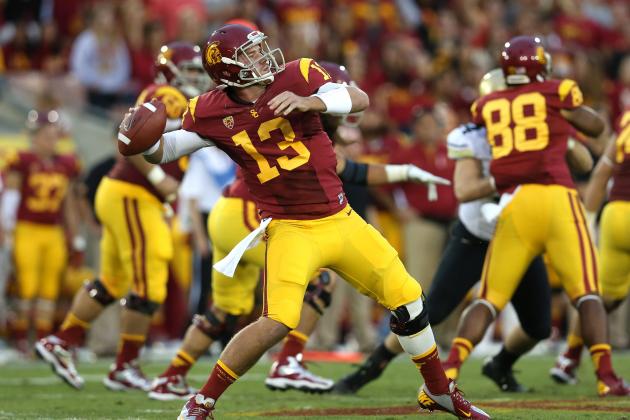 Stephen Dunn/Getty Images

Although it could be argued that USC's two lost interceptions represented an improvement turnover-wise for the Trojans, they were still once again on the minus side of the ledger in this category against Notre Dame.
That is because the Irish were mistake-free against a USC defense that could not produce any free opportunities for the offense.
It is obvious that these Trojans are not good enough to win when giving away the ball.
They proved that again on Saturday.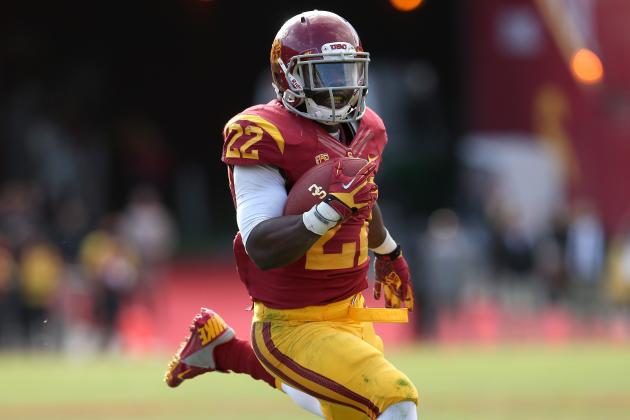 Stephen Dunn/Getty Images

Yes, I know Wittek was a young quarterback making his first start on one of college football's biggest stages against a legendary rival.
But is there any excuse for going 1-for-9 on third-down and fourth-down opportunities?
Included in this sad statistic was USC's pathetic effort on that last fourth-quarter drive. A lack of imagination by the coach gave way to a dearth of execution by the team inside the Notre Dame 1-yard line.
Meanwhile, Notre Dame was 5-14 on their third-down efforts. While this may not blow anyone away, it is a far sight better than what the Trojans had to offer.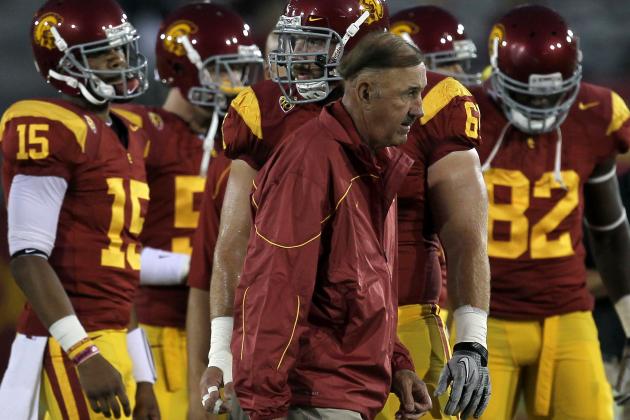 Stephen Dunn/Getty Images

Given that USC only allowed 22 points to the No. 1 team in the nation, one might be tempted to say that the Trojans' defensive game plan designed by coordinator Monte Kiffin was effective.
Not so much.
While the 22 points were good enough for the Trojans to win most games, they were probably lucky to have not given up much more in this game.
The five Irish field goals were as much a result of their own offensive ineptitude as they were the Trojans' defensive efforts against them.
And although this season the Trojans have given up much more than the 439 total yards they surrendered against Notre Dame, who thought that a cumulative total north of 400 yards would be something to celebrate?
It isn't. For that reason, Monte Kiffin is a loser for this game.
Have a nice retirement, Monte.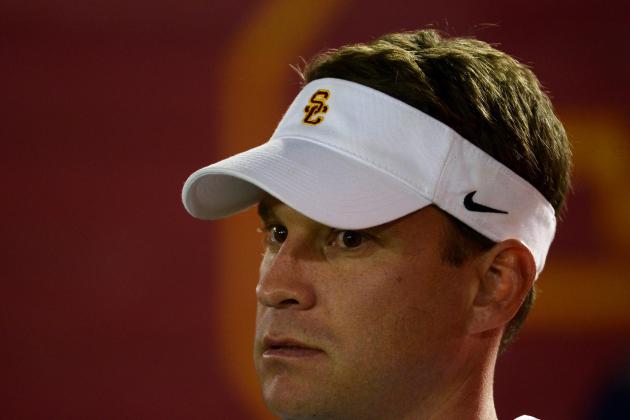 Harry How/Getty Images

No one has been more supportive of Lane Kiffin than I have been this season.
For my efforts, I have endured the venom of disappointed Trojan fans calling for his removal.
Although I still have Kiffin's back, Saturday's game certainly did nothing to justify my continued allegiance.
The biggest example of inept coaching occurred during the Trojans' final scoring threat. Kiffin inexplicably tried three fruitless running plays when they only had to get one yard to hit paydirt.
Uh, Coach Kiffin, wouldn't it have been prudent to roll out Wittek when the Irish safeties committed to the run?
Of course it would have been.
But there were other issues, too.
Taking ill-advised timeouts, not utilizing running back Silas Redd more, removing the tight ends from the passing attack and other coaching transgressions have bolstered the credibility of those seeking to oust Kiffin.
Do I still believe that Lane Kiffin should be the head guy for USC's football program?
Yes, but my certainty has taken a hit since a week ago.