Ohio State Basketball: 5 Keys to Beating Duke in the ACC-Big Ten Challenge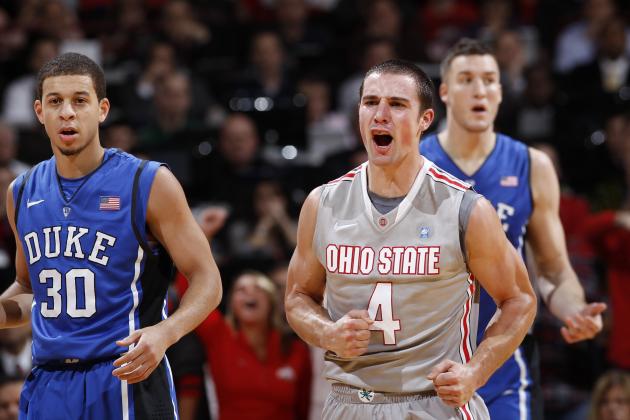 Joe Robbins/Getty Images

It's put-up-or-shut-up time for the Big Ten and the ACC.
The annual ACC/Big Ten Challenge begins Tuesday night, and it features a number of marquee matchups, including North Carolina State vs. Michigan and North Carolina vs. Indiana.
It also features an Ohio State vs. Duke rematch from a year ago.
Blue Devil fans may have blocked last season's game from their collective memory, but Buckeye supporters will be glad to recap the details of their team's 22-point victory.
Read on to see five keys to the game if Ohio State wants to beat the Dukies two years in a row.
Begin Slideshow

»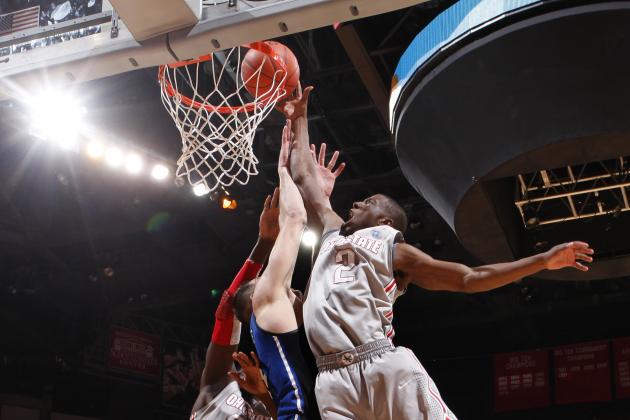 Joe Robbins/Getty Images

It is obviously a very small sample size, but as of Saturday night, Ohio State ranks 196th in total rebounds per game.
Duke, on the other hand, ranks in the mid-200s.
I don't think either squad is writing home about those numbers.
With so many stars in this game (think Aaron Craft, Deshaun Thomas, Seth Curry and Mason Plumlee), controlling the glass will be critical. It may sound simple, but the team that gets more shots for those players will probably score more points.
An important part of the Blue Devils' victory over Kentucky was the nine offensive rebounds they grabbed, so it will be key for Evan Ravenel and Amir Williams to prevent that from happening.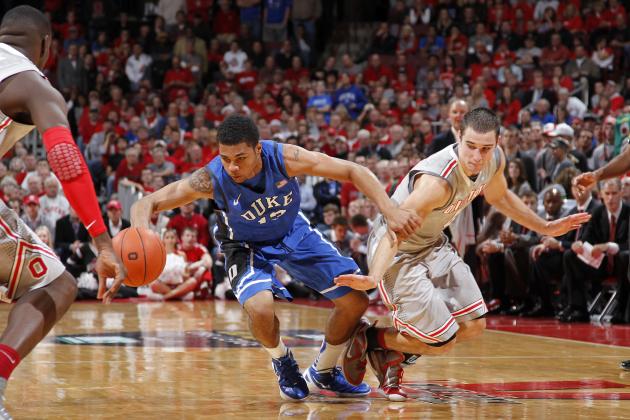 Joe Robbins/Getty Images

Every time Duke needed a big basket down the stretch against Kentucky, it turned to one player—Seth Curry.
The Blue Devil guard has developed into a type of calming presence on the floor for Coach K's squad. He is always in control, and any big possession the Blue Devils have Wednesday night will undoubtedly run through him in some fashion.
That is where the defensive wizard that is Aaron Craft will need to step up.
If the Buckeyes' point guard can pester Curry all game, he should be able to force a number of Duke turnovers. What's more, Craft's on-ball pressure could wear Curry out throughout the game, which may possibly become a factor down the stretch.
Craft is one of the only players in the nation that can set the tone of a game through his defense. He is going to need to do that vs. Duke.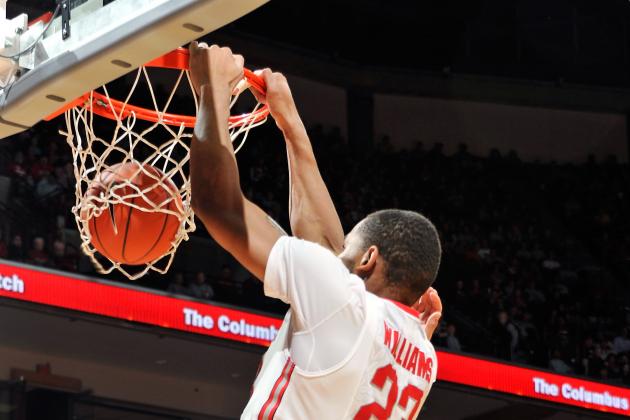 Jamie Sabau/Getty Images

Mason Plumlee has looked like nothing short of an All-American through the first few Duke games.
He leads the team in scoring and is the only Blue Devil in double figures for rebounds per game. In fact, he is the only member of his team with better than six boards a night.
As for the Buckeyes, big man has been their most inconsistent spot on the floor almost every time out.
Evan Ravenel is a scrapper who provides Thad Matta with solid minutes but not much more. Amir Williams has the potential but hasn't quite lived up to it yet.
One or both is going to need his best game of the year if Ohio State is going to find a way to win in Cameron. Williams and/or Ravenel won't necessarily have to score, but there needs to be effective defense and rebounding to ensure Plumlee doesn't go off.
This may be the Buckeyes' steepest test.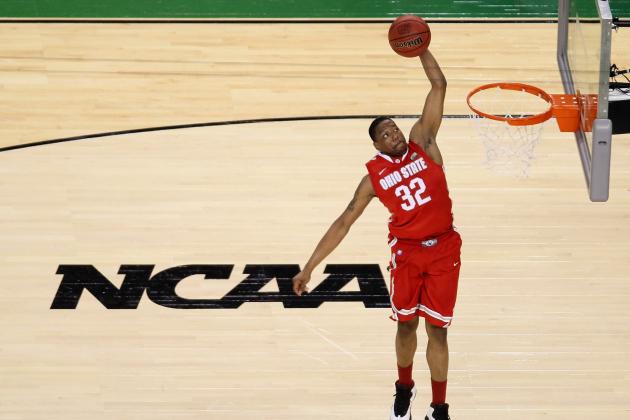 Ronald Martinez/Getty Images

We saw flashes of Lenzelle Smith's talent in the NCAA tournament last season when he played an integral role in Ohio State's run to the Final Four.
However, inconsistency plagued Smith for much of the year. One night he would put up close to 20 points, and the next two he would disappear.
Smith's start has been encouraging for Buckeye fans hoping he would provide Thad Matta with a reliable third option behind Aaron Craft and Deshaun Thomas. The junior guard has averaged double-digit points through four games and is also helping his teammates on the glass.
If Ohio State is entertaining thoughts of grabbing this big win on the road, it's going to need more than just Deshaun Thomas and Aaron Craft to score.
That is where Smith must step in.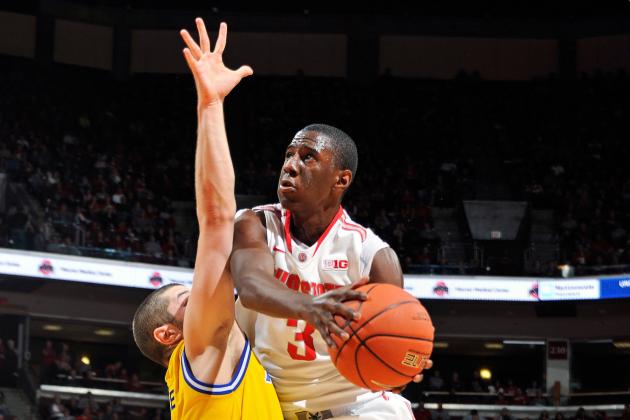 Jamie Sabau/Getty Images

Shannon Scott probably played his best game in a Buckeye uniform during his team's last contest against UMKC.
Sure, the level of competition wasn't quite what it will be Wednesday, but the sophomore scored 10 points, swiped a couple steals and, most impressively, dished out 10 assists in 24 minutes off the bench.
Scott won't be in the starting lineup at Duke, but if he can play even 70 percent as well as he did against UMKC, the Buckeyes will get a big boost off the pine.
If Scott plays well, Thad Matta can utilize the Aaron Craft-Scott backcourt combination that will help the Scarlet and Gray speed up the tempo and perhaps force some turnovers to get easy buckets.
And you can never have enough of those at Cameron.