What I Loved and Hated in College Football Week 13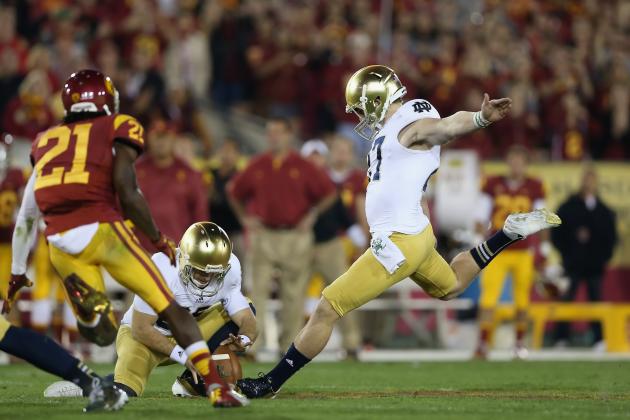 Jeff Gross/Getty Images

Notre Dame is undefeated and playing for the national championship.
You haven't entered a time machine, although you might be a little bit confused after seeing quarterback Charlie Batch start in the NFL. This is the year 2012, and college football remains awesome, unpredictable and incredibly odd. A good odd, of course.
Outside of the Irish making a reservation in the VIP section of the BCS Restaurant, rivalry games were in full force. Some of these games were close as usual; others were, well, the Iron Bowl.
These games are the perfect balance of hate and respect, and it's a yearly staple we appreciate. We also need to appreciate every last minute of college football going forward because it'll soon be dormant again. Either that, or every coach in the country will get fired and we won't have a game anymore.
We're running out of matchups to discuss, but there's still much to be decided. Before we take a long trip down "How the Hell Did That Go So Fast?" Lane, let's revisit what I loved and hated in Week 13.
Begin Slideshow

»
Don't even bother making a case for another catch. Seriously, it's a waste of time, and any suggestion simply will not compare.
LSU wideout Jarvis Landry hauled in the Catch of the Year on Friday against Arkansas, and I spent a good chunk of my weekend eating leftovers while replaying this one over and over again. Also, don't judge me; my weekend was just fine, thank you.
One hand, the body control (oh, that body control) and the ability to bring this one down without having it hit the ground. I'm sorry, Devin Smith, but you have been toppled here.
During the Texas-TCU broadcast, ESPN analyst Jesse Palmer gave the "Horns Down," aka the Hook 'em Horns hand gesture upside down. SOUND THE LONGHORN NETWORK ALARM!
He was joking, of course, but then gave this strange and awkward apology shortly after the Longhorn Network executives choked on a piece of pumpkin pie and phoned for help. Oh, was it forced.
Really? I mean, REALLY? We get it; Texas and ESPN are airtight buddies, but this was absolutely ridiculous. Palmer, I suppose, should be happy he still has a job, and I wish I was joking about that.
From the bad on ESPN to the very good. Well, unless you were the one forced into a costume while eating crow.
Earlier this year, ESPN's Mark May said on air that he would dress as a leprechaun if Notre Dame made it to the national championship game. May, of course, works the studio with former Notre Dame coach/current Notre Dame cheerleader Lou Holtz.
On Saturday night, it was time to pay up, and he did just that. Seeing the genuine joy on Holtz's face was worth it here, although we must dock May a bit for the lack of headgear. Maybe next time.
If you're looking for one play to sum up Tim Beckman's first season as head coach at Illinois, then look no further.
In the team's blowout loss against Northwestern, Beckman got trampled by a ref trying to get into position. Oh, it gets worse.
Following his impressive ground scoot to get out of the way of the play, he was then flagged for sideline interference, and Northwestern scored on the very next play.
Your 2012 Illinois season is complete; please move along.
Week 13 of the college football season was jam-packed with meaningful rivalry games with plenty on the line. But regardless of records, BCS implications and other items of note on the line, these games always mean so much more.
And because of it, we get scenes like we did before the Ohio State-Michigan game.
Pushing, jawing, chippiness and respectful hate—I love it, and as long as no one throws a punch or hits someone over the head with a chair, this is what I want to see more of.
The Tennessee football team has lacked life this season, but its mascot certainly does not.
During the team's game against Kentucky, Smokey got loose and immediately went right toward Kentucky kicker Craig McIntosh. He grazed McIntosh, although no one was injured in this encounter.
Tennessee brass apparently likes what it saw, and Smokey will now be named co-offensive coordinator on Jon Gruden's team alongside Bobby Petrino. Don't laugh; some Tennessee fan probably sees this happening, and this is already on his message board of choice.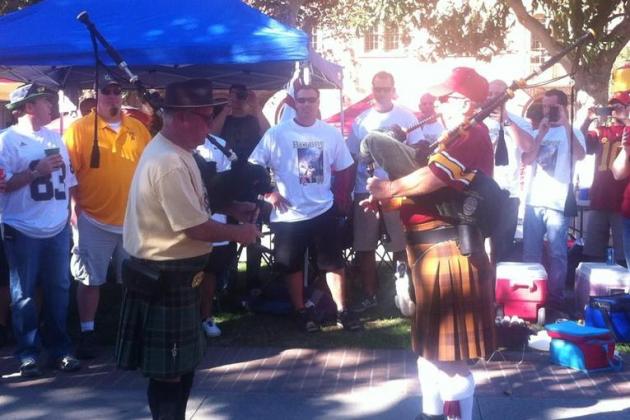 Image Via @USC_Athletics
A Notre Dame fan and USC fan duking it out over bagpipes in L.A.? Mark this down as a tailgating first for me, and I have seen a lot of wonderful oddities take place before a game.
Forget about pounding as many beers as you possibly can or yelling at every single person that walks by. These fine gentlemen of leisure know how to class up a scene, and I appreciate them and their sweet sounds of ear violence.
Kilts, when used properly, can command a room and a tailgate. Write that down.
When I sit down for my usual 15-hour Saturdays of college football, I know there will be a few hits that make me cringe in my recliner.
The hit that Florida defenders Lerentee McCray and Antonio Morrison put on FSU QB EJ Manuel certainly was one of those. Manuel was crushed, in particular by the hit Morrison put on him, and he went down quickly.
Luckily, Manuel was OK and did return (although the outcome of the game wasn't ideal). I watch this, and I can still feel myself squinting once the contact comes.