5 Most Important Players for the U.S. Men's National Team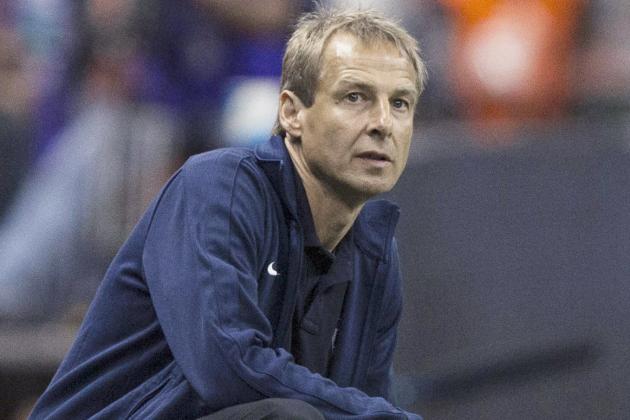 Miguel Tovar/Getty Images

The U.S. men's national soccer team is trying to qualify for the 2014 World Cup. In order to advance through the hexagonal stage, they will need to see great production from a wide variety of players.
There are certainly some players whose contributions will be more necessary than others. Who is the most important member of the team?
Before we answer the question of who is the most important, let me give the ground rules.
This is not a list of the top five best players! Some players are better than others; it doesn't necessarily mean that their contributions are as important. I'll explain more as we go on but please don't panic if the best player is not No. 1 on this list. We have to look at the role each player will play, and not just his ability with the ball.
This is an opinion I know that some may agree and others won't. That's OK! Let me know what you think in the comments below!
Begin Slideshow

»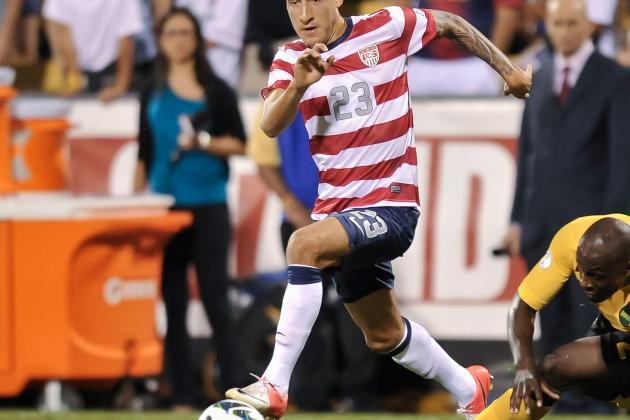 Jamie Sabau/Getty Images

Fabian Johnson fills one of the biggest voids on this team.
Left-back has been a major concern for the U.S. for several years now. Carlos Bocanegra was the one other player who wasn't a liability in that spot, but he is much better at center-back.
I don't even want to mention a certain Bob Bradley favorite...Jonathan Bornstein. Timmy Chandler played that spot well but is more suited to play right-back, and we don't know if he will really commit to the American squad.
The left back spot requires a player who can play strong defensively. He has to be good in one-on-one situations. He also has to be able to push the ball forward. The outside backs are a key part of the offense because they give the team numbers forward.
Fabian Johnson can do everything that is needed at the left-back spot, and do it very well. That alone makes him an important piece of the puzzle for the USMNT.
What puts him above almost everyone else is the lack of options behind him. If Fabian Johnson gets hurt the U.S. is going to have to hit the panic button. They will scramble to find a suitable option to back him up.
What puts him at No. 5 instead of No. 1 is that the U.S. has found ways to win with lower quality at that spot. The U.S. can win without him, but is certainly going to be better with him.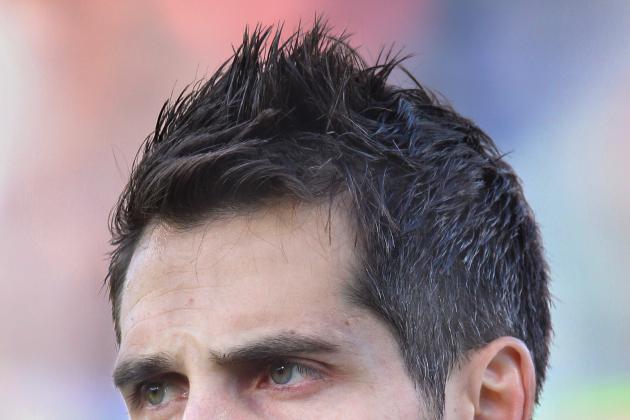 Tom Szczerbowski/Getty Images

Captain America, or Carlos Bocanegra, will need to anchor the defense at center-back. Not only is he the leader of this team, but he is one of the most consistent starters in one of the most important positions on the team.
The two center-backs are crucial to a team's success. They anchor the defense and will most times be the last defender available. They have to win balls out of the air and stand strong against strikers coming down the middle. The defense can't survive without solid play from this position.
Center-back is another position with a lack of quality depth. The U.S. has options, but lacks consistency. Jay DeMerit, Oguchi Onyewu and Clarence Goodson have all had solid moments, but they've also had off-games.
Lately Geoff Cameron has looked decent, but he's still unproven. Maurice Edu has been listed as a defender for the last two games but has played that spot on very few occasions. He also isn't getting minutes with new EPL club, Stoke City.
Boca has to play well. The American squad needs at least one consistent person in the center. Boca may have lost a step over the years, but he is still the most consistent center-back available. Perhaps younger players like Omar Gonzales will be ready soon, but in the near future Boca's play will prove crucial to this team's success.
If the U.S. expects to be in Brazil in 2014, it will need its captain to be at his best.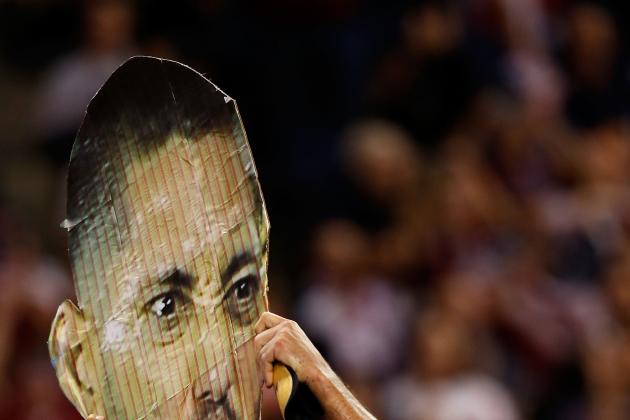 Jamie Squire/Getty Images

Clint Dempsey might be the most talented player in the United States. He will need to use every bit of that talent to help his team advance to Brazil.
Dempsey's versatility alone makes him valuable to this team. He can play in the midfield out wide, in the middle or even up top. He offers depth at a multitude of positions.
The biggest reason that Dempsey is so important to the USMNT is his ability to score. The U.S. has had a problem finding a quality striker.
Jozy Altidore has never quite lived up to expectations. Charlie Davies looked like the savior for the team before his tragic car accident. Juan Agudelo was brilliant in his first appearance with the team but has struggled to make a consistent impact.
Hercules Gomez works hard but has not scored many goals. If the U.S. wants to advance, it will need to score goal—and Clint Dempsey is the best goal scorer in the country.
If the U.S. finds a consistent striker, (Terrence Boyd perhaps??) Dempsey still adds value. He is skilled with the ball and plays well in Klinsmann's system. He can create offense with his ability to dribble and will always be a threat to score.
Dempsey might be the most talented player in the country, but he is not the most important. The U.S. has played well in games without his contributions. They can score and create without him. It's just a lot easier with him.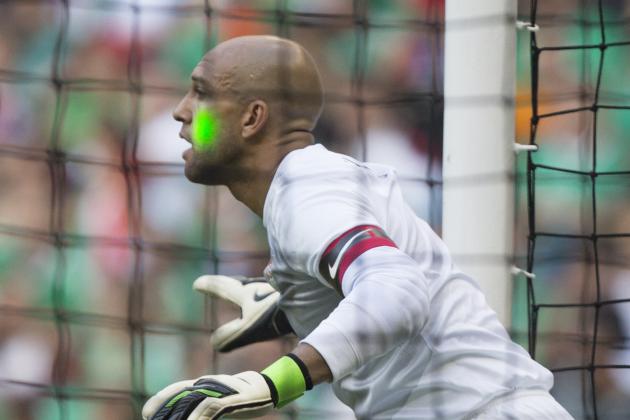 Miguel Tovar/Getty Images

Tim Howard is one of the best keepers in the world.
Howard is the latest in a long line of great American keepers. His ability in front of the net can absolutely change a game. Based on position, he is probably the best U.S. soccer player. Dempsey may get the glory, but Howard can compete with anyone.
He is one goalie who can save his team. The most recent friendly against Russia proved Howard's worth to the USMNT. The game could have been very lopsided for Russia, but Howard came up huge with many great saves to preserve the 2-2 tie.
The American squad is not strong enough to keep opposing teams from getting chances. Quality teams will be able to find space against the U.S. They will take shots. They will take shots that are on frame. Tim Howard will have to continue to play outstanding soccer in order for the U.S. to survive.
Let's not forget the problems the American forwards have had in front of the net. This U.S. team doesn't score a lot of goals, so it needs to keep opponents from scoring as much as possible. The longer they can hold a shutout, the better their chances will be.
Why isn't Howard No. 1? You could argue that he should be. However, the U.S. does have some depth behind its No. 1 keeper. Others have proven capable of carrying the burden of keeping opponents' shots out of the net. The biggest problem facing the U.S. is finding a way to score.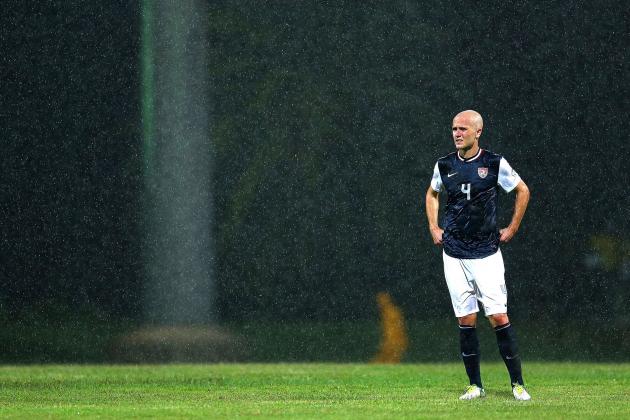 Mike Ehrmann/Getty Images

Michael Bradley just might hold the key to Brazil for the U.S. men's national team.
Bradley doesn't play flashy soccer. He's not necessarily going to get the crowd to "ooh" and "ahh." He plays hard, and he plays well. What separates Bradley from the rest of the USMNT player pool is not only his ability, but the importance of his position.
Bradley plays a central midfield role for the United States. Center-mid is one of the most difficult positions to play; it links the play out of the back to the strikers in scoring position. It plays a key role in getting balls to wide players and switching the point of attack.
The center-mid has to be able to make plays on his own as well. Center-mids often play box-to-box; therefore they need to defend and attack well.
Not only does Bradley do all of that, but he can score too!
If the U.S. wants to be at its best, it needs to put Michael Bradley in a position to attack. He has played a holding mid and a more attacking mid, and the team thrives with him being able to attack. He can play great defense but his true value is in the attack.
Controlling the center of the pitch is absolutely necessary for a team that wants to go to 2014's World Cup.
Michael Bradley has been the most consistent player in the center. Jermaine Jones can be a strong defender and add to the attack, but has far too many bad games. Kyle Beckerman, Jose Torres and Danny Williams haven't quite made their claim on a consistent starting spot yet either.
Bradley continues to prove his worth every time the team is together.
You might not like his style. You might not like him, but there should be no denying Michael Bradley's impact on the U.S. roster. He must play and play well in order for the team to succeed.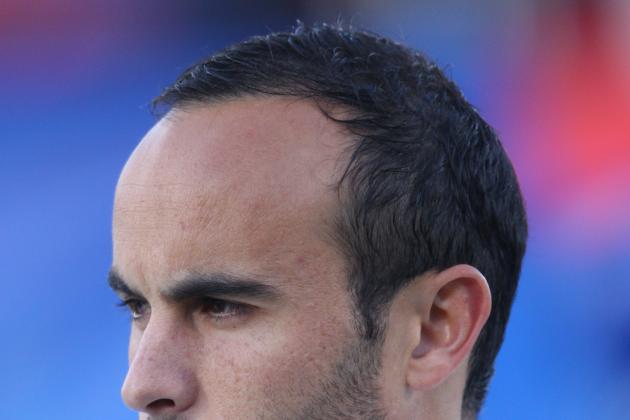 Tom Szczerbowski/Getty Images

Just about every player is going to be important to the success of the USMNT. However, there were a few more that needed mention.
Landon Donovan: Landon Donovan will be remembered as one of the best American soccer players of all time. He can only add to this roster. He was left off the list because of his recent comments regarding his future in soccer (h/t Sports Illustrated). Recently Donovan has made comments that have lead people to question whether he wants to continue his soccer career.
If Donovan wants to play he will be one of the most important players on the U.S. roster.
Steve Cherundolo/Timmy Chandler: The right back spot has as little depth as the left-back. Cherundolo has played very well over the years at that spot but is getting older. If he drops out of the picture, the U.S. could be in trouble.
However, this can be remedied by Timmy Chandler committing to the U.S. He has said that he is ready to commit, but only time will tell if he is genuine or not.
Whoever Plays Forward: There have been quite a few players who have tried and failed to make an impact at the forward spot for the Americans. Someone has to step up and score goals. Dempsey could play up top, but will need help. This may be Jurgen Klinsmann's biggest task—finding someone who can put the ball in the net.
Young Players: There are a lot of promising young players who have gotten caps with the USMNT, and many uncapped players that fans will be excited to see. Players like Josh Gatt, Juan Agudelo, Brek Shea, Terrence Boyd and Timmy Chandler have had moments of excellence for the squad. If the U.S. is going to compete in 2014, it will need some fresh faces to step up and become stars.
Like it, love it or hate it? Let me know in the comments section and let me know who you believe is the most important player for the Americans' success.
Thanks for reading!