WWE's 15 Most Spectacular Signature Move Variations of All Time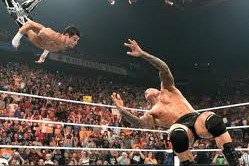 twicsy
There are many "WWE: All Time Greatest Finishing Moves" lists around the web, so I wanted to do something different.
This slideshow will feature some amazing counters/reversals and maneuvers that caught the WWE Universe by surprise.
All of these moves have been brilliantly set up and beautifully executed.
Professional wrestling is the greatest form of entertainment and here are some moments that back up that statement.
Make sure the volume on your computer is turned on, the crowd makes every video special.
These slides are in no particular order. Enjoy.
Begin Slideshow

»
Stone Cold Steve Austin vs. Shawn Michaels at WrestleMania 14 was one of the most important matches in WWE history.
With WWE trailing WCW in the Monday Night Wars, Mike Tyson was brought in as the special enforcer to attract a wider audience. Needless to say, it worked.
Austin winning the WWE Title from Michaels signified the beginning of the Attitude Era.
Here is the stunner that started it all.
The main rivalry heading into Summerslam 2001 was between The Rock and Booker T, who main-evented the PPV.
When The Rock returned to the WWE, WCW was in the middle of its invasion.
Considering Stone Cold Steve Austin was the WWE Champion and leader of the Alliance, this was an important match to help the WWE get back on track by winning a major title.
This was the first time The Rock won the World Heavyweight Championship and the way he got the victory will always be remembered.
In 2011, Wade Barrett solidified himself as a massive player in the WWE.
Barrett earned himself an Intercontinental Championship match against then-champion Kofi Kingston.
After an impressive reversal, Barrett hit his finishing move and won his first Intercontinental Championship. He has been a force to be reckoned with ever since.
Shelton Benjamin is considered to be one of the greatest athletes to ever compete in a WWE ring.
On Monday Night Raw, Benjamin made a name for himself after his spectacular performance against Shawn Michaels.
After an evenly matched contest, Michaels hit one of the most devastating Superkicks anyone has ever seen.
The announcers made this moment even better.
In 2001, the TLC match (for the WWE Tag Team Title) between The Hardy Boyz, Dudley Boyz, and Edge & Christian won PWI's match of the year award.
There are no words that can describe how epic this match truly was.
So instead of words, I'll show you one of the many highlights that took place at the greatest WrestleMania in history.
Despite his problems with the WWE, Jeff Hardy will always be remembered for his death-defying stunts and unique style he brought to the ring.
There's a long list of Jeff Hardy moments, but this is one of my favorites. Not only is the move impactful, but it was unexpected.
The Undertaker and Batista had an amazing rivalry. All of their matches were evenly matched and physical as hell.
It looked like Batista was in control of the match, but the Dead Man is a veteran, and can strike at any time.
At No Way Out 2008, it took a memorable and innovative version of the Tombstone Piledriver to put the Animal away.
Carlito and John Morrison were two superstars that had all the talent in the world, but for some reason the WWE was not the right fit for them.
During a Tag Team Championship match on SmackDown, Carlito reversed Morrison's attempted suplex and executed a beautiful Backstabber that resulted in his team regaining the titles.
CM Punk and Rey Mysterio had one of the best feuds in recent memory.
Both wrestlers work well together and have tremendous chemistry, which they showcased in every match they had.
CM Punk has hit many GTS's to Mysterio in the past, but the one he delivered at Armageddon 2008 is definitely my favorite.
Edge and Rey Mysterio had a personal rivalry that resulted in many highly entertaining matches.
At Royal Rumble 2009, Edge hit one of the most numbing Spears on Mysterio that I can remember.
Not only was it a devastating move, but Edge regained the World Heavyweight Championship in the process.
Brock Lesnar used to be a WWE superstar that we all feared. Now, he's too scared to even show up on Raw!
Lesnar and The Undertaker had a series of matches that could give you nightmares due to how brutal and bloody they were.
At No Mercy 2002, Lesnar reigned victorious by reversing a Tombstone Piledriver and hitting Taker with his patented F-5.
Chris Jericho is the best in the world at what he does.
Those words rang true after he hit Rey Mysterio with an unexpected and vicious Code-Breaker at The Bash 2009.
Is it me, or has Rey Mysterio been the victim of many finishers in this list?
Shawn Michaels vs. The Undertaker at WrestleMania 25 will always be remembered.
The performance was so good, that it won Match of the Year in 2009.
With a last gasp effort, Michaels attempted a moonsault from the top-rope. Let's just say it didn't work out too well.
The reason why this moment made the list is mainly because of how unexpected it was. I mean listen to the crowd once they realized it was Matt Hardy, they went crazy.
With MVP inches away from victory, Hardy came rushing to the ring and executed a Twist of Fate from the top of a ladder.
After RKO'ing Chris Jericho, Randy Orton was attacked by an up-and-coming superstar named Evan Bourne.
As Bourne attempted his signature move, Orton executed one of the greatest reversals in wrestling history.
If I missed anything, please let me know in the comments section.
Adrian Fylonenko is an aspiring writer who plans to major in Journalism. His interests include writing and debating about all things wrestling. Bleacher Report has given him the opportunity to improve and perfect his craft. Adrian is active on social media and if you have any questions or suggestions, you can do so on Twitter and Facebook . Word on the street is if you follow him, he will follow back.
All comments are greatly appreciated and will be responded too. Thank you for reading and for your support.