NFL Playoff Picture: 11 Ways the Postseason Can Still Change Before January
Streeter Lecka/Getty Images
With only a few Week 12 games in the books, it's time to look ahead to January and see how the playoff picture could potentially change before the postseason actually comes around.
To give some context, a number of key games this weekend could make or break the playoff hopes of a good portion of the NFL's teams. Make sure to watch games like Minnesota-Chicago, Buffalo-Indianapolis, Seattle-Miami and Baltimore-San Diego to get a better idea of what's to come.
That being said, the postseason scenarios could change dramatically before January.
AFC Playoff Picture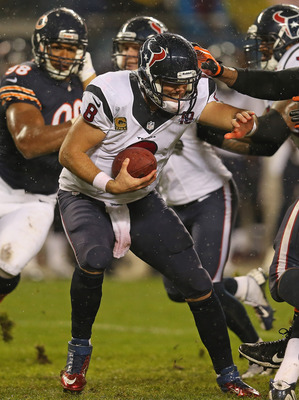 Jonathan Daniel/Getty Images
Division Leaders
AFC East: New England Patriots (8-3)
AFC North: Baltimore Ravens (8-2)
AFC South: Houston Texans (10-1)
AFC West: Denver Broncos (7-3)
Wild Cards
Pittsburgh Steelers (6-4)
Indianapolis Colts (6-4)
On the Bubble
Cincinnati Bengals (5-5)
Buffalo Bills (4-6)
San Diego Chargers (4-6)
Miami Dolphins (4-6)
Tennessee Titans (4-6)
Pittsburgh (6-4) Could Win the AFC North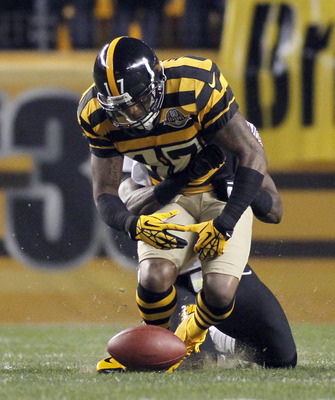 Justin K. Aller/Getty Images
Game to Watch: Week 13, PIT at BAL
The 6-4 Pittsburgh Steelers have an uphill climb to overtake the 8-2 Baltimore Ravens in the AFC North, considering they're without quarterback Ben Roethlisberger, but anything's possible with Mike Tomlin at the helm.
If the Steelers go to Baltimore in Week 13 and take down the Ravens, the former will be in position to grab a lead in the division. Pittsburgh needs to get Roethlisberger back if this is to really happen.
Cincinnati (5-5) Could Jump Pittsburgh, Get a Wild Card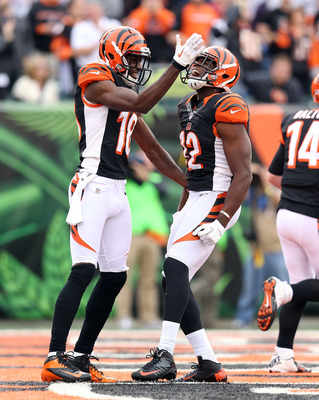 Andy Lyons/Getty Images
Game to Watch: Week 16, CIN at PIT
The 5-5 Cincinnati Bengals have had a rough go of an up-and-down season, but the combination of Andy Dalton and A.J. Green is starting to heat up as Green makes his case for the MVP award.
With some NFC East games coming up (excluding the Giants, whom the team already beat), Dalton and Green can prove their mettle on a grand scale in front of big, national audiences.
Buffalo (4-6) Could Jump Indianapolis, Get a Wild Card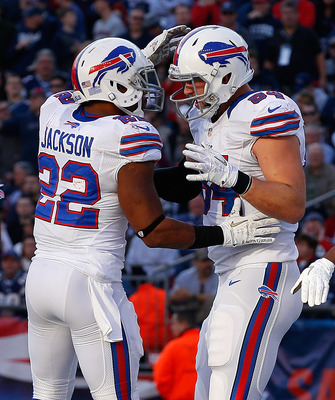 Jim Rogash/Getty Images
Game to Watch: Week 12, BUF at IND
If the 4-6 Buffalo Bills want to have any chance at making the playoffs, they need to capitalize on the fact that the Colts have been massacred by two other AFC East teams this season (the Jets and Patriots).
Scott Chandler will need to have a big game on Sunday and after watching Rob Gronkowski outmuscle the Colts secondary, it's certainly possible that Chandler takes advantage of a solid matchup.
Miami (4-6) Could Jump Pittsburgh, Get a Wild Card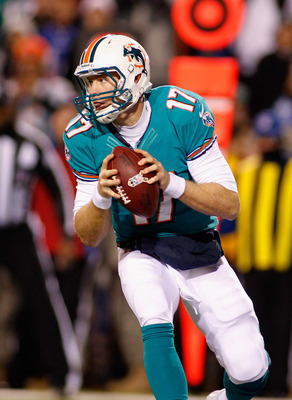 Rick Stewart/Getty Images
Game to Watch: Week 13, MIA at NE
Led by rookie quarterback Ryan Tannehill, the 4-6 Miami Dolphins need to prove they're ready for the playoffs by taking down New England in Foxborough.
It's a tall task that these young Dolphins may not yet be up to and it seems as though this may not be the year for a Miami surge into the postseason, despite the fact that Pittsburgh is on the brink of collapsing.
Denver (7-3) Could Collapse, San Diego (4-6) Could Win the AFC West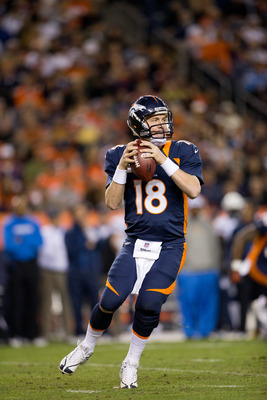 Justin Edmonds/Getty Images
Game to Watch: Week 13, TB at DEN
For the Denver Broncos to maintain their divisional lead over the San Diego Chargers, the team has to capture key victories against surging upstarts like the Tampa Bay Buccaneers.
A win over the Buccaneers could guarantee a winning record for Denver, which may be all it takes to win a pitiful AFC North in 2012.
NFC Playoff Picture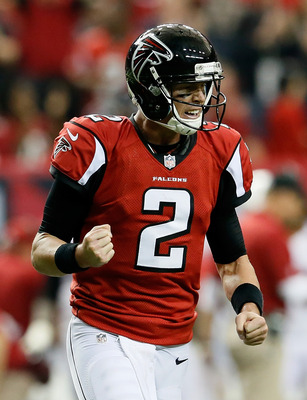 Kevin C. Cox/Getty Images
Division Leaders
NFC East: New York Giants (6-4)
NFC North: Green Bay Packers (7-3)
NFC South: Atlanta Falcons (9-1)
NFC West: San Francisco 49ers (7-2-1)
Wild Cards
Chicago Bears (7-3)
Seattle Seahawks (6-4)
On the Bubble
Tampa Bay Buccaneers (6-4)
Minnesota Vikings (6-4)
New Orleans Saints (5-5)
Washington Redskins (5-6)
Dallas Cowboys (5-6)
Washington (5-6) Could Win the NFC East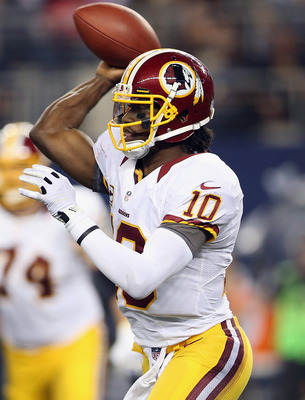 Ronald Martinez/Getty Images
Game to Watch: Week 13, NYG at WAS (Monday Night Football)
Considering the fact that Robert Griffin III took down the Dallas Cowboys on Thanksgiving Day, it seems as though the Redskins can go as far as their defense will take them.
If Griffin III can continue to play at the high level he typically does in big games, the Redskins could take down the Giants on Monday Night Football and set themselves up to win the division.
Dallas (5-6) Could Win the NFC East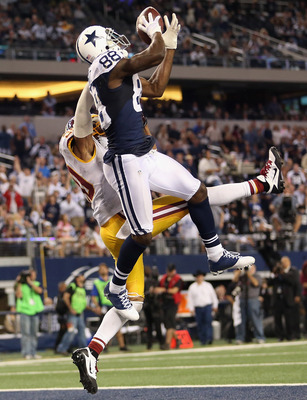 Ronald Martinez/Getty Images
Game to Watch: Week 17, DAL at WAS
The Dallas Cowboys are the most frustrating team in the NFL, because they always have the talent to win a Super Bowl and the mental toughness to go 0-16.
I really doubt that the Cowboys pull it together and take down the Giants, because the Cowboys have already dropped a few divisional contests, and it doesn't look like this is the year for a Dallas divisional win.
Chicago (7-3) Could Jump Green Bay for Home Field Advantage in Round One
Ezra Shaw/Getty Images
Game to Watch: Week 15, GB at CHI
This scenario is entirely possible, considering the Bears have the same record as a 7-3 Packers team that got off to a slow start.
Much like the Steelers, Chicago needs their starting quarterback in the lineup if it wants to even stay in the playoff hunt; it'd be a shame to waste another good season in the Windy City.
Tampa Bay (6-4)/New Orleans (5-5) Could Jump Seattle, Get a Wild Card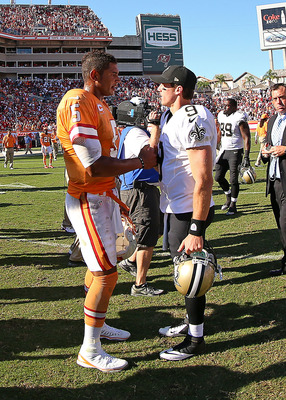 Mike Ehrmann/Getty Images
Game to Watch: Week 15, TB at NO
The last time these two met in Tampa Bay, the game ended on a controversial (but correct) call, which should show that these two teams are very similar to one another this season.
Depending on how Seattle plays down the stretch, the aforementioned Week 15 contest could determine who captures the NFC's second wild card slot.
Minnesota (6-4) Could Jump Chicago, Get a Wild Card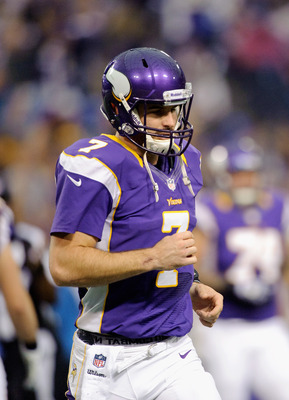 Hannah Foslien/Getty Images
Game to Watch: Week 12, MIN at CHI
This Sunday will kick off one of the toughest stretches in the NFL for the Minnesota Vikings, who will have to play the Bears twice, the Packers twice and the Texans once.
Look for this week's contest in Chicago to be a good indicator of how the Vikings' season will turn out, considering the team still has a chance to jump the Bears for a wild card.
Keep Reading