New York Knicks: 5 Questions That Will Define the Rest of the 2012-13 Season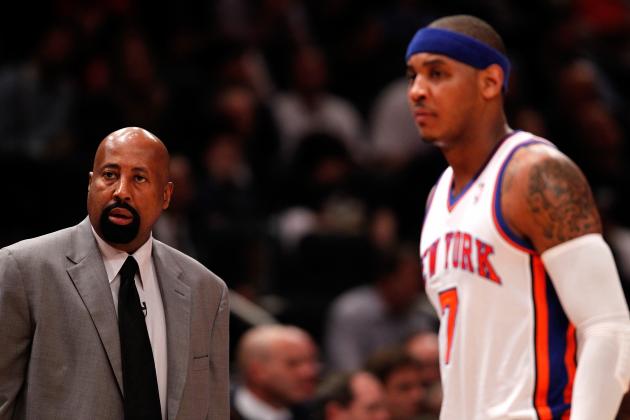 Jeff Zelevansky/Getty Images

The New York Knicks are off to one of the best starts in franchise history. After trouncing the defending champion Miami Heat on opening night, the Knicks have cruised to an 8-2 record, defeating playoff contenders like the Philadelphia 76ers, Dallas Mavericks, San Antonio Spurs and Indiana Pacers.
After a summer with Team USA, Carmelo Anthony has come back from a volatile 2011-12 campaign rejuvenated and playing at the highest level of his career.
Combined with the additions of point guard Raymond Felton, reliable defender Ronnie Brewer and veterans like Jason Kidd and Rasheed Wallace, the Knicks are firing on all cylinders and do not appear to be slowing down anytime soon.
Yet we are only 10 games into the season, and there are still many obstacles the New York Knicks will have to navigate to reach their goal of winning an NBA Championship.
Here are five questions that will define the coming months for the New York Knicks. The answers to these questions may ultimately decide whether or not the team can achieve basketball supremacy.
Begin Slideshow

»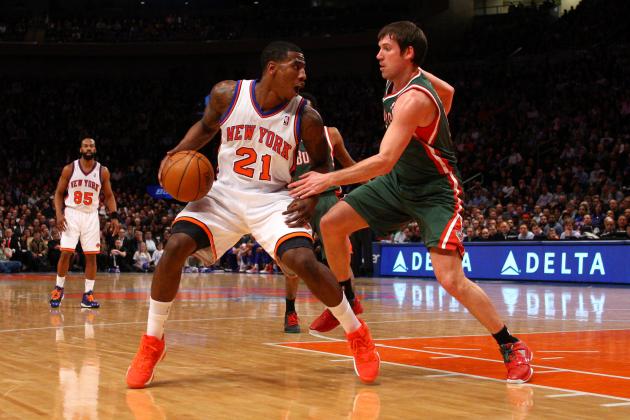 Chris Chambers/Getty Images

In a move that has worked amazingly well for the New York Knicks so far, head coach Mike Woodson has been starting Jason Kidd at the shooting guard position all season long.
Kidd, who traditionally has played point guard throughout his career, has excelled in this new role on the offensive and defensive end. He has established himself as one of the team's most efficient three-point shooters, shooting an astounding 52.8 percent from deep. Kidd's threat from long range forces teams to stretch their defense, opening up more space for Carmelo Anthony and J.R. Smith to attack the basket.
Kidd has also used his exceptional knowledge of the game and defensive schemes to become the quarterback of the Knicks defense, serving as one of the primary reasons for the Knicks' enormous improvement in this area.
However, in January or February, Iman Shumpert, one of the best rookies in the entire NBA a year ago, will return to the Knicks lineup. In his debut season Shumpert showed the type of athleticism and defensive awareness only exhibited by the best defenders in the NBA. Due to his unique skill set, Shumpert has the ability to shut down any of the best scorers in the league on a given night.
The question Mike Woodson must answer when Shumpert returns is who will start and play during crunch-time, the experienced Jason Kidd or the explosive Iman Shumpert?
Expect Mike Woodson to make this decision on a nightly basis. Against teams like the Miami Heat, Woodson will be more inclined to use Shumpert as he has the quickness to guard Dwayne Wade. Against a team like the Indiana Pacers, who lack an extremely dynamic two-guard, he would probably use Jason Kidd and take advantage of having one of his main leaders on the court. Woodson may also use Kidd back at the point guard position in games when Raymond Felton is struggling.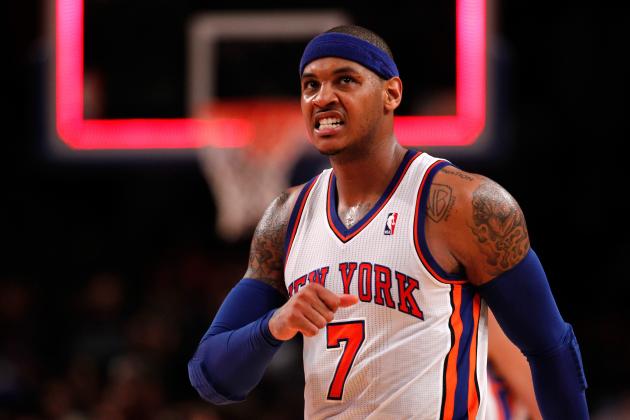 Jeff Zelevansky/Getty Images

After receiving much criticism following the 2011-12 season about his lack of hustle and effort, specifically on the defensive side of the ball, Carmelo Anthony has emerged in 2012-13 with a newfound intensity.
Every game Carmelo can now be seen diving for loose balls, banging against taller opponents for rebounds, and playing solid man-to-man defense. It almost seems as if the harsh treatment from the New York media, and the fact that his longtime rival Lebron James just won a title, has lit a fire underneath Anthony.
Even against the San Antonio Spurs on November 15th, when Anthony was shut down offensively, only shooting 25 percent from the floor and scoring nine points, he found ways to influence the game in a variety of ways. That night Anthony grabbed a season high 12 rebounds, attacking the boards with a vengeance and exuding a "never back down" attitude that seemed to be contagious for the entire team. In addition to this he served as a distraction for the Spurs defense and created easier scoring opportunities for players like Raymond Felton and Jason Kidd.
Going forward, it will be interesting to see whether he can maintain this level of effort for the entire season. If he is simply playing angry, this will be hard to do, as it difficult to sustain anger for a long period of time. But if he has actually changed his attitude and is committed to being a complete player, look for outstanding performances from Anthony all season long.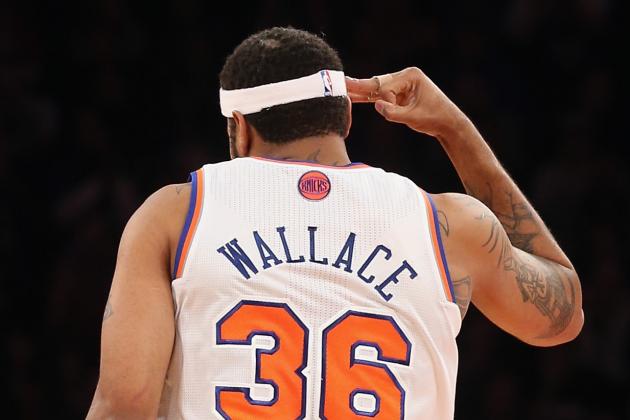 Bruce Bennett/Getty Images

With the offseason signings of experienced players like Jason Kidd, Rasheed Wallace, Kurt Thomas and Marcus Camby, the New York Knicks became the oldest team in the NBA.
Even though all of these players have played influential roles in the Knicks' success up to this point, their ability to stay healthy will be a major factor in the New York Knicks' overall success in 2012-13.
While it is inevitable at some point this season that at least one of these players will miss time due to injury, it will be crucial that the entire team is healthy at the start of the postseason.
One advantage head coach Mike Woodson has at his disposal is the great depth of this team. The Knicks' depth allows Woodson to use these veteran players in ways that do not require major minutes on a nightly basis.
For example, Wallace, Thomas and Camby all generally fit the same role as interior defensive specialists (Wallace might add a scoring threat that the other two do not provide but his main role is still on defense). Since all three of these players use a relatively similar style of play, Woodson can rotate them in a way that reduces the toll playing in the NBA takes on their bodies.
So far this season they are all averaging less than 15 minutes a night and as long as their minutes are managed properly, long-term injury issues should be avoidable.
Jeff Zelevansky/Getty Images

I wrote in an article earlier this season that I feel the New York Knicks will need Amar'e Stoudemire to win an NBA title in 2012-13 because of his offensive skill set and ability to create his own shot.
Despite scoring 101.7 points per game, the New York Knicks still go through unnecessarily long scoring droughts when they are not shooting well from behind the arc. The addition of Stoudemire to the lineup will help the Knicks reduce these droughts as he can get to the rim and initiate offense by himself.
Stoudemire will also increase the Knicks' depth on the interior and will be able to pick up the majority of the scoring load in games when Carmelo Anthony is in foul trouble or having an off night.
While Stoudemire's talent will be needed to win a championship, the best way to use him is a highly debatable issue. How will Mike Woodson incorporate Stoudemire into the offense to maximize both his ability and team's success?
Do you start Stoudemire and move Carmelo Anthony away from the power forward position where he has excelled all season long, or do you bring the perennial All-Star off the bench?
The main issue with Stoudemire, Anthony, and center Tyson Chandler playing together has been spacing. When all three of these players have been on the court the lane has been clogged and none of them have been able to play up to their potential.
It is still unclear whether this issue of spacing can be resolved. Will Woodson be able to find a way to use his most talented players all together or will he need to use them rotationally?
Look for Mike Woodson to be creative and experiment with many different lineups and offensive strategies until he is able to establish the most efficient way to get everyone involved.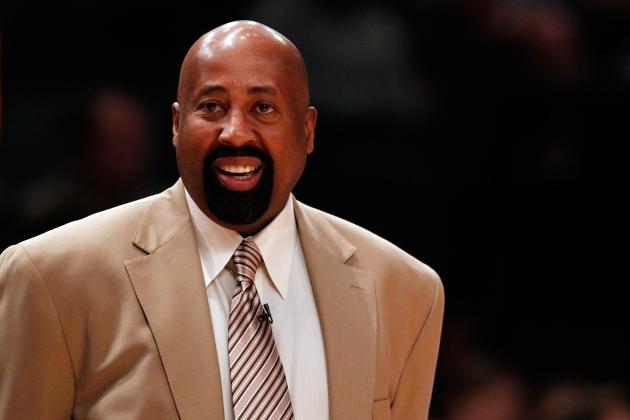 Jeff Zelevansky/Getty Images

Winning regular season games is nice and all, but what the Knicks really crave is being crowned NBA Champions for the first time since 1972-73.
Unarguably, Mike Woodson has been a great coach for the Knicks so far as he has the team exceeding everyone's expectations at 8-2. In fact, Woodson may be the early-season favorite for Coach of the Year honors.
Yet the questions with Woodson have never been about his ability to win in the regular season. With the Atlanta Hawks, he took a team that was 13-69 in 2004-05, developed a young core group of players and transformed them into annual Eastern Conference playoff participants in only three seasons.
However, Woodson has never achieved any significant success in the playoffs. The Hawks may have overachieved in the 2007-08 playoffs by forcing the No. 1 seed Boston Celtics to seven games in a first round series, but Woodson's next two trips to the playoffs can be considered nothing but disappointments. Woodson's last two seasons with the Hawks culminated in embarrassing second round sweeps that eventually led to his dismissal from Atlanta.
While the Hawks shortcomings may have been more a result of inadequate player personnel, until Woodson wins in the postseason, questions will always surround his capabilities as a coach.