Kentucky Basketball: Detailing How to Handle Ryan Harrow's Absence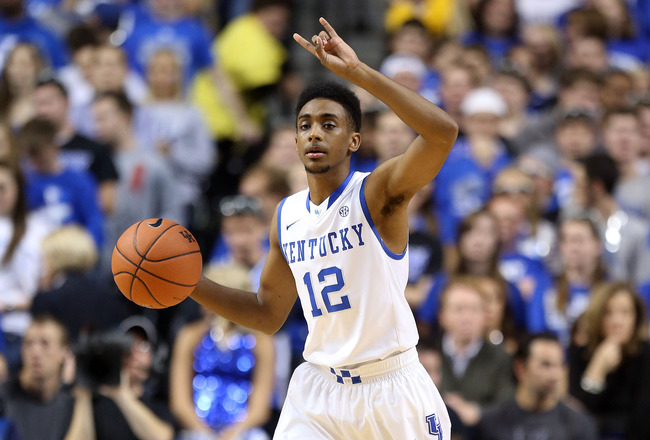 Andy Lyons/Getty Images
One staple of nearly every team coached by John Calipari has been exceptional play at the point guard position.
During Calipari's tenure at Kentucky, the Wildcats have fielded teams led by John Wall, Brandon Knight and Marquis Teague, respectively.
And despite all of them being a true freshman during their one year at UK, each one eventually developed into a poised and exceptionally capable floor general by the time the NCAA tournament had rolled around.
That's why Ryan Harrow's recent (and troubling) absence from the team stands out even more than it usually would when a team loses one of it's starting players—it's the most important position on a team with a coach known for producing excellent results from the PG position.

While Kentucky is still an incredibly talented team across the board, its recent struggles (including this week's difficult win against Morehead State) showed that there are a few things that the Wildcats must key in on while awaiting Ryan Harrow's return.
All stats via ESPN.com
1. Get the Ball into Alex Poythress' Hands More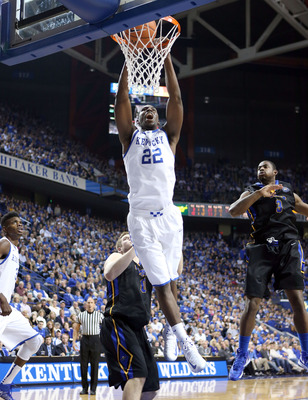 Andy Lyons/Getty Images
In case there was any doubt before his 28-point performance against Morehead State, Archie Goodwin is still the Wildcats' best scoring option. Unfortunately, he is also Kentucky's best option to run the point in Harrow's absence.
Alex Poythress, however, has begun to come into his own as an inside scorer.
Combined with his outside shooting and excellent ability at driving the lane (which also creates terrible mismatches for UK opponents), Poythress should be the Wildcats' first option as far as having a go-to scorer.
Doing this will allow Goodwin to focus more on running the point, and less on having to carry so much of the scoring load on offense.
2. Archie Goodwin Needs to Get His Game Under Control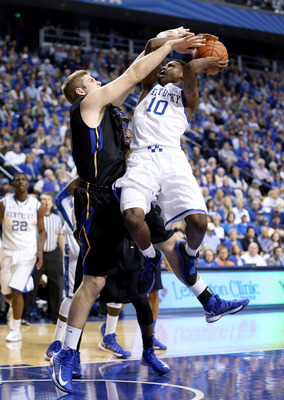 Andy Lyons/Getty Images
As one helpless Bulldog defender discovered in Kentucky's win over Lafayette, when Archie Goodwin decides to score, nothing is getting in his way.
Unfortunately, that mentality is not going to be something that Kentucky wants or needs all the time from its floor leader (ironic side note: that amazing dunk by Goodwin that is linked resulted in an offensive charge, not a basket).
Goodwin is currently averaging slightly more turnovers (3.5 per game) than assists (3.3 per game). While no one expects a kid that hasn't played point guard in years to suddenly begin dishing the ball like Rajon Rondo, that ratio must improve.

Goodwin needs to slow down a bit and check his options more before trying to take the reins for himself on any given possession.
A lot of that will come with experience and maturity, but it also needs to happen with a slight change in Goodwin's mentality about how each possession should play out for his offense.
3. More Playing Time for Julius Mays and Jarrod Polson
Andy Lyons/Getty Images
There is no doubt that Jarrod Polson's early season emergence as a viable option off the bench for the Wildcats was an unexpected (and wonderful) surprise.

But often lost in that storyline is the solid play Julius Mays.
The senior transfer is currently averaging a 4-1 ratio of assists to turnovers, looks calm and comfortable when he is running the point, and provides incredible photo opportunities like the one pictured above (when he helped carry an injured Archie Goodwin off the court).
If the Wildcats can get their other options at point guard a bit more involved along with the other things mentioned here, they should be more than capable of weathering the storm while awaiting Ryan Harrow's return.


Please feel free to leave a comment below. If you'd like to sing my praises or tell me how terrible I am more personally, I can also be found on Twitter.
Keep Reading

Kentucky Wildcats Basketball: Like this team?