Notre Dame Football: 5 Keys to the USC Game
Stephen Dunn/Getty Images

It's the game all Notre Dame fans have been waiting for since the Fighting Irish disposed of Oklahoma four weeks ago.
Yes, the team needed some help to get to No. 1—including a major collapse by Pittsburgh in a triple-overtime thriller—but it's finally USC week.
The Irish are just a win over the Trojans away from playing for their first national title since 1988.
Notre Dame caught a major break when USC quarterback Matt Barkley was ruled out of the game after suffering a shoulder injury late in last week's loss at UCLA.
The defeat at the hands of USC's crosstown rival knocked the preseason No. 1 team out of the Top 25 after three losses in four weeks.
Despite the Trojans' recent struggles, they are still a dangerous final foe for the Irish to conquer.
Let's look at five keys for Notre Dame on Saturday night at the fabled Los Angeles Coliseum.
Begin Slideshow

»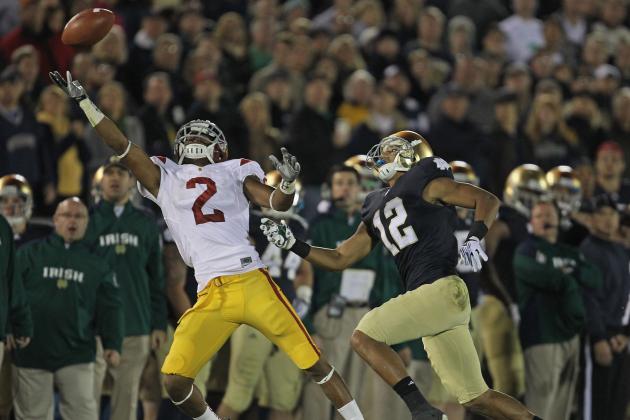 Jonathan Daniel/Getty Images

Home underdogs always want to come out firing—especially these Trojans—with a crowd that appears close to completely turning on Lane Kiffin and the coaching staff after the team's late season swoon.
With an offense that wants to push the ball down the field, expect USC to takes its chances early on against a secondary that hasn't been tested very often this season.
Oklahoma dominated early against the Irish, but Notre Dame made a key defensive stand to hold the Sooners to three points. The Irish scored on their next drive, and Oklahoma never led again.
Notre Dame has shown it can come from behind, so an early deficit won't be devastating, but taking the lead would go a long way to making a nearly broken Trojans team to reach their breaking point.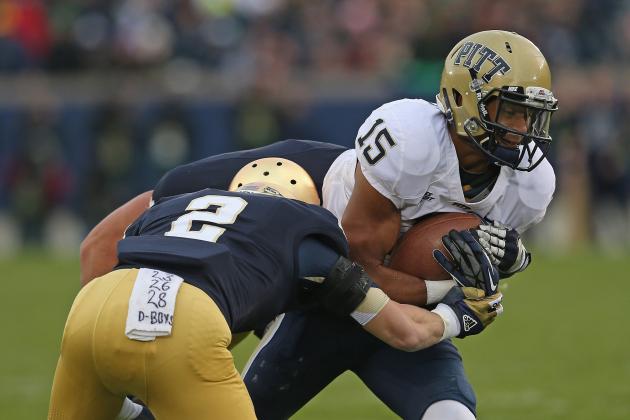 Jonathan Daniel/Getty Images

There is no player in the country more dangerous in the open field than USC's sophomore WR Marqise Lee.
He's not the natural receiver that teammate Robert Woods is, but with the ball in the hands, Lee poses the biggest threat to the stout Irish defense.
Bennett Jackson and KeiVarae Russell have excelled as first-year starting cornerbacks not just because of their coverage skills, but because of their ability to limit yards after the catch.
It was the biggest factor in holding Oklahoma to 13 points, and will be the biggest factor in containing a potent USC offense on Saturday night.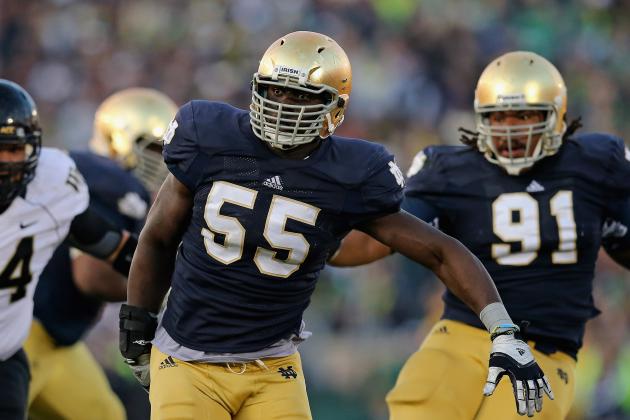 Jonathan Daniel/Getty Images

With Barkley unable to play, Lane Kiffin will turn to redshirt freshman Max Wittek to make his first career start in the biggest game in the country this week.
There's no questioning Wittek's talent, as Notre Dame also showed interest in him for a class that ultimately included Everett Golson. But what Wittek has in ability he lacks in experience.
While Bob Diaco's defense doesn't bring a ton of pressure with more than four pass-rushers, utilizing some zone blitzes to confuse the young quarterback, Prince Shembo, the Irish's hybrid defensive end/linebacker, is the ideal player to confuse Wittek with an occasional drop into coverage.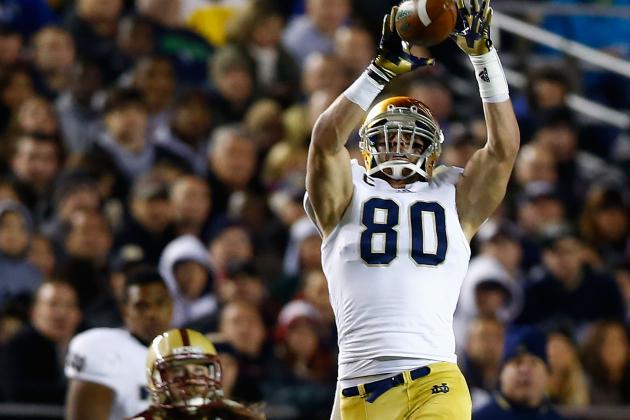 Jared Wickerham/Getty Images

The biggest mismatch on Saturday night will be the Notre Dame offensive line against the USC defensive line.
While Leonard Williams and Morgan Breslin are elite defensive ends, the unit as a whole is subpar in both talent and depth.
Stopping the Notre Dame run will require bringing safeties into the box, leaving the middle of the field open to Notre Dame's All-American tight end Tyler Eifert.
The Mackey Award favorite can outrun most linebackers and outjump most defensive backs, and it will be difficult for the Trojans' defense to double-team him due to the need to use their safeties in help stopping the run.
Jonathan Daniel/Getty Images

Brian Kelly has loosened the reigns on his young quarterback each week, adding option elements to the offensive attack last week, which led to a long touchdown run by Cierre Wood off of a pitch from Golson.
Despite the stage being bigger than ever, there's no need to pull back the game plan.
Golson's progression as a true Kelly quarterback has sped up over the past month, and he appears physically and mentally capable of handling everything that he'll face, both tangibly and intangibly on Saturday night.