USC Football: 5 Keys to the Game vs. Notre Dame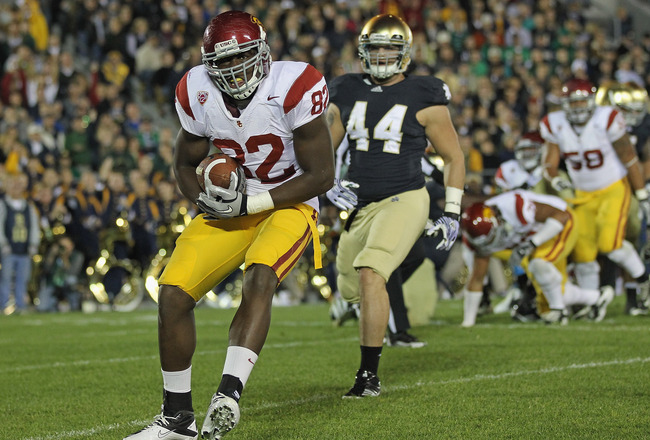 Jonathan Daniel/Getty Images
When the USC Trojans play host to the No. 1 Notre Dame Fighting Irish, there will be much more on the line than pride and bragging rights. USC will be fighting to end its arch rival's undefeated season.
So what will be the keys to victory?
With senior quarterback Matt Barkley sidelined due to a sprained right shoulder, the Trojans will be at a disadvantage (via Yahoo! Sports). This makes the following five points all the more important for the Trojans to execute as expected.
Fortunately for Lane Kiffin and company, the fives keys to victory have been outlined.
5. Crowding the Box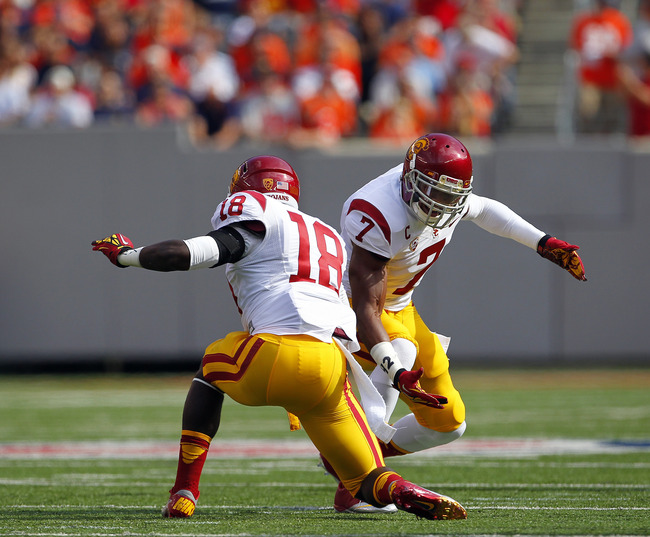 Rich Schultz/Getty Images
If the USC Trojans have any plans to upset the No. 1 Notre Dame Fighting Irish, they'll need to crowd the box. If they're unable to, their inconsistent run defense will suffer in the same way they did against UCLA on November 17.
In turn, ND will be able to achieve victory at the Los Angeles Coliseum.
In order to prevent such from happening, the Trojans must crowd the box and play the run. The Irish have four players with at least 250 rushing yards and four touchdowns.
One of those players is quarterback Everett Golson.
As for the running backs, Theo Riddick has 734 yards and Cierre Wood, 720. Over the past two weeks alone, the two have run for a combined 307 yards.
It is up to Dion Bailey, Lamar Dawson and Hayes Pullard to step up with T.J. McDonald and Jawanza Starling trailing. If they're unable to fill the holes and contain the interior, the Irish will run all over the Trojans' lackluster run-stoppers.
As for the edges, don't be shocked to see Nickell Robey and Josh Shaw step up and lay a hit on even the strongest of runners.
4. Establishing the Run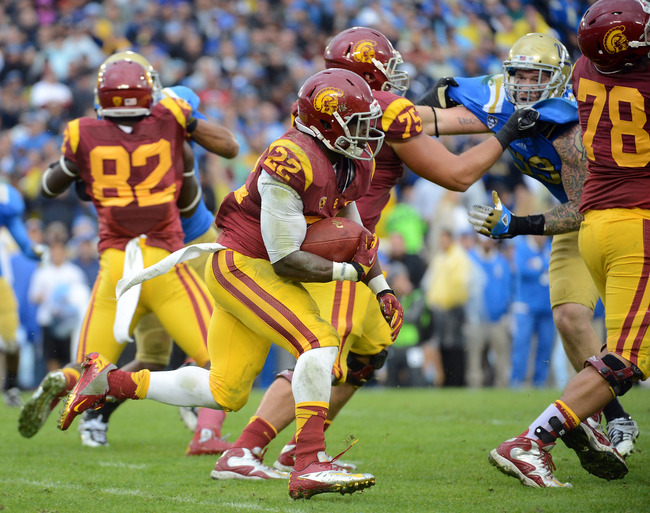 Harry How/Getty Images
With Matt Barkley sidelined by a sprained right shoulder, the USC Trojans will be forced to rely on freshman Max Wittek. Although his potential shortcomings are being overstated, it is imperative that the Trojans create the proper balance with their run game.
A difficult task against the No. 5 run defense in the nation. A run defense that has allowed just two rushing touchdowns all season.
This is not as if the Irish have shut down lackluster run games en route to said feat. They've been faced with Denard Robinson of Michigan, Stepfan Taylor of Stanford, Blake Bell of Oklahoma and Ray Graham of Pittsburgh.
No matter how talented Curtis McNeal and Silas Redd may be, the Trojans will have a battle up front if they hope to establish the run. A battle they must win.
McNeal has run for at least 161 yards in each of the past two weeks, having paced the Trojans to either victory or contention. If he's able to put up half the numbers against ND as he did against UCLA and Arizona State, the Trojans could take this one home.
If he and Redd are unable to run the football with efficiency, however, the burden may grow too large on Max Wittek's inexperienced shoulders.
3. Flustering That Other Freshman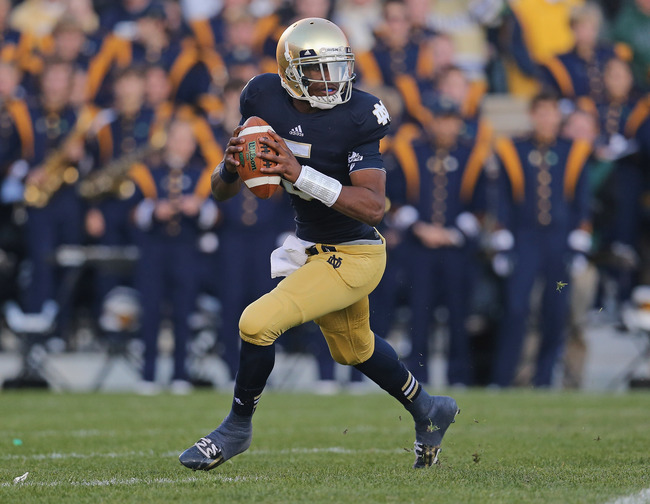 Jonathan Daniel/Getty Images
Much has been made of USC's current quarterback predicament, as freshman Max Wittek will make his first career start against Notre Dame. What we appear to be overlooking, however, is that there is a freshman QB on the other side who will be in just as dangerous a situation.
Everett Golson, who completed has completed just 53.6 percent of his passes during road games.
In fact, Golson has been all but impressive in the road games this season. He's averaging just 174.8 yards and 1.0 touchdowns away from home. In games against ranked opponents, he's completing just 47.2 percent of his passes.
Although USC fell from the Top 25, this displays how he has handled the greater levels of competition.
With that being said, the Trojans will have their hands full as Golson is more than capable of taking over a game with his legs. He's run for a touchdown in three of his past four games, with a 346-yard passing performance against Wake Forest.
In other words, Golson can alter the direction of a game with his legs. In turn, it becomes all the more imperative for the nation's fourth-ranked pass rush gets to Golson early and often and rattles him in the pocket.
Morgan Breslin should be able to do just that.
2. Winning the Turnover Battle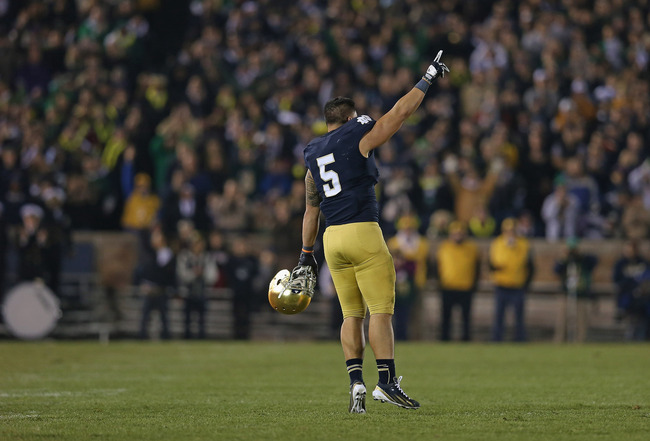 Manti Te'o will be standing by to make a play on the ball.
Jonathan Daniel/Getty Images
The USC Trojans have turned the ball over in each of their past four outings. They've coughed it up five times in two of those four games, all the while losing the turnover battle every time out.
As a result, they've lost three of their past four games. A streak that will continue against Notre Dame if they continue to turn the ball over.
For the season, ND is forcing opponents into 1.9 turnovers per game. It's also averaging just 11.1 points per game, which ranks first in the nation.
Matched up against freshman quarterback Max Wittek, you can expect Manti Te'o and company to do all they can to force the Trojans into mistakes.
Should USC continue to turn the ball over against an offense that has mastered the art of short-yardage situations, it will face defeat. Notre Dame has far too many weapons on the ground and an elite tight end in Tyler Eifert.
The Irish will capitalize on quality field position. Even if they are unable to, the Irish will keep the Trojans limited in terms of scoring opportunities.
Which is exactly why Wittek and the Trojans cannot afford to cough it up.
1. Letting It Fly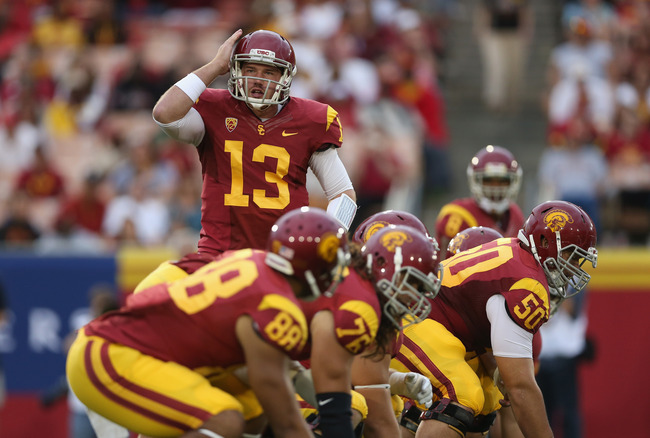 Jeff Gross/Getty Images
The nation is up in arms over the fact that freshman Max Wittek, who has never started a game, will be forced to replace senior quarterback Matt Barkley in the starting lineup. Although there is undeniable drop-off in terms of experience, we cannot mistake ourselves into thinking USC is helpless.
Not when Wittek has Marqise Lee, Robert Woods and Nelson Agholor to throw it to.
Lee and Woods are the type of playmakers that can turn a 5-yard screen play into a 50-yard touchdown. Along with Agholor, they're also elite downfield threats who have made something out of nothing all year long.
Keep in mind, Trojans fans, Barkley hasn't been too consistent himself.
Wittek does have exceptional size at 6'4" and 235 pounds. He has a much more powerful arm than Barkley, although his accuracy does lack in said area of the quarterback game.
With Wittek's uncanny ability to bomb it long, the Trojans must allow him to do just that. If they ask him to go short too often, Wittek will learn why ND linebacker Manti Te'o is a Heisman front-runner.
Keep Reading

USC Football: Like this team?