Green Bay Players Who Will Play Crucial Roles Down the Season's Home Stretch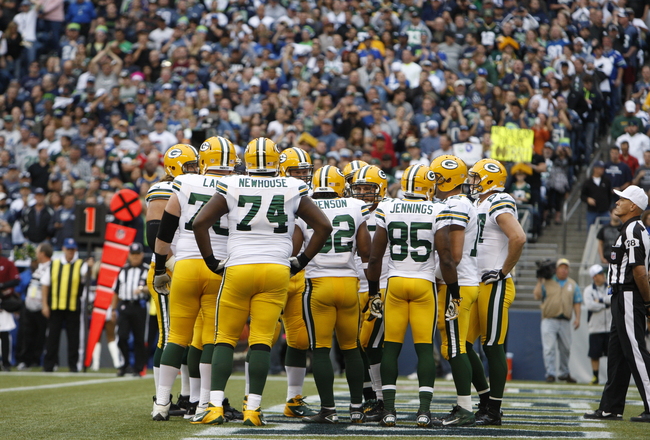 Kevin Casey/Getty Images
Six games remain for the Green Bay Packers to determine where (or perhaps even if) they start their run towards Super Bowl XLVII in New Orleans.
It's been a rollercoaster of a season so far for the Packers, who have had to deal with injuries and a controversial call that cost them a victory on their way to a 7-3 record. The team has finally caught the Chicago Bears and currently reside in first place in the NFC North.
In regards to the injuries, the Packers have been decimated in many areas including linebacker and the offensive line. If they want to win a second Super Bowl title in three years, they're going to need some of their supporting players to step up along with their regular playmakers.
QB Aaron Rodgers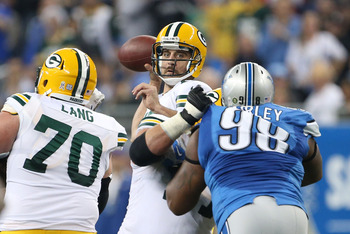 Leon Halip/Getty Images
Chalk this one up in the "no duh" category.
It's painfully obvious that if Rodgers goes down, the Packers' season is pretty much toast. Graham Harrell has done little to inspire confidence outside of one good preseason game versus three other poor performances.
Despite the "slow" start to 2012, Rodgers is on pace to just be slightly off the numbers that won him the NFL MVP one season ago. Thanks to a running game that has sputtered since Cedric Benson went down with a foot injury, the Packers will only go as far as he will take them.
RB James Starks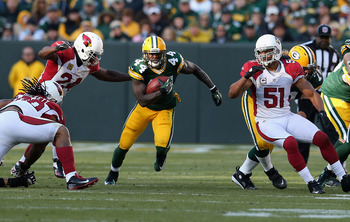 Jonathan Daniel/Getty Images
With the aforementioned Benson out until the season is nearly over, the fate of the Packers running game lies with the legs of Starks. Alex Green did not do much to make the case he's an every down back, so the pressure now falls to last year's starting running back.
Starks showed promised last week against Detroit, running with purpose and power that he really hasn't shown since the wild-card game in Philadelphia during his rookie year.
Mike McCarthy seems hellbent on at least establishing some form of balance to the Packers offense this season, so Starks will get plenty of chances to once again prove he can be "the man" in the Packers backfield.
WR James Jones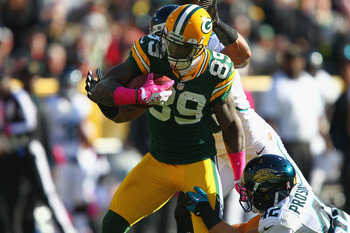 Dilip Vishwanat/Getty Images
Jones has become almost the forgotten breakout player on the Packers offense thanks to all the (well deserved) attention being paid to Randall Cobb.
With Greg Jennings still out with a groin/abdomen injury and Jordy Nelson missing two games (having since returned), Jones' emergence as a playmaker has helped the Packers offense barely miss a beat. Known earlier in his career for having a issue dropping passes, Jones has been one of the most consistent pass-catchers in the NFL this season.
Jones has a legitimate shot at his first Pro Bowl, and if he continues playing at this level he will make Ted Thompson's decision whether or not to keep Greg Jennings a lot easier.
OL Evan Dietrich-Smith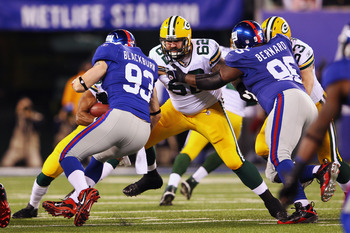 Al Bello/Getty Images
The one thing that could spell doom for the Packers offense is a weak offensive line. Even if Rodgers does not get injured, a quarterback under constant duress will significantly impact the explosiveness of an offense.
With Bryan Bulaga out for the year thanks to a hip injury, the biggest weak link on an already shaky line is Evan Dietrich-Smith, who has taken the left guard position so TJ Lang can move to Bulaga's right tackle spot. Dietrich-Smith had a rough game against the Lions last week, drawing multiple penalties and getting consistently beaten by the Lions' defensive line.
He's going to have to improve if the Packers want to keep their MVP quarterback upright. Rodgers is a very athletic quarterback and can throw on the run with the best of them, but the Packers cannot and should not rely on that to cover up a poor offensive line.
LB Clay Matthews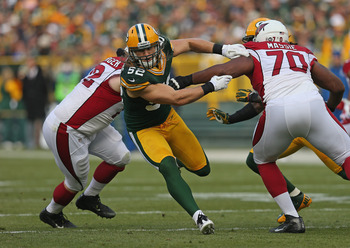 Jonathan Daniel/Getty Images
He's missed the last couple games with a hamstring injury, but Matthews remains the heart and soul of the Packers defense.
The Packers have played well on defense without the Claymaker, but his presence alone on the field makes opposing offenses play the Packers differently. Once he returns from injury, Green Bay will regain a key part of their linebacking corps which has been decimated by injuries.
With Desmond Bishop, D.J. Smith and Nick Perry all out for the season for various injuries, the onus on Matthews to carry the defense is even bigger.
CB Casey Hayward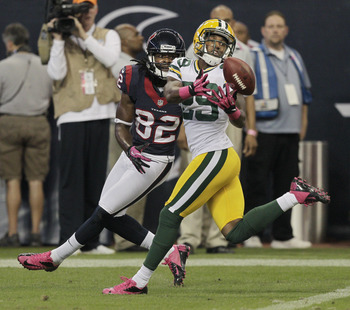 Bob Levey/Getty Images
If someone at the beginning of the season would have said the Packers would lose Charles Woodson for six weeks and not experience a drop in performance from the secondary, that person would have been called crazy.
Hayward not only has been of the best defensive rookies this season, he's been one of the best overall cornerbacks. With one forced fumble to go along with five interceptions, Hayward has been the leader of a secondary that is young but full of potential.
Not many thought the Packers would be able to replace Nick Collins (who was released) and Woodson so quickly, but Hayward's emergence, along with the play of MD Jennings and Jerron McMillian, has the future burning bright for the Packers' secondary.
K Mason Crosby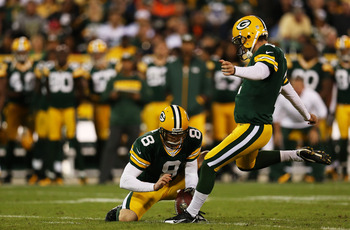 Jonathan Daniel/Getty Images
Last but not least is the Packers' beleaguered kicker.
Crosby is a pitiful 61 percent on field goals this year, and thanks to two misses last week against the Lions, many were surprised the Packers didn't at least bring in a kicker to compete with him.
Thompson and McCarthy deserve credit for their "stay the course" approach with their kicker. That said, the Packers are bound to be in some very tight games down the stretch. With four divisional games remaining, the Packers very well may need a clutch kick from Crosby to win the game.
If that kick could make the difference as to the winner of the NFC North or even a playoff spot, does the team really have that much faith in Crosby to make it?
That remains to be seen, but it's safe to say the fans do not.
Keep Reading

Green Bay Packers: Like this team?