10 Reasons for Cardinals Fans to Be Thankful in 2012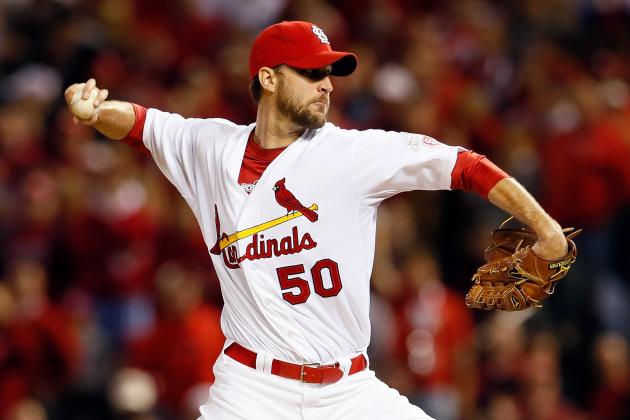 Kevin C. Cox/Getty Images
Adam Wainwright should dominate in 2013.
Another year.
Another playoff appearance for your intrepid St. Louis Cardinals.
The organization lost three Hall of Fame individuals in Albert Pujols, Tony La Russa and Dave Duncan, and also lost ace Chris Carpenter and team leader Lance Berkman to injuries for almost the entire season.
Yet because of the franchise's homegrown talent and smart roster management, the Cardinals remained a factor in the NL Central all year.
So as you digest what was hopefully a good Thanksgiving meal, let's look back at a Cardinal season that gave fans much to be thankful for.
Begin Slideshow

»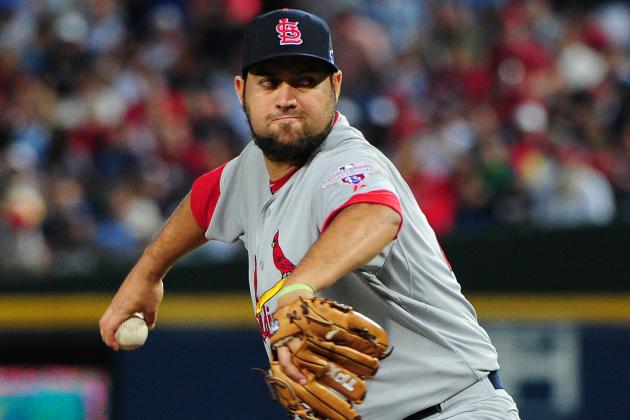 Scott Cunningham/Getty Images
Edward Mujica was magic in 2012 for the Cards.
In what has become a yearly pattern, the Cardinals' bullpen had some shaky moments in the first half of the year as they struggled to find a seventh-inning solution.
Eduardo Sanchez, Maikel Cleto and Victor Marte all took turns spectacularly blowing up on the mound.
It was one of the main reasons the Cards could not keep up with the Reds, who had one of the best bullpens in baseball.
Thankfully, general manager John Mozeliak is smarter than all of us.
He sent fading prospect Zack Cox to Miami in exchange for middle reliever Edward Mujica. Fans saw the move as just another example of the Reds besting the Cards as Cincinnati made the flashier acquisition, getting former All-Star Jonathan Broxton.
Broxton was fine, posting a 2.82 ERA, but he couldn't touch Mujica, who was superhuman for the Cards—1.03 ERA with 21 strikeouts against only three walks in 26.1 innings.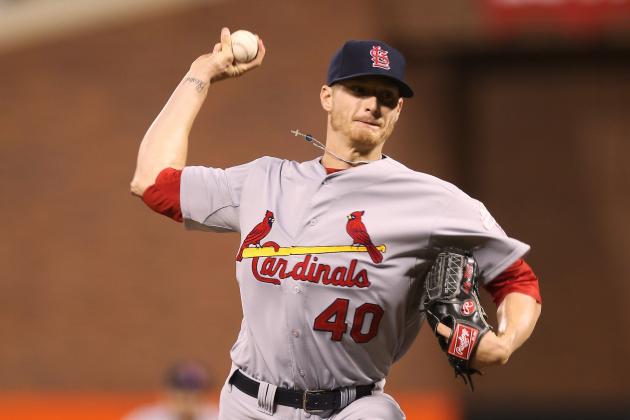 Christian Petersen/Getty Images
Shelby Miller grew up a lot in 2012.
We have to keep in mind that longtime top-pick Shelby Miller just turned 22 last month.
He has been the Cardinals top farm prospect for so long—since he was drafted in 2009—that he started losing buzz compared to newcomers like hitting savant Oscar Taveras.
And when Miller really struggled through his first season at the Triple-A level, worry and doubt started to creep into fans' minds regarding the righty fireballer.
Thankfully, he turned the corner late in the season at Memphis and when finally called up to St. Louis late in the season, seemed to find a new resolve as he earned his first major league win while posting a 1.32 ERA in 13.2 innings pitched with the Cards.
Patience pays off and he is poised to make a run at the NL Rookie of the Year award in 2013.
Dilip Vishwanat/Getty Images
David Freese and Allen Craig were good—and healthy.
Where exactly would the Cards have been in 2012 without the contributions of Allen Craig and David Freese?
They came into 2012 with a number of question marks attached—mostly regarding their health. Would either player survive the entire season?
Thankfully, both players had more than 500 plate appearances and brought plenty of production to both corner infield positions. They helped solidify the middle of the batting order in support of All-Stars Matt Holliday, Yadier Molina and Carlos Beltran.
Craig spent a great portion of the first half maintaining an RBI-per-game pace while Freese's steady glove and bat made him the second-best third baseman in the NL to the Mets' David Wright.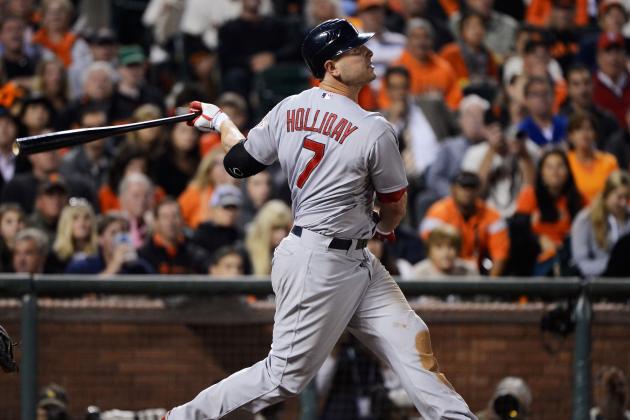 Thearon W. Henderson/Getty Images
Matt Holliday is a bargain compared to other All-Stars.
In the post-PED era, it is harder than ever to get a full season of All-Star-grade production from a corner outfielder on the wrong side of 30 years of age, yet Matt Holliday seems as sure a bet as any to age gracefully.
Sure, Cardinals fans are noticing that his glove work is starting to slip and that his cold spells seem to happen more often than his red-hot streaks, but at the end of the season his All-Star numbers are there.
2012 marked the second time in three years he reached the 100-RBI plateau and was named to the NL All-Star team for a third straight year.
At $17 million a year, he's a relative bargain. And Cardinals fans can be thankful that his contract only takes him through age 37 when it seems every new contract must take a player to age 39 or 40.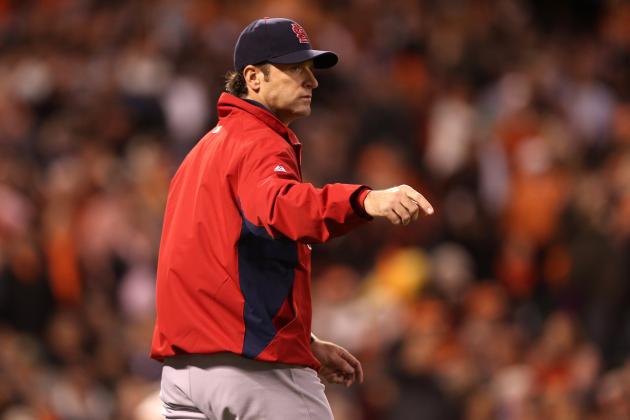 Christian Petersen/Getty Images
Mike Matheny was never overwhelmed in 2012.
Cardinals manager Mike Matheny took his team to Game 7 of the NLCS, finishing just one win away from taking the Cards back to the World Series to defend their title.
Not bad for a rookie.
Matheny didn't really get the accolades he deserved for the job he did. He had plenty of rough moments, particularly in how he handled the pitchers, but overall the Cardinals carried on doing what they always do—compete for nine innings.
Thankfully, the Cardinals did pick the right man for the job. And that will be one less question mark the team would have had to address in 2013 if he had instead struggled as so many others have done.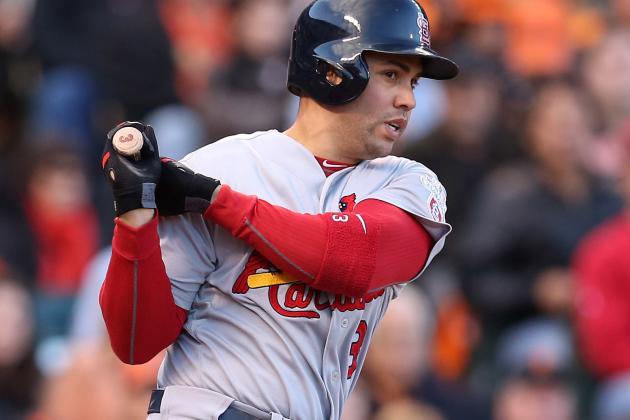 Christian Petersen/Getty Images
Carlos Beltran did more in the playoffs than Pujols did.
Major League Baseball has definitely settled into an offensively-depressed era.
Players aren't staying productive through age 40, cavernous ballparks have opened in several cities and sluggers are struggling to hit 40 home runs, let alone 50.
If you polled the fanbases of every major league team, I suspect at least two-thirds would complain about their team's offense as being inadequate, if not more.
In Seattle and Houston, guys are probably getting trophies in the dugout for just knocking in a run.
Thankfully, the Cardinals have had one of the best offenses in baseball over the past three seasons, leading the NL in on-base percentage as a team.
They may struggle in the clutch at times. They sometimes rely on the long ball too much. But 95 percent of the other franchises would love to have the offense the Cardinals display night in and night out.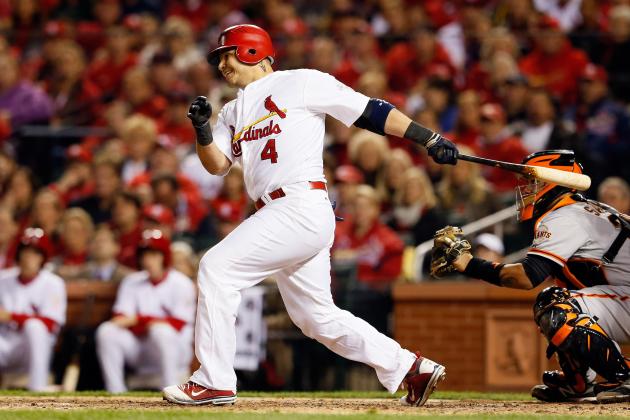 Kevin C. Cox/Getty Images
Yadier Molina is the most complete catcher in baseball.
For the past generation, the Cardinals as a franchise have made do with primarily defensive catchers. And the team's success speaks for itself. The formula has worked.
Many Gold Glove-winning catchers over the past 20 years have worn the Birds on the Bat behind their chest protector.
Current manager Mike Matheny won three Gold Glove awards in five years in St. Louis. The very underrated Tom Pagnozzi took the reigns from Tony Pena and won three Gold Gloves in the six seasons he played full time.
And yet, not only has Yadier Molina continued St. Louis' golden tradition, his ascension to best catcher in baseball was made complete as his offense has joined the ranks of the elite.
Who knew Molina was scratching the surface in 2011 when he drilled 14 home runs, a season best for him at that time, while batting .305?
Yadi finished a much deserved fourth in the NL MVP voting in 2012 as he thrilled Cardinal fans with a .315-22-76 batting line while winning a fifth straight Gold Glove.
It's possible Molina will finish his career as one of the franchise's best catchers ever—if he isn't there already.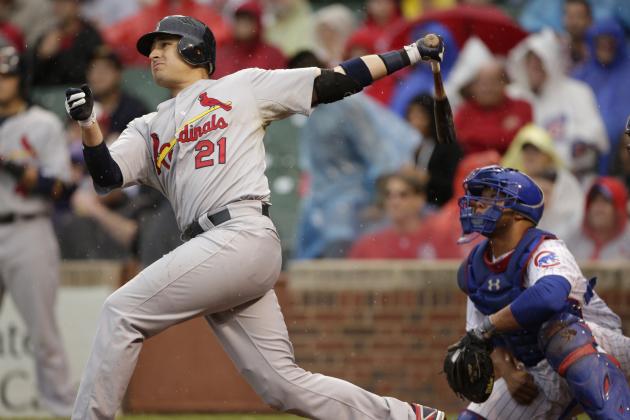 John Gress/Getty Images
Allen Craig sends one into orbit.
The Cardinals made franchise history in 2012 when Yadier Molina and David Freese both hit their 20th homers of the season against the Houston Astros on September 19 in St. Louis. That gave the Cards five players with at least 20 home runs in the same season for the first time in their illustrious history.
While the home runs on their own don't mean much, they served to illustrate the depth of the Cards lineup, which was one of the most difficult for opposing pitchers to navigate in the National League.
Again, in a era where offense is at a premium, Cardinals fans should be thankful they cheer for a team that can hit big flies in a fair ballpark like Busch Stadium.
It's always a good indicator they'll be able to hit them out almost anywhere they play.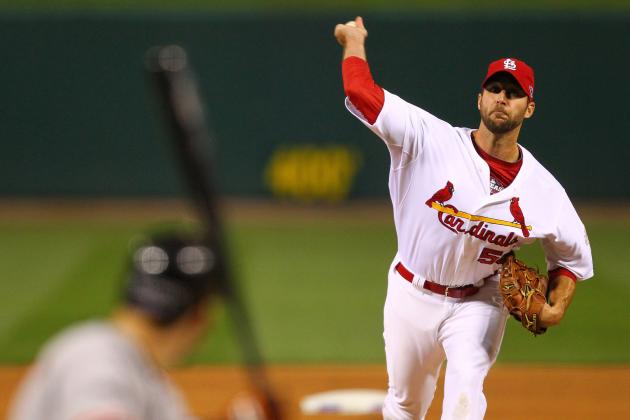 Dilip Vishwanat/Getty Images
Adam Wainwright was the Cardinals' best starter in 2012.
Adam Wainwright's 14-13 pitching record in 2012 was the perfect microcosm for the Cardinals' good, but not quite good enough year.
As we examined in a previous article, Wainwright was the best starter on the Cardinals pitching staff, sabermetrically.
But the club performed in fits and starts in all facets of the game—offensively, defensively and on the mound—and they never were quite able to catch the consistent Reds.
The best news was that Wainwright grew stronger and stronger as the season went on and there is absolutely no reason to think Waino won't be a top five National League ace in 2013, which the Cards desperately need to anchor the rotation.
Wainwright wants to remain a Cardinal for a long time, and for some reason his words seem to ring truer than the last player who said words to that effect.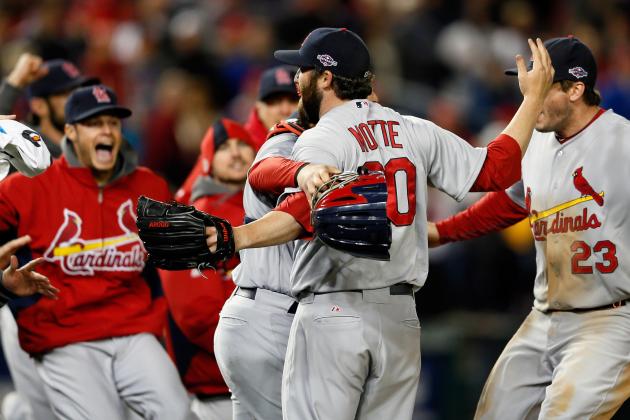 Rob Carr/Getty Images
Game 5 was the highlight of 2012 for St. Louis.
Game 5 of the NLDS was supposed to be the Washington Nationals' christening as a rising power in the National League.
After winning the NL East in dominant fashion, the Nats were one win away from sending the defending World Series champion Cardinals home for the winter and sending the D.C. area home in a state of delirious joy.
They put up six runs on Cardinals' starter Adam Wainwright, knocking him out in the third inning. Bryce Harper, who had been pretty quiet the entire series, made his presence felt with a bomb into the center field bleachers.
But Cardinal pitchers Joe Kelly, Trevor Rosenthal, Edward Mujica and Mitchell Boggs pitched 4.2 innings of scoreless relief to settle the Cards down as they chipped back against Cy Young favorite Gio Gonzalez.
The Nationals scored a run in the bottom of the eighth off Cards' closer Jason Motte to make it a 7-5 game and that seemed to stop the bleeding for Washington. Perhaps they'd finish off those pesky Redbirds after all.
Thankfully, the Cards threw tough at-bat after tough at-bat at the Nationals in the ninth, getting down to their final strike more than once and eventually exploding for four runs to stun the home crowd 9-7 and remind Cardinals fans why we love this team so much.