5 Reasons to Be Thankful If You're a NASCAR Fan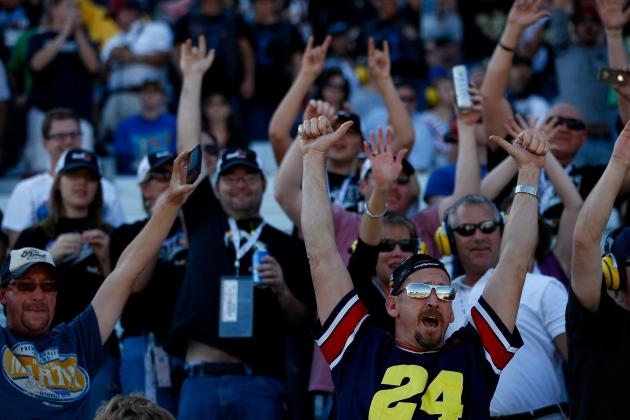 Jonathan Ferrey/Getty Images

After a quarter-century of reporting on all forms of motorsports, and NASCAR in particular, I've come to have a pretty good read on the pulse of NASCAR fans.

While many have different opinions and viewpoints on the sport and its elements, two things form a very common thread: their love for the sport and how they want to see the best and closest racing possible.

Sure, fans may disagree on the merits of other fans' favorite drivers, but whether you're driver is Dale Earnhardt Jr. or Marcos Ambrose, the passion and loyalty that NASCAR fans have is unmatched in most any other sport or league.

With Thursday being Thanksgiving Day, we obviously have a lot to be thankful for in our own lives, as well as being thankful that most of our military personnel from Iraq and Afghanistan have returned to American shores -- and the rest still there will soon join them back here at home.

And while we'd never underscore the true meaning of Thanksgiving, there's a part of us that is thankful for having such a great sport like stock car racing to follow.

With that, here are my 5 Reasons to be Thankful if You're a NASCAR Fan – and have a great Thanksgiving, everyone!
Begin Slideshow

»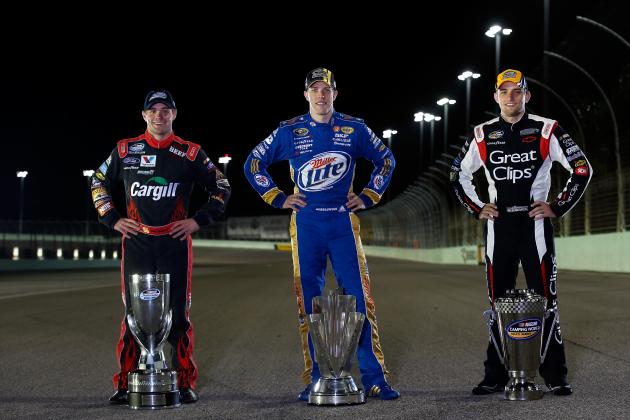 Chris Graythen/Getty Images
One of the youngest class of champions occurred in NASCAR this season -- from left, Ricky Stenhouse Jr. (Nationwide Series champ), Brad Keselowski (Sprint Cup champ) and James Buescher (Camping World Trucks Series champ).
Sunday's championship win by Brad Keselowski once again reaffirmed that even in an era where sponsorship money remains tight, youth and talent will eventually rise to the top if a driver is as good as Keselowski.

Far too many people think of NASCAR solely as the Sprint Cup, Nationwide and Camping World Trucks series, but in the overall scheme of things, those pro leagues are only a part of NASCAR's expansive reach across the country that goes all the way down to the greenest levels of grass roots racing that you can find.

It's places like short tracks across the Midwest, the southeast or the west where not only Keselowski developed his driving talent, but also where other young up-and-coming racers are learning their craft and refining their talent.

And let's not forget that Keselowski wasn't the only youngster to win a championship this season: props definitely go out to drivers even younger than the new Cup champion, namely Nationwide Series champ (for the second season in a row) Ricky Stenhouse Jr. and Camping World Truck Series champ James Buescher.
Yes, there is a huge youth movement in NASCAR that not only is evident today, but will continue to be for many more generations to come.

As older drivers ultimately decide to retire, they can at least take some comfort in knowing that they're being replaced by young drivers who have learned their lessons well, thanks to the world of NASCAR.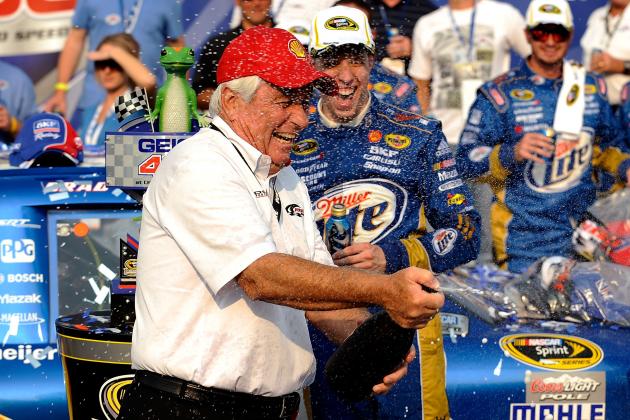 Jared C. Tilton/Getty Images

Even if you're a dyed-in-the-wool supporter of teams owned by Rick Hendrick, Richard Childress, Jack Roush, Joe Gibbs or others, you can't help but feel some admiration for Roger Penske.

Here's a guy who has won 15 Indianapolis 500s, 23 series championships in other forms of motorsports, has all the money in the world that a multi-billionaire can have, yet his sporting life has never been complete until this past Sunday.

After chasing the Cup crown for 30 years, a man used to excellence in other forms of racing finally got that stock car racing monkey off his back. You couldn't help but smile when Penske said on ESPN after Sunday's race that his first NASCAR championship is right at the top or at least equal to all of his other great achievements in racing as a driver and, more so, as a team owner.

That statement speaks volumes. Even one of the world's most powerful businessmen couldn't help but be a bit giddy after finally achieving a goal that has eluded him for so long.

It's no wonder that almost every one of his fellow Cup team owners – like Hendrick, Roush, Childress and Gibbs – all came over to congratulate Penske and welcome him into their club of owners that have won at least one Cup championship in the past.

It's almost ironic to say Penske finally gets membership in that exclusive club, when by comparison, he's in a category all by himself for all the other success he's enjoyed in motorsports.

Still, you can't help but admire and thank a man who never gave up, persisted and stuck with it year after year despite always coming up short of his goal, rather than just saying "the heck with it" and staying solely in the world of open-wheel racing and the like, where he is the ultimate giant among men.

NASCAR should be thankful for and is definitely better for having Roger Penske in it for so many years – and hopefully for many more years still to come.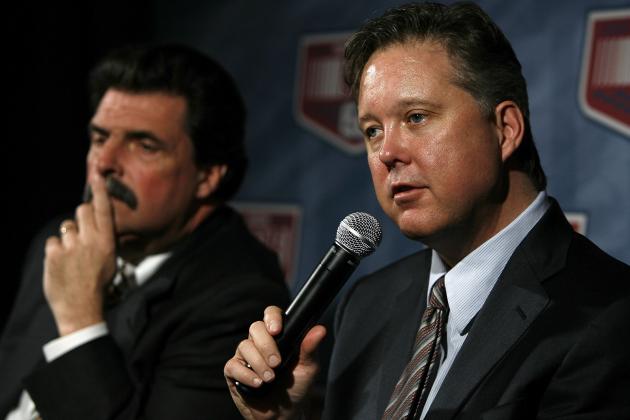 Jason Smith/Getty Images

This one may bring about some significant disagreement from disgruntled fans, but when you consider how NASCAR chairman Brian France and president Mike Helton have held the sport together through economic hardship, that says something about their leadership.

But more importantly, NASCAR's dynamic duo made it a point to stress two things above all else as they tried to guide the sport through some turbulent times.

First is driver safety. Thankfully, we have not had a driver lose their life in Cup, Nationwide or Trucks competition in over a decade. We have France and Helton to thank for that. They spared no expense in researching various safety measures, and then requiring those measures in the sport. Such changes included softer walls, safer barriers, Hans devices and the Car of Tomorrow.

Second is the quality of racing. How many times over, the last six or seven years have we heard France and Helton – particularly France – talk about NASCAR's efforts of improving racing and making it closer and more side-by-side than ever before?

People think such goals are easy to achieve, but they're really not. Much like the safety initiatives, NASCAR has to go through thousands of hours and millions of dollars worth of testing and evaluating ways to make cars as equal as possible, as well as work on eliminating or at least reducing factors such as aero push and other obstacles that affect the quality of racing.

It's unlikely that France, Helton or their eventual successors will ever make every single NASCAR race fan happy, but whether you love 'em or hate 'em, they really do have fans' best intentions at heart. It may not seem that way to some fans, but if there's a way to make the quality of racing better, France and Helton will find it.

After all, better racing means happier fans and more fans attending races or watching them on TV. And isn't the best racing what most of us want, as well?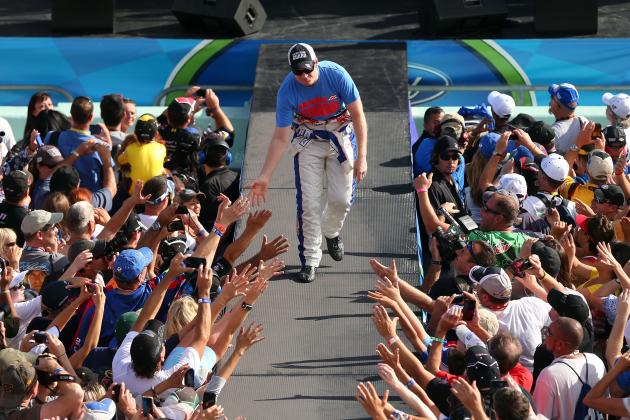 Mike Ehrmann/Getty Images
Dale Earnhardt Jr. loves his fans, and they love him back.
This one may come out of left field to some, but we should be thankful that Dale Earnhardt Jr. is still in the sport.

While so many observers talk about how hard of a job it was for Kevin Harvick to succeed the late Dale Earnhardt after he was killed on the last lap of the 2001 Daytona 500, far too many forget about the trials and tribulations Earnhardt's own son has endured.

Whether he wanted to or not, Junior had to not only succeed his late father as the face of the sport in 2001 and going forward, he also had to find a way to keep racing in the very same sport that killed his father. How many of us would continue to take part in something that cost us a beloved parent?

It's hard enough to have to follow in his father's legendary footsteps, but to try and live up to the expectations of so many of his father's fans as well as his own, Junior has done an outstanding job.

Sure, it's safe to say that Junior doesn't have the same degree of talent or that he'll still win seven Cup championships like his father.

And for all the criticism Junior has taken for his failures and shortcomings on the race track, including two lengthy winless streaks that spanned several years, the expectations of championships that never came, and the conflict with his stepmother that ultimately led to him leaving the company his father built for Hendrick Motorsports, the 38-year-old Earnhardt has held up pretty well.

He could have just one day quit and walked away -- and few wouldn't blame him if he did, given all the adversity he's had to endure.

People may criticize Junior for what he hasn't done or how he hasn't exactly been a true chip off the old block, but I can say this without hesitation: the sport is richer and better for having Junior in it than if he wasn't in it.

Do you ever wonder why his fan base remains the largest of all in the sport, or why he's won the Most Popular Driver of the Year award for nine straight years (likely soon to be 10 straight years)? It's because people identify with Junior, they feel for all he's gone through, and they'll support him no matter what.

That's why Junior is always so thankful for his fans and why they're so thankful for him – and why so many people that aren't necessarily Junior fans should also be thankful for what he's meant and brought to NASCAR, as well.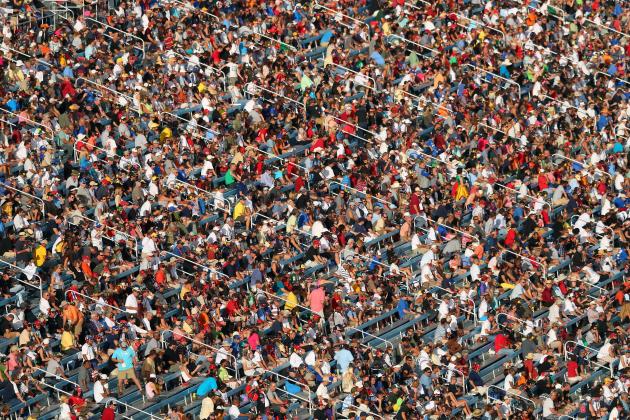 Mike Ehrmann/Getty Images

It's a pretty clear realization: without sponsors, there would likely be no NASCAR, or at least certainly not the NASCAR we know and love today.

If it wasn't for the hundreds of millions of dollars that sponsors and manufacturers pay every year to have their names or products emblazoned across race cars or driver firesuits, we likely would still consider grassroots and short track racing as the end all and be all of stock car racing.

Tied into that sponsorship realm are NASCAR fans. How many of them spend millions of their own hard-earned dollars to not only buy tickets to attend races, but also take part in the traveling?

And what about fans who are as diehard about the products of sponsors as they are of their favorite driver? How many will only buy a certain kind of beer because their driver is sponsored by a particular beer company?

How about fans who engage in do-it-yourself projects around the house and will only buy tools or materials at the same home improvement store that backs their favorite driver? How many fans actually have rooms, dens or basements in their houses or apartments that are full-fledged shrines to their favorite driver, and by default, to the sport as a whole?

There is no better word to describe NASCAR fans than "passionate." They have a loyalty factor rarely matched by fans in other sports.

They're thankful to be able to cheer and support their favorite driver, team and sponsor – and the sport should always remember them and be thankful for them in kind.
Follow me on Twitter @JerryBonkowski