NHL Draft 2013: 15 Pro Draft Prospects Already Shooting Up Draft Boards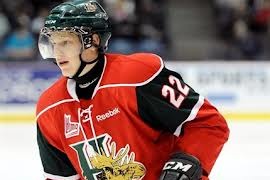 tsn.ca
The 2013 NHL draft is about seven months away, but NHL Central Scouting has already put out its mid-season ratings in preparation for the big day.
It's still not clear how the league will determine the draft order in the event the season gets canceled by the lockout, but if that happens, it could be done by lottery and all 30 teams may have a shot at the No. 1 pick.
Here is an early look at 15 players who are at the top of the draft boards at this point. Feel free to comment about any of these players or a few prospects you think we may have missed.
Begin Slideshow

»
Moscow native Nikita Zadorov is only 17 years old but he's already done a lot to impress NHL scouts.
First, the Moscow native is already 6'5" and weighs 228 pounds, and despite his great size he's pretty strong on his skates.
He is also already in North America, spending this season with the OHL's London Knights and showing his commitment to playing in the NHL rather than the KHL.
In 22 games with the Knights, Zadorov already has seven points and a plus-15 plus/minus rating.
Grandview, Manitoba native Ryan Pulock has a lot going for him and is among the top defensive prospects in this year's draft.
He has great size at 6'1" and 211 pounds, and is also considered a very good passer.
In 24 games this season with Brandon, Pulock already has nine goals and 25 points after notching 60 points in 71 games last year.
He is also the captain of the Wheat Kings and possesses leadership qualities that only add to his draft value.
Defenseman Josh Morrissey won't turn 18 until next March, but the Calgary native has already established himself as a top prospect for next year's draft.
In his second season with Prince Albert of the WHL, Morrissey already has four goals and 16 points in 24 games.
His best assets are his skating ability and the intelligence he displays in his own zone.
With a solid season this year, Morrissey could easily crack the top 10 in next June's draft.
Defenseman Darnell Nurse is a towering defenseman, standing 6'5" and weighing 192 pounds at the age of 17.
He has been a prospect for a long time, and at 15 was already being compared to Chris Pronger.
Nurse comes from an athletic family. His dad played in the CFL, his mom was a college basketball star and he is cousins with former NFL quarterback Donovan McNabb.
Nurse's offensive game is improving. In 24 games with Sault Ste. Marie of the OHL, the big defenseman has four goals and 17 points.
New Haven, Connecticut native Adam Erne is just 17, but he already has good size, standing 6'0" tall and weighing 205 pounds.
The winger is off to a solid start in his second season with the Quebec Remparts of the Quebec League, scoring 16 goals and 34 points in his first 23 games.
Erne projects as a power forward and skates extremely well for a kid of his size.
Sinkaruk's best skill is probably his skating. He is considered the best skater in this draft by many scouts.
The Calgary native scored 49 goals and 91 points last year for Medicine Hat in 66 games. He's off to another hot start this season, scoring 17 goals and 35 points in 24 games.
Scouts consider Sinkaruk a top offensive talent and some feel he may have the ability to jump straight from juniors to the NHL immediately after he is drafted if he can add some bulk to his 175-pound frame.
Swedish defenseman Robert Hagg is already playing against grown men in the Swedish Elite League.
Despite his young age, Hagg is already considered a leader and that's a role most scouts expect him to play once he reaches the NHL.
Hagg has excellent size and his biggest strengths are his physical and defensive play.
Forward Jonathan Drouin's stock has been on the upswing this season, and playing on a line with highly regarded teammate Nathan MacKinnon certainly helped.
Scouts are impressed with Drouin's passing skills and his ability to shoot the puck.
He's still only 17 and can grow beyond his current 5'11", 180-pound frame.
Drouin's numbers this season are outstanding. In just 17 games, he has 15 goals and 38 points.
18-year-old Rasmus Ristolainen is already playing in Finland's top league against men and more than holding his own against his country's top competition.
Ristolainen is already 6'2", 190 pounds and scouts are already impressed by his maturity. He plays a very physical style which should help make his transition to the North American game a little bit easier.
He is considered strong in his own zone and his offensive game has improved with each season he's played.
Thus far this season, Ristolainen has one goal and six points in 21 games.
Ottawa 67s center Sean Monahan is considered by most to be the top OHL prospect available in the 2013 NHL draft.
Monhan has put up great numbers for Ottawa, scoring 33 goals and 78 points last season. This year, he has already scored 12 goals and 36 points in 24 games. Monahan has put up these strong offensive numbers despite playing for a weak team without much offensive help.
Monahan is already 6'2" and weighs 193 pounds and just turned 18 last month.
His creativity and vision make him worthy of being a top 10 selection in this year's draft.
Center Curtis Lazar is a solid two-way player who is now in his third season with the Edmonton Oil Kings.
The 6'0", 190-pound native of Vernon, BC, produced only fair offensive numbers in his first two seasons in the WHL, but came alive in last year's Memorial Cup Playoffs, scoring eight goals and 19 points in 20 games.
So far this season, Lazar has eight goals and 15 points in 23 games. He projects as a two-way center at the NHL level according to most scouts.
Many scouts view Sweden's Elias Lindholm as the best European-born prospect in this draft.
Some experts see similarities between Lindholm's smooth skating style and offensive creativity and that of his idol, Peter Forsberg.
Lindholm has excellent skating ability and sees the ice extremely well. He is a natural fit at center.
In 24 games in Sweden this season, Lindholm has five goals and 16 points
Aleksander "Sasha" Barkov has been a star in the top league in Finland despite the fact that he's just 17.
Barkov comes from good stock, his Russian-born father also played hockey in Finland.
Barkov is already on his team's top line and has scored 13 goals and 26 points in 24 games. His style is similar to his father's—responsible in his own zone and creative with the puck.
At 6'2", 194 pounds, Barkov already has good size. He is considered the top European-born prospect in this year's draft pool.
http://www.bbc.co.uk/sport/0/football/20386628
Texas native Seth Jones is playing for the Portland Winterhawks this season after spending the last two seasons with the U.S. National Development Team.
At 18, Jones already has great size. He stands 6'4" and weighs 206 pounds with the potential to grow even more.
In 22 games so far for Portland, the rangy defenseman has six goals and 15 points.
He is a well-rounded defenseman without any serious weaknesses in his game, something very rare for a defenseman at this stage in his development.
MacKinnon is on fire this season and has charged to the top of the ratings. The Halifax Mooseheads star has 19 goals and 40 points in just 23 games.
MacKinnon is a great skater and has excellent speed. He sees the ice very well and is creative with the puck.
Most scouts place the 5'11", 180-pound Halifax native at the top of the rankings and feel he has a great future as a playmaker in the NHL.