Report: Blue Jays Still in the Market for Top-of-the-Rotation Starter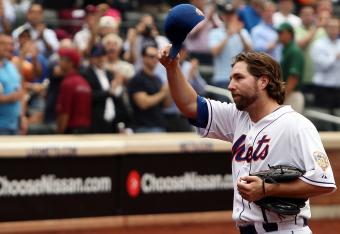 Alex Trautwig/Getty Images
According to a report by Joel Sherman of the New York Post, the Toronto Blue Jays, despite all the salary they added this offseason, appear to be still in the market for a top-of-the-rotation starter.
While this may come to a surprise to some, it doesn't come as a surprise to me.
As a longtime Blue Jays fan, I've come to realize that when the Jays' organization sense something great, they go for it.
In the early '90s, when the team was on the cusp of winning a World Series, the team went out and spent the necessary cash to put them over the top.
Fast forward nearly 20 years, and it appears history may be about to repeat itself.
Toronto, a city longing for a winning franchise, has their Blue Jays now to count on as the season draws closer and closer.
The pressure will be immense since the Blue Jays are the only winning franchise left in Toronto besides the Toronto Argonauts–who don't even play in the NFL. The Maple Leafs are far from being winners, and the Raptors, well, let's just say they'll need to trade some of their former stars (Jose Calderon and Andrea Bargnani) to get over the hump. When both happen, the pressure might dissipate.
As it stands, the Jays added plenty of payroll and, according to Sherman, look to be trying to add some more.
Now, while I truly believe they are in the market for another starter, I don't think they'll sign the player from free agency outright. I still believe that top-of-the-rotation starter may be acquired via trade.
With three major league catchers possibly battling it out in spring training and a few extra outfielders, the Jays have the trade pieces to add that necessary piece.
In a radio interview with Jerry Howarth on the Fan 590's Jeff Blair show on November 21, 2012, he urged the Jays to trade Colby Rasmus and start prospect Anthony Gose in centerfield. That adds another name into the hat for possible trade options. Rasmus, who only has another year or two left of control, may be a trade option for Alex Anthopoulos.
Looking at the trade market and possible options, a name that is sure to garner some attention is NL Cy Young Award winner R.A. Dickey. The Mets are struggling, and despite having a few star players on the roster, look as if they want to improve upon one of the worst farm systems in all of baseball.
Dickey, amongst others, may be the first big name dealt from the Mets.
The Blue Jays are mentioned as a possible target because of their depth at the catching position and also because they have a centerfielder who might be available. Does a package that includes J.P. Arencibia and Colby Rasmus make sense? That remains to be seen.
This author is also speculating that Justin Masterson of the Cleveland Indians may also be available.
Masterson enjoyed his best season as a starter in 2011, pitching a remarkable 216 innings (the first time he eclipsed 186 innings, ever), earning a 3.21 ERA and allowing only 11 home runs in those innings.
He is a dominant sinker-ball pitcher when on, and because of that, he may be the perfect fit for a Jays pitching staff that may be in need of another starter. With the Rogers Center a hot spot for home run hitters, adding a starter who keeps the ball in the infield may just be what the doctor ordered. And by the way, he might come at a cheaper price than the much older Dickey.
Lastly, another name being thrown around in the rumor mill is Trevor Bauer.
I'm sure you're saying, wait..what? Yeah, he's not a top-of-the-rotation starter, but he's got the potential to be an ace down the road. And what's best about Bauer? He's controllable, an asset Alex Anthopolous covets.
With Bauer at odds with the Diamondbacks' hierarchy and Justin Upton also in the news with regard to trades, could the Jays offer up yet another blockbuster and bring Upton and Bauer to Toronto?
That is one move I highly doubt will happen, well, unless they're willing to take Adam Lind, JP Arencibia, Colby Rasmus and a slew of prospects off our hands.
To summarize the point of the article, the Jays are still shopping, and they are definitely not finished. And by the sounds of it, it may be a doozy of a deal that may be about to happen.
This article is
What is the duplicate article?
Why is this article offensive?
Where is this article plagiarized from?
Why is this article poorly edited?

Toronto Blue Jays: Like this team?