NY Rangers: The 15 Most Beloved Blueshirts in Franchise History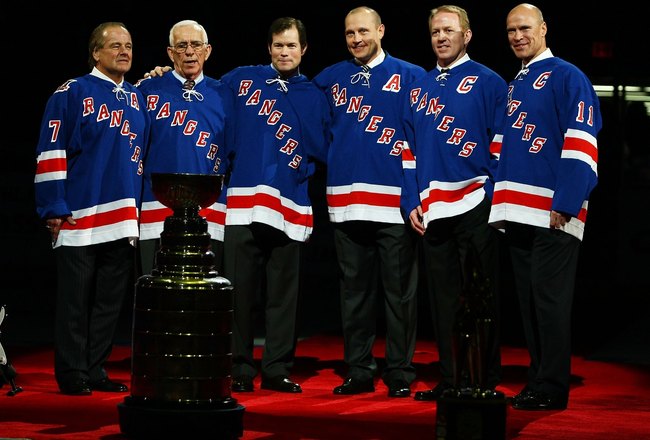 Chris McGrath/Getty Images
For the past 86 years New York Rangers fans have seen plenty of players come and go. Thousands of players have played in Madison Square Garden and have sported the lettering of "Rangers" across their chest.
Playing for an original six franchise is such an honor, however, that honor also comes with pressure. Not only do you have to play for a team with so much great history, you also have to play in front of some of the most critical fans in the world. There have been plenty of players who have come off that ice being booed by fans, and been ripped apart by the local newspapers the next day.
However, it's not all bad.
Some Rangers have heard their names being chanted through the roof by the fans. Some even have had the honor of seeing their name and number immortalized forever when they look high atop Madison Square Garden.
Here are 15 Blueshirts that will never be forgotten and will always be loved by the Rangers franchise and their fans.
15. Brandon Dubinsky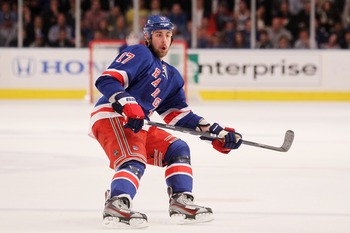 Bruce Bennett/Getty Images
"Duuuuu-bi"
Even though his last year with the New York Rangers was a horrible one, Brandon Dubinsky was always shown love by the fans.
Drafted in 2004 by the Rangers, he made his debut during the 2006-07 season. From there, he was one of the most consistent players for the Rangers. He was a good face-off man, and a playmaker with toughness who didn't back down from anyone, even if they were bigger than him.
After five full seasons with the Rangers, "Dubi" was traded to Columbus along with Artem Anismov and Tim Erixon for Rick Nash.
He will be missed by all Ranger fans and when he returns to Madison Square Garden for the first time, fans will surely cheer for him.
14. Harry Howell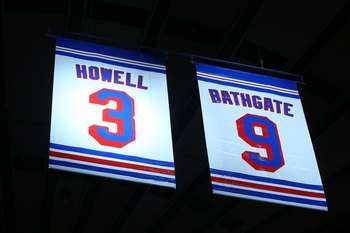 Bruce Bennett/Getty Images
Harry Howell spent his entire 17-year career playing for the New York Rangers, debuting in 1952. He would play in 1,160 games, which is a record that will more than likely never be broken.
Howell was a seven time All-Star and a Norris Trophy Winner beating out the great Bobby Orr.
He is one of nine Rangers to have their number retired. It was retired Feb. 22, 2009 alongside this next Rangers' great.
13. Andy Bathgate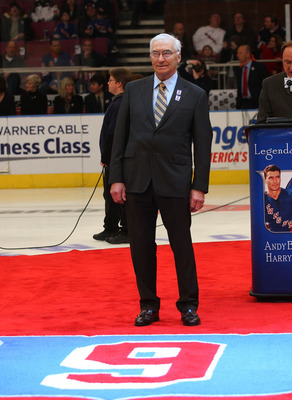 Bruce Bennett/Getty Images
In Bathgate's first two years in the NHL he bounced back between the Rangers and the Vancouver Canucks before settling with the Rangers for 10 straight years. Not only did he become one of the top players in the organization, but he was also one of the most popular.
While he had tremendous numbers with the Rangers, including eight straight years in leading the team in points, it was at a time where the team was struggling to produce wins. Many times during his career with the team, the Blueshirts missed the playoffs.
Still, no one can deny that if Bathgate had a better team around him he could have potentially won a Stanley Cup.
12-10. The GAG Line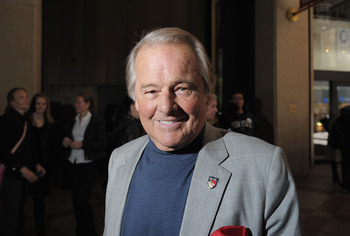 Michael Loccisano/Getty Images
Known as the Goal-A-Game line, it featured three of the best players to ever wear the Rangers' sweater. It consisted of Jean Ratelle at center, Rod Gilbert on right wing, and Vic Hadfield on the left wing.
The line was put together in the late 1960's and ended in 1974 when Vic Hadfield was traded to the Pittsburgh Penguins.
An example of how dominate they were is during the 1971-72 season, Ratelle, Hadfield, and Gilbert finished third, fourth, and fifth in league scoring, respectively.
9. Ryan Callahan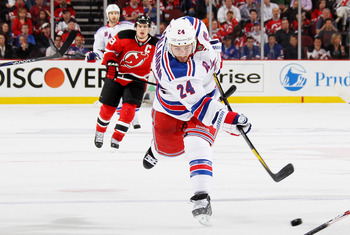 Bruce Bennett/Getty Images
The Rangers' 27th captain might be one of the most underrated players in the NHL. While other NHL fans may not show the Rochester native love, the Rangers' faithful does each and every night.
Drafted in 2004 (like Brandon Dubinsky), Callahan made his debut in 2006 playing in 14 games. Since then, he has been the heartbeat of the Rangers franchise.
He can do everything. He can score, improving his goal total the last three seasons. He's physical and is one of the leaders in hits, not only on the Rangers, but the entire league as well. Lastly, he is a typical New Yorker. He is tough, gritty, and is not afraid to do the "dirty" work.
At the age of 27 he is entering his prime. When his career is over he might be one of the most loved Rangers of all-time.
8. Wayne Gretzky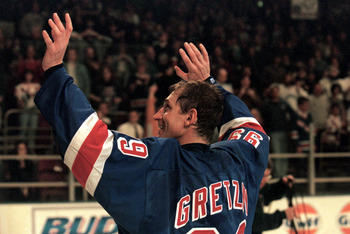 Ezra Shaw/Getty Images
Wayne Gretzky may be one of the most beloved players ever in the sport of hockey, but not in terms of one of the most loved Rangers in franchise history.
Don't get me wrong, the Great One was spectacular during his three seasons with the Rangers, but when you think of Wayne Gretzky, you think Wayne Gretzky, the Edmonton Oiler, not the New York Ranger.
Even though it was at the end of his career, it was still great to see Wayne Gretzky wear the Rangers' sweater and play in front of the dedicated fans of New York.
7. Sean Avery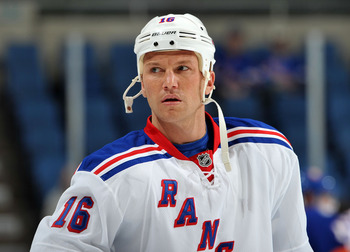 Christopher Pasatieri/Getty Images
Most hockey fans either love him or hate him (mostly hate), but when Sean Avery joined the New York Rangers it seemed like a great fit, almost a match made in heaven.
Not only did he continue his crazy antics, but the crowd loved every moment of it.
John Tortorella on the other hand always seemed angry at Avery, but in the end Avery played four full seasons with the Rangers and was loved by the fans during that time.
6. Adam Graves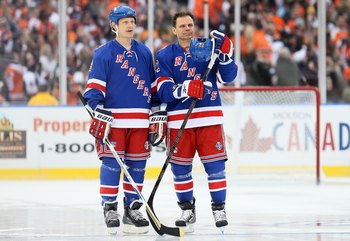 Jim McIsaac/Getty Images
Adam Graves was a spectacular player for the New York Rangers, but ever since retiring from hockey, he has been one of the most charitable people for the Garden of Dreams Foundation, which is why you can't help but love the guy.
However, that is the type of person Graves has always been even when he was playing hockey. Other recognitions includes King Clancy Memorial Trophy, a five-time recipient of the Rangers' Steven McDonald Award, four-time recipient of the Rangers' Players' "Player" Award and a four time recipient of a fan club award which is given to the most popular Rangers player on and off the ice.
He has also won two "Good Guy" awards by the Rangers and The Sporting News.
Graves also had solid statistics as well. He registered 280 goals and 507 points, which was enough to retire his number in 2009.
5. Mike Richter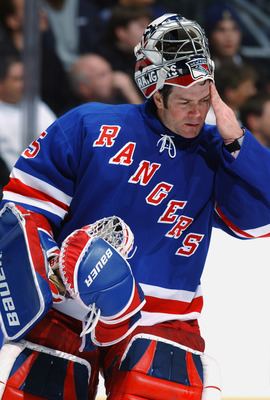 Harry How/Getty Images
Mike Richter was not only one of the most successful American-born goaltenders to play the game, but also the last goaltender to win a Stanley Cup for the Rangers.
He played 666 games, all for the Blueshirts, winning 301 games. It truly is a shame that he had so many injuries that plagued him throughout his career because he could have easily played and won more games and possibly win a Vezina or two.
His jersey was the third to be retired by the Rangers in 2004.
As it was said, "Once a Ranger, always a Ranger."
4. Eddie Giacomin
Before Mike Richter and Henrik Lundqvist, there was Eddie Giacomin.
He played for the New York Rangers for 10.5 years, before going to the Detroit Red Wings. During his time with the Rangers he won 266 games.
The fans loved Giacomin so much that when he made his Madison Square Garden return with the Red Wings the fans booed their own team chanting "Ed-die! Ed-die!" Giacomin would win that game for the Red Wings.
Giacomin had his number retired in 1989, the second retired jersey in franchise history.
3. Henrik Lundqvist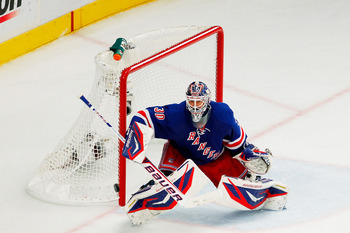 Paul Bereswill/Getty Images
They don't call him the "King" for no reason. The fans love him, players love him, women want to date him, and men want to be him.
Sure, the Rangers have had a great line of goaltenders that not only have played great on the ice, but were loved by the fans, but I think Lundqvist is the most loved. Without the Vezina trophy winner, I think the Rangers would be lost, especially after his performance last year.
He was drafted by the Blueshirts in 2000 and made his debut in 2005, being the anchor for the Rangers. He has continued to get better and better each year, improving on his win total since 2009.
He has done it all, except win a Stanley Cup, which all Rangers fans hope to see soon.
2. Brian Leetch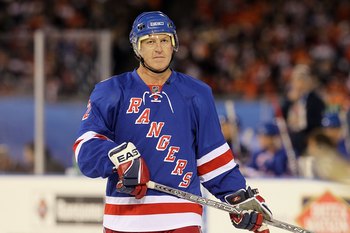 Jim McIsaac/Getty Images
Honestly, it was a toss-up between the next two people on this list on who should be No. 1. Both did so much for the Rangers.
For 16 years, Leetch graced the New York crowd with his brilliant play and leadership. He was team MVP six times, and also owns six Ranger records.
His number was retired in 2008 and he was inducted into the Hockey Hall of Fame in 2009.
He was named the top Ranger of all time in the book 100 Ranger Greats and during his retired jersey ceremony the next person on this list regarded him as the "Greatest Ranger of All Time."
That person is….
1. Mark Messier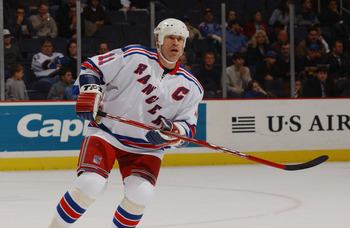 Mitchell Layton/Getty Images
While Brian Leetch is considered the greatest Ranger of all-time, Mark Messier to me, is the biggest fan favorite. Not only did he have a great playing career with the New York Rangers, but he was one of, if not the most pivotal player in the Rangers Stanley Cup run in 1994.
Down 3–2 in the 1994 Eastern Conference Finals against the rival New Jersey Devils, Messier confronted the New York media and publicly guaranteed a Game 6 victory. He backed it up, as he scored a hat trick, which not only tied the series, but allowed the Rangers to move on to the Stanley Cup Finals. In game 7 of the Stanley Cup Finals, Messier scored the Cup winning goal.
Mark Messier's number was retired in 2006 and rightfully so. He's a leader, and that is what New York loves, a leader who never gives up. In 1994, Messier never gave up, which is why they won the Cup and is the reason why he is No. 1 on this list.
Keep Reading

New York Rangers: Like this team?