Manchester City: 5 Reasons Mancini's Sky Blues Failed in Europe This Season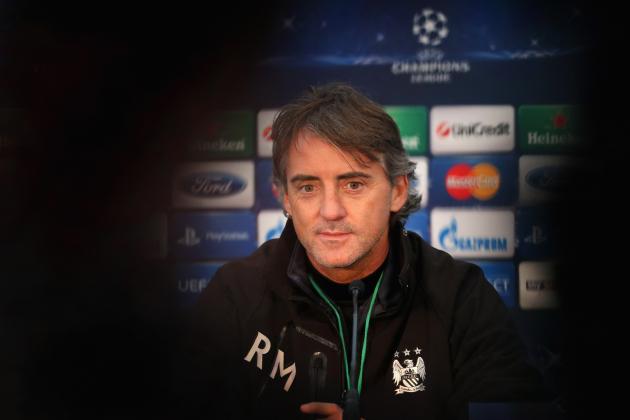 Alex Livesey/Getty Images
These are the times that try men's souls.
Roberto Mancini and Manchester City should send Roman Abramovich a thank you note and a nice basket of fruit.
The Chelsea owner's decision to sack Roberto Di Matteo (per SI.com) on the same day as City's graceless fall out of contention for advancement in the Champions League this season following a 1-1 draw surely kept some of the harsh light off City's failure.
Let us not parse language here, though. Manchester City's performance in Group D of the Champions League was not befitting of a club that won its league's championship last season. And it was certainly gravely wanting for an organization that aspires to win the Champions League.
It is hard to do that if you cannot get out of the group stage, which City has now failed to do for two years running.
Some mysteries defy rational explanation. But City's Champions League pratfall is not one of them. Here are the places where it all went wrong for City in Europe this season.
Begin Slideshow

»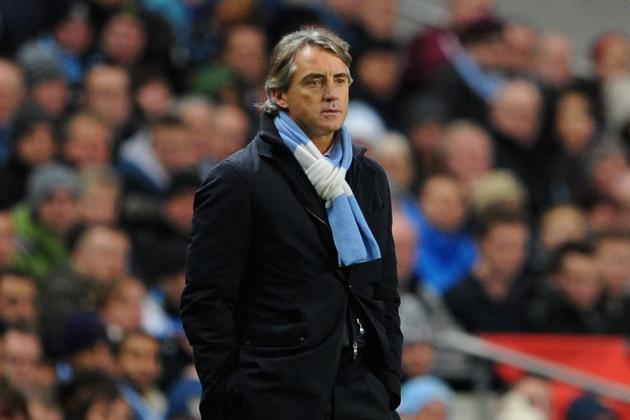 Michael Regan/Getty Images
It's lonely at the top, and it's not exactly a raging party at the bottom, either.
It probably did not help matters much when Roberto Mancini announced a while back that the defending Premier League champions are not ready to win the Champions League.
Unfortunately, Mancini may have been exactly right.
In the opener against Real Madrid, City went from three points to one point to no points in less than 10 minutes. In their next chance against Borussia Dortmund, City was absurdly outplayed and only a very questionable penalty permitted them to steal a draw.
Then, in consecutive fixtures with perceived weak sister Ajax Amsterdam, City was blown out away and could only draw at home.
By the time City kicked off Wednesday, only two wins and help from Ajax (which certainly did not come against Dortmund) could save the, per bbc.co.uk.
If in fact you are what your record says you are, then City is not only not ready to win the Champions League, they are not ready to even compete at that level.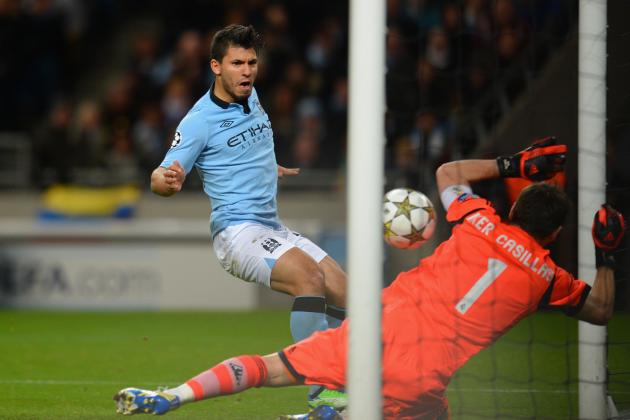 Shaun Botterill/Getty Images
Aguero got one from the spot today, but one is rarely enough at the highest level.
Given City's frequent defensive lapses, their choices are fairly clear. They can try to poach one goal early and then send everyone back to try to make it stand up. Or they can win the game by outscoring the other side.
City's quality and depth at striker should translate readily into crooked numbers on the scoreboard. So parking the bus is pretty well out of the question.
In Champions League play this season, though, the Sky Blues have not generated the volume of chances necessary to really pressure quality opposition, and the chances City has created have often gone wanting.
Aguero got one from the spot against Madrid at the Etihad, but he also bungled what appeared to be a tap-in. By the time he tallied from the spot, City had only 20 minutes or so with a man advantage to press for the go-ahead score.
At the alarming rate City conceded goals in Champions League play this season (and with no clean sheets), Mancini's men had almost no room for error when the chance to score presented itself.
They just did not convert often enough.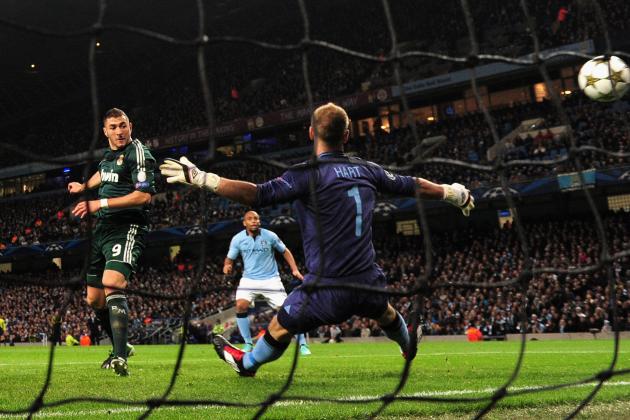 Shaun Botterill/Getty Images
Another day, another deficit.
Manchester City has earned a reputation for making seemingly impossible comebacks look routine. They have had to claw games back from deficits so often that one of their strikers (Edin Dzeko) has gained notoriety as a "super sub" because the vast majority of his goals have tied or won games where his team trailed, via bbc.co.uk.
It is one thing, though, to spot the likes of Fulham, West Brom and Tottenham Hotspur a lead in the Premier League. It is a whole different idea to concede the game's first goal (or, occasionally, goals) to a Champions League side.
At the highest level, no opposing side is going to be at all concerned with City's renown for comebacks. They will simply take the lead and, far more often than not, hold it.
Through five games in this Champions League campaign, City has given up the first goal three times. That is just not good enough.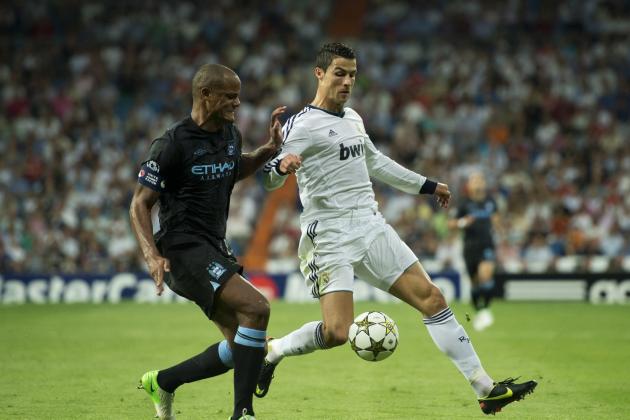 Jasper Juinen/Getty Images
Always a step slow and a page behind in the script.
City's inability to keep a clean sheet in the Champions League this season had little to nothing to do with keeper Joe Hart.
In each of the first five Group D fixtures, City's defense plainly broke down multiple times. Whether it was Karim Benzema converting a cross after sneaking in the back door, Siem de Jong drilling a strike from the top of the box with no one near him, or Marco Reus converting a mini-breakaway, City consistently found ways to effectively gift goals to their opponents.
Mancini has been under scrutiny for his formation changes and his lineup choices. But ultimately, it is the players generally and the back liners specifically who bear the responsibility to defend.
In these past five Champions League fixtures, City's defense was just bad.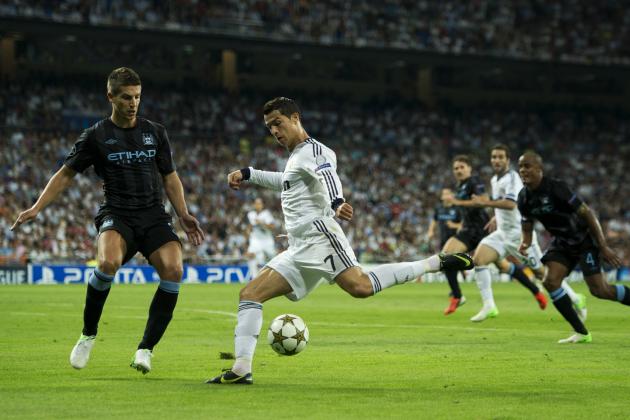 Jasper Juinen/Getty Images
Was this the beginning of the end?
There are moments in competitions of all kinds where the momentum swings so violently that you wonder whether it can ever completely swing back.
Whether City's players or their manager will ever admit it, one wonders whether their failure to steal three points at the Bernabeu in the opening round—ultimately coming away with none—doomed the entire enterprise.
After that happened, the basic mathematics of the group stage became excruciatingly prohibitive for City. It was not just that City had no points after one match; it was that Madrid had three.
Six-point swings in the group standings are as improbable to overcome as goals are within the games themselves.