Oregon vs. Oregon State: 5 Reasons Ducks Should Fear Upset at Reser Stadium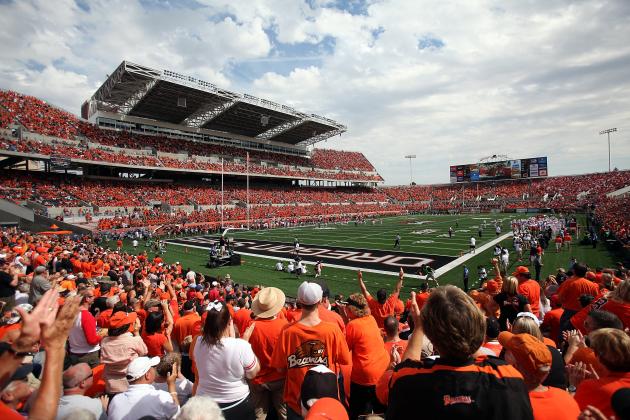 Jonathan Ferrey/Getty Images

This year's historic rivalry, better known as the Civil War, comes to Reser Stadium in Corvallis where the Oregon Ducks and Oregon State Beavers set to do battle in what's arguably the most anticipated game in the history of the rivalry.
Both teams have had extraordinary seasons thus far. Fifteenth-ranked Oregon St. enters Saturday with an 8-2 (6-2 Pac-12) record, while fifth-ranked Oregon visits Corvallis owning a 10-1 (7-1 Pac-12) record.
Oregon has won the last four games against Oregon State, but this is a much-improved team since last season.
Here are five reasons Oregon State has a chance at pulling off an upset in Corvallis.
Begin Slideshow

»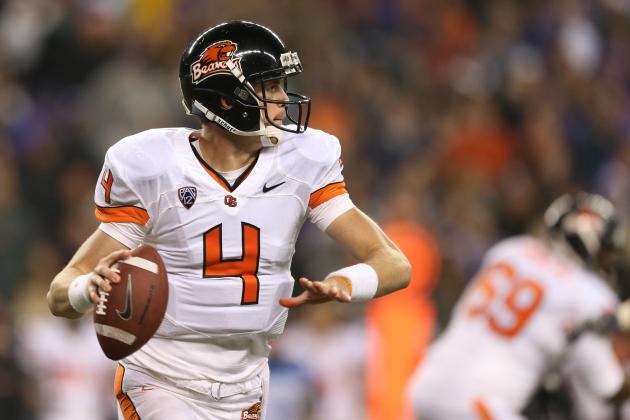 Otto Greule Jr/Getty Images
Mannion against Washington, Oct. 27.
Sophomore quarterback Sean Mannion began Oregon State's season as the leader and starting quarterback.
Then five weeks later, the Beavers became the centerpiece of quarterback controversy in the Pac-12. Mannion was benched after throwing three interceptions against a terrible Washington State Cougars team on Oct. 1.
Cody Vaz came in and performed well enough to earn the starting job, until he was sidelined by an ankle sprain during the loss to the Stanford Cardinal.
Mannion got the start against the California Golden Bears and unleashed five weeks worth of built-up anger upon the Cal secondary. He went 24-of-34 for 325 yards passing and four TDs.
Needless to say, Mannion is the man for Saturday's game.
Look for Mannion to throw for more than 300 yards against a mid-tier Pac-12 pass defense.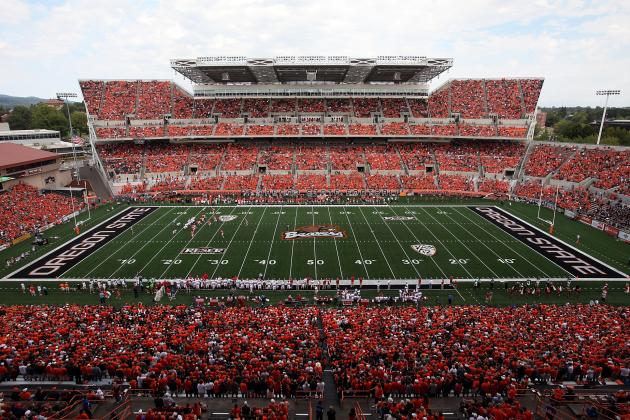 Jonathan Ferrey/Getty Images

Usually home-field advantage would be too obvious of an advantage to list, but when you're Oregon State, this year's attendance is some of the most significant (and loud) in history.
Reser Stadium will be rocking for the Civil War on Saturday as the Beavers look to end Oregon's winning streak and take home the Platypus Trophy.
Reser Stadium set its highest attendance record on Oct. 6 when the Beavers faced Washington State with 46,579. It followed with 45,319 against Arizona State and 45,796 against Utah.
Expect Saturday's game to not only break the all-time record, but be a significant asset for the Beavers.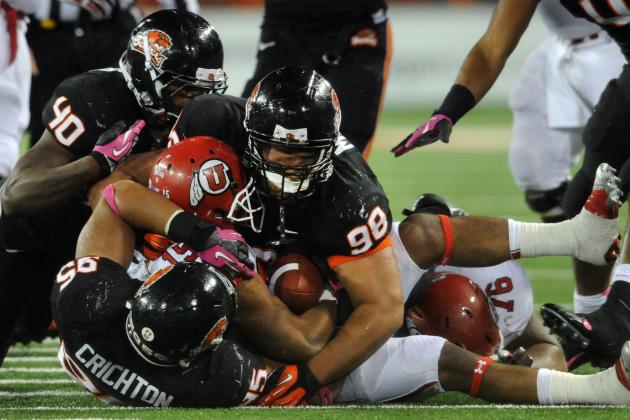 Steve Dykes/Getty Images
Crichton recording a sack against Utah.
While Oregon relies on its dominant running game, Oregon State relies on its brick wall of a defense line for wins.
The Beavers have held opponents to under 109 yards rushing a game and has a legitimate shot to cripple Oregon's attack.
The Beavers will lean on sophomore defensive lineman Scott Crichton to keep Oregon quarterback Marcus Mariota on his toes and keep the running game at bay. Crichton has nine sacks on the season, averaging about a sack per game.
Look for Chip Kelly to try to utilize Mariota in the passing game to counter.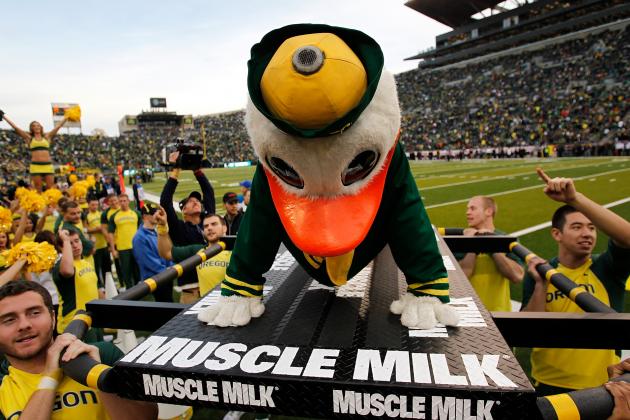 Jonathan Ferrey/Getty Images

Yes, Oregon has won six of the last 10 games against the Beavers, but that's not the history I'm talking about.
Oregon hasn't played an Oregon State team like this in recent history.
Last year's blowout came against a lackluster 3-9 Oregon State team that had very little going for it.
This year, the Beavers are ranked 21st in the country in total defense and 22nd in passing yards per game (and that's with a quarterback controversy).
Chip Kelly will need to prepare his team for a much different Oregon State team than years past.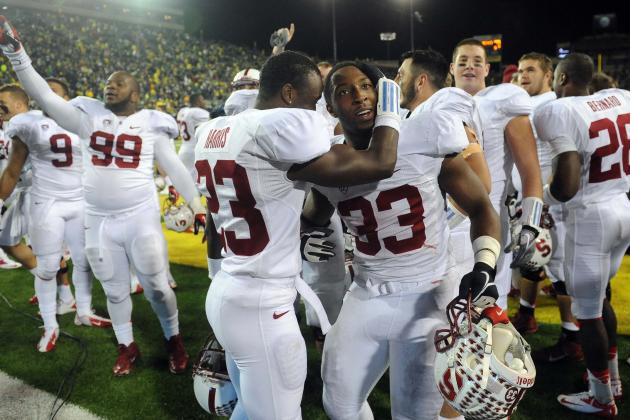 Steve Dykes/Getty Images
Stanford after knocking off Oregon last Saturday.
While chemistry may be the most overlooked incalculable statistic, momentum is a close second.
The psyche of these teams varies: Oregon coming into the game off a hard-fought loss against a pretty talented Stanford team and Oregon State entering Saturday with a decisive routing of Cal.
Mannion has all the momentum coming off a dominating performance, while Mariota needs to improve upon last week's performance against Stanford—one his worst on the season.
Get ready for what is sure to be the most exciting Civil War in a century.