North Carolina Basketball: Report Card Grades for Maui Invitational 2012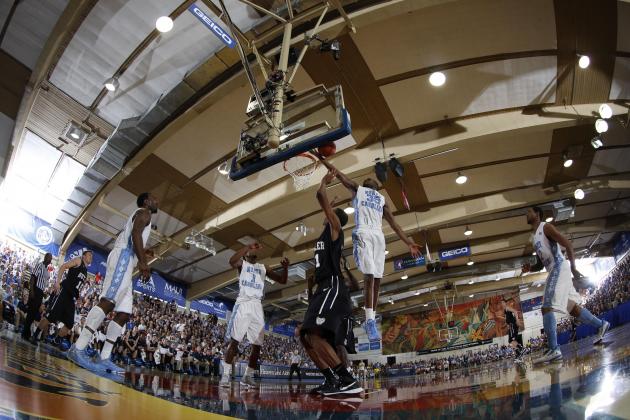 Brian Spurlock-US PRESSWIRE

It's a good thing this report card isn't just on Tuesday night's performance.
The North Carolina Tar Heels looked like the team to beat when they steamrolled Mississippi State in the first round of the Maui Invitational. The game was never even close, and UNC went on to win 95-49.
Round two was a completely different story.
Unlike Mississippi State, Butler was working with a complete squad of scholarship players. It abused Carolina with its physicality and outside shooting, holding the Tar Heels to just 18 points in the first half.
Butler would extend the lead to as many as 29 points with 11:56 remaining, but the Tar Heels didn't go down without a fight. They pulled within six points after a Marcus Paige three-pointer, but they were held scoreless in the final minute.
While their effort was valiant and showed a lot of character, the nicest word I can use to describe their play in the first 28 minutes is "sloppy."
It was a tale of two stories for the Tar Heels in Maui.
But the Tar Heels would add a third story to that mix on Wednesday night, as they beat down the Chaminade Silverswords 112-70.
After scoring only 18 points in the first half against Butler, UNC was able to match that in just three-and-a-half minutes of play. By the half, it was 62-33 in favor of the boys from Chapel Hill.
There is nothing quite like redemption.
The stats and grades have been updated since playing Chaminade for third place in Maui. The original article was posted after the Butler game.
Begin Slideshow

»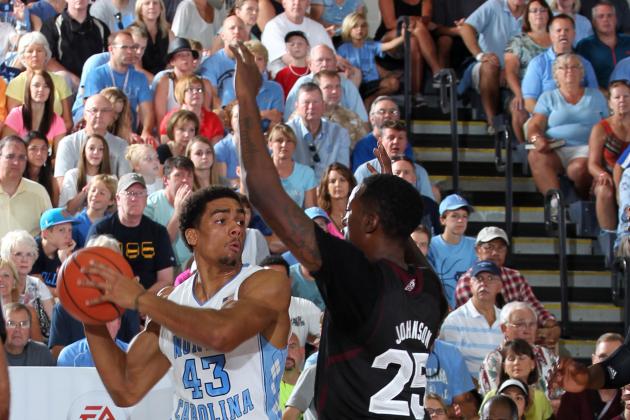 Brian Spurlock-US PRESSWIRE

Updated Stats: 92.7 PPG, 51% FG, 43.2% 3PT, 69% FT, 13 ORPG, 20.3 APG, 12 TOPG
Going by stats alone, it would appear the Tar Heels' offense was on point. But that's the issue with using stats as the basis of one's analysis.
It just doesn't tell the whole story.
A lot of those boosted numbers came off the pounding they handed Mississippi State, along with easy buckets in transition.
The real story is Carolina struggled to create offense in the half-court set. On most possessions, it failed to move the ball around and settled for quick shots, rather than waiting for a good look.
I fully understand the strategy of the Tar Heels' offense under Roy Williams, which is to get as many possessions as possible. But Roy would be the first to say that doesn't mean take a bad shot and hope for an offensive rebound.
That almost seemed like what they were doing in both games.
Yes, even in their stomping of MSU, the Tar Heels took too many ill-advised shots. Fortunately, they were on fire and the defense was playing lights out.
That carried over to what appeared to be overconfidence when they faced Butler the following night. This time they weren't knocking down everything and the defense was struggling to make stops.
On top of that, their ball handling was poor and a lot of passes were just lazy—both of which led to their 27 turnovers.
On the bright side, their three-point shooting continued to get better. They struggled at times against Butler, but that was also due to poor shot selection.
In the beginning, they thought they could hit anything. By the end, they felt they had to pull the trigger every chance they got.
The free-throw shooting was also a welcome surprise. It's a shame they didn't get to the line more, though. They didn't take a single free throw in the first half against Butler.
Some of that had to do with poor officiating, but that's for another day. They still didn't penetrate enough to draw fouls, plain and simple.
Update: The Tar Heels were much more efficient against Chaminade, but that is to be expected against against a Division II opponent. They did take better shots and dished off much smarter passes than the previous night.
Excluding the walk-ons, who were 1-of-3, the Tar Heels were able to bury 50 percent of their three-point shots on 12-of-22 shooting.
Brice Johnson got the start at center, and the inside game looked much better. However, we must keep in mind this was a small team they were going up against. The two tallest players are only 6'7", weighing in at 190 and 200 pounds.
So let's not go too crazy about it just yet. The real test for this inside group will be Indiana on Nov. 27. They will be banging around with much bigger players, including Tyler Zeller's brother, Cody Zeller.
Their grade did improved from the "C+" I gave them yesterday.
Grade: B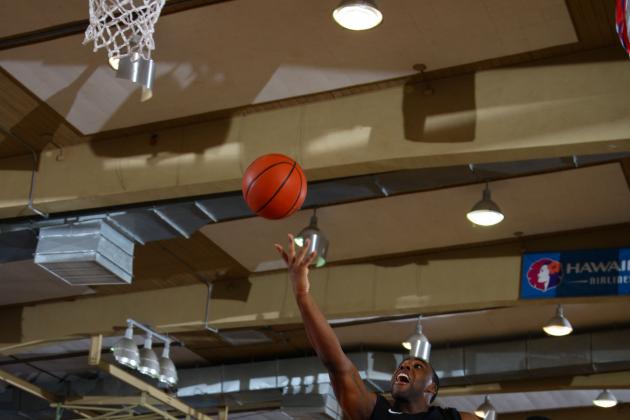 Brian Spurlock-US PRESSWIRE

Updated Opponent Stats: 67 PPG, 37.6% FG, 35.5% 3PT, 19.3 TOPG
Updated Defensive Stats: 23.7 DRPG, 12.7 SPG, 4.7 BPG
For about 52 of the 80 minutes they played in Maui, the defense was incredible.
I felt sorry for Mississippi State at times. It was an obvious disadvantage for it to only have six scholarship players on this trip.
It wasn't prepared or skilled enough to deal with the turnover machine that is the 2012-13 Tar Heels. They forced 22 turnovers in that game, compiling 14 steals and nine blocks.
However, when their "hedge and recover" strategy failed, MSU players were left wide open downtown. Fortunately, outside shooting wasn't their strength, as they went 2-of-17 beyond the arc.
When the same thing happened against Butler, the Bulldogs were able to capitalize with 12-of-25 shooting. That's 36 easy points that were basically handed to Butler.
On the inside, they were physically man-handled by Butler, giving them great looks under the basket and allowing only 18 defensive rebounds by the Tar Heels. On many of those rebounds, UNC players had to tip it out because they didn't have position to pull down the board themselves.
It definitely wasn't pretty.
Their nine blocks against Mississippi State was impressive, but they left a big goose egg on that part of the stat sheet against Butler.
Turnovers were their savior here. Without their 39 turnovers and 23 steals, my grading would have been much different.
Update: The defense pretty much looked like the one we saw against Mississippi State, and in the last 12 minutes against Butler.
These guys are ridiculous when it comes to picking pockets. They tallied 15 of them against Chaminade, which was their highest total of the season. Their lowest came against FAU, when they "only" had seven.
They're only going to get better in that category, too.
What I'm still concerned about is the 34 three-pointers Chaminade was able to get off. UNC allowed 25.3 attempts per game in Maui. On top of that, their opponents knocked them down at a 35.5-percent clip.
Because of that, I only got rid of the "minus" on their grade.
Grade: B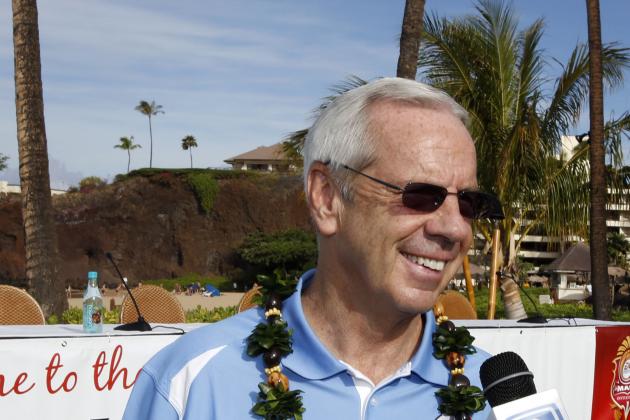 Brian Spurlock-US PRESSWIRE

There aren't many people I have a hard time being tough on, but Roy Williams is one of them. I have such a profound respect for the Tar Heels coach.
But I wouldn't be doing my job if I didn't grade him on the same scale as the others.
I know we're only five games into this young season—and he is dealing with a lot of inexperienced players right now—but the constant rotations need to go.
The young guys need their minutes, but it shouldn't be to the detriment of the team. His obsessive juggling of the players breeds inconsistency. It seems as though every time there is a break in the action, three new players come in.
There is an obvious lack of chemistry, and that is due in part to the same guys not being on the floor together on a consistent basis.
And why is Desmond Hubert still starting? Joel James has played more minutes in every game, yet Hubert is still the one that gets the start.
He only played five minutes against Butler.
Then there is the hedge and recover strategy on defense. I'm going to be bald and gray by the end of the season if he keeps this up.
This has been his strategy since he has been a coach, and it never seems to waver. While it has led to a lot of turnovers, it has also led to a lot of easy buckets for the other team.
This team is just too young and inexperienced to make it work. The Tar Heels are late on the help and late on the recovery. I'm not sure they will ever get it down this season.
How many times will the Tar Heels get burned before Roy rethinks his defensive strategy?
I've been on the record before, and I'll say it again: UNC needs to play straight-up man defense. Let these guys go one-on-one and see what happens.
The perimeter players have been playing superb one-on-one defense, especially with the lock-down play of Reggie Bullock and Dexter Strickland. P.J. Hairston has been impressive, too.
I know I'm not alone when I say it's time to go back to the drawing board.
The offensive struggles I laid out can't really be blamed on Coach Williams. I see him yelling at them enough to know those poor shot selections aren't a part of his strategy.
He does get credit for their comeback against Butler, though. Those things don't happen without a good coach. He sat the starters when they kept making mistakes in the second half, letting the subs start the comeback.
When the starters came back, they were playing with intensity on both sides of the ball. They managed to mount a comeback that looked impossible through the first 28 minutes of play.
That shouldn't be overlooked.
Update: Ol' Roy finally made a switch at center, starting Brice Johnson against Chaminade.
It looked like a really smart move the way he played, but I still worry about size against the bigger opponents. We'll see what Roy does down the road, but it's good he made some kind of move.
The rotations didn't seem to come quite as frequently, either. I could actually see the chemistry coming together. That is extremely important with Indiana coming up.
Roy Williams' grade is up from the previous "C+."
Grade: B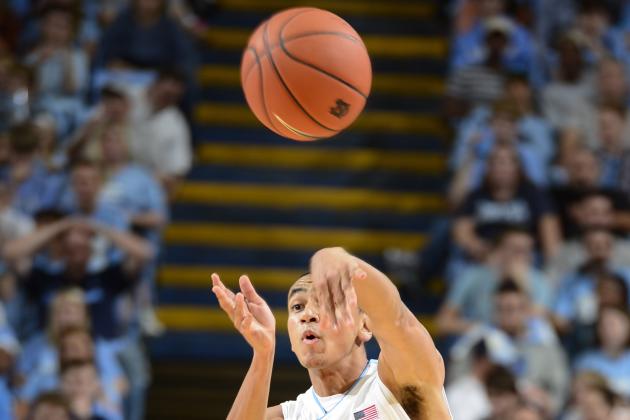 US PRESSWIRE

Updated Stats: 7 PPG, 38.1% FG, 33.3% 3PT, 100% FT, 1.3 RPG, 1.3 SPG, 3.3 APG, 2.3 TOPG, 20.7 MPG
Marcus Paige is still struggling to find his groove as a point guard at the collegiate level. We keep seeing glimpses of what he will eventually bring to the team, but it just hasn't been with the consistency I'd like to see.
Paige seems to be working more as a game manager than a facilitator at this point.
When you think about the great point guards that have been through Chapel Hill, the offense ran through them. That hasn't been the case so far with the top-ranked freshman point guard.
As a lefty, he isn't comfortable dribbling to his right. When he tried it against Butler, the defender gave him a little bump and he lost control of his dribble. That's also due to his 157-pound frame.
But he does have the ability to get to the rim, as we saw on a few occasions against Butler. He even drew contact on one play late in the game, and was able to finish it off with the and-1.
That would be his lone free throw of the season.
Yes, his size will make it difficult to penetrate, along with his lack of confidence going to his right. Kendall Marshall had his share of deficiencies, but he still managed to find a way to the paint.
Paige will have to get aggressive before his game really starts to come together.
His shooting has improved since the first couple games, but that seems to follow him making plays as floor general. I don't think we'll see the consistent sharpshooter Paige is until he gets his play under control.
Marcus Paige played great on both sides of the ball in the final minutes against Butler. Hopefully he can build on that and become the aggressive player he was in high school.
These things can be expected from a freshman in a leadership role, such as the point. He will get better.
Update: It wasn't a special night for Paige, but I do see him getting more comfortable with the offense. It's good news to see steady improvement, even if he isn't there yet.
He only scored six points off two treys, to go along with his two assists. He did only play 16 minutes, but Luke Davis put up better numbers in only 14 minutes of action.
In this case, Paige's grade stays the same.
Grade: C+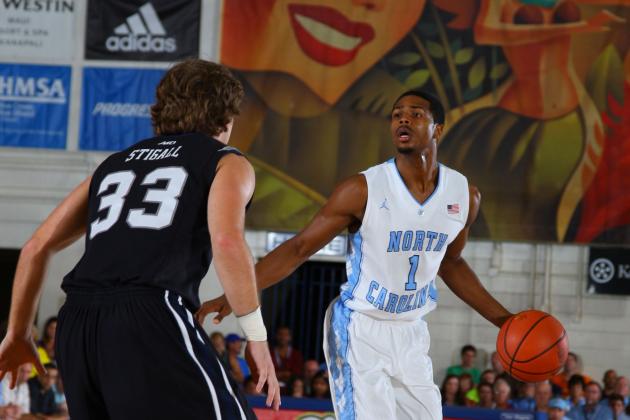 Brian Spurlock-US PRESSWIRE

Updated Stats: 8.3 PPG, 41.7% FG, 20% 3PT, 44.4% FT, 2.3 RPG, 2.3 SPG, 3 APG, 0 TOPG, 22.7 MPG
For the most part, Dexter Strickland had a really impressive run in Maui.
His defense was stifling, especially against Mississippi State. Dex managed to snatch six steals in just 19 minutes of action.
Though he didn't pick up any against Butler, he was still disruptive. It's tough to ever question his defense.
I was also impressed with the way he got to the basket in the waning minutes of the would-be blowout by Butler. He was one of the key players who kept them in the game with his penetration.
That's the stuff the Tar Heels need more of.
What they don't need is Strickland trying to light up the arc. He attempted five three-pointers over the course of two games, and this simply isn't his strength. He was only able to sink one of them.
Should he ignore three-pointers all together?
No, he shouldn't. That's a way of keeping the defense honest. But he needs to wait for good looks before he pulls the trigger.
Strickland isn't going to bury threes very often, much less contested ones. He was 16-of-67 over his previous three years and has already attempted eight of them this season.
Overall, I like the way he played. He just needs to lay off those threes.
Update: Dexter Strickland had his typical game last night. He finished with eight points, four assists and one steal.
I'm happy with the fact he didn't take any threes this time, and he did provide some penetration. Unfortunately, he was 0-for-3 from the charity stripe.
Dex is a force on defense, but hasn't really made himself a threat on the offensive end. With all of the talented wings that can score, I'm not sure if Strickland should be the one starting.
That's tough to say because he is a fan favorite. I love his heart and leadership, and the fact he is a senior coming off an ACL tear makes it even harder. But if the Tar Heels have trouble scoring, he becomes a liability.
On the other hand, he does provide that spark on defense and transition. It's really a tough call.
Missing his free throws cancels out not shooting any threes. His store stays the same, too.
Grade: B+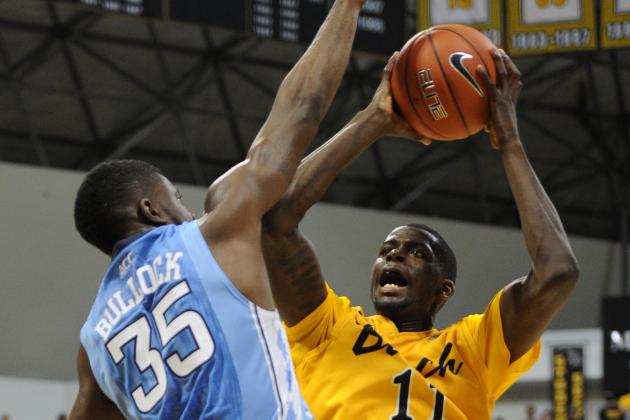 Kelvin Kuo-US PRESSWIRE

Updated Stats: 15.3 PPG, 60.7% FG, 60% 3PT, 100% FT, 4 RPG, 2.3 SPG, 4 APG, 0.7 TOPG, 25.7 MPG
Reggie Bullock was pretty much as good as those stats indicate. He struggled a bit more against Butler, but he was still one of the more reliable players in Maui.
Bullock was 6-of-11 on threes and did a great job facilitating the offense. My only complaint is that he still isn't being aggressive on the offensive end of the floor.
He attempted a total of 19 shots over those two contests, and 11 of those were threes. I don't want to see him back down on threes, but he should be one of the guys driving to the basket or taking some mid-range jumpers.
Right now he looks like a three-point specialist, but Bullock is capable of being much more than that. That was his role the first two years, with Harrison Barnes at small forward. Now he needs to grab the reins and become the go-to guy.
On defense, Bullock was incredible. He has really come a long way since about midseason last year. Right now, he makes a pretty tough argument as to who is the best defender between Strickland and himself.
Update: Reggie Bullock continued his dominant performance in Maui against Chaminade.
He scored 11 of the team's first 20 points last night. In that four-minute span Bullock was 3-of-3 beyond the arc, while picking up one steal and one rebound.
Bullock finished the game with 17 points on 7-of-9 shooting, six assists, three rebounds and two steals over 25 minutes. He also drove to score and open looks for other guys. At times, it almost looked like he should be the point guard.
As I labeled him in the preseason, Reggie Bullock is my go-to guy.
His grade went up from the "A" I originally gave him.
Grade: A+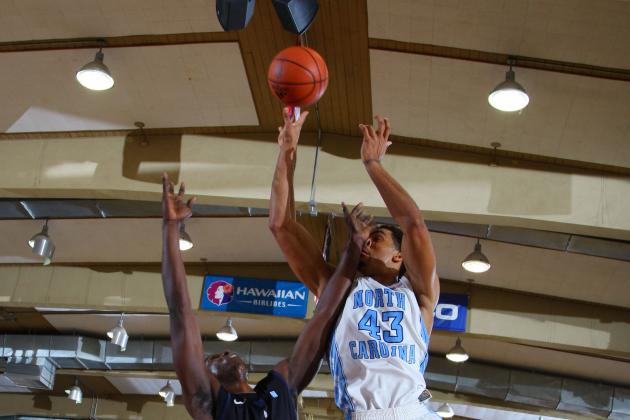 Brian Spurlock-US PRESSWIRE

Updated Stats: 12.7 PPG, 54.8% FG, 80% FT, 6.3 RPG, 2.3 SPG, 0 BPG, 1.7 APG, 4 TOPG, 25.3 MPG
Perhaps I was a little quick on the draw with my praise of James Michael McAdoo last week.
Some may say he didn't have enough shots, but that is partially due to his 11 turnovers. McAdoo was physically outplayed by his opponents, which is one of his drawbacks I mentioned in my preseason analysis.
It seemed he was more physical in his first few games, but then again, he wasn't facing the toughest of opponents. Against Butler, the ball seemed to pop out his hands more times than not when he was given the feed in the post.
McAdoo rarely had proper position for the rebound and was one of the guys having to just tip it out and hope for the best.
The wise shot selection I raved about against FAU was lost in the trip to Maui. He was back to putting up any shot possible, and at times it was very ugly—especially the contested scoop shot against Butler that missed the rim by a good foot.
I can't put it all on McAdoo, though. He didn't take a single free throw against Butler, even though he was getting fouled on the regular. It was pretty ridiculous.
But the fact remains he needs to find a mean streak. I don't care if he has to picture me as his opponent—he needs to get physical one way or another. Otherwise, he will be man-handled in ACC play.
Obviously, the lack of physicality brought similar issues in the defensive post.
As usual, his passing was excellent. He is a great facilitator from the post, which is something I like to see from the bigs. We'll forget about the in-bounds pass that sailed past Bullock while they were mounting a comeback.
McAdoo was also able to snatch up his typical steals, and finished off most of them with a coast-to-coast jam.
Overall, his performance was very disappointing from a guy who is supposed to be the star of the show.
Update: It's like night and day when James Michael McAdoo isn't getting banged around.
McAdoo slowed down a little last night, not trying to make something happen as soon as he got the ball in his hands. He shot 8-of-12 from the floor, pushing his field-goal percentage in Maui above 50 percent—where bigs should be.
He also only had one turnover against Chaminade, which was his lowest total of the season. In his previous five games, McAdoo was averaging 4.4 turnovers per game.
Though he didn't get to the line as much as I'd like, he did come out of Maui 4-of-5 on his free throws.
I won't be sold again until he performs like this against Top-25 opponents, but it was a promising step in this young man's development.
McAdoo's grade is up from a "C-."
Grade: B-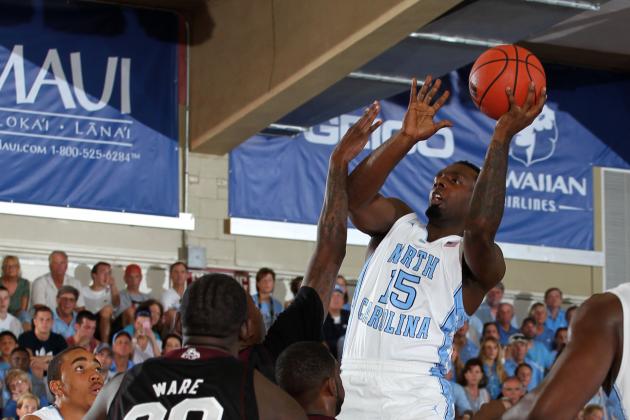 Brian Spurlock-US PRESSWIRE

Updated Stats: 14.3 PPG, 45.2% FG, 40% 3PT, 87.5% FT, 4 RPG, 1.3 SPG, 1 BPG, 1.7 APG, 0.3 TOPG, 16.7 MPG
Of all the players, I was most impressed with P.J. Hairston.
Just look at the numbers he was able to compile over just 18 minutes per game. Hairston's confidence is steadily growing, and that is made obvious by his play on the court.
He has played at the top of his game for the last three games and has become the most efficient player on the team.
Not only did Hairston bury 6-of-15 three-pointers, but he also displayed his ability to get to the rim in the final minutes of the Butler game. If there is anything I can knock Hairston for, it's not doing enough of that.
With his strong body and ability to put the ball on the floor, he needs to be one of the guys getting in the paint, too.
His defense has also been excellent, constantly disrupting the flow of the opposing offense with his physicality, good footwork and great hands. He still has room for improvement here, but I'm seeing a pretty high ceiling for Hairston on both sides of the court.
It would be remiss of me to not mention the 65-foot buzzer-beater to end the first half against Mississippi State. It wasn't even a heave; he stroked it like he was 25 feet out. Hairston literally shot it from MSU's three-point line.
From what I've seen thus far, P.J. Hairston needs to be the one starting at the 2.
Update: I still feel the same about P.J. Hairston. This guy needs to find his way into the starting line-up. He continues to impress me with every game he plays.
He had four assists, three steals and 10 points last night, over just 14 minutes of action.
That's just a complete game, and I think he is the second-best all-around player on this team behind Bullock.
P.J. Hairston already had the highest grade possible, so there is no improvement here.
Grade: A+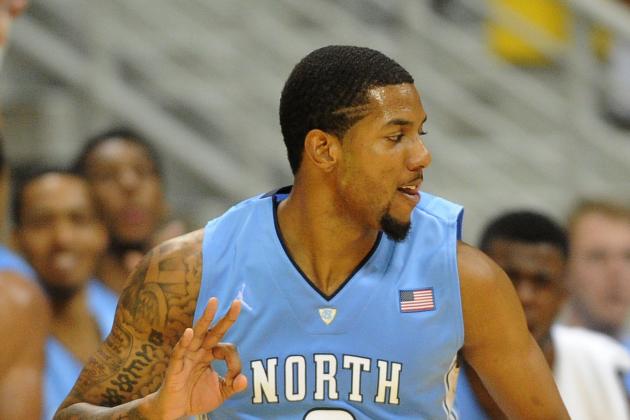 Kelvin Kuo-US PRESSWIRE

Updated Stats: 13.7 PPG, 51.8% FG, 52.6% 3PT, 75% FT, 2 RPG, 0.3 SPG, 1.7 APG, 1.3 TOPG, 17.3 MPG
Excluding Hairston, Leslie McDonald was the most impressive player coming off the bench for the Tar Heels in Maui.
In just 19 minutes against MSU, L-Mac lit up the scoreboard with 21 points—the most of any Tar Heel over those two days. Most of that came from his 6-of-9 shooting from downtown. He was also 1-of-2 from there against Butler.
His defense was solid, and he dished out three dimes. McDonald has definitely improved since the last time we saw him in 2010-11. But I like the upside to Hairston just a little bit more, so that's why I wouldn't have McDonald starting in this line-up.
He should definitely be one of the first off the bench, though.
Update: Leslie McDonald was sitting on the last slide with the rest of the bench, but I decided he should get his own after his 17 points against Chaminade.
Not only did McDonald bury three more treys, he also penetrated and was able to get to the line. He even completed a three-point play off a dish from Luke Davis.
His defense was great, too. He only had one steal over those 18 minutes, but he took that one coast-to-coast for a layup. He's not a big-time playmaker on either end, but he is invaluable to this squad.
For the seventh man, he's about as good as it gets. Given his skill set, he is playing at his highest level. His grade goes up from an "A."
Grade: A+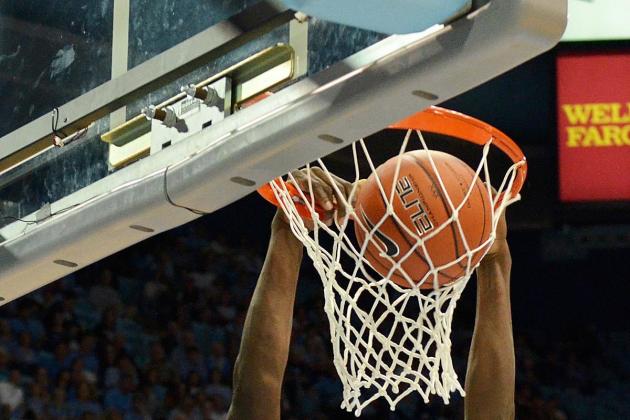 Rob Kinnan-US PRESSWIRE

It's tough to get an accurate depiction of any of these individuals because of the way Roy was rotating them.
As I said before, Desmond Hubert started both games, but he didn't tally the most minutes. He looked pretty good over his 17 minutes against MSU, going 3-of-3 from the floor and swatting two shots. However, he had trouble positioning himself, which led to only two rebounds in 22 minutes of play in Maui.
Joel James makes his share of rookie mistakes, so I could see why he isn't starting—if there was a better option. In my opinion, there isn't and he should be racking up more minutes than he has been.
James is 2-of-4 from the floor and has eight rebounds over 30 minutes of action. He didn't play outstanding against Butler, but the Tar Heels desperately needed his physicality. Roy chose to play him in short spurts, where he never could get into a flow.
I feel like James hasn't been in the game for even a five-minute stretch the entire season. Of course he is going to make mistakes like that. He never has a chance to get in a rhythm.
Brice Johnson has also seen his share of minutes at the center position.
While I love what I see from Johnson, he simply isn't a center right now at his weight. He got banged around pretty hard against Butler.
Johnson is a true power forward, and that should be his primary position. I have no problem with him spelling James to get extra minutes, but he should mainly be used as McAdoo's backup.
This guy plays with tremendous intensity and athleticism. At times, he gets a little ahead of himself, but he will get better with time.
In Maui, Johnson was 4-of-9 shooting and had nine rebounds over 26 minutes.
Overall, it was a poor performance from the center position on this trip. But it's hard to get in a flow when they are in and out every two minutes.
Update: Brice Johnson played an excellent game in his first start with the Tar Heels.
Over his 19 minutes, Johnson scored 16 points on 7-of-9 shooting. He also had four rebounds, two steals and two blocks.
Four rebounds is a little low, though, and this was against a much smaller team than he will be facing down the road. It's a shame he doesn't have Joel James' frame.
James struggled a little bit on defense, and hasn't been quite as intense as I was expecting. That may come when he doesn't have to think about what he's doing.
In 17 minutes, James snatched 6 boards, one steal and one block. He also scored four points on 1-of-1 shooting from the floor and was 2-of-2 from the line.
It was a decent game for James, but I'm not sure it was enough to convince Roy to start him. I still would, though.
It would appear Coach Williams has given up on Desmond Hubert. He only played six minutes against Chaminade, and just 10 over his last two games. He just hasn't been as effective as the other guys.
Their grade goes up from a "D+."
Grade: C+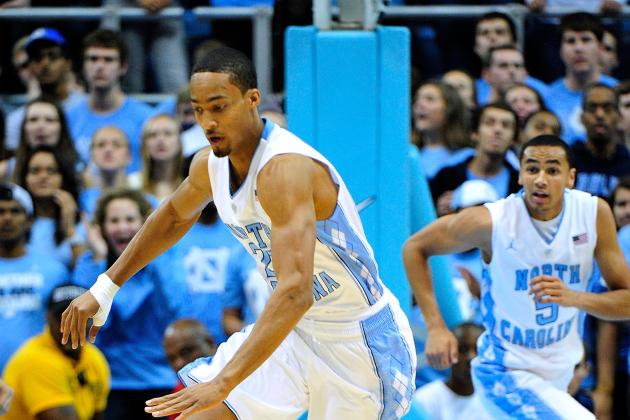 Grant Halverson/Getty Images

J.P. Tokoto got 20 minutes off the bench in Maui. Like the centers, it was only in small spurts.
He did show he's a pretty impressive rebounder with those ups. He's rarely in good position, but he can leap over players and snatch it from behind without touching them.
Tokoto was also brought into the game to help with the press defense. He looked really good for a freshman on the deep bench for Carolina. He will be a great defender when he adds some beef and a little experience.
Luke Davis provided some solid defense for the 13 minutes he played. He controlled the offense well, too, Decision-making has been an issue with him in the past, but he seems to be much more cerebral than he was at Gardner-Webb.
However, he isn't a playmaker on either side of the ball. He'll be sent in to get things under control, but I don't expect Roy to quit on Paige just yet.
Jackson Simmons always provides solid minutes off the deep bench. He also plays smarter now, and his intensity and hustle is great. Like Davis, he just doesn't have that "it" factor.
For being the 11th and 12th guys, Davis and Simmons are pretty impressive. You can't knock depth like that.
Update: Tokoto, Davis and Simmons had an amazing game against Chaminade.
Starting with J.P. Tokoto, his numbers don't tell the whole story. He only had four points, four rebounds, one block and two assists. But that was over 15 minutes, and that isn't too shabby for a freshman this deep on the bench.
He was also much more disruptive on defense than the stat lines indicate. So far, this remains the most impressive part of his game to me.
On top of that, Tokoto buried one of his first two three-point attempts of the season. He has a great stroke and lift, so I'm sure we will see more of this as he progresses through his career in Chapel Hill.
Luke Davis was pretty impressive, too, dishing out seven dimes and only turning the ball over once. He also knocked down a three, and is 2-for-2 on the season.
Davis won't drop a three unless he's wide open, but he has made both of them count.
Jackson Simmons wasn't playing against the best Chaminade could offer over most of his seven minutes, but he had a strong game nonetheless.
He was 2-of-2 from the floor and snagged one rebound and two steals.
Benches don't get much deeper than this. These guys deserved my adding a "+" to their grade.
Grade: A+