3 Ways the Buffalo Bills Can Utilize Team's Talent to Spark a Winning Streak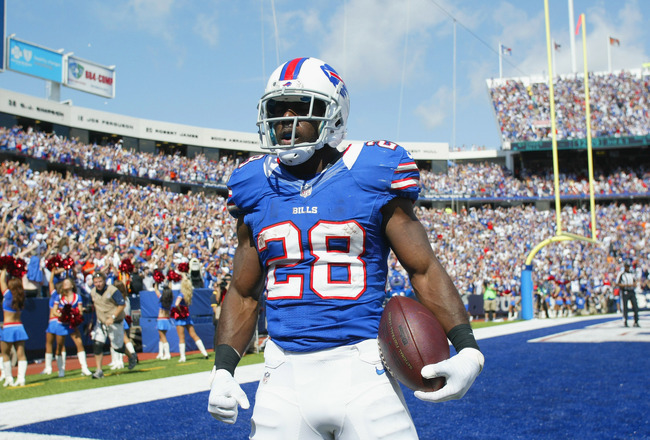 Bills running back C.J. Spiller.
Rick Stewart/Getty Images
The Buffalo Bills showed plenty of fire in their 19-14 victory over the Miami Dolphins. They proved there is a way to use the team's talent to spark an undefeated streak to put them in position for a spot in the playoffs.
Defensive tackle Kyle Williams told Bills reporter John Murphy that he believes their big win over the Dolphins was the spark the team needed.
I feel like we've had really good preparation the last three or four weeks. Even the bye week when we practiced leading up to Houston and New England, fell short a couple of times. We finally came out and won a game last night. I think it's an affirmation of the hard work and the focus that we've had in practice.
Defeating Miami was a nice pat on the back for their hard work, but it could be more. It could be a big factor in a string of victories that could make them a playoff-contending team.
Here are three ways the Bills can utilize their talent to spark a winning streak.
Remember What They're Playing For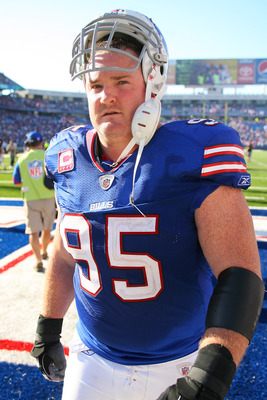 Kyle Williams knows how to rally the troops.
Rick Stewart/Getty Images
In that interview with Bill Murphy, Williams discussed exactly what he plays for when he takes the field.
I always make it a point that we know what we're playing for. Not everybody has an opportunity to do what we do. We have an opportunity every Sunday to see what we're made of. Every man that walks the earth doesn't get an opportunity to do that. He doesn't get a chance to look in the mirror every week and see if he has enough of what it takes to win football games. We get an opportunity to do that every week and that's a cool thing.
Williams is aware of exactly what he's playing for every day he takes the field. Murphy notes that Williams is a key person when it comes to hyping his teammates up before and after the game.
If that's the case, then Williams is instrumental in making sure the Bills know exactly what they're fighting for.
They've got a shot at making a postseason appearance this season but they're on the outside looking in. If they build off of the victory over the Dolphins, they have a good chance at making it to the playoffs.
The Bills have a lot to fight for. If they realize it soon, it might give their talent the edge needed to spark a winning streak.
Play to Their Offensive Strengths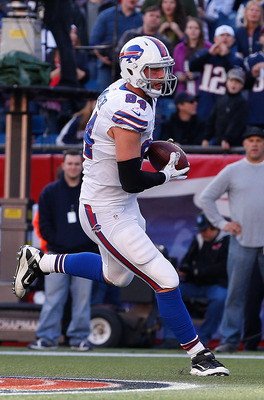 Bills tight end Scott Chandler.
Jim Rogash/Getty Images
Sure, they're only 4-6, but the Bills have a lot of strengths.
Ranked seventh in the nation, their running game is arguably their top offensive option. C.J. Spiller has been a standout player all season, running for a total of 723 yards and four touchdowns.
Fred Jackson has also caught the attention of fans. He hasn't shown the same rushing prowess as Spiller but he's certainly reliable. He averaged 5.5 yards per carry last season.
If he can hold on to the ball better, he'd have great contributions to the Bills.
The Bills' passing game isn't completely absent. It's not the best in the league, but it can get it done.
When the opposition locks down the running game, Spiller has shown the capacity to get open for passes. He's averaging 10.8 yards per reception thus far and has caught one touchdown pass.
Steve Johnson, Scott Chandler and Donald Jones are all excellent receivers, too.
Johnson leads the Bills with 581 yards with 47 receptions. Jones falls a bit short of Johnson with 391 yards in 34 received passes. Each man has received four touchdowns.
Scott Chandler has been truly impressive. He's averaging over 13 yards per reception and leads the team with five touchdowns in only 29 receptions.
The Bills' best bet would be to run the ball whenever possible. Their passing game should come into play once the opposition has allocated its defensive resources to stopping the rush.
Play Disciplined Football
Bills head coach Chan Gailey needs to make sure his crew refrains from drawing flags.
Thomas B. Shea/Getty Images
Discipline wouldn't have been a big discussion point prior to the Bills' Week 10 matchup against the New England Patriots.
However, the Bills have committed 25 penalties in their last two games. The surge of penalties is concerning.
After what we've seen the Bills do on both sides of the ball in the last two weeks, they could lose all momentum if they allow penalties to hold them back from coming out with a win.
They can't afford that. The Bills are very much on the fence as far as the playoff picture is concerned. They can't let mistakes cost them crucial wins.
The Bills are challenged by the Indianapolis Colts this week. The Colts lie right in the middle for penalties committed—earning just over six flags per game throughout the first 10 games of the season.
The St. Louis Rams are the Bills' only opponent left this season that have received more penalties.
It will be a tough challenge for the Bills to remain consistent in the strong aspects of their game while going out of their way to improve their discipline.
That said, it's what it will take for the Bills' talent to spark a winning streak.
Michael Prunka is a Bleacher Report Featured Columnist and Sports Writing Intern. Stay up to date with him by liking his Facebook page and following him on Twitter.
Keep Reading

Buffalo Bills: Like this team?