13 Reasons Kevin Youkilis Belongs Back with the Boston Red Sox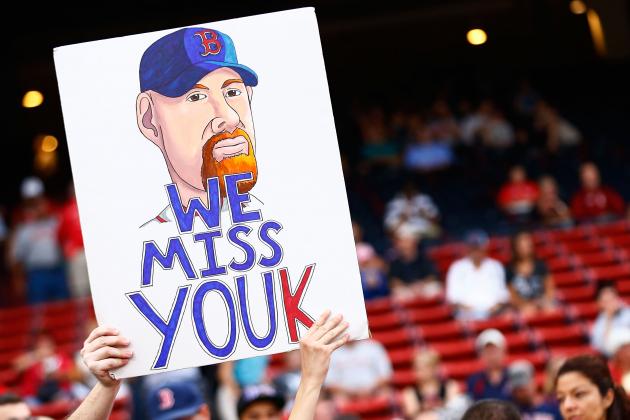 Jared Wickerham/Getty Images
Many Red Sox fans would love for their team to bring back Kevin Youkilis.
Kevin Youkilis did not have his best years in 2011 and 2012, putting up disappointing hitting numbers and landing on the Disabled List several times.
In 2012, he hit just .233 with four homers and 14 runs batted in in 42 games in Boston, and the third baseman hit .236 with 15 HRs and 46 RBIs in 80 games in Chicago.
However, he did hit .319 with four HRs and 18 RBIs in his first 18 games with Chicago.
Given his disappointing numbers in 2012, the White Sox did not pick up Youk's $13 million option for 2013, making him a free agent this offseason.
So, why bring back a player who hit so bad with Boston and Chicago in 2012 and below average in 2011?
Take a look for yourself to see the 13 reasons why the Red Sox should bring back Kevin Youkilis.
Begin Slideshow

»
Stephen Dunn/Getty Images
Adrian Gonzalez homered in his first at bat with the Dodgers on August 25.
Since Adrian Gonzalez, the team's first baseman from April 2011 to August 2012, was traded to the Dodgers, the Red Sox have an opening at first base entering the 2013 season.
Youkilis played more third base than first base in 2012, but he also can play the first base position.
With the emergence of Will Middlebrooks at third base, Youkilis can play first base in Boston, where he's played most of his career.
The Red Sox desperately need a first baseman for the 2013 season. Mauro Gomez is a great AAA player, but he is not an MLB-caliber starting first baseman.
Youk is one of the few first base options in the free agent market.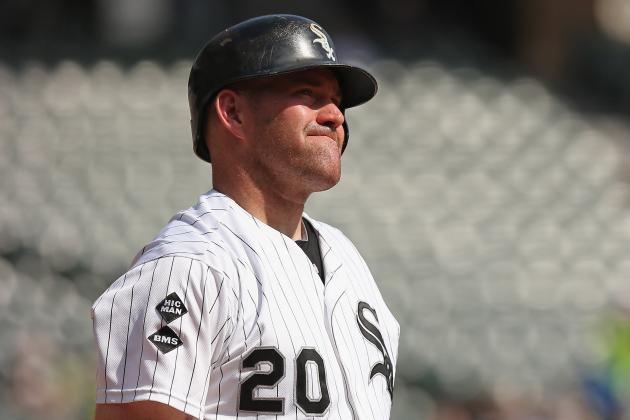 Jonathan Daniel/Getty Images
Given his disappointing 2012 season and 2013 option not being picked up, Youkilis will have to sign a cheaper, shorter deal this offseason.
Given the soon-to-be 34-year-old's lackluster 2011 and 2012 seasons, Youkilis will likely not sign an expensive long-term contract.
Jim Bowden, former GM and current ESPN Analyst, predicted that Youk will sign a two-year, $18 million deal this offseason, and he mentioned the Red Sox as one of the few teams in the hunt for the free agent.
If the three-time All Star signs a similar contract to that with Boston this offseason, the Red Sox would be paying Youk almost three times less than the team would have paid Gonzalez in 2013 and each season until 2018.
The Red Sox signed Youkilis to a four-year, $41.25 million contract in 2009, and he would be getting paid less now. He would also be less of a long-term commitment.
Since Youkilis will be a cheaper free agent signing, he will come with small risk and huge upside.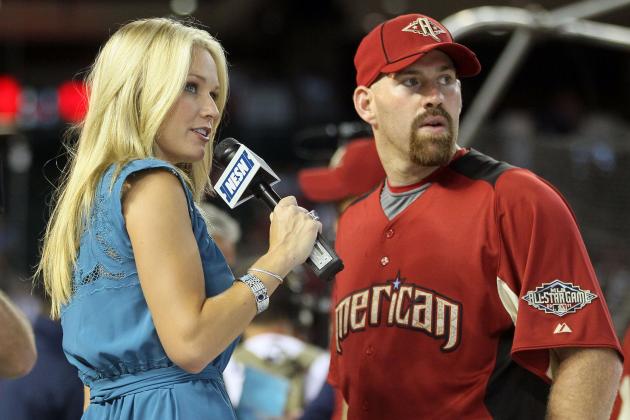 Jeff Gross/Getty Images
Heidi Watney interviews Kevin Youkilis at the 2011 All-Star Game.
The two-time World Series champion still put up some good numbers when he was healthy in 2011.
Prior to the 2011 All Star break, the third baseman had a .285 AVG, .399 OBP and .512 SLG percentage with 26 doubles, 13 HRs, 63 RBIs and 49 walks over 83 games. At the time, he ranked third in the MLB in doubles, fourth in OBP, sixth in RBIs, seventh in OPS and ninth in walks.
Youk did finish the 2011 season with a .258 batting average, which was a career low at the time. And, he also hit just .199 in the final month while he was injured.
His numbers were not impressive at season's end, but for more than half a season, Youkilis was an elite hitter in the league.
On top of that, he led all AL third baseman with a .967 fielding percentage at the end of the season.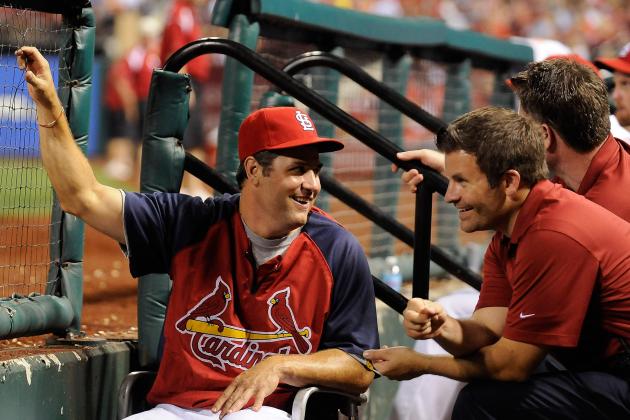 Jeff Curry/Getty Images
Lance Berkman was on the bench frequently in 2012, playingin just 32 games last season.
Lance Berkman? Really? Red Sox fans don't want to see that.
The Red Sox are one of several teams that have shown interest in Lance Berkman, according to the Houston Chronicle.
Berkman will enter the 2013 season as a 37-year-old who played in just 32 games in 2012 because he underwent two knee surgeries.
The potential first baseman did have a solid 2011 season, posting a .301 AVG, .412 OBP and .547 SLG percentage with 31 homers and 94 RBIs. However, that was 2011, and Youkilis has also recently struggled.
Unlike Berkman, who would play in his 15th season in 2013, Youk did not undergo two knee surgeries last season.
The long-time Astro also noted that he wants a two-year deal and is "waiting to be blown away by an offer," according to the story.
Berkman is better suited to be a designated hitter, not a first baseman in the place of a Gold Glove Award winner who is three years younger and much more versatile at the position.
The 36-year-old was once a bust in the AL East when he played for the Yankees in 2010, batting .255 and slugging .349. 2012 would likely be no different.
Youkilis is a more versatile, younger and better fit for the Red Sox than Lance Berkman.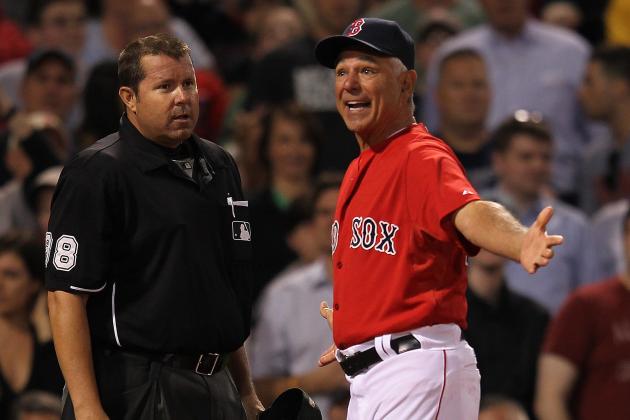 Jim Rogash/Getty Images
Kevin Youkilis will not have to deal with Bobby Valentine as the team manager if he were brought back.
Right at the beginning of the 2012 season, Youkilis did not get along well with the former Red Sox manager Bobby Valentine. There was turmoil between the two in just the first month of the season.
Valentine replaced fan and player favorite Terry Francona as the team's manager, and he openly criticized the third baseman in April.
In an interview with Channel 7, Bobby V criticized Youk and said, "I don't think he's as physically or emotionally into the game as he has been in the past for some reason."
Truthfully, the two-time MVP candidate did not put up regular MVP candidate-like numbers in 2011, and he missed many games in 2010. However, it was still wrong for the new manager to openly criticize a veteran leader and an integral part of the team.
Now that John Farrell has replaced Bobby V, Youkilis would be more likely to return to Boston and play for a manager who was once part of the system for several years.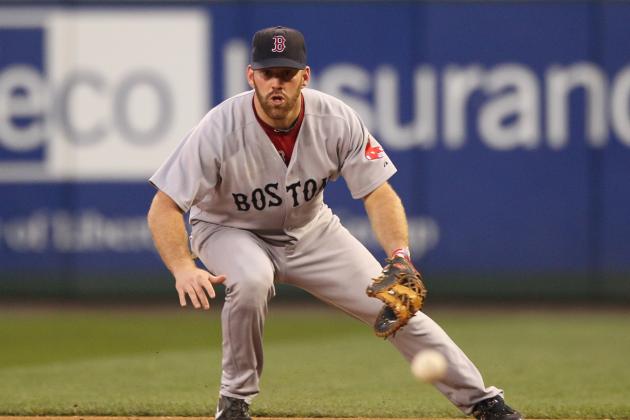 Otto Greule Jr/Getty Images
Kevin Youkilis won the 2007 AL Gold Glove Award at first base.
Youkilis is one of premier defensive infielders in the league, posting a career .992 fielding percentage.
Youkilis won the American League Gold Glove Award at first base in 2007. On top of that, he set two MLB records at first base in the following season.
From 2007 to 2008, the first baseman went 238 games without recording an error. He also holds the major league record for first basemen after fielding 2,002 consecutive chances without an error. That's an incredible streak which lasted almost two years.
Youkilis has the versatility to flash some leather at first base, but he also has the ability to hit better while playing first base.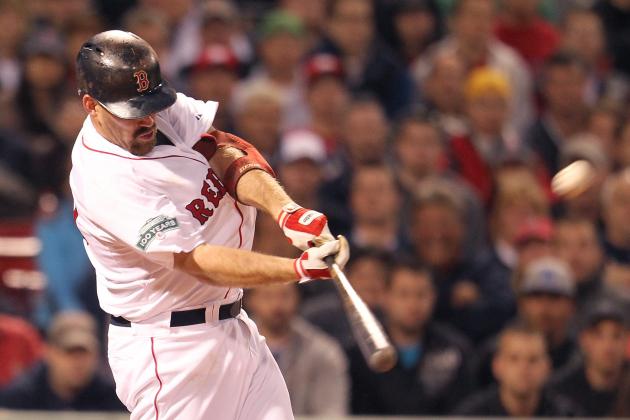 Jim Rogash/Getty Images
Kevin Youkilis' career hitting numbers are better when he plays first base.
Coincidence or not, Youkilis posts better offensive numbers while playing at first base, instead of at third base.
In 608 career games at first base, the 33-year-old has a .298 AVG, .396 OBP and .499 SLG percentage, while in 442 career games at third base, Youk has a .266 AVG, .369 OBP and .469 SLG percentage.
In 2012, in 26 games at first base, he had a .313 AVG, .421 OBP and .563 SLG percentage. In 111 games at third base, he hit just .226 with a .421 OBP and .390 SLG percentage.
Youk's numbers at first base last year were even better than Gonzalez's, who had a .306 AVG, .351 OBP and .478 SLG percentage in 151 games last year at first base with the Red Sox and Dodgers.
He may have only been a mediocre hitter while playing third base, but he certainly hit like the old Kevin Youkilis while playing first base.
Rather than play third base, Youkilis can play first base, which is a much less demanding infield position and where he hits better and has most of his experience.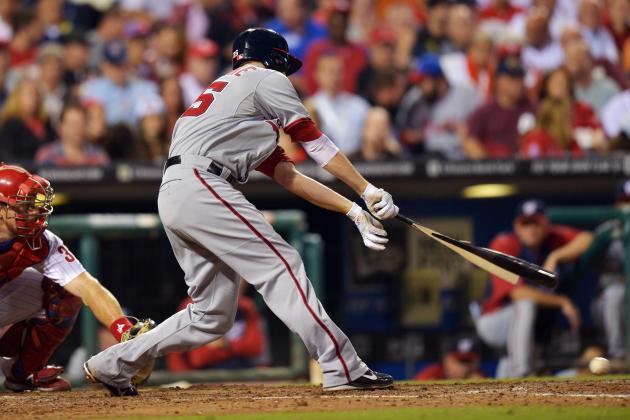 Drew Hallowell/Getty Images
Adam LaRoche struggled in the 2012 NLDS, going just 3-for-17 in the series.
Talk about a late blossoming. Also, talk about a great time to have a career year.
In 2012, the 32-year-old posted career high numbers in homers and runs batted in. He also had the second-highest OPS (.853) of his career, a total which Youkilis has eclipsed by at least 100 points three times in his career.
But along with 33 HRs and 100 RBIs, LaRoche had a mediocre .271 batting average. In the NLDS, he went just 3-for-17 (.176) against the Cardinals. His regular season numbers were certainly better than Youkilis', but he was also coming off a disappointing year.
In 43 games in 2011, the Nationals first baseman hit a mere .172 and slugged a low .258 with just seven extra base hits and 15 RBIs in 151 at bats.
LaRoche had a comeback season last year, so could Youkilis do the same in 2013?
LaRoche has played in the National League for all but six games in his entire career, and he'll likely stay there and sign an expensive contract for having a career year at 32 years old.
The Red Sox should save money by not signing LaRoche, who Jim Bowden predicted will sign a three-year, $36 million deal this offseason, but by signing Youkilis. The team should concentrate on utilizing its spending money toward other needs, including starting pitching.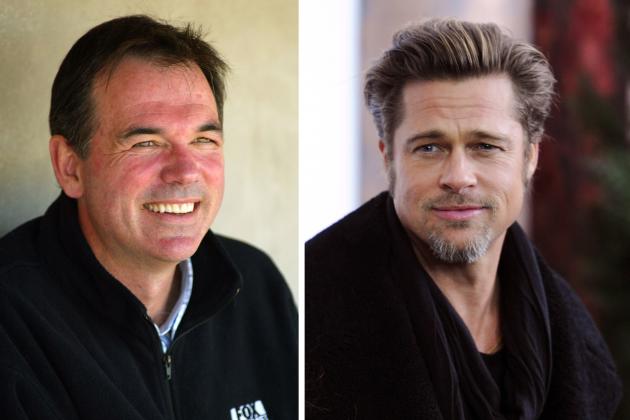 Christian Petersen/Getty Images
Billy Beane, played by Brad Pitt in 'Moneyball,' tried to trade for Kevin Youkilis.
Footage of a young Kevin Youkilis made the cut in the recent baseball movie "Moneyball." In the scene, Jonah Hill pointed out to Brad Pitt, who played Athletics GM Billy Beane, how patient Youkilis was at the plate in his younger days. The Moneyball book by Michael Lewis even pointed out that Beane tried to trade for Youkilis, but all attempts were rejected by former Red Sox GM Theo Epstein.
Youkilis isn't exactly a movie star for his role in "Moneyball," but he's certainly lived up to his title as the "Greek God of Walks" over his career.
In just 80 games with the White Sox, Youk walked 37 times and had an OBP 110 points higher than his AVG. From 2006 to 2011, he walked 433 times, an average of 72.2 times per season.
Youkilis also consistently had a high on base percentage from 2006 to 2011. He ranked 22nd (.373) in the league in 2011, would have ranked fourth (.411) in 2010 if he had more at bats, ranked sixth (.413) in 2009, ranked 15th (.390) in 2008, ranked 24th (.390) in 2007 and ranked 32nd (.381) in 2006.
Because he's repeatedly had a high on base percentage, the slugger has always ranked high up in the league in OPS. From 2008 to 2010, only Albert Pujols (1.074) had a greater OPS than Youkilis (.964).
Hopefully Youk's 2012 numbers were just a blip in his career that's repeatedly posted high on base percentages and slugging percentages.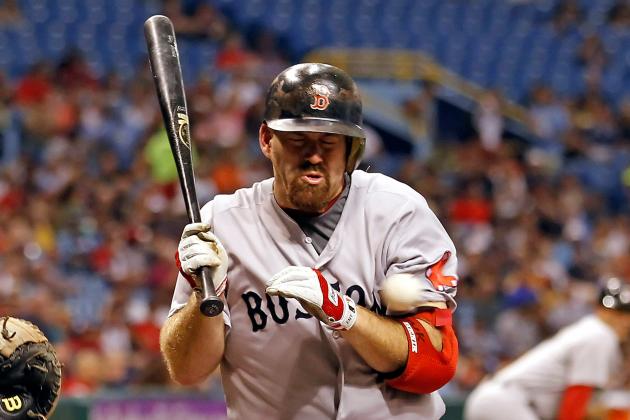 J. Meric/Getty Images
Kevin Youkilis was hit by a total of 84 pitches in the last six seasons.
Red Sox fans have always known and loved Youkilis for his scrappy nature.
He's a versatile infielder who's not afraid to dive for the ball, and he hustles for extra base hits while repeatedly diving and sliding into bases. Youkilis rarely has a clean jersey.
Youkilis' body has also been the target of many opposing pitchers. He's been hit by 84 pitches in the last six years, which is good for an average of 14 HBPs per season over that span. He ranked first in the MLB in hit by pitches in 2012, fifth in 2011, 17th in 2010, sixth in 2009, 13th in 2008 and ninth in 2007.
Sometimes, Kevin Youkilis will even yell at the opposing pitcher and charge the mound when thrown at on purpose. Notice the MVP chants before the at bat, and "YOUUUK" chants after the play in the video.
Dustin Pedroia defended Youkilis' work ethic and playing attitude in response to Valentine's criticism in April.
"I know that Youk plays as hard as anybody I've ever seen in my life," Pedroia said, according to WEEI. "I have his back, and his teammates have his back. We know how hard he plays."
Youk hustled out a triple in his final at bat with the Red Sox last season, and along with Pedroia, Red Sox fans and players would love to see his gritty personality and hustle come back to Boston.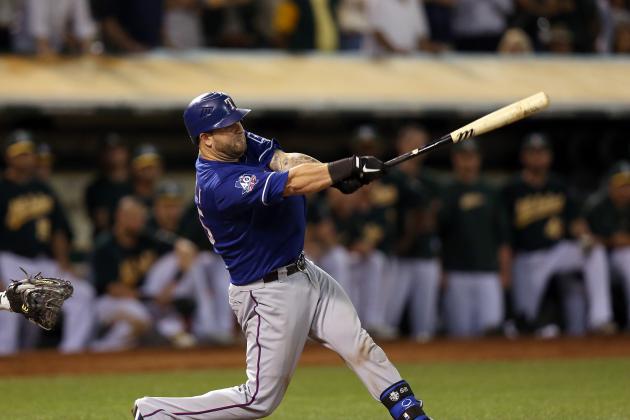 Ezra Shaw/Getty Images
Mike Napoli was 0-or-3 in the AL Wild Card game and just 1-for-10 in the final series of the season.
Like Youkilis, Mike Napoli had a disappointing 2012 season, and it was his contract year.
In 2012, Napoli had a .227 AVG, .343 OBP and .469 SLG percentage with nine doubles, 24 HRs and 56 RBIs. In only 14 games more, Youkilis had a .235 AVG, .336 OBP, .409 SLG percentage with 15 doubles, 19 HRs and 60 RBIs.
But yes, I did rank Napoli No. 2 on the list of "Top 10 Free Agent Signings the Red Sox Should Consider This Offseason," but he ranked just one spot ahead of Youkilis for his incredible dominance at Fenway Park over his career.
Napoli has a history of crushing the ball at Fenway Park. Last season, he hit .462 and slugged 1.231 with three HRs and eight RBIs in three games in Boston, and he has a career .306 AVG and .710 SLG percentage with seven HRs and 17 RBIs in 19 games at Fenway Park. Youkilis also has great numbers at Fenway Park over his career.
In 491 career games at Fenway Park, Youk has a .304 AVG, .400 OBP and .512 SLG percentage. In 2009, he also hit .326 and slugged .614 with 17 HRs and 71 RBIs in 74 games at home, which is comparable to Napoli's rate.
You can't deny Napoli's success at Fenway Park over his career, but at his rate, over a whole season of 81 games at Fenway Park, he would be on pace for an improbable 30 HRs and 72 RBIs.
Both players had disappointing 2012 seasons and have missed games in the last two seasons. Both players would also be great fits in Boston. Jim Bowden predicted both Napoli and Youkilis to each sign contracts for about $9 million per year.
Unless Napoli is willing to sign a one-year deal and have a second chance at a monster contract year, Youkilis is still a better free agent option.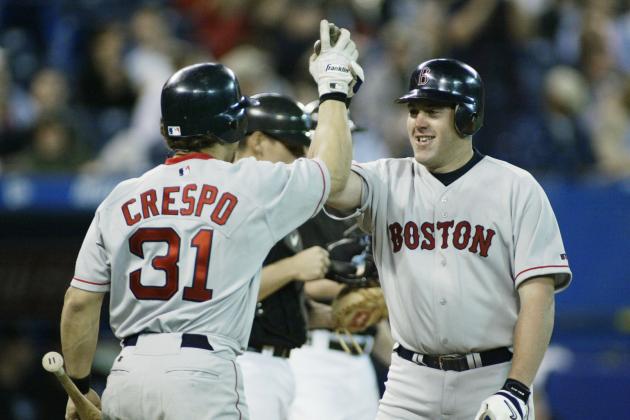 Rick Stewart/Getty Images
Kevin Youkilis had no facial hair when he homered in his first career at bat in May 2004.
The two-time World Series champion was drafted in 2001 and played nine professional seasons with the Red Sox from 2004 to 2012. He may have finished the 2012 season with the White Sox, but he should be brought back to the Red Sox again in 2013.
Youkilis made an immediate impact in his rookie season, and even homered in his major league debut. In May 2004, he was named the AL Rookie of the Month, batting .318 with 15 runs, four doubles, one homer, seven RBIs, nine walks and an incredible .446 OBP in 13 games. He did not play, but he was also on the roster of the 2004 World Series team.
The 2007 Gold Glove winner had a huge 2007 ALCS series, which helped lead a comeback against the Indians and the Red Sox to the World Series. In the seven-game series, he batted .500 with 14 hits, three homers and seven RBIs.
In the following two seasons, Youkilis was an MVP candidate. He earned the 2008 Hank Aaron Award for being the top hitter in the American League, after hitting .312 and slugging .569 with 43 doubles, 29 homers and 115 RBIs. In 2009, he also earned the Thomas A. Yawkey Memorial Award for being the Red Sox most valuable player, after hitting .305 with a .413 OBP, 99 runs, 36 doubles, 27 HRs and 94 RBIs.
One of his most memorable moments with the Red Sox was his walk off home run against the Yankees in the bottom of the 11th in April 2009.
Youkilis had several great seasons with the Red Sox, and he did not leave on bad terms, which is exactly why many Boston fans still miss No. 20.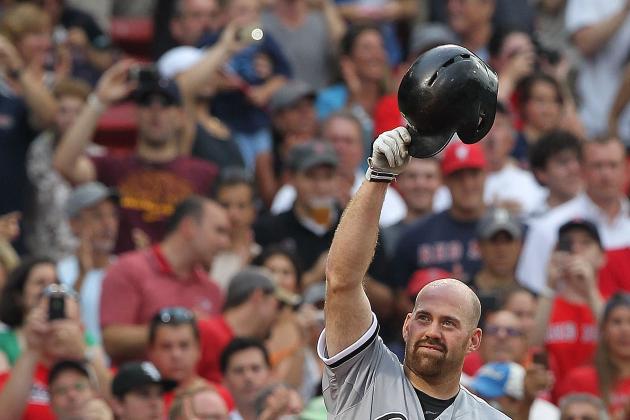 Jim Rogash/Getty Images
Kevin Youkilis received a loud standing ovation from the Fenway Faithful before his first at bat as an opposing player in Boston.
In Youkilis' return as a White Sox player to Fenway Park this past season, he received a loud standing ovation from Red Sox Nation. He appreciated the fans as much as the fans appreciated him.
"It was a great ovation and a cool thing by the fans," Youkilis said, according to ESPN Boston. "They've been great to me and I can't say thank you enough for the support they've given me."
Red Sox fans would love to bring back the "YOUUUUUUUUUK," chants and see his unorthodox batting stance. However, hopefully the team can replace Youk's old walk-up song, "Crank That Soulja Boy" by Soulja Boy, if he returns.
A few weeks ago, I even ranked him as the No. 3 free agent the Red Sox should consider this offseason. For a cheaper, short term price with an incredible upside, Youkilis is a risky, but great free agent first baseman the Red Sox should take a chance with and bring back this offseason.
He should return to Fenway Park in red socks, play his natural position at first base and re-wear his old No. 20 jersey, which some fans probably still have.
For nine seasons, Youkilis displayed a gritty personality, elite fielding skills and some great hitting numbers.
The Red Sox should rekindle the old flame and bring back Kevin Youkilis.