NHL Lockout: 8 Future NHL Stars Tearing Up the AHL During the Lockout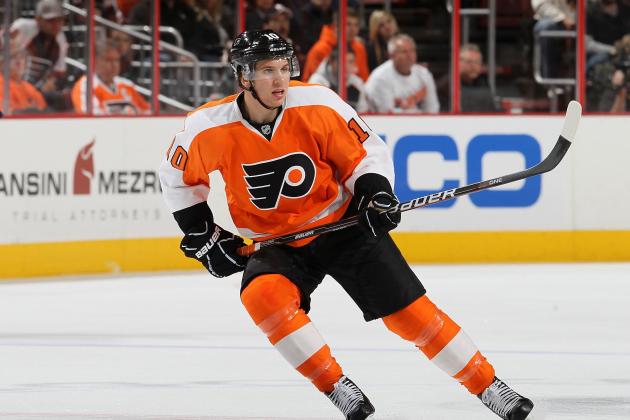 Jim McIsaac/Getty Images
Flyers' youngster Brayden Schenn has brought his skill and goal scoring to the AHL for the first two months of the season.
Jordan Eberle on the Oklahoma City Barons?
Justin Faulk on the Charlotte Checkers?
Brayden Schenn on the Adirondack Phantoms?
With North America's 30 biggest hockey markets currently out of service, many of the NHL's most promising youngsters have flocked to AHL teams in some off-the-beaten-path locations.
Cody Hodgson in Rochester, New York? Ryan Johansen in Springfield, Illinois? Indeed, it's hard to believe, but that's the strange reality of the ongoing 2012 NHL lockout.
Fortunately, however, many AHL-eligible prospects have taken advantage of the increased spotlight and somewhat sub-par competition to establish themselves as some of the NHL's best up-and-coming youngsters—that is, whenever the NHL begins to exist again.
We point out eight youngsters particularly shining in the minor leagues on the coming slides.
Begin Slideshow

»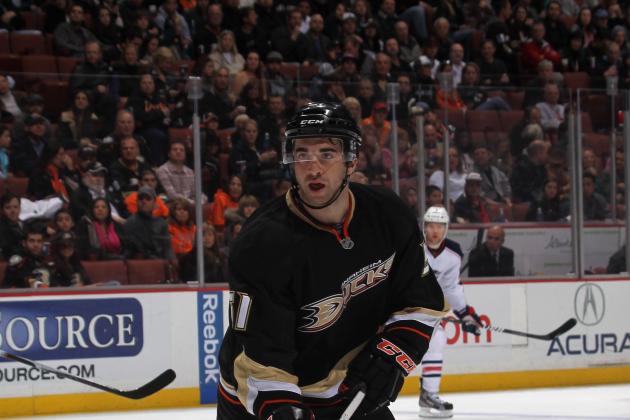 Bruce Bennett/Getty Images

After winning the Calder Trophy last year, the Norfolk Admirals lost their status as Tampa Bay's affiliate and, with it, their impressive chances for a title repeat.
However, the Anaheim Ducks were able to snatch up the Admirals as their new farm team, and they brought 2009 first round pick Kyle Palmieri along with them.
Palmieri has averaged almost a point per game over his AHL career, tallying 109 points in 113 games for Syracuse the past two seasons, but he's right on that pace this time around—his six goals and 14 points in 14 appearances ranks 14th in the AHL for now.
Although Norfolk's 7-7-0 record puts them merely on the Eastern Conference top-eight bubble, oft-overlooked Palmieri could have a big career ahead of him.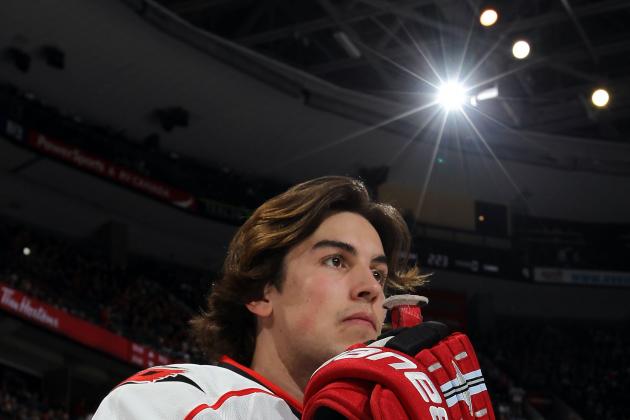 Bruce Bennett/Getty Images

Ten months ago, Justin Faulk was appearing in the NHL SuperSkills Competition. Eight months ago, he finished among the top 10, and second among defensemen, in the 2012 Calder Trophy voting.
Today, he's playing for the Charlotte Checkers.
Faulk has experienced a tremendous change in atmosphere since last winter, but it certainly hasn't affected his performance—the 20-year-old ranks second among AHL blueliners with 15 points. He's also posted a plus-seven rating in 13 games, a far cry from his minus-three mark in 12 minor-league starts last season.
Meanwhile, the Checkers, also loaded with Hurricanes prospects Zach Boychuk (15 points), Zac Dalpe (13 points), Drayson Bowman (10 goals) and Brett Sutter (12 points), lead the AHL in goals for (over 3.6 per game) and points (24 in 16 games).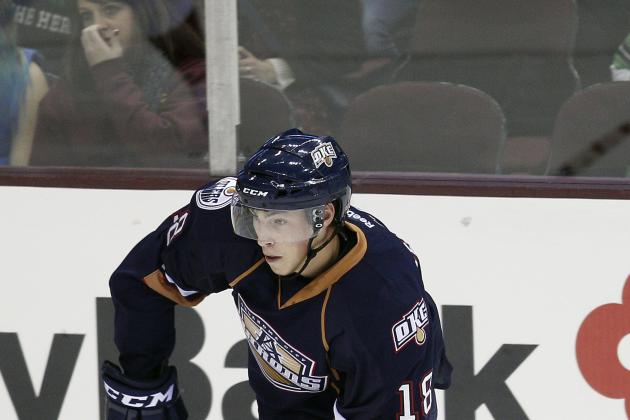 David Maxwell/Getty Images

Former first overall draft pick Ryan Nugent-Hopkins was expected to tear up the farm system on the mega-loaded Oklahoma City Barons.
So far, he hasn't disappointed.
The Calder Trophy finalist and 52-point scorer in the NHL last season has 17 points, including 10 assists, in just 14 appearances for the Barons this autumn.
So far, Nugent-Hopkins is proving that he may be the very best of Edmonton's three consecutive first overall choices—but, amazingly, he's not even one of the top two scorers on his team (see Eberle, Jordan and the last slide of this article).
Despite their youth and inexperience, the Oilers could be one of the Western Conference's most dangerous teams upon the lifting of the lockout curtain.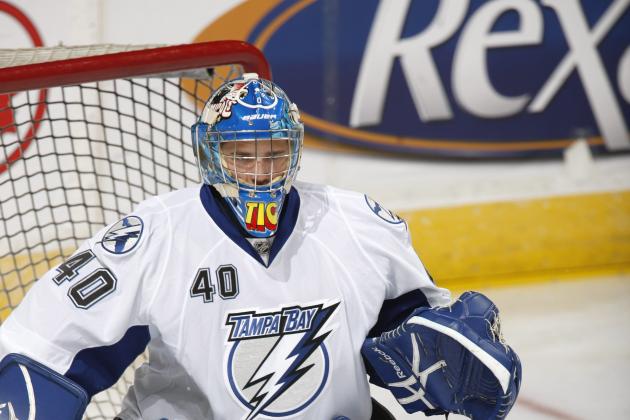 Dale MacMillan/Getty Images

For all of the attention that Panthers goalie prospect Jacob Markstrom receives, Dustin Tokarski has quietly slipped under the radar as the second-best young netminder in Florida.
Tokarski led the Norfolk Admirals to their AHL championship last year with a league-best 12-2 record, .944 save percentage and 1.46 GAA in the postseason. Now, this fall, he's at it again.
The 23-year-old former fifth-round pick is a whopping 7-1-1 for the Syracuse Crunch, including a .911 save percentage and below-2.00 GAA. The Crunch, meanwhile, are tied for first in the East with 22 points and the league's fifth-best goals-against average.
As Tampa Bay looks towards newcomer Anders Lindback as their next solution in goal, anticipate a stronger-than-anticipated push from Tokarski to win over the NHL starting job for himself.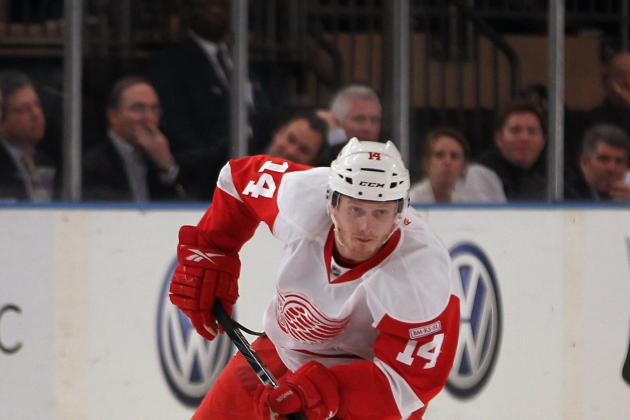 Bruce Bennett/Getty Images

A drastic turnover is soon in store for the Detroit Red Wings, as the post-Lidstrom era begins and youngsters Brendan Smith, Gustav Nyquist and even Adam Almquist take the reigns for the future of Hockeytown.
Despite all of Smith's hype, Nyquist has actually been the one dominating the AHL over the past six weeks. The 23-year-old Swedish forward has recorded eight goals, 17 points and a plus-eight rating over 14 games, leading the Grand Rapids Griffins in all three categories.
In fact, the youngster is managing to maintain the glimpses of greatness he displayed in 18 call-up games for the Red Wings last season, a consistency that could elevate him into the top tier of NHL-ready prospects. If you haven't already, Nyquist is certainly a name you should plan to hear again.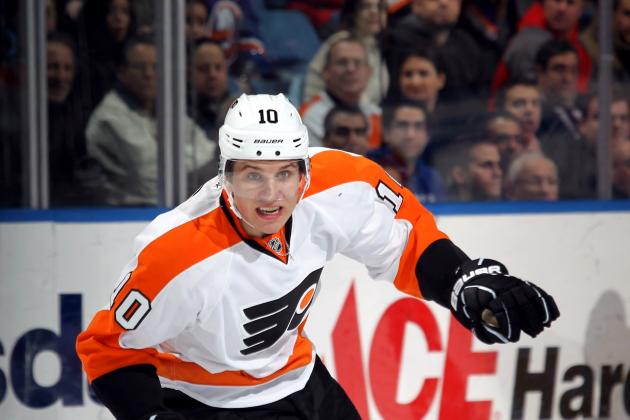 Bruce Bennett/Getty Images

The key Philadelphia Flyers' return in the Mike Richards-to-Los Angeles deal of 2011, former fifth-overall selection Brayden Schenn sputtered through an unexciting 54-game, 18-point regular season campaign to explode for nine points in 11 playoff games.
Now, Schenn is building upon that largely positive start to his NHL career with a very impressive developmental season in—of all places—Glen Falls, New York. The 21-year-old started off the season with a two-goal burst and has cruised into tied for third in the AHL with 17 points at the moment. Through 14 games, he's also yet to commit a single penalty.
When NHL resumes once more, Schenn will be joined by his brother and former Maple Leaf and Luke Schenn, who was dealt to the Flyers a few months before the work stoppage began. With familial chemistry and a well-rounded base of minor-league experience, expect a more impressive year-long performance from Brayden when he returns to the Wells Fargo Center ice.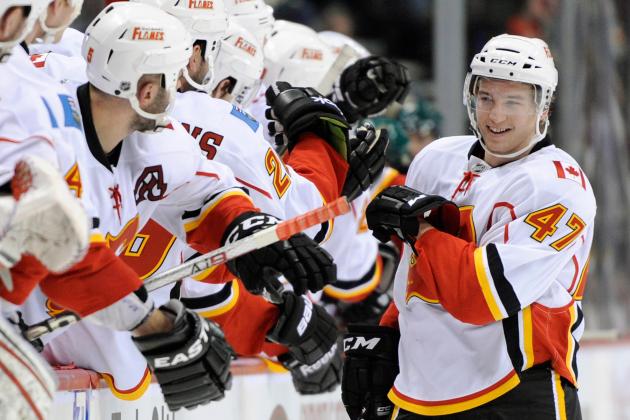 Hannah Foslien/Getty Images

Sven Baertschi's 14th overall selection in the 2011 NHL draft, ahead of highly-touted prospects Nathan Beaulieu and Oscar Klefbom, raised more than a few eyebrows.
This fall, conversely, the future Calgary Flame is quickly proving doubters wrong. The 20-year-old Switzerland native has six goals and eight helpers for 14 points in just 15 games, leading the dark horse Abbotsford Heat to a North Division-leading 10-2-3 record and 45-27 goal differential.
The winger had a jaw-dropping 94 points in 47 games for WHL Portland in 2011-12, so his soaring point total should be little surprise, but this hard to pronounce and easy to love youngster has still yet to receive all of the spotlight he deserves.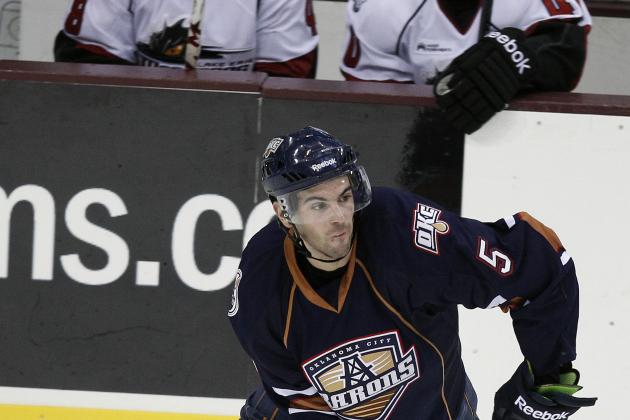 David Maxwell/Getty Images

Arguably the most heated free agent scramble for a non-NHL free agent in hockey history occurred this past June around Justin Schultz, a University of Wisconsin product whose second-round selection by Anaheim in 2008 never panned out into a signed contract.
Practically every team on the continent was after the heavily-hyped defenseman, but the youthful Edmonton Oilers emerged from the sweepstakes victorious and loaded with yet another talent-laden player in only his early 20s.
So far, their gamble on the unproven blueliner seems to be more than justified. Even from the blue line, Schultz leads the AHL with a stunning 21 points, two more than any other player and six more than the second-ranked defenseman (Justin Faulk).
Schultz also leads the Oklahoma City Barons in goals (eight), assists (13), power play goals (three), shorthanded goals (two), plus-minus (plus-seven) and shots (45). Meanwhile, the Barons have recovered from a surprisingly mediocre first month to climb to an 8-5-2 record and sixth-place slot in the Western Conference.
Was Schultz over-hyped? We think not.