Ranking Every Pro Wrestling Video Game for the NES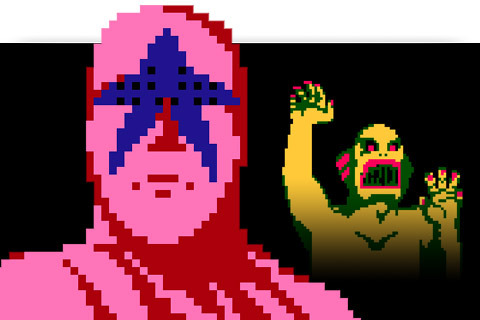 photo from ign.com
The button-mashing, 8-bit glory that was the Nintendo Entertainment System featured a number of pro wrestling games. These titles ranged from awful to awesome.
Wrestling's popularity boom coincided with the rise of the home video game system. With the NES becoming the prized possession for many a boy and girl, it was only natural that WWE would find a way to cash in.
Hulk Hogan and Co. were all over that console, but they weren't alone.
Fictional wrestlers fought in separate games, all trying to funnel the excitement of the wrestling ring to a TV screen.
Which games got it right and which games clawed at gamers' eyes and ears? Blow the dust out of your cartridge, press start and let's find out.
Begin Slideshow

»
Bandai-1986
Wrestling games have two choices when it comes to stocking their virtual roster. They either have to pay for the right to use wrestlers fans already care about or create new ones that fans will come to care about.
M.U.S.C.L.E. did neither.
The problem was that the game was based on Japanese action figures that were big in Japan but something fans in North America had never heard of.
Muscleman, Terryman and Ramenman just didn't gain a following outside of Japan.
It wasn't just the alien wrestlers that made M.U.S.C.L.E. a failure. Its graphics, game play and sound all contributed to making it this worst wrestling game ever.
Kevin Wilson on somethingawful.com gave the game a score of -49.
Aside from the wrestling ring surrounding the knight or viking characters, the game doesn't resemble wrestling at all. Moves consist of jumping and kicking, and that's it.
In Josh Kramer's review of the game on thunderboltgames.com, he wrote "cheap AI and unresponsive controls really limit the enjoyment of the title's single player mode."
M.U.S.C.L.E. has an Excitebike look, boxy with non-gradient colors.
For its time, though, they weren't the worst visuals in a game. It's the sound that really makes this an unbearable experience.
Every match is filled with bleeps and blips, but it's hard to hear over the annoying static. What sounds like a TV with no signal is supposed to be a roaring crowd.
While players try to stomp on their foes a la Mario squashing a goomba, glowing orbs offering special powers bounce into the ring. Get one and you'll be faster, stronger and possibly face a Wellness Policy violation.
The coolest thing about the game is the variety of ring types. Aside from the standard ring, gamers can have Muscleman battle Robin Mask in either an ice ring or an electric ring.
Data East-1983
Tag Team Wrestling can proudly claim to have inspired the Strong Bad character of Internet fame.
The Ricky Fighters took on the Strong Bads as many times as gamers could stand in one of the weirdest looking video games in NES' collection.
The graphics are understandably rudimentary, but witnessing the Daliesque physics of the wrestlers is a dizzying experience. The wrestlers walk with rubber legs and wave their arms unnecessarily.
The controls feature an awkward system where one button cycles through a list of moves. On the plus side, Tag Team Wrestling offered more moves than many of the 8-bit WWE-licensed games.
The biggest issue though is that the computer sometimes wants you to lose so badly, that nothing you can do prevent that inevitability. It's this element of that game that siphons one's enjoyment if there was any to be had.
Acclaim-1989
The second WWE-licensed video game ever didn't have to do much to surpass Microleague Wrestling on Atari and Amiga.
The excitement of being able to control the likes of Bam Bam Bigelow, Ted DiBiase, Hulk Hogan, Randy Savage and Andre the Giant made some of the game's flaws more bearable.
For its time, the graphics are decent. For the most part, the WWF WrestleMania wrestlers look like their real-life counterparts.
Even though the wrestler's movements include Fred Flintstone-style feet shuffling, it's not the graphics that held this title back.
That honor goes to the controls and lack of variety in game play.
Players smash buttons to get their user-controlled superstars to punch and kick and occasionally deliver a move from the top rope.
Every wrestler requires the gamer to press a different convoluted button combination just to go for a pin.
The game had a cartoon feel, utilizing power-ups that bounce into the ring. Bam Bam will hurry over to grab a ball of fire to recharge him, while The Hulkster gets repowered thanks to a bouncing crucifix.
As you get pounded by your opponent, you get increasingly redder, glowing like the victim of a radiation accident.
Playing in a tournament, especially with friends, was fun, but mostly because of the novelty of the big names in the ring, not the game itself.
Acclaim/LJN-1992
One of four WWE-licensed games for the NES, WWF WrestleMania Steel Cage Challenge was not nearly as good as it could have been, but it did feature a steel cage.
Gamers today may take that innovation for granted, but up to this point, all wrestling video games were limited to rings.
Huge stars like Undertaker, Bret Hart, Randy Savage and Hulk Hogan were joined by guys like I.R.S. and The Mountie.
WWF WrestleMania Steel Cage Challenge featured much better graphics than WWF WrestleMania; the movements looking far more realistic, the wrestlers more defined.
The amount of moves were still very limited, which can't strictly be blamed on the technology available. A few games appearing higher on this list boasted a much wider set of moves and were published before this game.
Acclaim/LJN-1993
There is very little difference between WWF WrestleMania Steel Cage Challenge and WWF King of the Ring which is not surprising as they were released just a year apart.
LJN replaced the steel cage with a King of the Ring tournament and tweaked the roster.
Much of the same wrestlers appeared in both games, but WWF King of the Ring added guys like Lex Luger, Mr. Perfect and Shawn Michaels.
A blue-toned crowd watches as you pit the stars from the era in matches that look a lot like the action in previous LJN WWE games.
The company did add a touch of customization to this title. Players could alter wrestlers' names and stats, but couldn't save these changes.
Besides, it seems the varying stat levels for the wrestler don't have much of an effect on how the wrestlers perform. Razor Ramon plays a lot like Hulk Hogan and vice versa.
There is no background music during the in-ring action. That gives more of a focus on the wrestlers' grunts and the excellent crowd sounds.
FCI, Inc.-1990
One of the best covers in early video-game history and the novelty of being the only WCW-based NES game likely lured in a number of fans.
In some ways, WCW World Championship Wrestling delivered, in others, it flopped.
Unlike the WWE games, the wrestlers' movesets reflected real life more. Players chose four moves out of a list of eight to go along with their finisher.
Boston Crabs and back body drops replaced the endless strikes of other games.
Although it was hard to tell the wrestlers apart once the game started, it was thrilling to be able to choose from Eddie Gilbert, Michael "PS" Hayes, Sting, Ric Flair, the Road Warriors, Kevin Sullivan, Ricky Steamboat and others.
The game's overall awkwardness comes from it being basically a repurposed version of the Japanese game, Super Star Pro Wrestling. There's more to making a game feel like WCW than replacing Giant Baba with Ric Flair, but FCI went the lazy route.
After you defeat all of the WCW guys, one last challenge awaits.
WCW Master (Andre the Giant in a Mask) remains from the Japanese version, ready to dominate.
Decent music and passable graphics are overshadowed by the frustratingly unresponsive controls.
Jim E. Dangeously on axebombermag.com summed it up perfectly when he said that the controls "have a sluggish responsive time and your CPU opponent is able to fire off rapid-fire kicks with the greatest of ease."
Acclaim/LJN-1990
Being the best WWE-licensed game for the NES isn't the greatest honor, seeing how the competition is so weak.
Matt Paprocki wrote on Digitpress.com, "Of the four WWF titles for the console, this is probably the most playable and entertaining."
Despite its flaws, WWF WrestleMania Challenge was a good game for its time.
An angled view of the ring gives the game more of a 3D feel. Some wrestlers look better than others.
Hulk Hogan and Randy Savage both look like the real deal, while someone like Rick Rude looks like a random transplant from a Double Dragon game.
You can play as those stars, Andre the Giant, Hacksaw Jim Duggan, Brutus "The Barber" Beefcake, Ultimate Warrior, Big Boss Man or a generic greaser-like wrestler who is supposed to represent all players as "yourself."
Honestgamers.com said of the game, "WrestleMania Challenge is still fun to pick up and play for a spurt or two. However, it's doubtful that you'll get more than 30 minutes of enjoyment out of it."
Nintendo-1986
Nintendo didn't need a WWE or WCW license to make a memorable, fun game. They created their own wrestlers like Starman, King Slender or The Amazon, a blatant rip off of The Creature from the Black Lagoon.
Pro Wrestling succeeded despite its visual limitations.
Yes, the graphics are pixelated and most movements look stiff, but playing the game, you get the sense that the developers loved wrestling and seemed to pour fun directly into the game.
The virtual wrestlers aren't just stomping their opponents, they're demonstrating showmanship, emoting and wincing in pain.
The game benefits from subtle touches like having a cameraman stand at the bottom of the ring.
Should you win a match, you're treated to a badly translated phrase that has gained a cult following in certain circles on the web, "A winner is you."
Notoriously difficult, Pro Wrestling has players defend their Video Wrestling Federation title 10 times in a row before facing The Great Puma. Getting to that virtual mountaintop isn't easy, but one of the most satisfying victories in video game wrestling.
There's a charm about the game that's difficult to define. It has a pioneering spirit pervading through it and a cast of compellingly odd characters.
Tecmo-1990
Far and away the best NES wrestling game, Tecmo World Wrestling best captures the feel of pro wrestling.
Well-designed wrestlers deliver powerbombs and brain busters. The flow of matches leads to fun gameplay.
The game delivers an experience beyond its technological limitations.
Choose a wrestler such as "Mr. Tattoo" Mark Rose or Julio Falcon "The Iguanaman" and work your way up the ranks to meet "The Earl of Doom" Blue King.
Tecmo World Wrestling features plenty of counterfeit versions of famous wrestlers. Most blatantly, the game has a character named El Tigre, who looks exactly like Tiger Mask.
The game also has wrestlers choose different training exercises, a subtle addition that adds a surprising amount of depth.
It is the most handsome of all the NES wrestling games and offers the biggest variety of moves, many of which look pretty darn impressive, 8-bits and all.
The matches are bolstered by text commentary appearing at the bottom of the screen.
This is the most complete package any wrestling fan is going to find on this system. It looks, sounds and plays the most like the sports entertainment event it attempts to recreate.