Chicago Bears Players Who Will Play Crucial Roles Down the Season's Home Stretch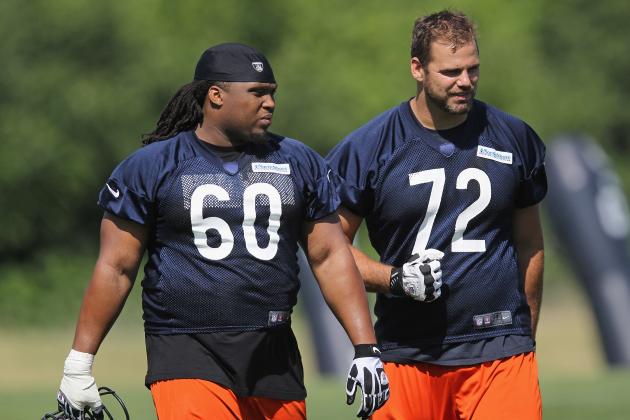 Jonathan Daniel/Getty Images

The Chicago Bears got punched in the mouth.
They were outplayed defensively, outcoached and "out-second-string quarterbacked".
Yeah, it sucked, but it was only one game, and the Bears will be better off because of it.
Now is not the time for panic, now is the time for the "Lovie Smith calm".
The Bears played on the road in a stadium they rarely win at, without their starting quarterback and most important player. The defense was awful—absolute garbage—but they've won a few games this season by itself and has had such a good run that it was due for a letdown. I'm not worried about them.
The Bears need to move on and focus on their next stretch of games so as to get a good seed in the playoffs, where anything can happen.
Here are some Bears players who are going to play crucial roles down the stretch.
Begin Slideshow

»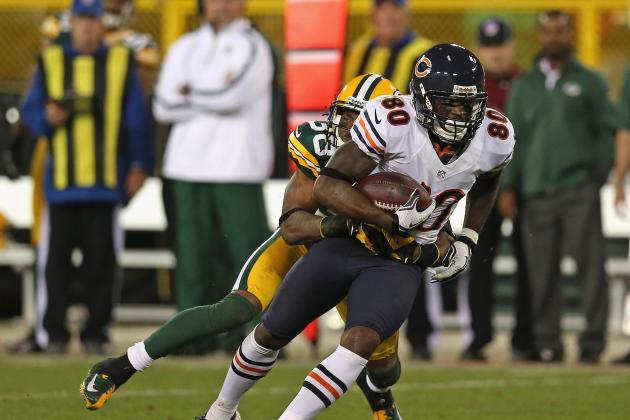 Jonathan Daniel/Getty Images

Brandon Marshall has 107 targets this season at wide receiver.
Marshall has three times as many targets as any other Chicago Bears receiver and almost four times as many catches. Opposing defenses are going to throw everything they have at Marshall to stop him from making plays and force other Bears receivers to beat them.
The three best teams the Bears have played this year have done the best job of this.
The Green Bay Packers, Houston Texans and San Francisco 49ers all slowed or shut down Marshall's production, and the Bears lost in all three games.
With constant double-teams and safety help shifting in Marshall's direction, I would expect and hope Earl Bennett would step up his production.
He hasn't.
Bennett has had flashes of quality play throughout his career, but it hasn't been there this season. He has 18 catches on 36 targets for a measly 183 yards and zero touchdowns.
In Bennett's defense, without a pass-catching tight end as a threat, opposing defenses are able to focus on stopping Bennett from catching balls "under" the defense in the middle of the field. He is, however, still getting favorable matchups against opposing team's nickel corners and safeties.
If the Bears are going to make a run, they will need production from Bennett's area of the field.
Bennett stringing together a few productive games could take some pressure off Marshall and Alshon Jefferey and open up more plays downfield.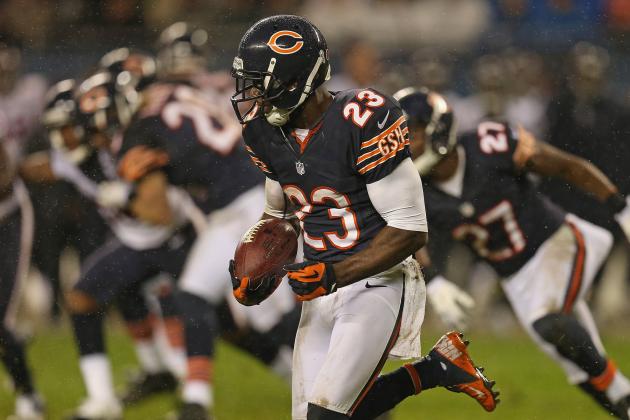 Jonathan Daniel/Getty Images

Devin Hester is a lost cause at wide receiver.
The only things being done by having Hester play on offense is to hurt his return production and hinder the development of "real" receivers, who are getting fewer reps because of Hester's presence.
It's time to allow Hester to specialize in the kick and punt return games again.
I understand this may not make a big difference, but he looks lost on offense and is doing more harm than good.
Why not take some pressure off him and let him rebuild his confidence in the return game. This can help get the Bears back to winning the field-position battle and spare their offense from constantly starting inside their own 20.
I think it's pretty safe to say the Bears don't have a potent offense, even with Jay Cutler starting. They will put up points against bad teams and struggle mightily against good defenses.
Chicago isn't efficient or smart enough offensively to play the "shootout" game with Green Bay, Atlanta or even San Francisco.
It's vitally important to play to your strengths in the NFL and to not do things you aren't capable of doing. Chicago needs good starting field position to shorten the field and make it easier on an offensive unit that struggles to put together 10-11 play drives.
Let Hester run kicks and punts back and have Chicago win some games with its special teams making a major impact again.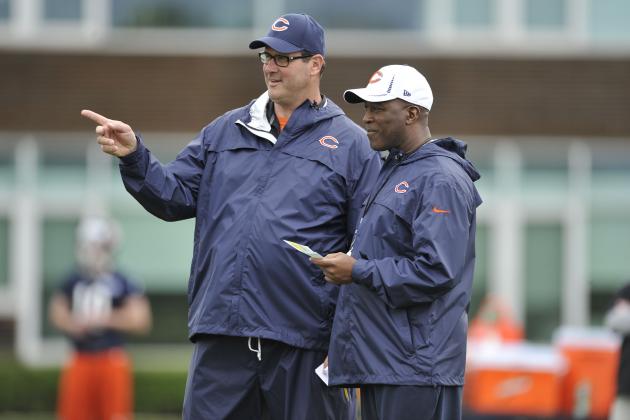 Brian Kersey/Getty Images

Yes, I do know that Mike Tice is not a player on the Chicago Bears.
What I also know is that Tice is going to have a massive impact on the rest of this Bears season. So far, I'm not sure Tice has done a good or bad job as the offensive coordinator and play-caller.
The way these next six games play out will be an indicator as to the kind of a job Tice does as a play-caller and coach.
One thing I do believe: Tice has done a good job putting together an offensive line with the talent he was given. The fact that he could develop those stiffs into a functioning NFL offensive line should put him in the running for a Nobel Prize.
No one expected Tice to transform the Bears offense and become Bill Walsh, but I have been disappointed with a few things he's done. I really thought the offense this season was going to be as physical as ever.
Run the ball, then run the ball again, then run it some more.
I thought the Bears would try and play to the offensive line's strengths. Run the ball and let the line run block and take control of the line of scrimmage early in the game to set up some longer developing routes later in the game. The pass rush would slow down as defenses schemed to stop the run, and the offense could begin utilizing play-action and roll outs.
I understand it's far more complicated to game plan against an NFL defense, but there are still some things that need fixing.
We've seen a lot of five-to-seven step drops in the first quarter, leading to early sacks and three-and-outs. The offense has started games so slowly and put the team's best area, the defense, in bad spots.
At this point of the season, all the offense needs to do is not lose the game.
For these last six games, play the field-position game. Run the ball and punt if you have to, let the defense make a play and give you a short field (if not score the ball itself).
This formula will need a few tweaks for the playoffs, but for now, that's what needs to be done.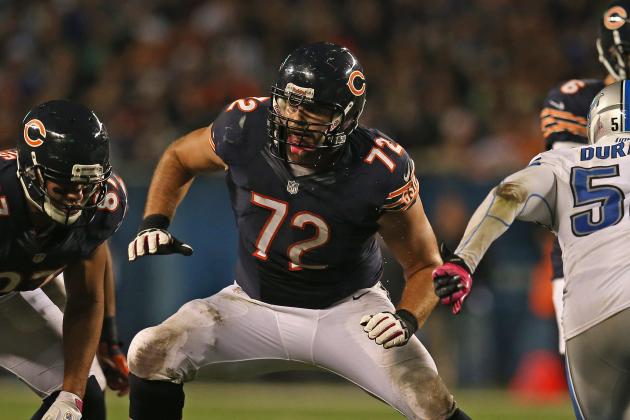 Jonathan Daniel/Getty Images

When the Chicago Bears drafted Gabe Carimi, I was disappointed.
I did not like the pick, and his recent struggles have validated my opinion's to an extent.
Carimi is practically in his rookie season—I understand that—but he hasn't shown anything at the tackle position. He is undersized and gets pushed around constantly.
He may not give up as many sacks as J'Marcus Webb, but he is also going up against significantly less-talented pass-rushers and has made more mistakes. I expect more out of a first-round pick, and if he doesn't step up, along with the rest of the Bears' offensive line, Chicago is in trouble.
The offensive line has been decent at times this season. They are capable of not screwing everything up, though, and if they can play just decent enough, the Bears can still win the Super Bowl.