Andre Ward and 3 Fights That Could Make Him the Fighter of the Year in 2013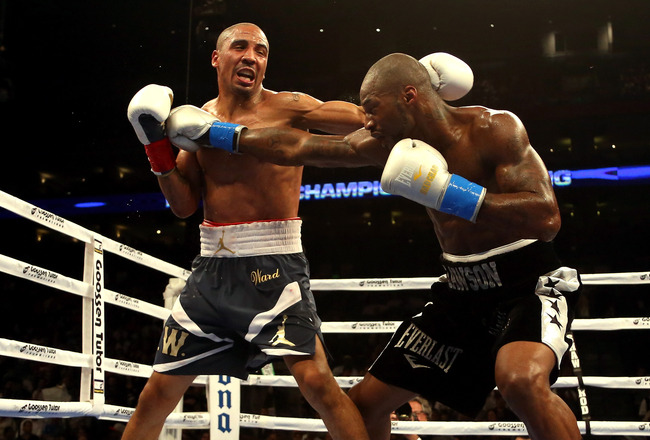 Andre Ward (left) in the midst of defeating Chad Dawson.
Ezra Shaw/Getty Images
Andre Ward has lost his crown in 2012. Ward was awarded fighter of the year in 2011 by an overwhelming dominant margin by numerous boxing authorities such as BWAA, Ring Magazine and ESPN.
Unfortunately, in 2012, Ward only fought one time, while the runaway favorite for 2012 fighter of the year, Nonito Donaire, will have four fights by year's end. Bleacher Report's Michael Walters outlines just how effective Donaire's 2012 campaign has been in a previous article.
Most of Ward's time spent on the sidelines was due to a hand injury, as ESPN's Dan Rafael reported in a previously. Now he's fully recovered and ready to be the talk of boxing heading into 2013. His first match is already booked, and the sky's the limit.
Here's Ward's path to becoming fighter of the year once again.
Ward vs. Kelly Pavlik on Jan. 26 in Los Angeles, California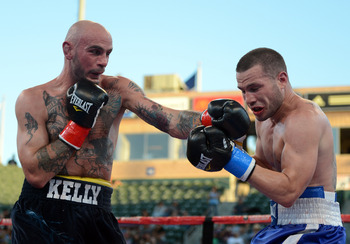 Kelly Pavlik (left) batters Rosinsky during his latest bout.
Harry How/Getty Images
Kelly Pavlik (40-2, 34 KO) has been through a host of world championship bouts, only coming up short against former pound-for-pound elite and Hall of Fame-bound Bernard Hopkins and current pound-for-pound great Sergio Martinez.
Both losses came at middleweight and now Pavlik has resurrected his career, going 4-0, 2 KO as a super middleweight. A win over Pavlik would be a great way to start off the year, but Ward can't sleep on Pavlik.
The Youngstown, Ohio native has fight-ending power and a penchant for turning fights around at the last second. Just ask Jermain Taylor.
Ward vs. Carl Froch II in Nottingham, England This Summer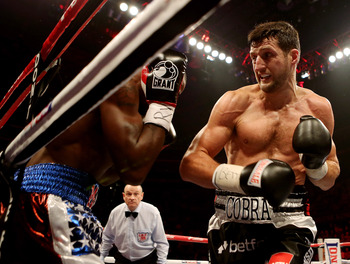 Carl Froch (right) bangs away at Yusaf Mack to end the fight in the third round.
Scott Heavey/Getty Images
Carl Froch (30-2, 22 KO) came into a super middleweight unification match with WBA kingpin Andre Ward as a celebrated WBC super middleweight champion.
He left Boardwalk Hall Hall in Atlantic City with no belt and the most one-sided loss of his career. Froch rebounded by knocking out Lucian Bute in five rounds to earn the IBF super middleweight title.
Froch was scheduled to face Bute in a contracted rematch in Bute's native Canada, but after seeing Froch demolish Yusaf Mack in just three rounds this past Nov. 17, Bute might not take the rematch.
If the rematch should fall through, Froch has been keen on getting Ward over to his homeland of Nottingham, England in order to exact revenge in front of his British fans.
Ward hasn't left the U.S. in over five years. The Guardian reports that Ward may be warming up to the idea of traveling to England to shut up the criticism that he won't travel to another fighter's home turf.
Ward vs. Jean Pascal in Montreal, Canada This Fall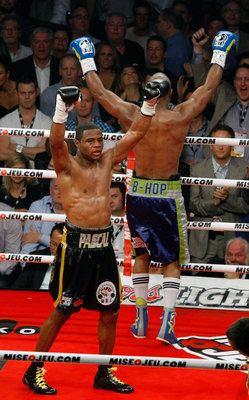 Jean Pascal returns to the ring for redemption.
Richard Wolowicz/Getty Images
Jean Pascal (26-2-1, 16 KO) is far from being officially back. He has a Dec. 14 tune-up against Aleksy Kuziemski and a rematch with Chad Dawson on March 23 for the WBC world title, according to ESPN and Ring Magazine, respectively.
Even with all that in consideration, Pascal's determination is what kept his fights with Hopkins and Froch very close and what allowed him to upset a less-hungry Dawson the first time.
If Pascal is still as hungry as he was the first time he beat Dawson, he can come out on top in the rematch. If so, then Ward has a perfect opponent to close out the year against.
Pascal's matches with Hopkins both occurred in Montreal, Canada due to the sold out 16,000-seat arenas such as the Pepsi Coliseum and Bell Centre. The rematch with Dawson will also occur in Canada for this very reason.
With Ward moving up in weight, facing a not only a fighter, but a resurgent world champion and former pound-for-pound warrior in Jean Pascal in his hometown, there may actually be a question as to whether he can win.
Every fight Ward's in lately, the result seems to be a foregone conclusion to the media and fans. Pascal presents a challenge that could at least cause some speculation as to how effective Ward can be in the least unfavorable of conditions.
For more on boxing and entertainment, follow me @justindavidtate.
Keep Reading