Pros and Cons of the Baltimore Orioles Potentially Signing Josh Hamilton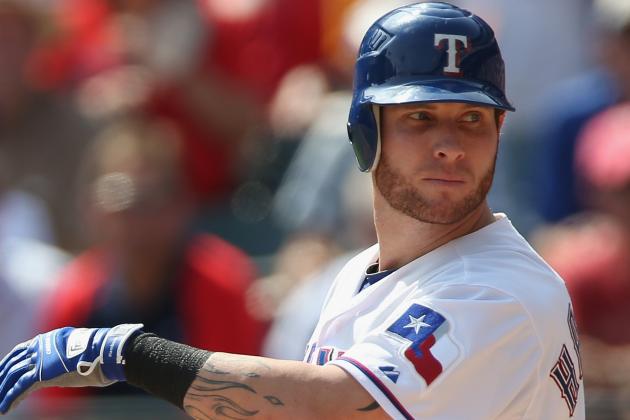 Ronald Martinez/Getty Images

After the Baltimore Orioles stunned critics and baseball fans across the country this past season with an unforgettable run for the playoffs, Buck Showalter and the front office have made it obvious that they will prove it was not a fluke.
There have been reports this off-season discrediting the Birds and their success in the 2012 season; they got lucky and it will not happen again next year.
The truth is, the Orioles have a strong, young core of talented and upcoming players. They might not be the best next year, but they will put together a strong season.
Showalter's main focus this winter is left field, first base and pitching, and so far, one of Dan Duquette's major targets is the free agent homerun-hitting, superstar Josh Hamilton of the Texas Rangers, according to FoxSports.com.
Everyone is aware of the center fielder's success at the major league level, but he has also endured many hardships along the way to becoming one of the most powerful and respected outfielders in the game today.
Here is a list of the pros and cons of the Orioles potentially signing Josh Hamilton this winter.
Begin Slideshow

»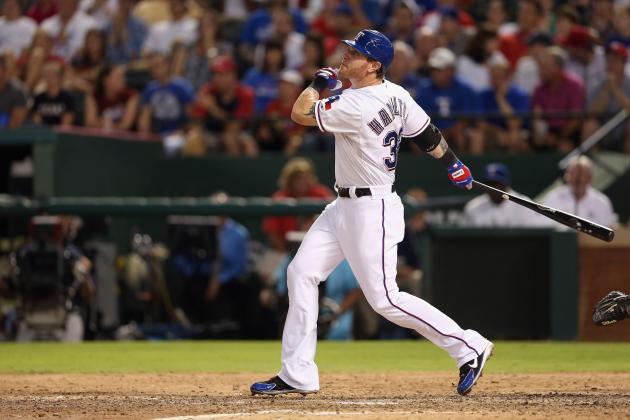 Ronald Martinez/Getty Images

1. Proven Power Hitter
Over the last five seasons with the Rangers, Hamilton has become a household name in the MLB. Everyone is aware of the type of numbers he is able to put up in a single season.
In fact, this past season he smashed a career-high 43 homeruns and finished in second in the American League behind triple-crown winner Miguel Cabrera, who launched 44 rockets.
In his six-year career, the left-handed hitting outfielder has accumulated 161 homeruns, which averages out to almost 27 homeruns per season. Not to mention he is an RBI machine.
Last season he knocked in at least 100 RBI for the third time in six years (128), and in his career, he has recorded 553 RBI, which averages out to about 92 per season.
Three times in his career he has delivered 32 homeruns or more in a single season, all three coming as a Ranger in Arlington. Critics might be skeptical if he moves to a ballpark that is less conducive to the homerun ball.
However, I think Camden Yards would be a perfect fit for the southpaw. Of course, the right field porch is short in Baltimore with a high scoreboard—great for bouncing doubles off.
Over the last three years at Oriole Park, Hamilton is batting a very impressive .417 with eight homeruns, 21 RBI and 12 runs scored over just 48 at-bats (four of those coming in one game earlier in the 2012 season).
Think of the type of numbers he could put up if he spent half of his season playing in the friendly confines in Baltimore.
Not to mention, he won the 2010 batting title after finishing the season hitting .359. Although he batted .285 this year, he is a career .304 hitter.
Plus, the Orioles need a strong, homerun-hitting bat in the middle of their lineup. Yes, they have Adam Jones and Chris Davis, but they need a prototypical homerun hitter and they haven't had that since the late '90s.
Jones and Davis are both still young and developing in their own rights. If the Orioles were able to add Hamilton in the middle of the two, they would have a very strong middle of the order, especially with Matt Wieters hitting out of the six-hole.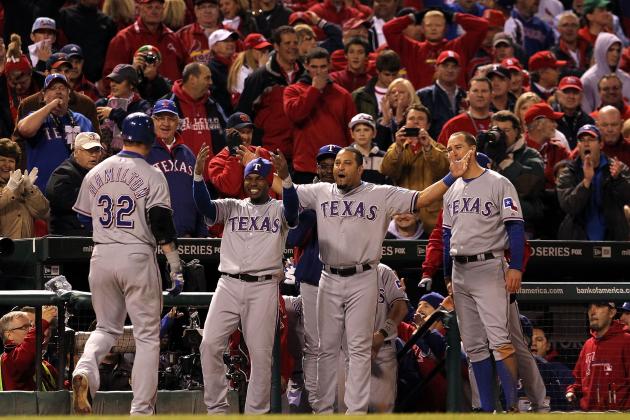 Jamie Squire/Getty Images

Another pro for Hamilton making the move to the East Coast and calling Baltimore his new home is that he has the experience of a playoff team that the Orioles desperately needed last season.
Hamilton, who won the MVP in 2010, was a major part of why the Rangers made it to the World Series in both 2010 and 2011. Although they failed to win a ring in either case, he still gained pertinent experience advancing that far into the playoffs two consecutive years.
One of the Orioles' concerns this past season heading into the postseason was the fact that their team was young and inexperienced playing in October.
The five-time All-Star knows how to compose himself and would be able to teach and help guide his teammates if the Birds were able to advance to the playoffs again next season (which would be the first time they make the playoffs in back-to-back seasons since 1996 and 1997).
Not to mention, over his six seasons at the major league level, Hamilton's teams have finished with a winning record in four of those seasons. The last four years, the Rangers have finished either first or second in the West.
There's no doubt he is used to a winning-type of an atmosphere, and I think he would bring that type of attitude with him. Since the Birds finally halted that losing streak and put it behind them, they will be able to start a winning streak.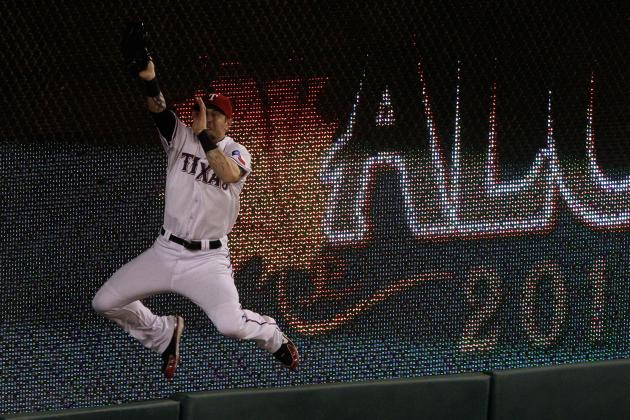 Bob Levey/Getty Images

Right fielder Nick Markakis, who was out for the remaining month of the season due to a broken thumb, will definitely be back and ready to start off the season near the top of the order. Of course, Jones, who will most likely win the Orioles MVP award, will man center field for most of the year.
That leaves left field open. Luckily, Hamilton has experience at all three outfield positions and as a designated hitter. Last season he basically split time between left and center field (95 games in center, 84 in left, two in right and 10 as a DH).
Not only does he have the ability to play each outfield position, but he is also a strong defender. He puts his heart and sole into everything he does out there on the field.
He committed seven miscues last season (four in center field and three in left), which averaged out to a .975 fielding percentage. The year before, he recorded only five errors in the outfield (.979 fielding percentage). In his MVP season, he suffered only four errors in the outfield—good for a .985 fielding percentage.
Although his fielding percentage has decreased over the last four years, I think Baltimore would be a better fit for him than the Ballpark at Arlington. In Texas there is that erroneous scoreboard in left field that makes it tough to play the carom sometimes.
At Oriole Park, left field seems to be the most comfortable outfield position of the three, and I think he would acclimate quickly.
Hamilton has been one to make sliding catches running in on the ball and acrobatic plays going back to the wall. With a smaller area to cover at Oriole Park, I think he would excel even more and make stunning grabs.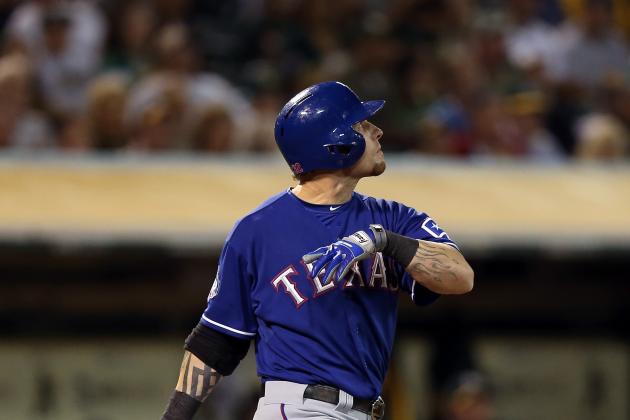 Ezra Shaw/Getty Images

There's no question that Hamilton has put together a very strong and impressive career, but some might not know where he has come from, which makes his journey even more incredible and touching.
The then-Tampa Bay Devil Rays drafted Hamilton first overall in the 1999 MLB draft. They were a young team back then, and he was supposed to be their catalyst for the future.
However, Hamilton struggled with alcohol and cocaine addiction beginning in 2001 after a car accident that landed both him and his parents in the hospital.
Over the next five to six years, Hamilton struggled with addiction and never was able to make it to the major leagues. After several failed drug tests and rehabilitation attempts, the Devil Rays left him off the roster in 2006, and the Reds picked him up as a rule-five player, and he made his major league debut in 2007 with Cincinnati.
The outfielder has been through so much adversity and has become one of the most respected and well-known figures around the game. Not too many people would assume he has been through such a difficult and improbable past, because he has accomplished great feats at the major league level.
Hamilton has great resilience, and it's definitely a testament to how strong of a person he is. He is a great teammate and has the ability to connect with teammates on a personal level.
He is able to share his story, and he continues to grow and succeed when he never thought he would.
Not only has he been through very tough times, the southpaw is only 31-years-old and still has a decade left in the majors. The sky is the limit for him, and he still has so much left he can accomplish.
With such a great attitude and outlook towards the world now, who knows what he will be able to accomplish in his career.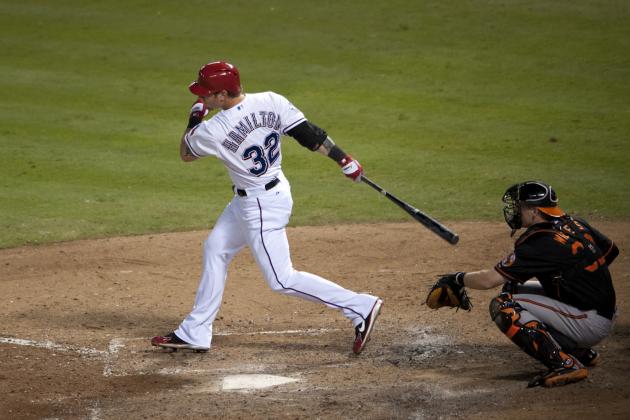 Cooper Neill/Getty Images

1. Expensive, Long-Term Deal
Over the last two seasons, he has made $24 million with the Rangers and has made it very evident that he is looking for a big time deal, like an Albert Pujols or Prince Fielder-type contract.
According to Adam Boedeker, on November 5th, the Rangers offered Hamilton a $13.3 million qualify offer, but that is much to low on his scale.
Hamilton is looking for a seven-year, $175 million deal, which equates to $25 million per season. The southpaw outfielder will turn 32 at the beginning of the 2013 season and who knows how long he will play.
Earlier I stated that he has a decade left in his career, and that's a possibility. However, that's hoping for the best. With his alcohol and drug addiction, who knows what kind of shape his body is in exactly.
He could last ten more years playing every day, or he could last only five or six more years. That is the risk whichever team that signs him is going to have to take.
That's the caveat. He is a great player with a troubled past who wants and expects a major deal. There are teams out there who have the money to shell out, but the question is if they are willing to sign him to a long-term deal worth so much money.
Over the last 15 years or so, the Orioles have not been the team to go out and spend a great deal of money on one star player, which is one of the reasons why they have struggled. They have focused on developing young players and that takes time.
So with the bar set so high and the uncertainty of how long Hamilton will be around, I'm not sure if the Birds will take that risk. If history is any indication, most likely they will not.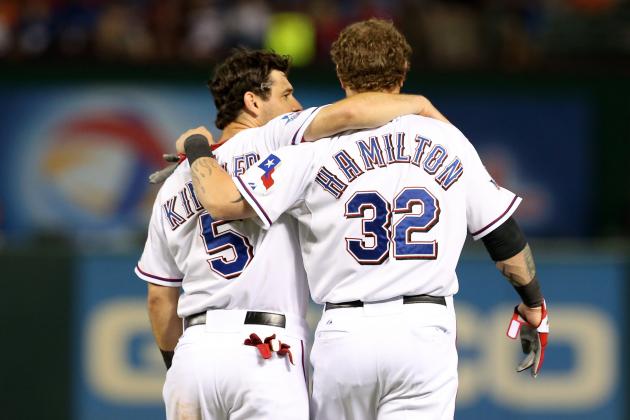 Ronald Martinez/Getty Images

Another con for the signing of Hamilton is of course his troubled past. Right now, he is in a good place in his life. He is very religious and has a wonderful and very supportive wife.
However, on two occasions in the past since his rehabilitation, Hamilton has slipped up and been involved in a couple of bar instances.
In early 2009, Hamilton confirmed that he spent a night at a bar in Arizona, drank and allegedly asked where he could find cocaine. Although there were no photos of him drinking or taking illicit drugs, he has confirmed that he was drinking at the bar.
In fact, he does not remember the exact events of the night leading up to being drunk.
Then again, more recently, in February of this year, he admitted to having a couple of drinks at a bar before inviting his teammate Ian Kinsler to talk.
Now these slip-ups are not newsworthy for the regular baseball player, but someone who has suffered from alcoholism and drug addiction, this is concerning. Especially since the most recent incident happened earlier this year.
Obviously it did not affect his season, as he set a career-high in homeruns and drove in 128 RBI (second highest in his career), but who knows what will happen in the future.
Like I stated in the previous con, things can change so quickly and we do not know how long he will be around for. If he continues to slip up, there's no telling when his career will be over.
The uncertainty with his disease is definitely a strong factor in a team's decision to sign him or not.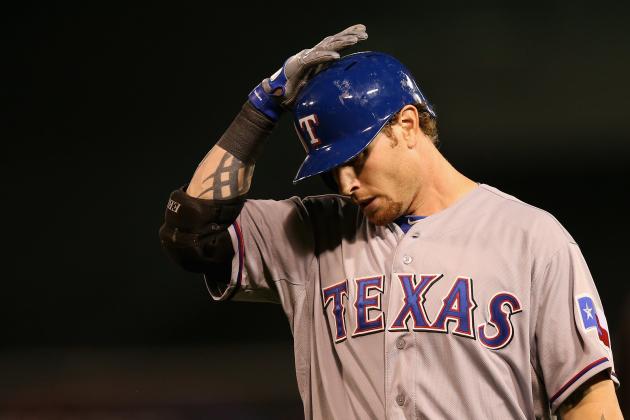 Ezra Shaw/Getty Images

The last con is of the generic variety. There is no way to know how well Hamilton will do with a new team. Obviously he has had great success with the Rangers, but he's never signed a huge contract.
Who knows how well he will do under that kind of pressure.
The Dodgers signed Manny Ramirez to a two-year, $40 million deal after the 2008 season. Although he finished with a .322 batting average over his two and a half seasons with LA, he compiled just 44 homeruns and 156 RBI over that stretch.
In 1999 with the Indians, he smashed 44 homeruns and drove in 165 RBI in just one season. Obviously they were not expecting that type of production. I'm sure they were expecting around 20 homeruns per season and at least 80 RBI.
Of course, there have been large contracts that have panned out. Although Pujols got off to a rocky start with the Angels this season, he finished with strong numbers and won fans over.
Not to mention, Fielder led his new team (with the help of the triple-crown winner) to the World Series this season. So it is possible to succeed under a high-pressure type of contract.
But the uncertainty is the problem. Who knows whether he will succeed and find the type of success with his new team, and will it be worth it?
Follow me on twitter: @Alex_VanRees