The Dallas Cowboys have had a little trouble stopping the run this season. According to what the stats state, they are just about middle of the road. The 'Boys are ranked 13th against the run, giving up 106 yards per game.
In Sunday's game versus the Cleveland Browns, the Cowboys fell about 11 yards short of making that mark. Browns running back Trent Richardson tucked it for just 95 yards.
Now, to some, that may seem like a lot of rushing yards. But it took Richardson almost 30 carries just to get to that number. He averaged just 3.4 yards per carry and toted the ball 28 times.
For this Cowboys team, that's not a bad haul.
But how did they go about stopping one of the league's most promising runners? Filling the box and making second-half adjustments. Doesn't sound sexy, but it worked.
I'll dissect two plays to display just how effective the Cowboys rush defense was for them on Sunday.
Fourth Quarter, 17-13, Cowboys Lead: Browns 3rd-and-1 at Cowboys' 1-Yard Line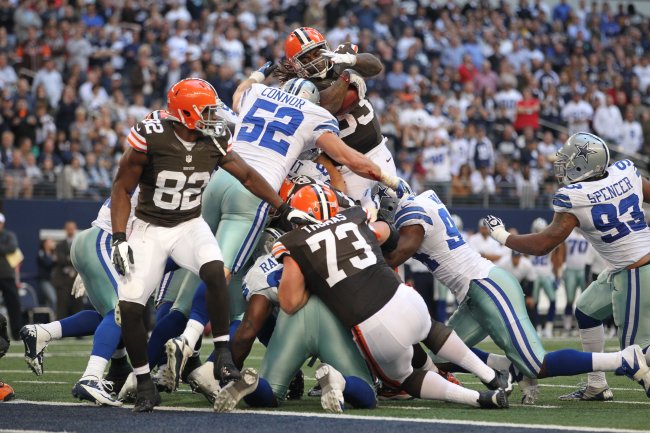 Tim Heitman-US PRESSWIRE
The Browns were down by four points with about five minutes remaining in the fourth when they took over the ball from the Cowboys. Browns defensive lineman Frostee Rucker had a strip sack of Tony Romo, and Cleveland recovered the ball.
As Cleveland took over on their own 35-yard line, they started a pretty productive drive that saw them enter into Cowboy territory pretty quickly.
Fast forward to the Browns having the ball on the Cowboys' 1-yard line, and that is where the good news for Dallas started.
Up until this point in the game, Richardson is having a pretty average day. He's having a hard time getting into a rhythm and never had a rush for over nine yards. It is 3rd-and-1 at the Dallas goal line, so this would be his time to shine.
Remember, the Cowboys are up by four and a goal-line stand with just 1:52 on the clock would render the Browns helpless. Well, at least it was supposed to.
As the Browns walk toward the line of scrimmage to get into position, the Cowboys bring everyone into the box except Rob Ryan.
Browns quarterback Brandon Weeden goes into his cadence and surveys the defense before he yells hike. He calls for the ball to be snapped and runs backward to hand off to Richardson. He takes the ball and stuffs it into Richardson's gut, and he makes a run toward the end zone.
As soon as he attempts to leap over the pile of scattered football bodies, he's met by a wall of Cowboy defenders.
Richardson got off the ground, but never ascended high enough to make it over the heap into the end zone. His leap is only to the line of scrimmage, and the Browns are forced to go for it on fourth down.
This play was important because, one, it stopped the Browns from scoring a touchdown and going up by at least three points with about 1:40 on the clock. Dallas was able to show and prove that when it matters, their defense is capable of showing up.
Secondly, the Cowboys forced the Browns to pass on 4th-and-1 instead of trying for another goal-line push from Trent Richardson. With Richardson's no gain on such a crucial third-down play, Dallas made Browns coach Pat Shurmur play another hand.
Cleveland failed to score any points, as Weeden threw the ball out of bounds on the next play trying to connect with receiver Jordan Cameron.
The Cowboys took over on downs at their 2-yard line and ended up going three-and-out. A crazy sequence of plays happened after this series, but stopping Cleveland on third and fourth downs in the fourth quarter went a long way to saving Dallas' season.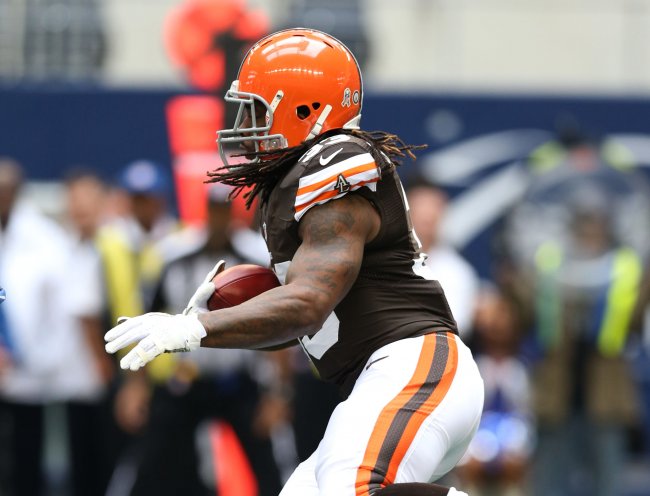 Matthew Emmons-US PRESSWIRE
In the first half, Dallas did a fantastic job of stopping Richardson on the ground, but due to defensive coordinator Rob Ryan's decision not to pressure Browns quarterback Brandon Weeden, Richardson was left free to roam in the flat.
He caught six passes for 49 yards, one going for 27 yards. These pass plays, or dump off's from Weeden to Richardson, were about as close to a run play as one can get. He didn't really hurt Dallas on run plays, but he did a little damage to them when catching the ball in the first half.
Second-Half Rush Totals for Trent Richardson: 12 Rushes for 33 Yards, Zero Touchdowns
Dallas didn't allow Richardson to run wild in the first half, but he had more success against the defense in the first two quarters than he did in the last two.
Richardson's success on the day can be attributed to a couple of long catches and yards through the air.
In the fourth quarter alone, Richardson carried the ball seven times for just 18 yards. That's a paltry average of just 2.5 yards per carry. The Cowboys were able to knock him back for no gain on three of those carries, all coming on Cleveland's vital failed scoring drive late in the quarter.
On 2nd-and-3 from the Cowboys' 16-yard line, Richardson was stopped for no gain. As they moved the ball closer to the goal line by way of passes from Weeden to tight end Ben Watson, Dallas was able to stuff Richardson again on the team's next running play.
On 1st-and-6 from the Cowboys' six, the Browns decided to go with Richardson again and they were stopped for no gain.
The third and final time happened on the play that I dissected earlier. Richardson attempted to leap over the pile for a touchdown but was pushed back by the Cowboys defense.
If Richardson would have been able to bully his way into the end zone, I believe Sunday's game may have produced a different outcome for the Cowboys.
A score on that play gives Cleveland the lead and an opportunity to stop the Cowboys offense.
Richardson has a very bright future in front of him in the league. He's tough, has a never-ending motor, likes to run the ball in a very physical manner and always keeps his legs moving.
On this Sunday afternoon in Dallas, Richardson was met by Romo-vember and the Cowboys sturdy defense.
The yards may have been close to plentiful for Richardson, but Dallas did a great job of shutting the young runner down when it counted the most, early and often in the second half and on 3rd-and-1 from the goal line.
-JH