Manchester City vs. Real Madrid: 6 Key Players to Watch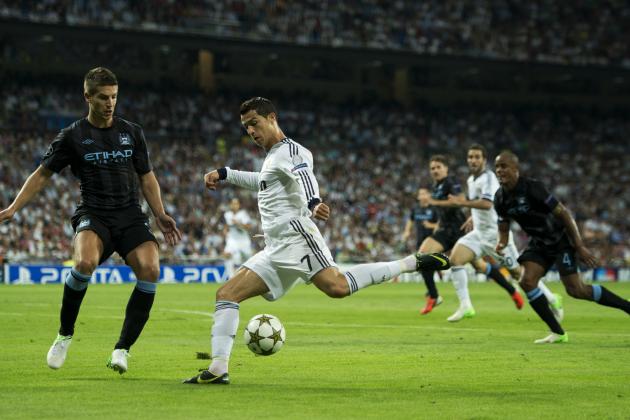 Jasper Juinen/Getty Images

It just doesn't get any bigger than this in the Champions League group stages.
It's the champions of England hosting the champions of Spain. Both teams are coming off of domestic victories that saw them score five goals apiece and will see this match as a must-win.
If Madrid fail to get at least a point, they would be in position to finish behind Borussia Dortmund in Group D—which would see them playing one of Europe's best teams in the knockout rounds.
If City fail to win all three points, their Champions League run would be over without reaching the Round of 16 for the second straight year.
Both teams are in good form and have enough talent to beat any team in football on their day. The question is, which one will be in better form in Manchester?
As we prepare for the clash, here are six players who will play a key role in their team's aim for victory.
Begin Slideshow

»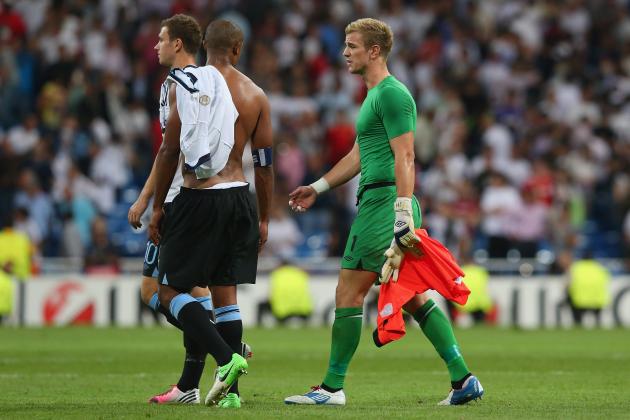 Alex Livesey/Getty Images

Going into this epic match, Manchester City sit in last place of the group with just two points awarded.
If we're being honest, the Citizens are lucky to even have that much after four games. They have Joe Hart to thank for a lot of it.
The English keeper has been phenomenal at times and made some saves that kept Madrid and Borussia Dortmund especially, from embarrassing City.
The first time he played Los Merengues he was forced to make 12 saves and watched a total of 35 shots go toward his goal.
Hart finished the match with more touches than both David Silva and Samri Nasri—his creative midfielders.
With Madrid looking just as dangerous now as they did then, the 25-year-old should be prepared to work very hard once again.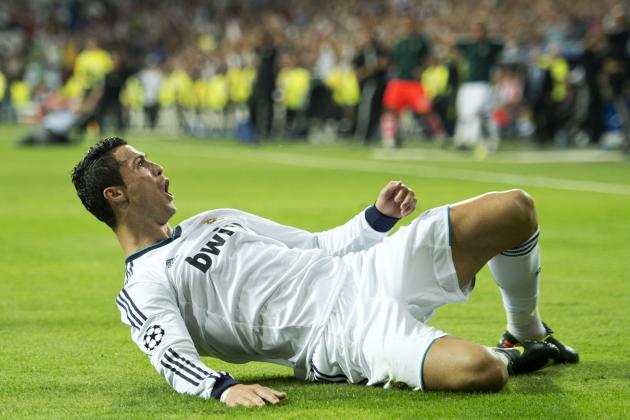 Jasper Juinen/Getty Images

The last time Manchester City saw Cristiano Ronaldo, the Portuguese star was surrounded by his teammates after scoring the winning goal against the Citizens.
So far this season, only Sevilla's Cicinho has been able to truly neutralize Ronaldo for an entire match.
No matter who Roberto Mancini sticks on the right flank, they will once again struggle to stop CR7. He is just too good and is really starting to bring more to the team than just goals.
In his first match against City, Ronaldo wasted seven of his 10 shots, but completed all 50 of his passes and put three balls in for goal-scoring chances.
If Man City are to have any chance of beating the reigning Spanish champions, they have to find a way to stop Cristiano Ronaldo.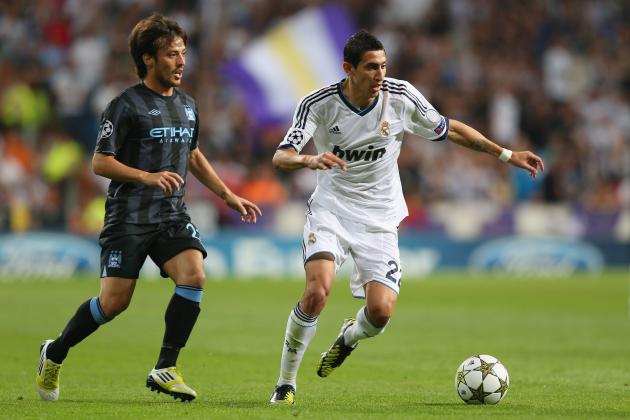 Alex Livesey/Getty Images

David Silva has not been at his usual elite best this season and it has really cost his team. This was very clear in the first leg of this tie.
In that match, Man City were far too defensive and, honestly, afraid of Los Merengues, especially in the first half.
The strategy worked surprisingly well, though. They prevented Madrid from scoring until the 76th minute and took advantage of two great counter-attacks to take the lead.
Even though the defensive play worked pretty well, the majority of the match saw City on their back foot, unable to consistently threaten Iker Casillas in goal.
One of the major reasons for the overall poor performance from the Citizens was their star midfielder, Silva.
The 26-year-old must get more involved this time around and Mancini has to let his star work his magic in a more forward position.
Silva needs to create a lot more chances than he did in Spain and not get restrained by an overly tight counter-attack.
Madrid's defense has been the stingiest in La Liga this season, but if the Valencia star can get forward and put his strikers in range, the world-class finishers are no doubt good enough to break the Madrid rearguard.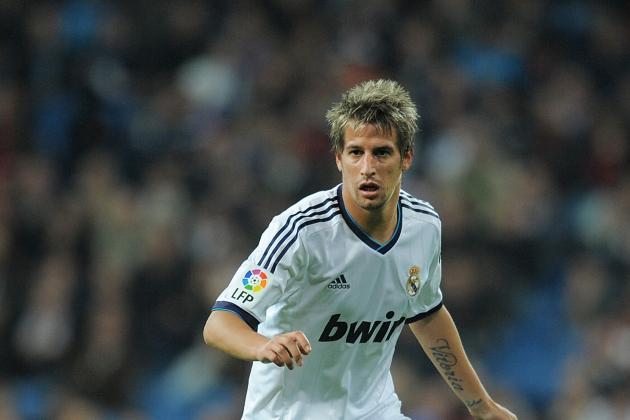 Denis Doyle/Getty Images

In last week's dominant win over Athletic Bilbao, Real Madrid finally looked like the record-setting team of last season.
One of the major reasons for that was Fabio Coentrao.
Missing a true left-back on the pitch was killer for Madrid defensively, but also weakened Ronaldo since he did not have the necessary support to cover his shots or lack of great tracking.
Having Coentrao back proved immense, with more trust and freedom provided across the back line as well as giving CR7 the confidence to move centrally for much of the match and risk exposing his flank more comfortably.
This play has to continue and even improve against the reigning Premier League champions, and that will fall on Coentrao.
If the Portuguese can get forward enough to let Ronaldo roam around while never getting exposed on the counter, Madrid have a great chance of opening up a tight City back line by stretching the defense and having multiple shooting threats.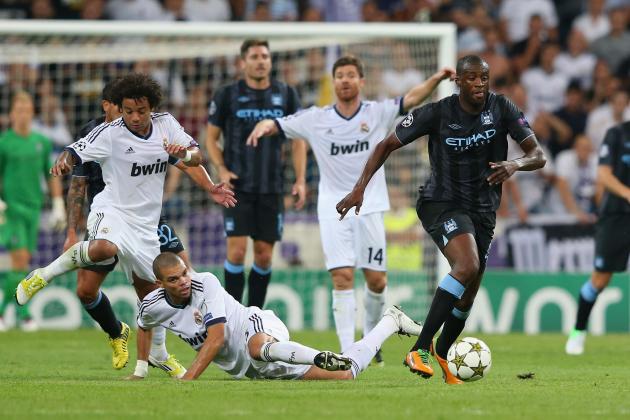 Alex Livesey/Getty Images

Yaya Toure is one of football's rare players—the type of player who is physically and technically gifted enough to trouble any side in football.
Apart from Bastian Schweinsteiger and maybe a couple of other players, no one has quite the balance of strength, surprising speed, vision and finishing ability that Toure possesses.
He is able to keep someone like Mesut Ozil at bay and limit his time on the ball while still making himself readily available to attack the goal when a lane or bit of space opens up.
In the first leg, when City were struggling to break Madrid down and stay in the final third, Toure went at the defense basically by himself and used his footwork and power to get by everyone and almost netted a couple of times.
Jose Mourinho will have to find a way to control City's midfield monster. He will most likely give Toure some space in the first part of the game as City will likely be less open.
When Toure does start making runs, Michael Essien—who should start over the recently fit Sami Khedira—will have the difficult task of man-marking the Ivorian.
The Ghanaian must slow Toure down lest he be given too much space to attack or free up his teammates in the final third.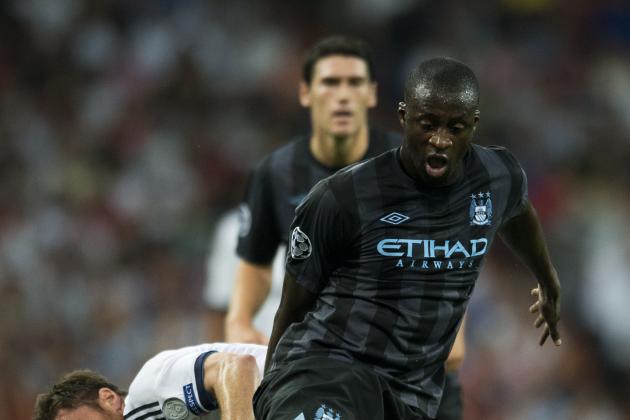 Jasper Juinen/Getty Images

Of course, David Silva will find it very hard to get more involved in the attack with the great Xabi Alonso in midfield.
Alonso is as important as any player playing under Jose Mourinho and was a major reason City were kept at bay in Madrid.
In that match, Alonso had the most touches and time spent on the ball of any player and also cut off the second-most passes.
He has been Madrid's best and most important player this season and will need to be just as great in Manchester.
The 30-year-old will have the hardest job on the pitch as he will have to kill City's attacks before they reach his center-backs while also starting counters when the ball is won.
Wednesday's Champions League headliner will potentially feature nine Ballon d'Or nominees and some of the absolute best footballers on the planet.
None will be more important than Xabi Alonso.