Where Notre Dame vs. USC Ranks Among College Football's Greatest Rivalries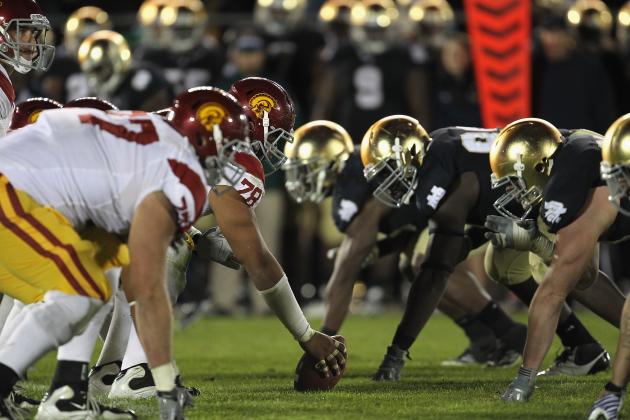 Jonathan Daniel/Getty Images

Rivalry week has finally arrived, and it should result in another fabulous day of college football games. All of the other regular season games were cool, but not many things get you more excited knowing that bragging rights are on the line with just one victory.
Knowing that the two programs on the field can't stand one another, it really creates a special moment on the gridiron and brings out the best of both teams.
One of the top rivalry games that will be played this weekend is when Notre Dame travels to the Los Angeles Coliseum to play the USC Trojans. It is always a competitive matchup between two of the more talented and celebrated programs in the history of this sport.
But where does it rank on the list of all-time rivalries?
Let's take a look at some of the best rivalries in college football.
Begin Slideshow

»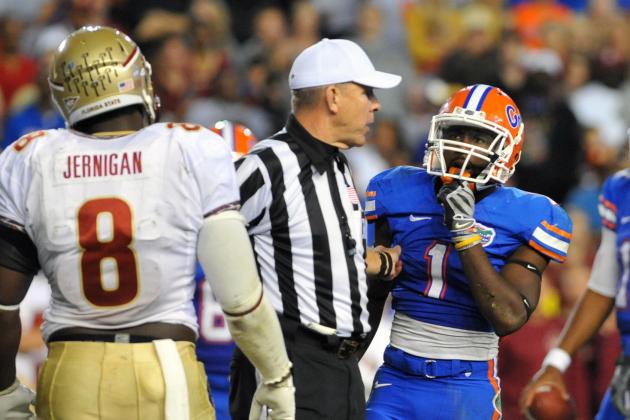 Al Messerschmidt/Getty Images

Florida vs. Florida State
Texas vs. Texas A&M
Harvard vs. Yale
Miami vs. Florida State
Cal vs. Stanford
Oregon vs. Oregon State
Georgia vs. Florida
UCLA vs. USC
Utah vs. BYU
Clemson vs. South Carolina
Michigan vs. Michigan State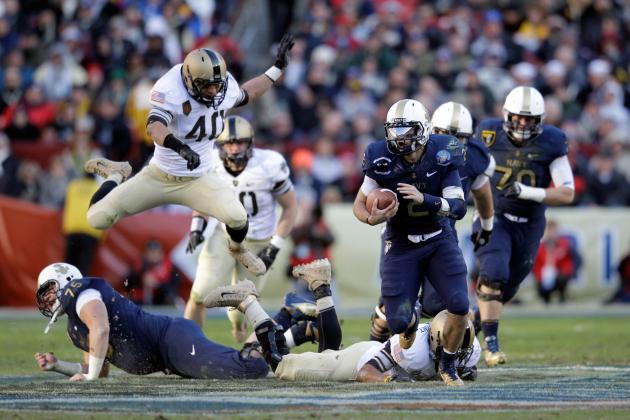 Rob Carr/Getty Images

This rivalry has always been a little different.
When these two teams square off, there is always mutual respect. Of course there is a high level of competition, but teammates can go up and shake each other's hand after the game and actually have a civil conversation without wanting to wring the opponent's neck.
The game has also never really been the most exciting to watch, as both teams play an old-school style of football and want to run the ball every chance they get.
However, when a matchup is saved for the last regular season game nearly every season, you know it has to be special. The history and tradition that comes with this rivalry that originated back in 1890 is simply off the charts. Neither one of these programs may receive much attention on the football field throughout the year, but you always make time to catch a glimpse of this historic matchup.
Although Navy has won the last 10 games over Army, this game still hasn't lost its edge and remains one of the more traditional rivalries in the sport.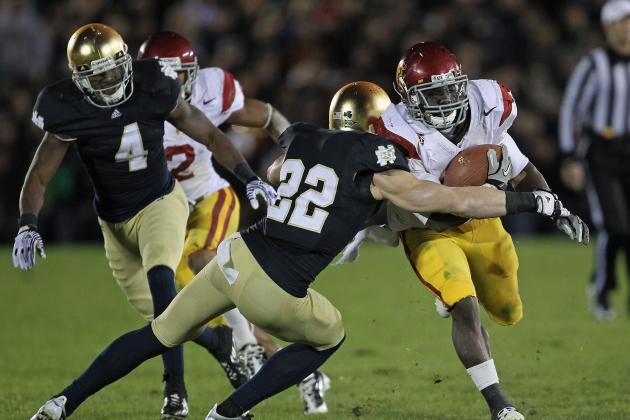 Jonathan Daniel/Getty Images

You can just feel the magic in the air when these two teams play each other. The history, success and accomplishments all come together and create one super matchup.
When you combine both programs' storied histories, you end up with 22 claimed national championships, 14 Heisman trophies (Including Reggie Bush) and well over 1,600 all-time victories.
They have also produced more NFL players of any other two schools in college football history.
As for the meeting that dates back to 1926, we have seen many memorable games, from the drive in 2005 that involved Matt Leinart receiving a little help to the 1999 game that included Notre Dame coming back from a 21-point deficit.
These two programs will meet for the 84th time this Saturday, and you just know something crazy is going to take place to add to the history.
It is great that Notre Dame is finally getting back on track, as this rivalry will now become exciting as ever with so much on the line in future meetings.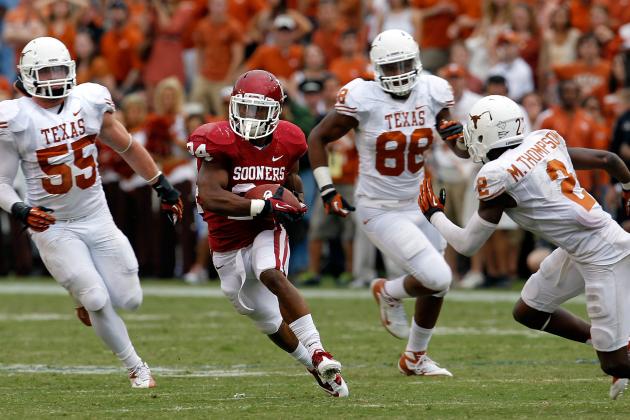 Tom Pennington/Getty Images

The Red River Rivalry is one of the few heated matchups that doesn't take place at the end of the year, but it is never too soon to get these two teams to go at it.
There is usually so much on the line when these two teams meet, as Texas and Oklahoma are two of the more consistent teams in the Big 12, and the winner of this game has gone on to win many national championships.
Usually both clubs are ranked inside the Top 25 when this game takes place, and four of the last six games have been decided by 10 points or fewer. One of the more interesting parts of this game is that both teams enter the field from the same tunnel in the Cotton Bowl, which has left a few players with entertaining stories to tell.
Texas and Oklahoma both fight for top recruits each and every season, and it is usually a dogfight when you put them on the field as well.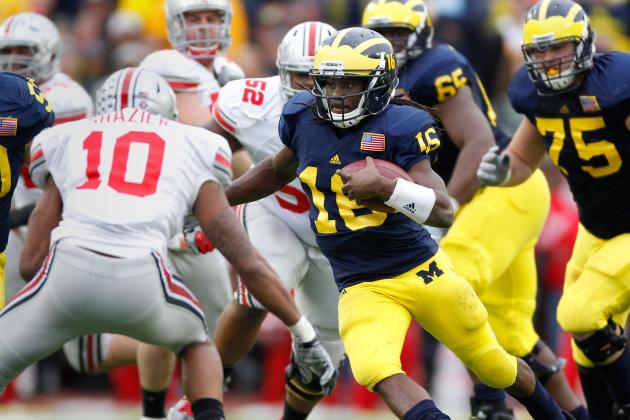 Gregory Shamus/Getty Images

All you have to do is watch this ESPN commercial, and it will tell you all you need to know about the Ohio State-Michigan rivalry.
The game between these two Midwest rivals often determines who wins the Big Ten conference. It also has played a big part in national championships, and regardless of how each team is doing throughout the year, you can always expect a tight outcome in this contest.
Since 1976, there have only been nine meetings that have resulted in an outcome greater than two touchdowns, with many of those games being decided by a touchdown or less.
These two schools have produced 18 national titles and 10 Heisman trophy winners, and they have played in 84 bowl games. If a coach can't get the job done against the other team on a consistent basis, there is a good chance he won't be around very long.
With two successful head coaches in Brady Hoke and Urban Meyer taking over, this rivalry may be taken to new heights in the next few years.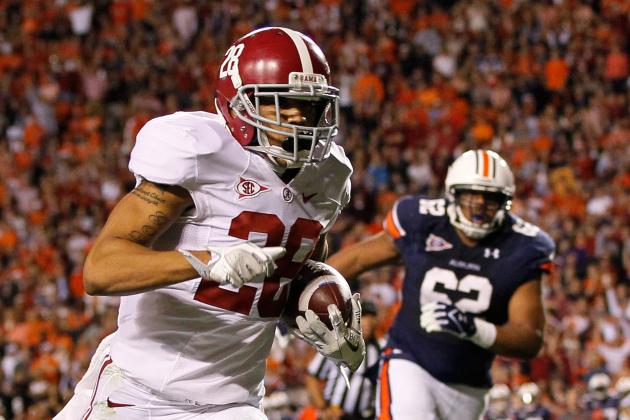 Kevin C. Cox/Getty Images

I don't know about you, but I prefer my rivalry games to have a little hatred behind them that inspire the players to play with a chip on their shoulders.
It doesn't matter what the record is looking like or what is on the line—when the rivalry game kicks off, the matchup needs to wake everybody up.
There is no game in college football that does that quite like Auburn-Alabama.
The Iron Bowl takes things to whole new level, as there is absolutely no rooting for the other side of Alabama. You are either chanting "War Eagle" or you are screaming "Roll Tide," and there is no changing that for anything. Fans learn from an early age what side of the fence to root for, and it stays that way for the rest of their lives.
A total of eight of the last 10 games have been decided by 10 points or fewer.
With not much distance separating the two schools, recruiting is serious competition between the Tigers and Crimson Tide. It is also a highly competitive matchup, as both teams could probably care less about winning—they just don't want to lose to the other Alabama school.