Oregon vs. Oregon State: 6 Reasons Ducks Have Nothing to Fear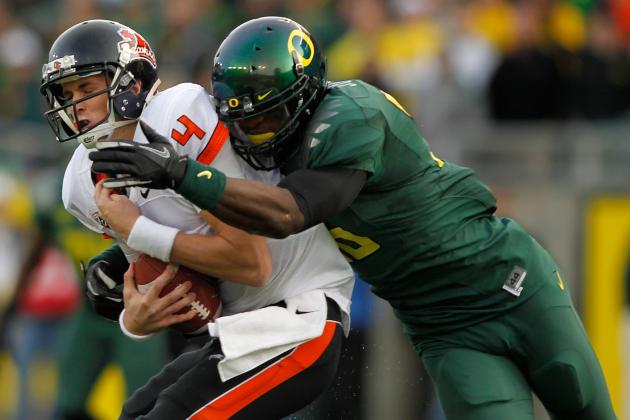 Jonathan Ferrey/Getty Images

So, it's a big game, this 116th version of the Civil War. A lot on the line, for all the bragging rights in the state of Oregon, and all of those big game cliches.
Fans of orange and fans of yellow are exchanging unpleasantries virtually all over the state. The upstart Beavers actually think they have a chance to knock off the Ducks this year.
Are they correct?
Certainly the events of last weekend added fuel to the Civil War fire. Oregon's devastating overtime loss to the Stanford Cardinal will deal the Ducks an emotional blow. Oregon State's complete beatdown of the pathetic Cal Golden Bears gave the Beavers a shot of confidence and momentum.
Can the Beavers ride their adrenaline all the way to the fourth quarter in Reser Stadium and pull off the big W?
I love my Beaver friends, but I'm afraid not. Here's the reasoning.
Begin Slideshow

»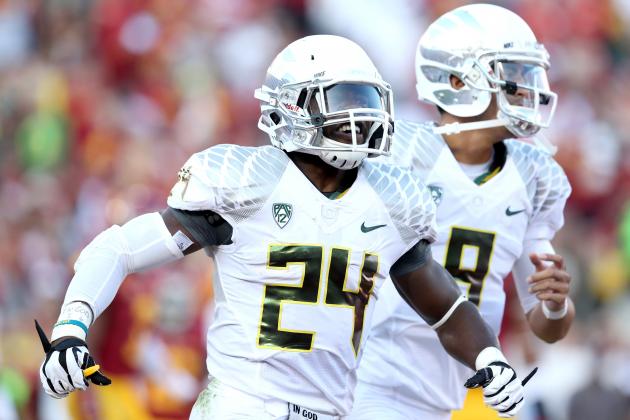 Stephen Dunn/Getty Images

The Stanford Cardinal is a very good football team, particularly on defense. They—with a whole lot of help from Oregon—made the Ducks' offense look ordinary.
Maybe Stanford is that good; maybe the Ducks just had an off night. Most likely, it was a combination of the two factors.
Oregon State fans should not assume that the Ducks' offense turned rancid overnight. Oregon is still a powerhouse on offense with many, many weapons. The Ducks are a little tired and a little beat up, but they are still the No. 2 offensive team in the country. The Beavers are the No. 80 offensive team nationally.
The Ducks will score more points than the Beavers. And that, I believe, is how you win football games.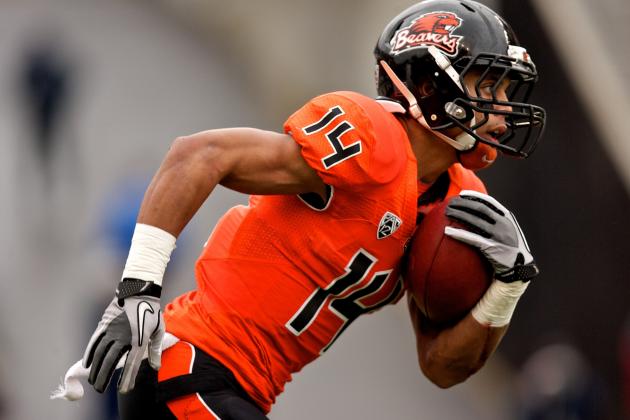 Craig Mitchelldyer/Getty Images

The Beavers are saying all the right things, but I question if, deep down, they really believe they can beat the Ducks.
If it were only a matter of "want," I think Oregon State would win. Make no mistake, the Beavers and their fans hate the Ducks and want this game more than they want Santa to visit.
While "want" is very important in a rivalry game, there are other factors that contribute to the outcome. Yes, the Beavers' confidence is brimming, and they are peaking at precisely the right moment. This year's OSU squad has talent and determination, and they are well-coached.
Maybe it's talking to some of their long-time, loyal fans that has colored my opinions. The orange and black faithful want to win badly, but they have doubts that they can beat the Ducks and all their talent.
If Oregon scores first and easily, much of that Oregon State confidence will go right in the toilet.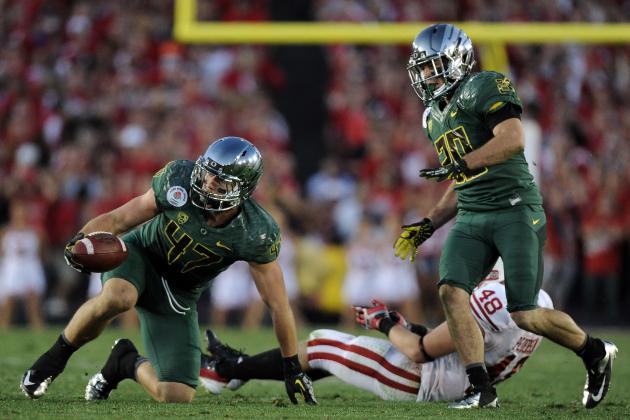 Harry How/Getty Images

Oregon State has made huge defensive strides this season—no one could argue otherwise. Defensive coordinator Mark Banker, according to Beaver Nation, was a bum last year who should be fired. This year he's a genius.
The Beavers currently rank No. 47 on total defense nationally. As good as OSU has been, the Ducks have been better and are ranked No. 34.
Yes, the Ducks' D-line, in particular, is beat up. And, Oregon is down to its third safety. But honestly, against Cal and Stanford on successive Saturdays, the casual observer could not have known that it wasn't the Ducks' starters out there.
So much depth; so much talent. Oregon will win the battle in the trenches, and, therefore, the game.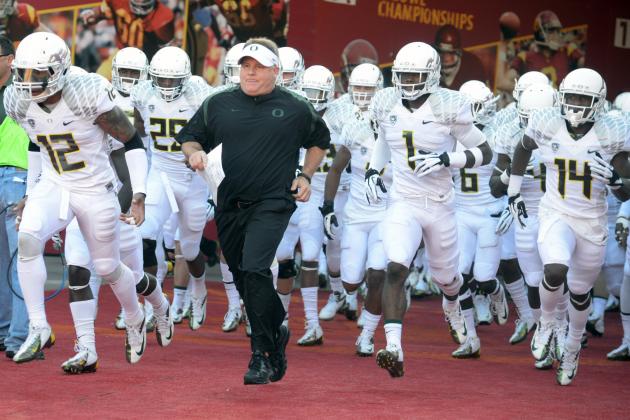 US PRESSWIRE

As improbable and unlikely as it appears now, Oregon is not totally out of the BCS National Championship scene.
USC beats Notre Dame, UCLA beats Stanford, Texas beats Kansas State, and Alabama and Georgia can't both win. Easy.
If I have figured this out, chances are good that Chip Kelly has too. But none of it matters, of course, if the Ducks don't beat the Beavers.
The Beavers have a ton of motivation, clearly. But I would argue that the Ducks should have even more. And Oregon is undoubtedly in a foul mood and feeling mean and nasty after last Saturday's effort.
Nothing worse than a fowl in a foul mood.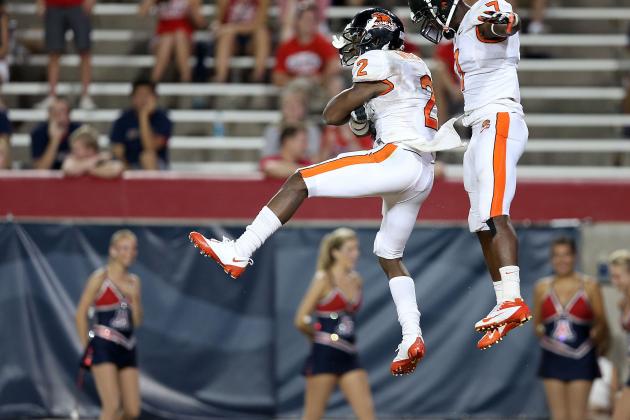 Christian Petersen/Getty Images

...but the Ducks' secondary will be ready for them.
Cornerback Ifo Ekpre-Olomu is having a terrific year, and while I've been hard on Terrance Mitchell, he gets the job done more often than not on the other side.
And where have the Ducks been hiding Erick Dargan, Avery Patterson's replacement at free safety? Dargan was nothing short of spectacular against a very tough Stanford team. Rover Brian Jackson has also been solid in the secondary.
Beavers wide receivers Brandin Cooks and Markus Wheaton will get their catches. But my money is on the Ducks' secondary to contain Cooks and Wheaton—hopefully, if you are a Duck fan, at the right time.
Besides, it just wouldn't be right if Kenny Wheaton's nephew stopped Oregon from achieving its BCS dreams, now would it?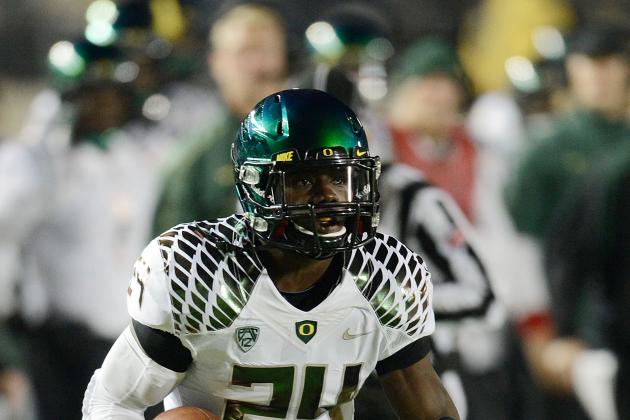 Thearon W. Henderson/Getty Images

Oregon running back Kenjon Barner was unstoppable in the USC game. Predictably, after his 321 yards rushing with five touchdowns performance, Barner shot up the charts on the Heisman Trophy watch.
However, in the last two games, Barner has been held in check, and has watched his Heisman stock sink. He is one of three finalists for the Doak Walker Award, given to the nation's top running back.
If I'm Barner right now, I'm thinking two things: 1. If my team beats the Beavers and makes it to the Pac-12 Championship Game, it's more face time for me with the award voters. 2. LaMichael James didn't win the Heisman and, boy, would I like to beat him at just one thing (even though I love you, man!)
Look for another breakout day for Barner, as he leaves a lot of Beavers chewing turf in his wake.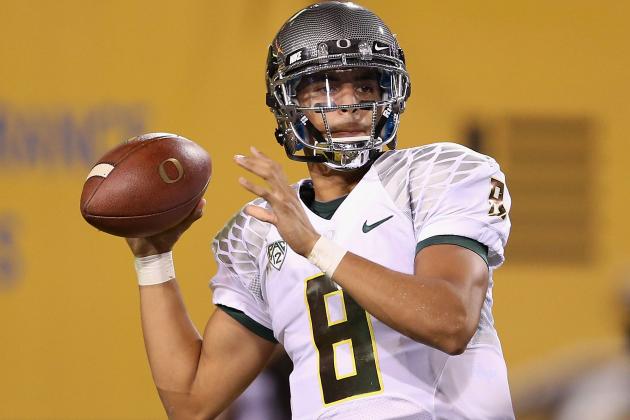 Christian Petersen/Getty Images

I want to go on record saying that even though I believe these six reasons the Ducks will win are the realistic view, it's not impossible that the Beavers could pull this game off.
The Civil War is one of the best and longest rivalries in college football, and it got that way for a reason. These two schools, their players and their fans don't much care for each other, or, for that matter, each other's life philosophies.
That results in a hostile environment (overused cliche) like no other. Marcus Mariota has never been to Reser Stadium (that I know of). Reser is a very unpleasant place for Oregon fans, and what Mariota will encounter on Saturday bears no relationship to previous road game experiences.
He will be taunted. He will have things thrown at him. He will have his parentage questioned. What we don't know is how the Stanford loss affected Mariota's psyche. He's 19 years old and just experienced his first big loss—it's bound to have taken an emotional toll. If Mariota loses his confidence and succumbs to the pressure, it could tilt Oregon State's way.
If the Beavers can get their running game in gear early, and the beat up Ducks' D-line doesn't respond, that could also bring trouble for the Ducks.
Most likely, the weather will be typical Oregon November weather. That is to say, wet and wild. Whoever deals with the elements best will win. That kind of weather generally produces mistakes. If the Ducks mistakes come at critical times and the Beavs take advantage, that will be a major factor.
So, lots of intangibles in the 116th Civil War. May the best team win.
Kay Jennings is a member of the Football Writers Association of America.