13 NHL Players Destined for Superstar Status When the Lockout Ends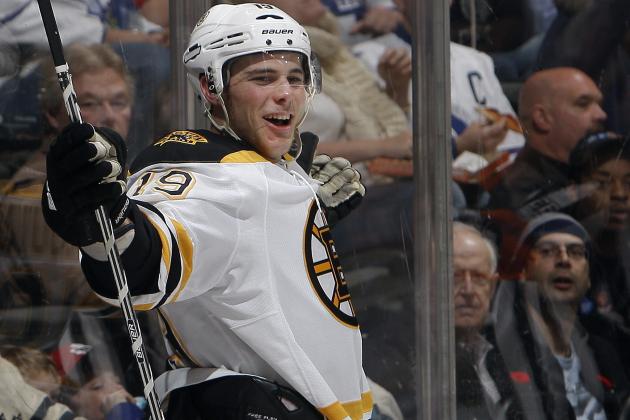 Abelimages/Getty Images

When the NHL lockout ends, there are a number of players who will continue their path to superstardom.
Many of these talented young players will make significant progress in their development during the 2012-13 season and play a major role in their team's success.
Let's look at 13 players destined for superstar status when the work stoppage concludes.
Begin Slideshow

»
Bruce Bennett/Getty Images

Gabriel Landeskog is now the league's youngest captain in history and will take a huge step toward being a superstar next season for the Colorado Avalanche.
His 20 goals and 32 assists last year helped him win the Calder Trophy, and playing on an Avalanche team with lots of offensive talent (including newly-signed winger P.A. Parenteau) will certainly help Landeskog rack up a lot of points.
As a leader, a physical force and great offensive player, expect Landeskog to become a household name this year.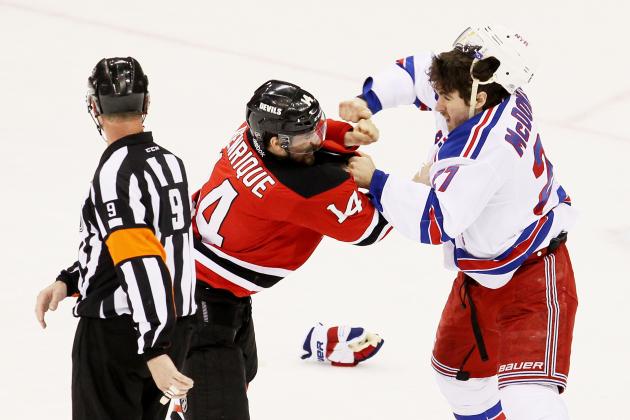 Jim McIsaac/Getty Images

New York Rangers star Ryan McDonagh will become a superstar this season and play the No. 1 defenseman role for head coach John Tortorella.
McDonagh is an intelligent, physical player who excels in his own end while also contributing in the attacking zone. He scored seven goals with 25 assists in his first full year with the Rangers.
McDonagh has very few weaknesses, and as one of the best all-around defensemen in the NHL, he has a great chance to be a finalist for the Norris Trophy.
After handling high expectations on a contending team in a major hockey market very well last season, McDonagh will take the necessary steps toward superstardom this year.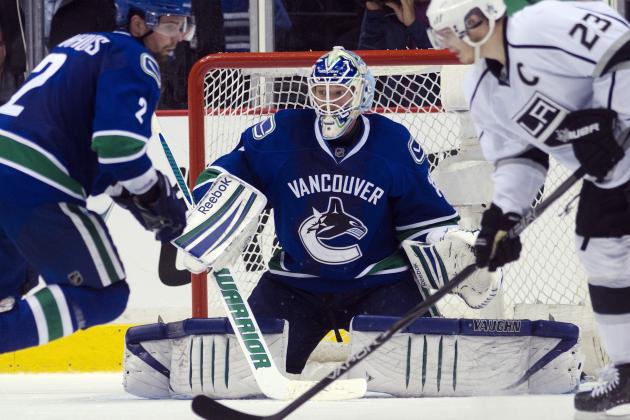 Rich Lam/Getty Images

The only thing that is blocking Cory Schneider's path to superstardom is playing time, but that should change this season when he likely becomes the first-choice goaltender of the Vancouver Canucks.
Not only does Schneider have the physical skills needed to be an elite player, he also has the mental toughness to be successful, which is very important for a goaltender.
Schneider has a 36-12-3 record over the last two seasons and will give the Canucks a tremendous chance to win the Stanley Cup when the lockout is over.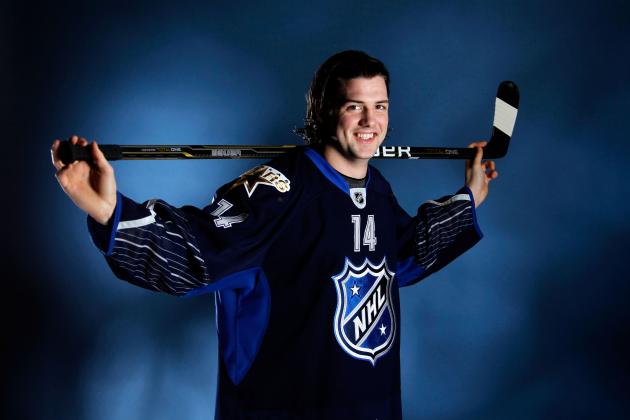 Gregory Shamus/Getty Images

Dallas Stars forward Jamie Benn is definitely a star player, but I don't think he has reached superstar status yet. That will change this season as Benn continues to improve.
The 23-year-old will still be a restricted free agent when the lockout ends, but expect the Stars to complete a new deal with their franchise player once the two sides can begin negotiating player contracts.
Benn scored a career-high 26 goals last year and should score well over 30 in a shortened 2012-13 season. He could even be a 40-goal scorer in the near future, especially since he plays alongside so many talented offensive players in Dallas.
Benn will become a superstar player this season and could be a point-per-game player in just two years.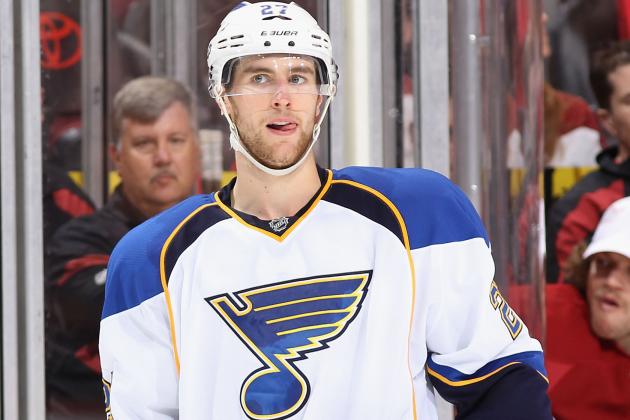 Christian Petersen/Getty Images

Playing in St. Louis might not help young defenseman Alex Pietrangelo earn the national recognition he deserves, but after finishing fourth in the Norris Trophy voting last year, the 22-year-old will become a superstar in 2012-13.
His 51 points made headlines last season, but his defense was also much improved. Pietrangelo is becoming a fabulous two-way defenseman, and playing for a veteran head coach like Ken Hitchcock will really benefit him.
Pietrangelo should be one of the leading goal scorers among defensemen next year and is a likely finalist for the Norris Trophy.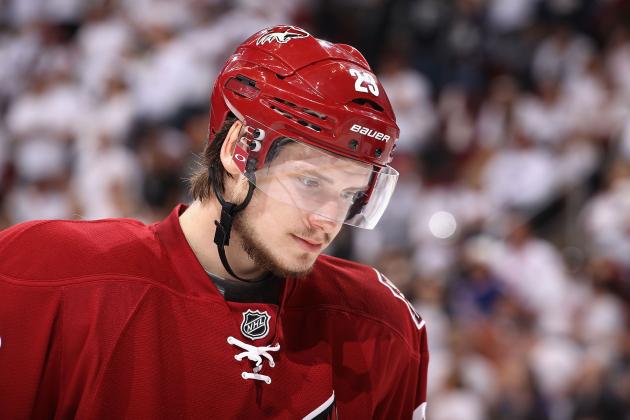 Christian Petersen/Getty Images

Oliver Ekman-Larsson proved he belonged at the NHL full-time last season by scoring 32 points and playing in all 82 games.
If he played in a more traditional hockey market than Phoenix, Ekman-Larsson would receive the credit he deserves.
There are many good young offensive defensemen in the NHL, but the Coyotes star might be the best of the group because of his offensive talent, skating ability and improving defensive skills.
Ekman-Larsson is currently playing for the Portland Pirates of the AHL, and has scored three goals with six assists in just eight games.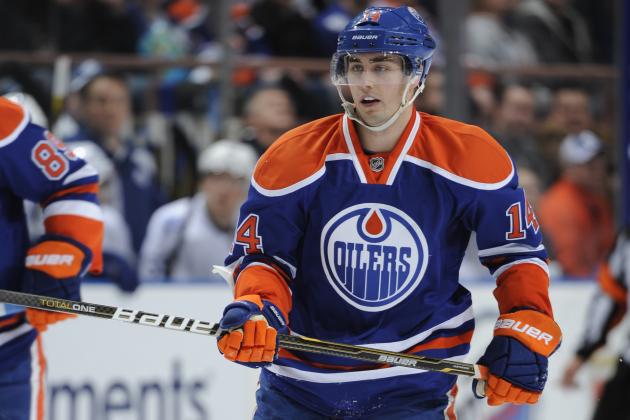 Dale MacMillan/Getty Images

Jordan Eberle will become a superstar this year when he leads the Edmonton Oilers in goals again. He scored 39 goals last year, and will continue to put up incredible offensive numbers alongside rising star Ryan Nugent-Hopkins.
Eberle's speed, goal scoring and likable personality make him a player who is worth the price of admission every night, and these kinds of players often become superstars.
As a franchise player and one of the best young offensive talents in the NHL, expect Eberle to have another great season in 2012-13 and become a legitimate superstar.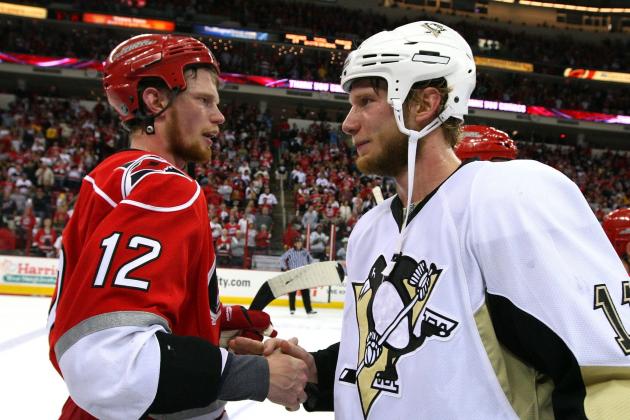 Jim McIsaac/Getty Images

Playing on the Pittsburgh Penguins' third line did not allow Jordan Staal to flourish into a legitimate superstar, even though he was a very good player during his six years with the team.
Now that Staal will be a prominent player on the Carolina Hurricanes this season, he will not only continue to be a great defensive forward, he will have the freedom to be more aggressive offensively.
Staal scored a career-best 29 goals in his rookie season and will likely reach the 30-goal mark multiple times with the Hurricanes as the first or second-line center with talented goal scorers alongside him.
Expect Staal to have his best season in 2012-13 as he steps into a larger role on a team that's good enough to make the Eastern Conference playoffs.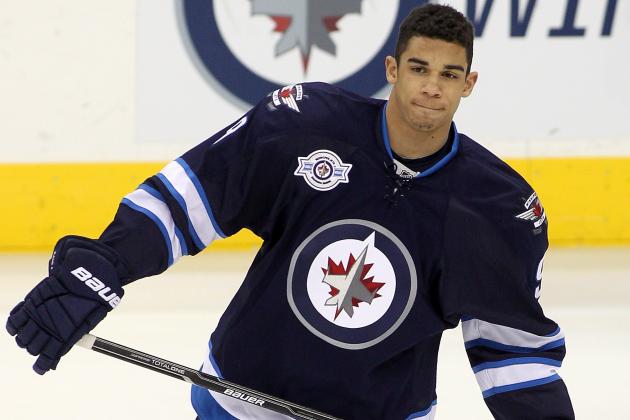 Marianne Helm/Getty Images

Evander Kane will either reach superstar status during the 2012-13 season, or he will come very close to this level.
This is an important season for Kane for a couple of reasons. He is now one of the highest paid players on the team, and will be largely responsible for helping the Jets make the playoffs for the first time since 2006-07.
Kane has the potential to score 35-40 goals in a full season, and if he can be a top-tier offensive player on a consistent basis, the Jets forward will become a superstar this year.
Claus Andersen/Getty Images

Phil Kessel is close to being a superstar player, and in the 2012-13 season, he may finally reach this level.
The young winger has scored 135 goals over the last four seasons, and if he continues to be one of the NHL's top goal scorers, he will be a superstar in the near future.
For Kessel to become a superstar, he will not only have to be a point-per game player consistently, his Leafs must be a playoff contender.
If he dominates offensively for a Leafs team that makes the playoffs this season, Kessel will be on his way to superstardom.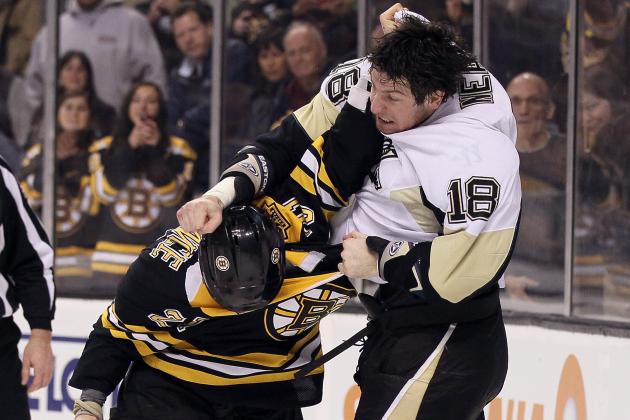 Elsa/Getty Images

James Neal's breakout 2011-12 season in which he scored a career-high 40 goals has helped the Pittsburgh Penguins star come close to superstar status.
If Neal can continue to be an elite goal scorer, which is certainly possible since he will likely play on Evgeni Malkin's line and be responsible for replacing some of Staal's offensive production, then he will become a superstar.
Now that he has signed a lucrative six-year contract, will Neal play with the same desire and determination he did last season? We'll see, but if the Penguins want to win the Stanley Cup this year, they need Neal to play like a superstar again.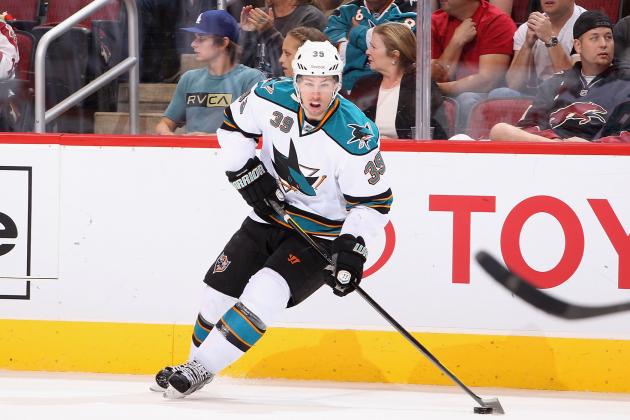 Christian Petersen/Getty Images

Just like Benn, San Jose Sharks Logan Couture is close to superstardom and will reach this level during the 2012-13 season.
Couture is one of the few players on the Sharks roster who general manager Doug Wilson can build around for the future. The next step for Couture is becoming the team's top offensive player, and it wouldn't be surprising if he led the Sharks in goals and/or points this season.
The 23-year-old forward is playing in Switzerland during the lockout and has scored seven goals with 14 assists in 17 games.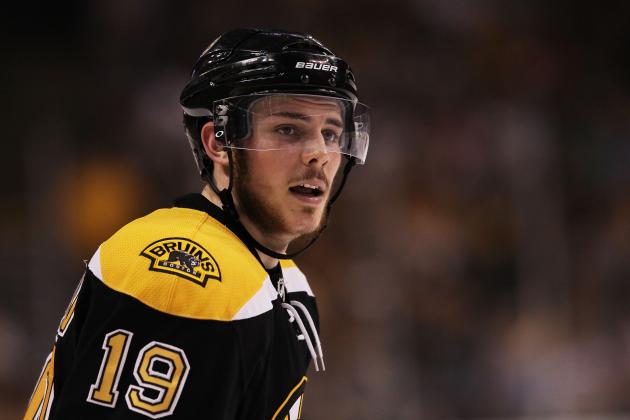 Elsa/Getty Images

Boston Bruins winger Tyler Seguin could be the next NHL superstar. The 20-year-old already has two full seasons of NHL experience and led his team in scoring last year with 67 points.
During the lockout, he has been playing EHC Biel in Switzerland and has scored 16 goals with 12 assists in just 17 games.
Seguin's scoring ability, improved defensive play, high hockey intelligence and willingness to get his teammates involved in the offense will allow him to become a huge star during the 2012-13 season.
The former No. 2 overall pick will be expected to lead Boston in scoring for the second consecutive year and become one of the league's best offensive players.