Bruce Bochy's 11: Giants Opting for More Offense, Stronger Pitching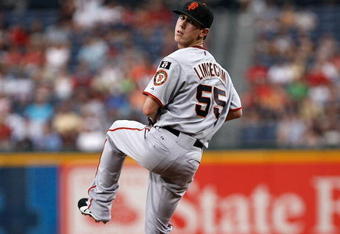 In an attempt to give the team increased offensive flexibility, the San Francisco Giants recently floated the idea of starting the year with an 11-man pitching staff, something that they haven't done since 2003.
The offense is definitely something that has needed help over the past couple years, and another bat to be rotated in could be beneficial to the team.
This strategy is the result of too much thinking, and seems like a very viable option, at least for the first couple months of the season. The Giants have four off-days in April, allowing for the fifth starter to be skipped or for each starter to get an extra day of rest, which should help the bullpen.
Former manager Felipe Alou had a tendency to burn out his bullpen early in the year, which led to inconsistencies later in the season. But last year the Giants proved that the starters could handle a bigger workload. Aces Tim Lincecum and Matt Cain both threw over 200 innings, and Barry Zito got over his early-season struggles to finish the year pitching deep into games.
The addition of Randy Johnson, who, if he stays healthy, will pitch close to his 20-year average of 201 innings, is also going to be an upgrade over Pat Misch (52.3) and Kevin Correia (110).
Overworking the bullpen can be detrimental to the staff late in the year. Even though San Francisco ended the season out of the playoffs, they were not far out of the National League West race.
In 2003, the last time the Giants had an 11-man staff, Jason Schmidt was the only starter over 200 innings, with Kirk Rueter a distant second at 147. Jim Brower pitched 100 innings out of the bullpen, and Joe Nathan (78), Tim Worrell (74), and Scott Eyre (76) pitched in almost half the games.
That team won 100 games with a tired bullpen, and this year's bullpen is markedly more talented, especially with the additions of Jeremy Affeldt and Bobby Howry. That could bode well for the San Francisco staff, which has a much better crop of starters to work off of.
On the offensive side of the ball, another bat off the bench gives Bruce Bochy a lot more flexibility. With an 11-man rotation, the Giants will have 14 position players.
The Opening Day infield will most likely include Pablo Sandoval at third, Edgar Renteria at short, Emmanuel Burriss at second, and Travis Ishikawa at first.
Rich Aurilia will probably make the team, and Kevin Frandsen will split time with Burriss at second base. Catchers Bengie Molina and Steve Holm both look to make the team as well, with Sandoval taking time at both first and behind the plate.
The outfield will read as last year, with Fred Lewis in left, Aaron Rowand in center, and Randy Winn in right. With the release of Dave Roberts, Nate Schierholtz will be the backup corner outfielder. Eugenio Velez will also make appearances in the outfield and can back up in the infield as well.
That totals 13 players, added to an 11-man pitching staff, leaves just one open spot for a position player, which gives hope to third baseman Ryan Rohlinger who has been crushing the ball this spring, utility man Juan Uribe who is hitting .257, and possibly even outfielder/infielder Jesus Guzman who is hitting .400 with three homers.
If you choose to use the 2003 team as a model, the Giants have a lot to expect from this staff. They always have the option of bringing up another pitcher if the bullpen gets tired or if the bench players begin itching for playing time.
The starting rotation has long since proved to be workhorses. San Francisco pitchers ranked seventh in innings pitched last year, and were only 28 innings behind the major-league leaders in Milwaukee. They boast three Cy Young winners from the past 10 years and four pitchers who will give at least 150 innings.
Carrying 11 pitchers could signify a great year for the Giants. Although they don't have the same consistent offense from Barry Bonds or Marquis Grissom like in 2003, the team they're fielding now is better defensively and has the ability to create more small-ball offense.
This is a team that is built around a strong pitching staff, and by carrying 11, that puts more faith in that strength, not more pressure. Play to your strengths and shore up your weaknesses. That's what this move will do.
This article is
What is the duplicate article?
Why is this article offensive?
Where is this article plagiarized from?
Why is this article poorly edited?

San Francisco Giants: Like this team?