25 Videos of Insane Sports Fans in Action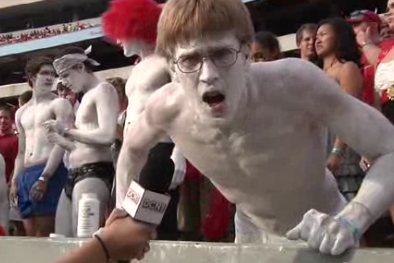 Image via everydayshouldbesaturday.com
Watching sports can get very emotional, and passionate fans know that better than anyone.
They also know that sometimes things can get out of control.
Here we'll take a look at all kinds of fanatics gone completely wild. These are the most legendary, with each type of fan labeled.
Even in the wacky sports realm are these acts of loyalty considered crazy.
Presenting the best videos of insane sports fans in action.
Begin Slideshow

»
An 86-year championship drought can have this effect.
Way to make the rest of the pack look bad you bruising Bruin.
For the first time in a long time, cowbell might not be needed.
Don't act like your legs weren't moving rhythmically.
Those quiet-during-tennis rules need to be adjusted immediately.
This footage will haunt that child for as long as he attends sporting events.
2012 U.S. Open winner Webb Simpson didn't really have anything interesting to say anyway, so thank you Birdman.
Essentially the Will Ferrell of sports fans—a shirtless comedian who continues to inspire.
Like peeling the plastic off a new toy.
Like the announcer said: "Bonus coverage."
He's sweating more than Gordon Hayward after that dunk.
Get Gus Johnson a microphone and rewind this performance.
Soccer's cult following continues to impress.
Purple, yellow and traces of insanity. LSU life at its finest.
The five stages of grief are tough to watch. And simultaneously amazing.
Note: It's called tweeting.
Calling any professional draft pick irrelevant, humiliated or neglected is like slapping the rest of us in the face.
Mets-Braves rivalry at its finest. Diaz, like a cement wall, never gives in.
I'm not the first to point this out, nor do I even understand the reference, but this is definitely Lewbert from Nickelodeon's iCarly.
This is the story of how teenager Rebecca Black conquered the world. Glass continues to shatter with every "Friday".
An electric drill and this guy would have one heck of a conversation.
Those goosebumps may never go away.
Kyle Mooney introduces the world to new-age journalism, brightening the future one awkward interview at a time.
Watch him crank it, watch him roll; Daylon Trotman is greatness personified.
In the end, not even "fourth time was the charm" as the Bills lost four straight Super Bowls between 1990 and 1993.
As Bon Jovi continues his applause, we must wonder if that's the real Robert Griffin III at 50 seconds in.